Please remember to read the notes on 
contents and copyright
if you have not.
This article was first published on: October 2020
This article was last updated on: October 2020

Este artículo también está disponible en
Español
.
---
---
As it's widely known, we're in a pandemic.
In Colombia, flights were suspended since March 2020 until early September except for repatriation and cargo ones.
The restart of "normal" scheduled flights has been somehow timid for many reasons, but since early September it's been possible to buy a ticket and travel to another city like it used to be in the "old times" to some extent.
I hadn't flown since February, and I made my very first flight since then in the current circumstances just a few days ago.
Coronavirus was technically already around in February, but there hadn't been any lockdowns in Colombia nor had any productive sector been closed, so I consider this my very first real pandemic flight.
It's not been anything extraordinary really, but I want to leave a small note as a reminder of the fact, and also in case someone is interested in reading about the experience.
I flew from Medellín to Cartagena on September 11th, returning on the 25.
The more stops and the more new things I get to try, the happier I get. On some occasion, I flew from Medellín to Quito by route of Medellín – Bogotá – Lima – Quito instead of the nonstop Medellín – Quito that cost the same.
Nonetheless, I wanted only nonstop flights for this particular trip because everything is very uncertain and there are very few flights.
So should there be a problem while connecting, it could mean a huge time loss, it just wouldn't be a matter of being put in the next flight one hour later anymore.
In these circumstances, the potential for losing time or even a whole day is increased, and with the delicious customer service they have in Colombia, I think it's an annoyance I'm better off without for as long a possible.
So anyway, I sought for a ticket from Medellín to Cartagena nonstop on September the 11th, and there was ONLY ONE flight that day that fit the bill.
Avianca had announced the restarting of nonstop flights on September 7th, but they hadn't and LATAM is only flying to Bogotá from Medellín.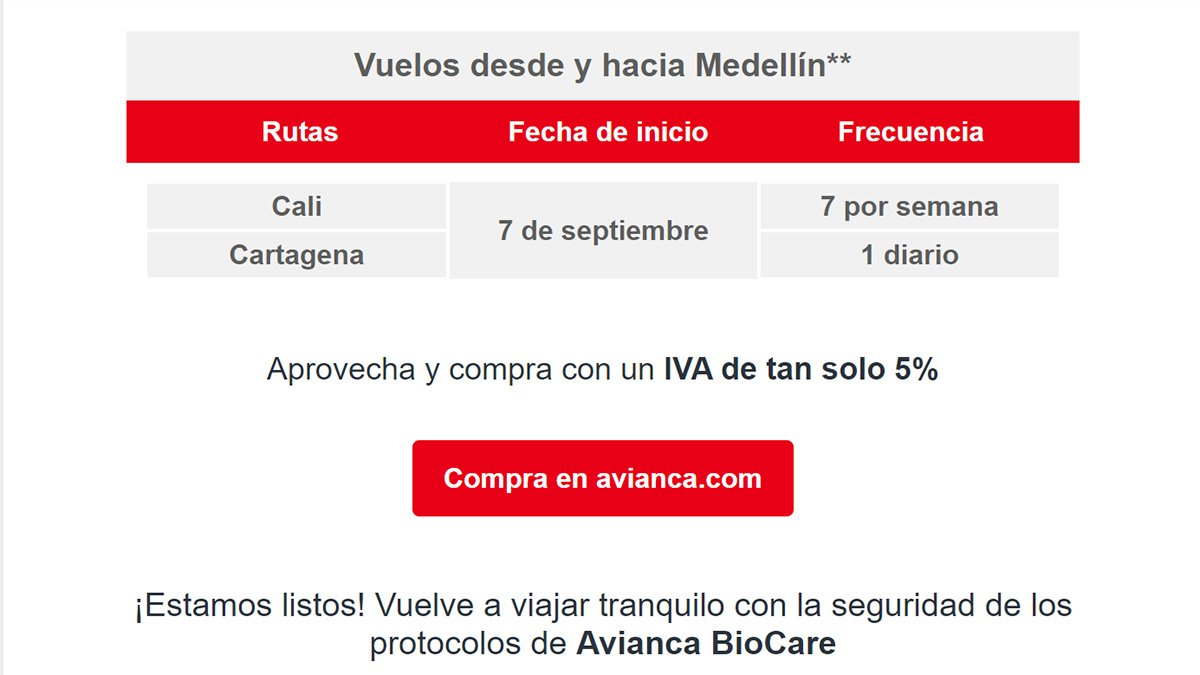 Nonetheless, Viva Air indeed had a nonstop flight between Medellín and Cartagena that day.
So I bought the first leg on Viva Air.
I like Viva overall, and the ticket bought on September 6th for travelling on the 11 wasn't excessively expensive. Now, I couldn't say it was very cheap either, even more so when the VAT for tickets has been set at 5% these days.
Viva offers three options, the bare fare without anything, the one after it (they call it Combo+) that includes one piece of baggage in the hold, and a third one with even more options.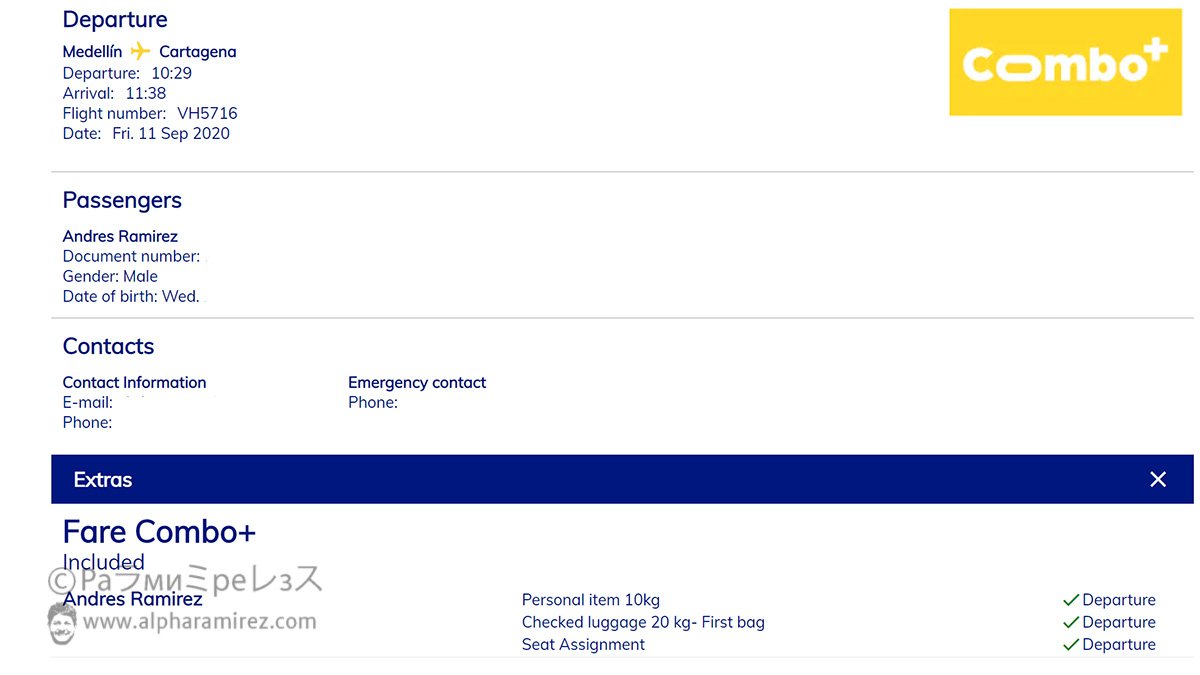 I had a piece of baggage that needed to go in the hold anyway, so I chose the second option.
Viva Air also had a nonstop flight between Cartagena ad Medellín for the return leg, but departing at 11 in the night it was no good for me.
LATAM again only through Bogotá, but for September 25th Avianca already had a nonstop flight between Cartagena and Medellín, in theory. So I bought the return leg on Avianca.
Avianca changed their fare structure last year, and now they sell bare fares without baggage allowance (they call those XS). I thought that was a very bad thing from Avianca (like I thought when LATAM did it as well), but anyway.
The ticket was more expensive than Viva's (with the same conditions of baggage options), but not excessively so.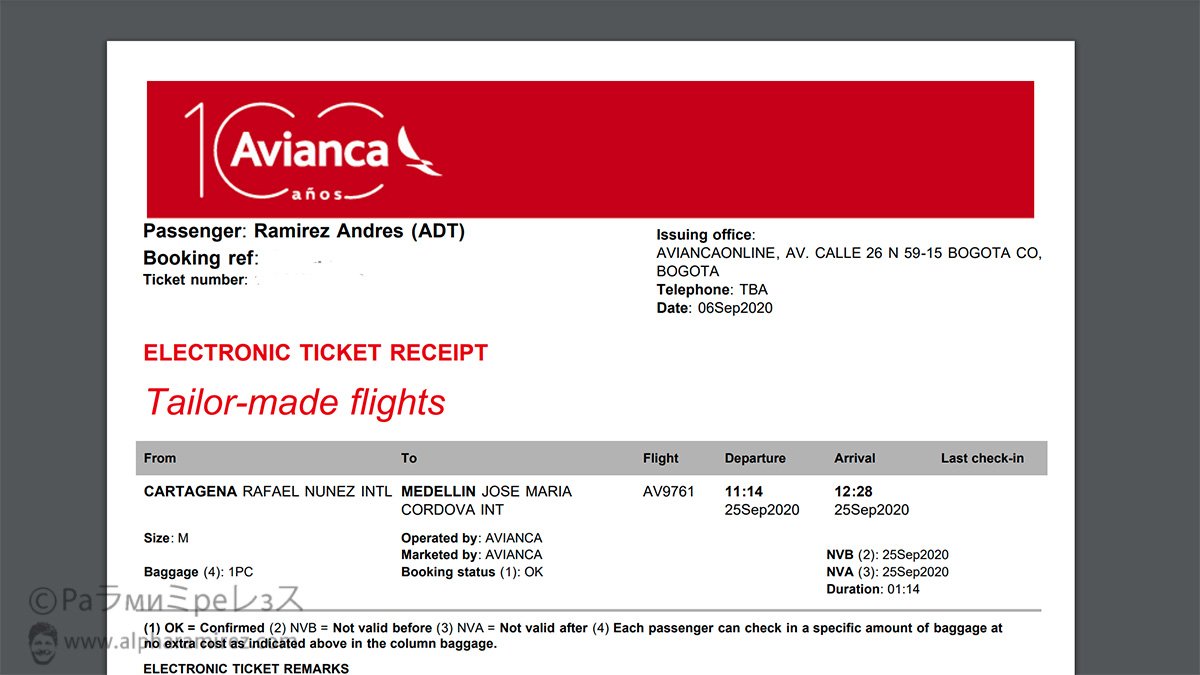 I don't have many incentives, in particular, to fly with Avianca anymore, other than the opportunism of a new Airplane, a weird connection and the rare occasions in which they offer the best cost-benefit.
A long time ago I found they had good cost-benefit, and many times I chose to fly with them despite it being a tad more expensive. Not anymore, as I was saying.
LifeMiles seemed interesting for me, I already spent all my miles, and I'm not very interesting on accumulating now. The redemption options that offer value have been progressively changed to the user's disadvantage, and the same thing has happened with the bank points schemes.
Whenever I make an eligible transaction or flight I will keep giving my number. But only if the transaction led to that in the first place, not if the eligibility of accumulating miles led to the transaction.
For example, in my bank, when I started they allowed to transfer 15000 points to get 15000 miles, and I could do interesting things with those 15000 miles.
Now they only allow 15000 points for 7500 miles, and points are accumulated on a dollar value basis (1 point for 1 dollar).
The last thing I did with the bank points was getting a discount on the mandatory car insurance, but for travel, they're sincerely no good anymore.
The Colombian peso is also worthless, so anything based on dollar value but paid with pesos is a ripoff from the get-go.
Now I could buy all of Bocagrande, some of Colombia's most expensive real estate, with my credit card (well no, I can't indeed, it's just an example pet) and I'd accumulate like 4 points when converted to dollar value, and those 4 points would only give me 2 miles when I could transfer them, and with those 2 miles I couldn't do anything.
So, for my things, Avianca truly has nothing to justify paying more in practice.
Nonetheless, I've no ill will against them either, and if they offer me something that I can use in a given circumstance I'll fly with them happy and relaxed. It's just that I remember and not too long ago things were different, at least in my circumstances.
And the same thing with the bank, before I used to pay things with the credit card that I shouldn't have just to accumulate points, but now they're worthless.
The trip day arrived, and I made my way to Medellín-Rionegro Airport.
There have been some changes in the process because of this whole situation. The most remarkable could be:
-Having a face mask on at all times is mandatory.
-The earliest time you can get to the Airport is 2 hours before the flight.
-Only the person flying can enter the Airport, and to be able to do so the person has to show the boarding pass, ID and a form filled in CoronApp beforehand.
This gives me a faint reminder of when drug cartels were more public around the 90s and went on a bombing spree. To enter the Airport back then they checked your backpack or whatever you had on an X-Ray machine right in the Airport's entrance, even if you were only going to get some ice cream.
I think they annoy like that in the Airport of Manila, Philippines in non-pandemic times.
-This process of checking the boarding pass and the rest of the documentation at the entrance was being made by two security guards, one at each side of the entrance.
I noticed most people hadn't filled the CoronApp form, so the dialogue went like:
-Security guard: "Have you filled the form yet?"
-Passenger: "No, which form?"
As a consequence, there were many passengers to the side filling form or even just downloading the app.
If we add to that the fact that there's only one door being used for entry (besides the doors Airplan destroyed long ago) the lines from hell to enter are made, and since you're only allowed to arrive 2 hours before, it gets worse.
It seems a tad curious to me that it's only "recommended" to use CoronApp, and that even the posters in the Airport's door use that language, but in practice, the security guard won't let you in unless you've filled that thing.
What do the regulations say? Is it a recommendation or an obligation? So if some person doesn't have a smartphone or no data plan, or simply would rather not fill that he or she can just go to hell and not fly? Speak clearly goddammit.
Or could it be just me being silly given I feel more confident in the act of giving a french kiss to a black mamba than in anything coming from the Colombian government.
-Once past the security guards, inside the terminal, I had to stand on a determined place on the floor in front of a cardboard thingy with a camera operated by a woman, which checks the body temperature I suppose.
When the woman checked the temperature she just said "ok, you're done" and I just carried on.
-There, two people with medical gowns provide gel to disinfect the hands and ask what are airline are you flying in, and provide guidance as to where the counter is located to drop the baggage if it's needed. If there's no baggage, it's straight to the gate from there.
I had to drop baggage, so I went to Viva Air's counter. There wasn't a long line at that moment, there was social distancing and also signage depicting where people should stand in line. It was apparently being respected, at least when I was in line.
At the counter, I had to show the boarding pass and y ID, suspending them on the air behind a plexiglass screen that separates the agent from who is dropping the baggage. This should be done without touching the screen in theory, but in practice, everybody touches it because they don't read.
From there the security filter process was the same as before, and from the there to the waiting room.
In the Airport, before the security filter, almost everything was closed. Only Dunkin' Donuts was open, and perhaps two or three additional stores. Other than that, the place was dead.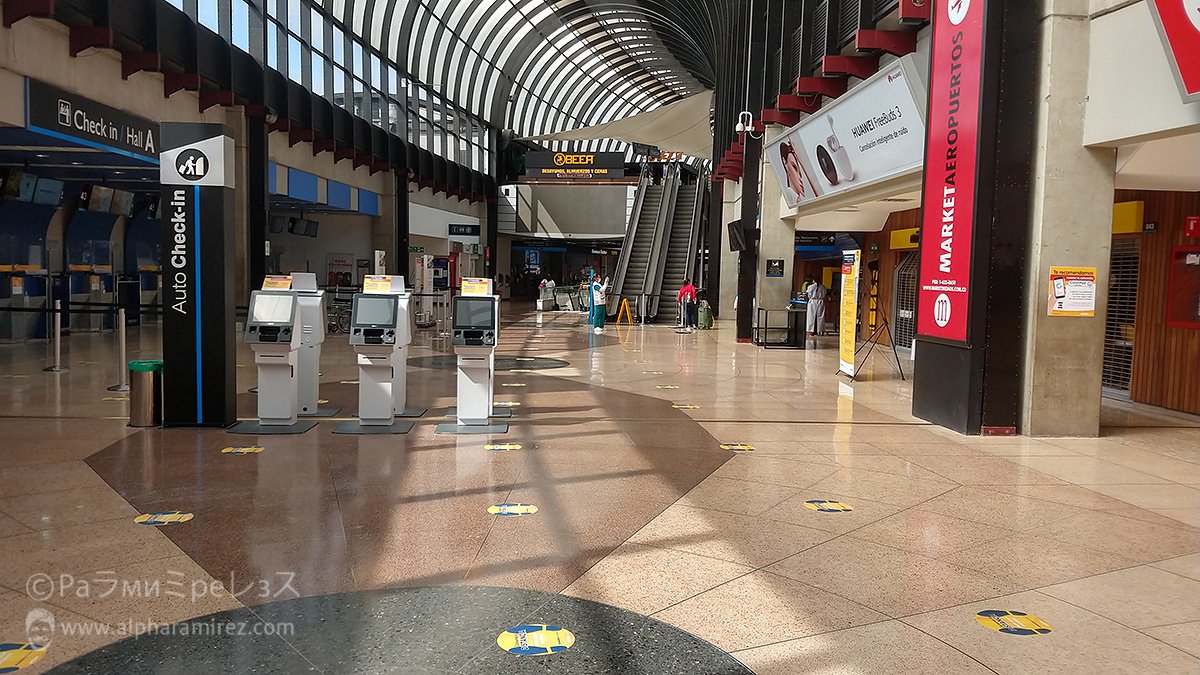 Once past the security filter the panorama wasn't much better, even Burger King was closed.
After that, I just had to sit as usual. Only that almost nothing was open and the face mask was on at all times.
Ours was the only flight departing, the next one wasn't due for departure for the next hour and a half. It was an Easyfly flight to Cali.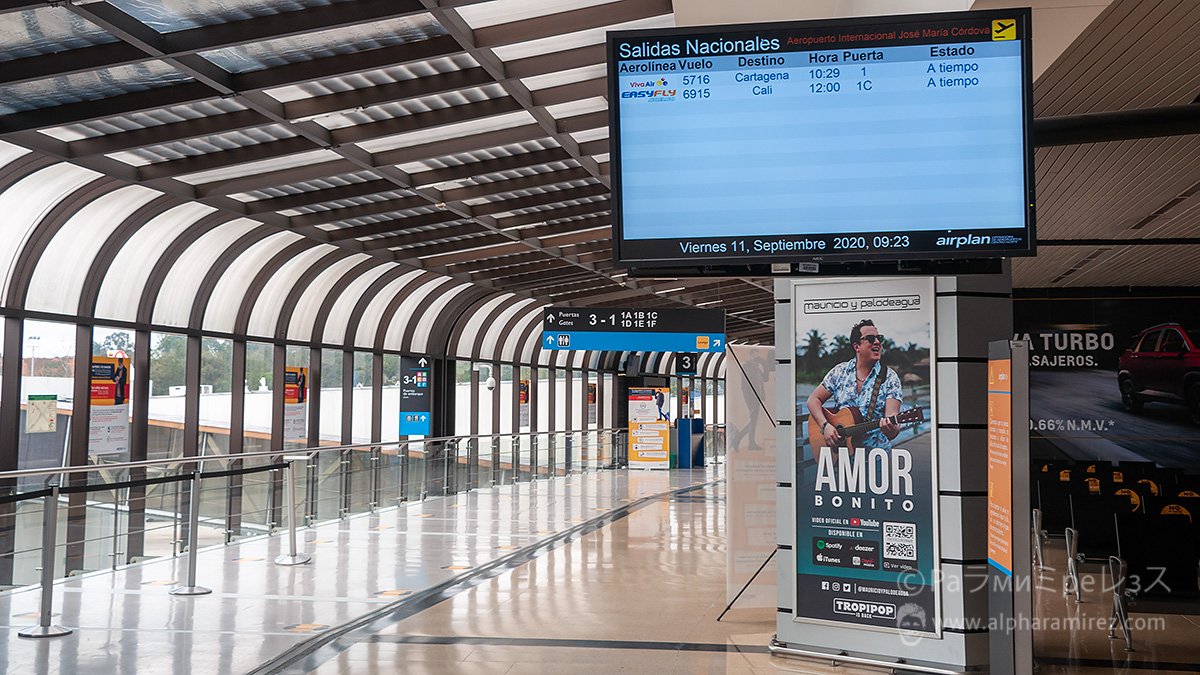 I couldn't see much walking around, just a few Airplanes grounded with their respective covers and measure for long term storage, and a lot of signs with the usual motherly language ("wash your little hands diddly doo" "we all togetherly" "you're the only thing that matter to us" blablabla).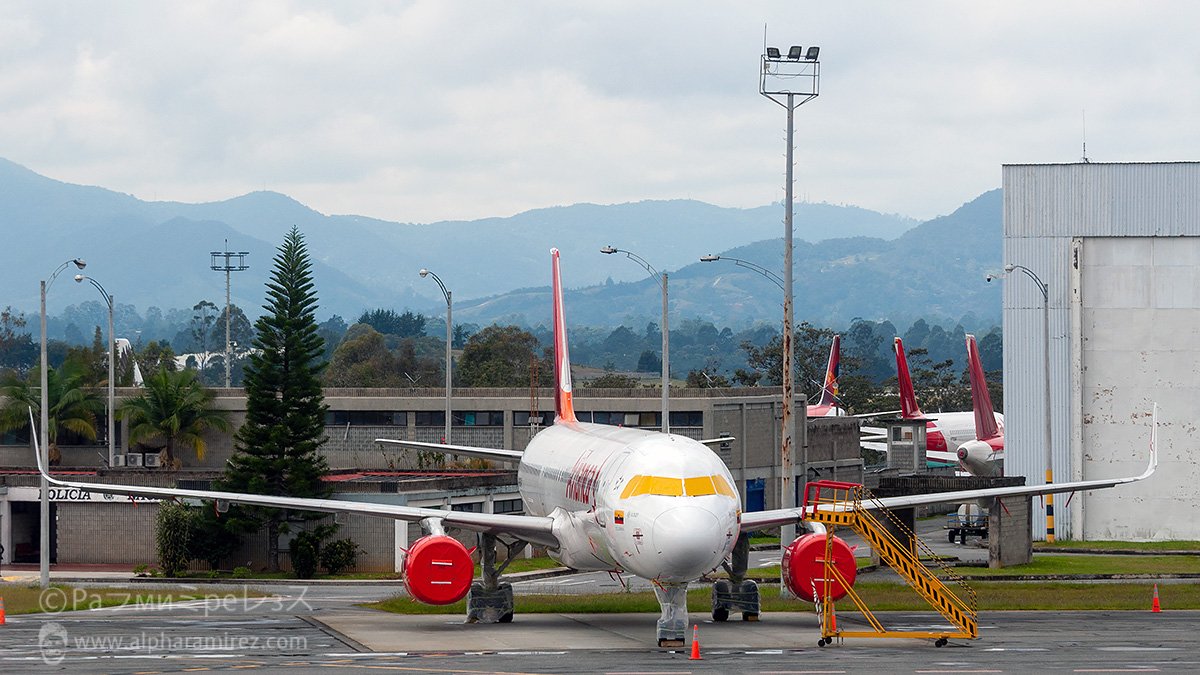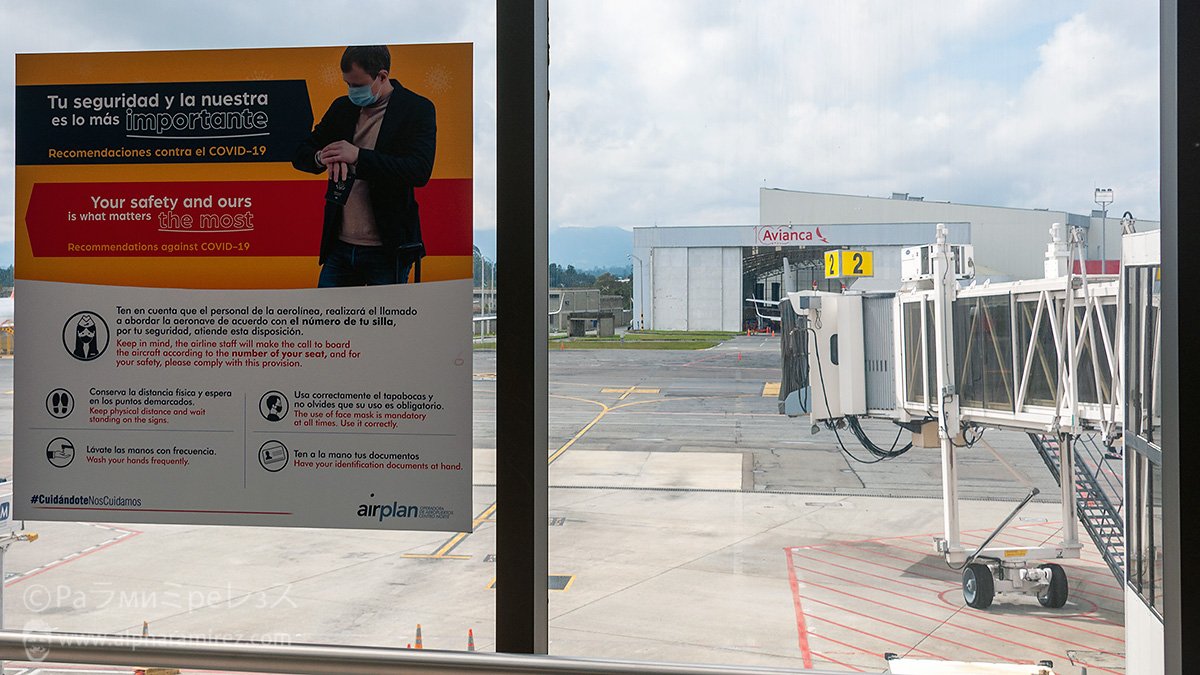 Route: Medellín (MDE) – Cartagena (CTG)
Airplane: Airbus A320
Airline: Viva Air
The waiting ended and it was time to board.
Boarding also changed because of the circumstances. This time around it was made from the back to the front of the Airplane, in two rows intervals.
Say, boarding was called from those passengers on rows 25 to 23. Then from 22 to 20, and so on until everybody was onboard.
It didn't seem particularly slower or more inconvenient to me compared to how it was done before.
Of course, it'd help if people paid attention and when rows 25 to 23 were called not everybody from rows 1 to 28 would stand up at the same time.
The chosen Airbus A320 that day was HK-5276.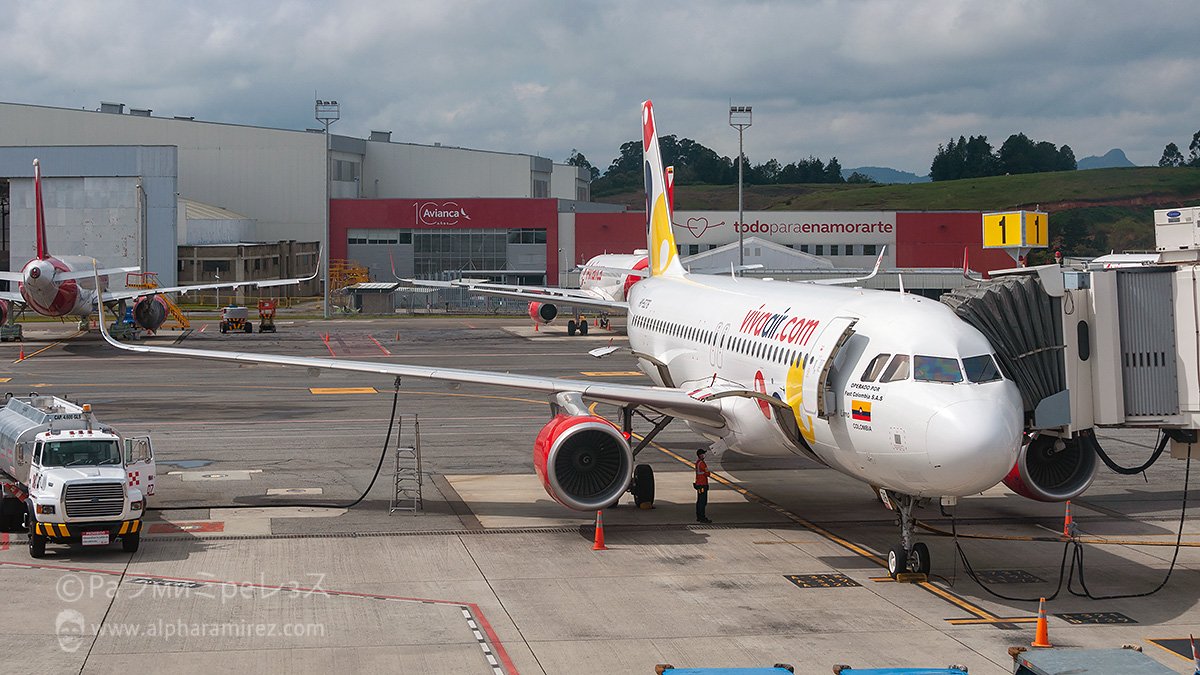 It was nice because I was going to fly, but it was repeat one for me. It was beside HK-5273, the breast cancer awareness pink Airplane.
The pink one was assigned to the Peruvian branch, and it only showed its pink nose in Colombia whenever it was flying from and to Lima. It seems it was brought back to normal operations in the Colombian branch.
I'd liked that one more, but anyway.
We were pushed back on-time and quickly made our way to the runway 01 holding short point. I felt somehow weird then, like experimenting something I thought I was never going to experiment again and that I missed dearly.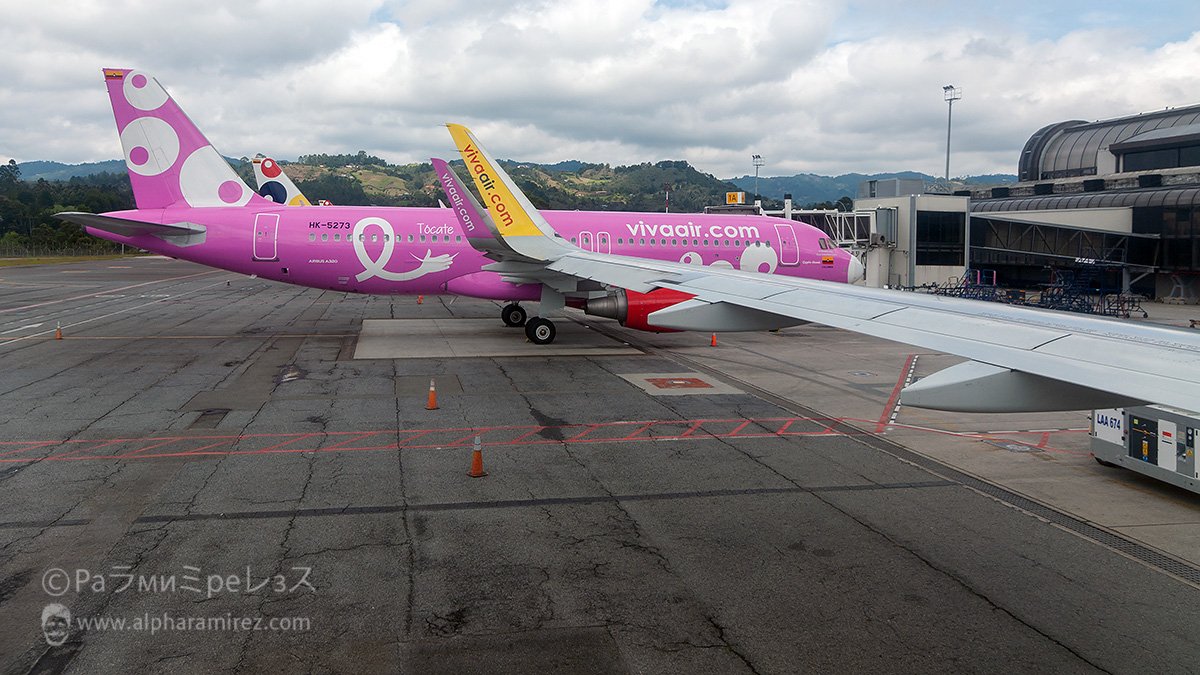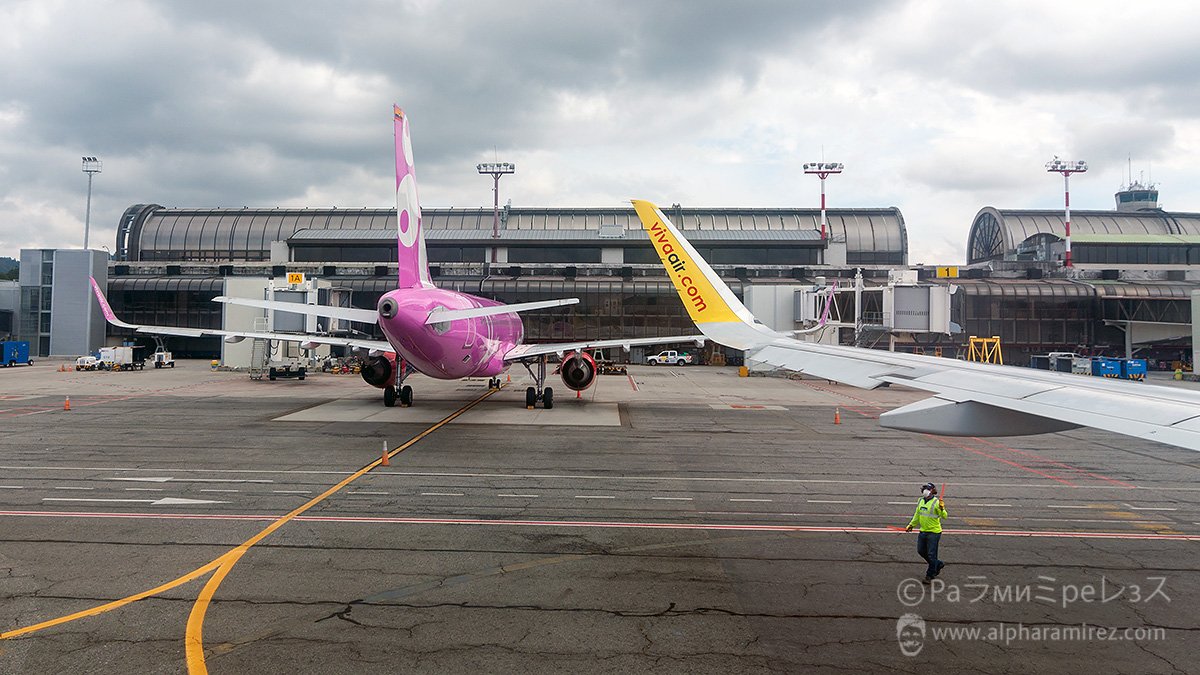 There, we held short besides an Air Force Cessna 208 Caravan while another Airplane landed. The flight was packed.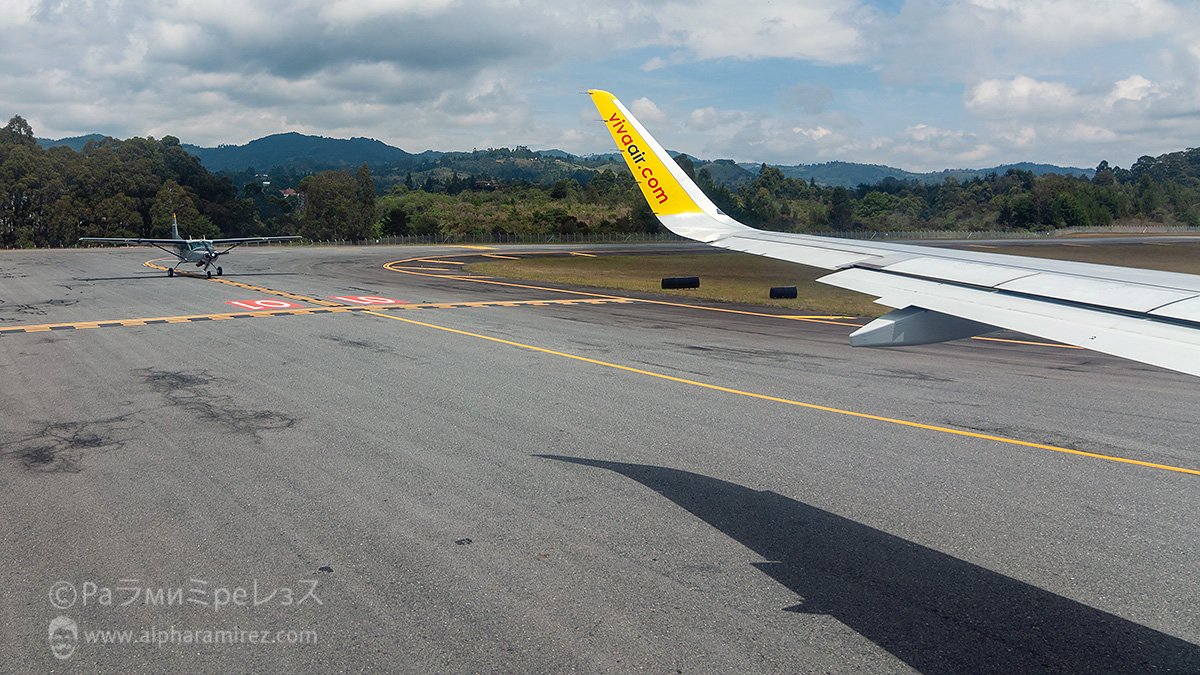 As we taxied, the four male flight attendants gave the usual safety instructions, on top of some new ones because of COVID19. The new instructions were basically:
-You may not remove your face mask.
-If you someone removing it please be a snitch and tell the crew.
-We'll never abandon you.
Takeoff was normal and we continued our climb straight north, initially flying over Guarne, then over the north of Aburrá Valley, Hidroituango, parallel to Montería, Coveñas, Tolú, Sincelejo and from there, Cartagena.
From the air, the quantity of stored and stopped Airplanes in Rionegro Airport could be better seen.
It was a nice day and there wasn't many clouds or much turbulence.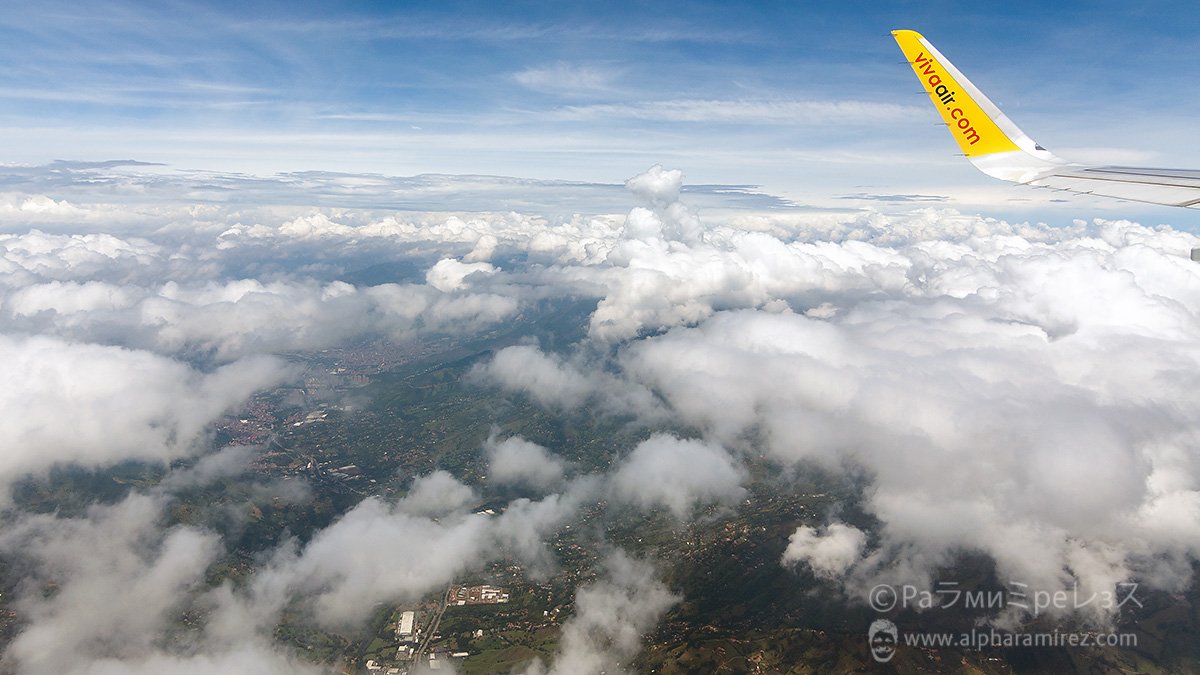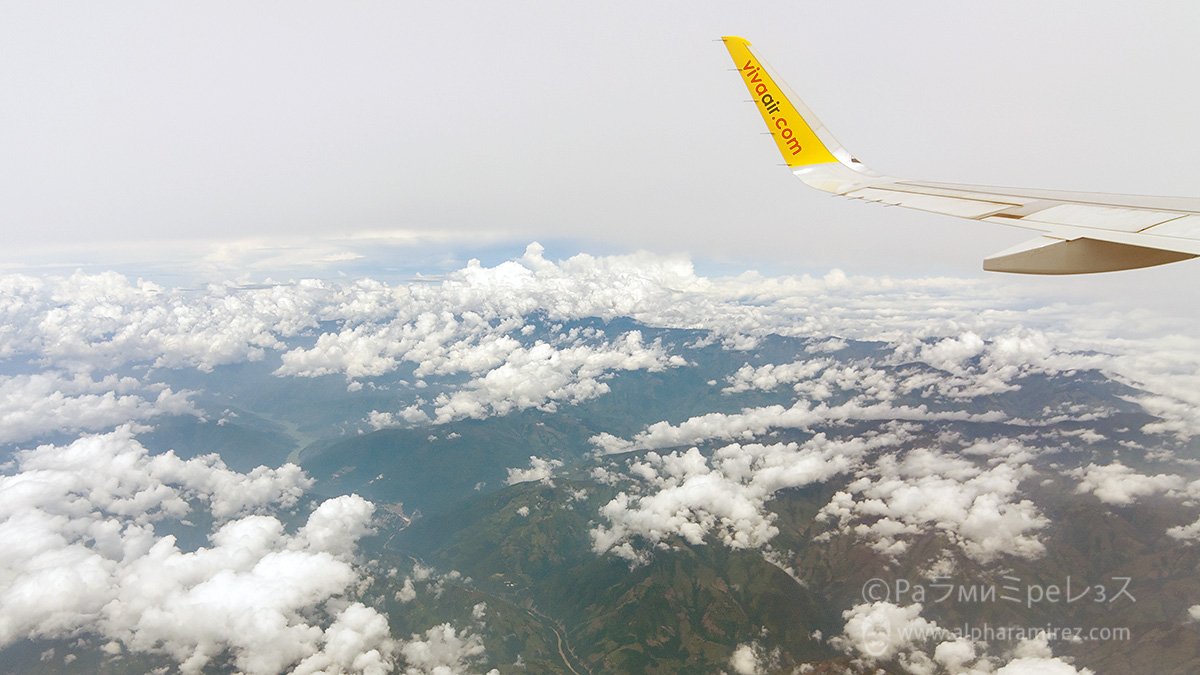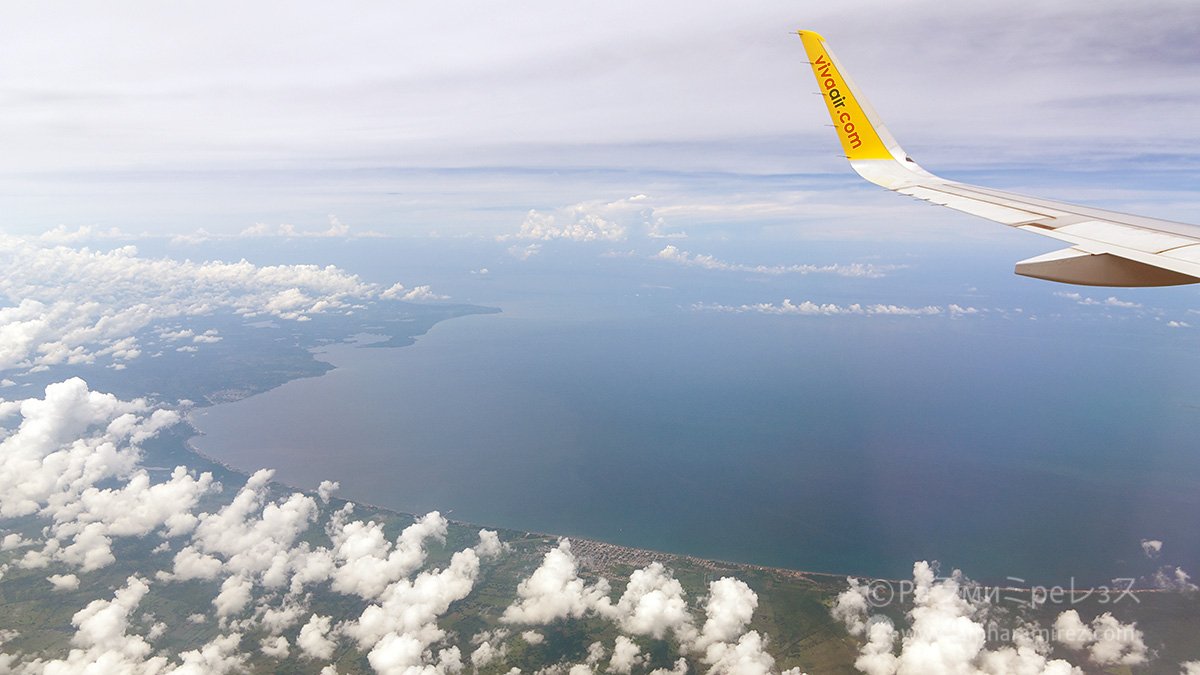 We approached runway 19 (that is, flying more to the north and coming back to the city over the sea parallel to La Boquilla). This awarded me with a nice view of the city, as can be seen in the following photo.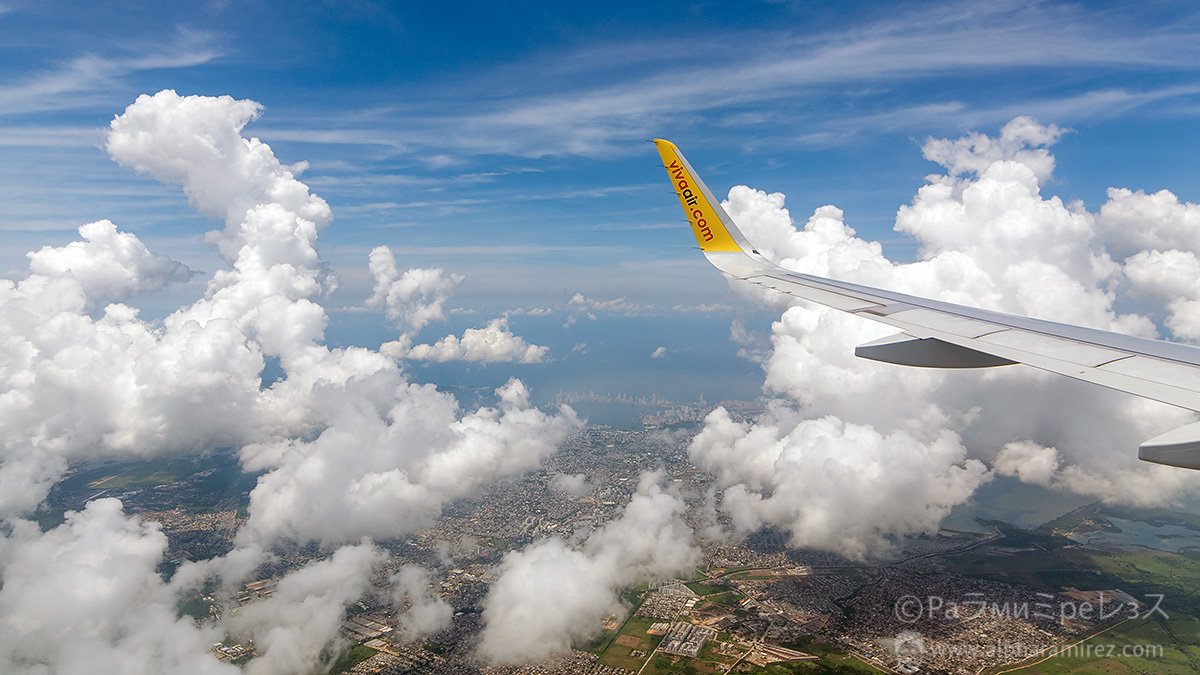 I had landed on Cartagena's runway 19 only once before coming from Atlanta on a Delta Boeing 737-800, but I was at the wrong side of the Airplane that time and only saw the sea.
This time around I could see the beach and the landscape, beginning from the left base turn up until landing, as you can see in the following gallery.
Once in the parking position the disembarking process started, the opposite way the boarding had been, that is, from the front to the back.
They hadn't even started announced who should disembark first when half the Airplane was already standing up. The flight attendant said something like:
-"Sit down until your row is called or they'll take the route away from us again".
I could only hear silly giggles all like hihihi huhuhu I'm an arse.
Anyway, we all got off the Airplane eventually.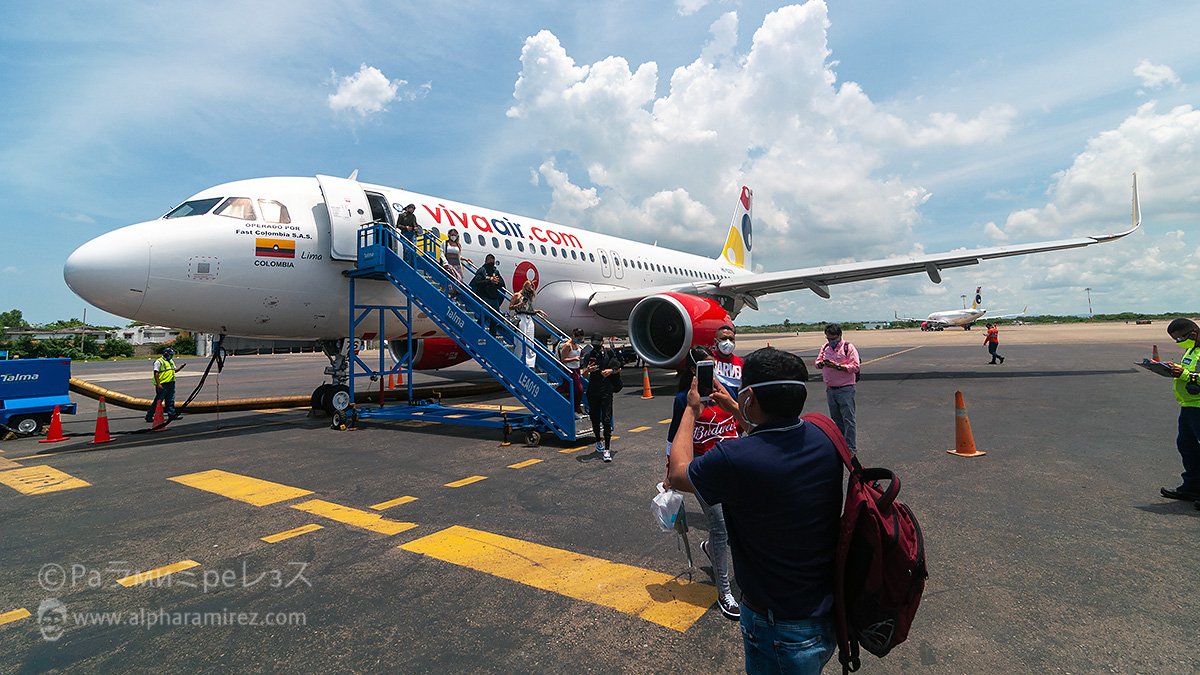 I noted that it appears that finally, they're completing some works on the way to baggage claim at Cartagena's Airport that seem to have been going on for more than 9000 years.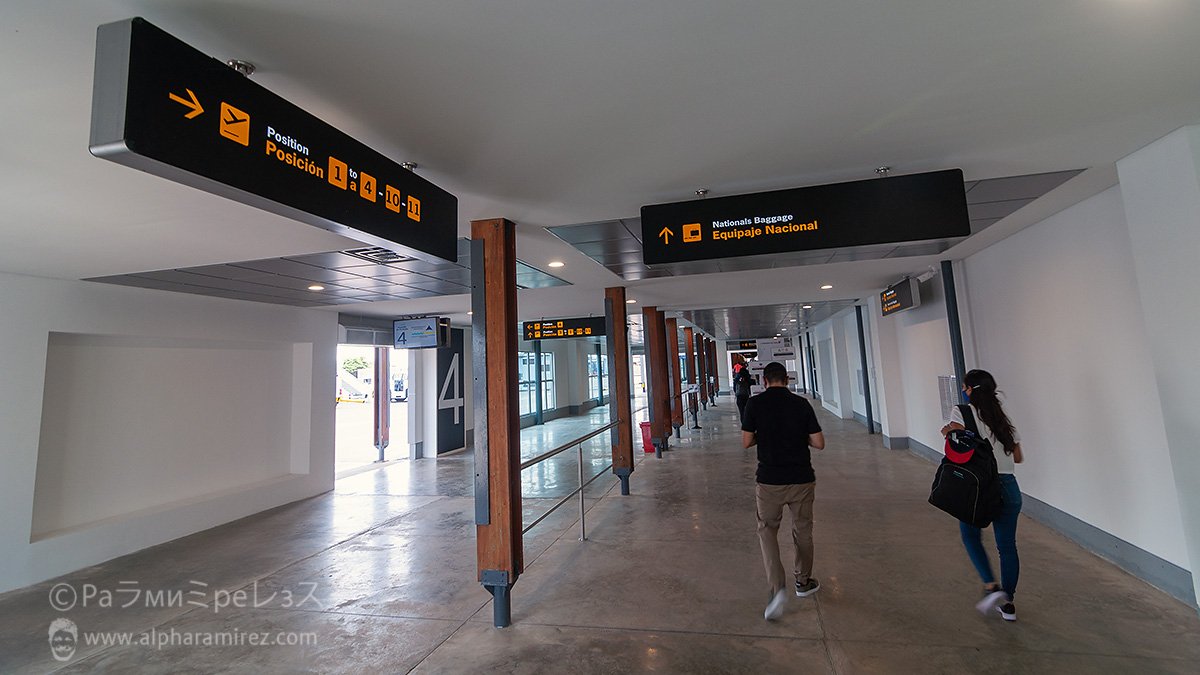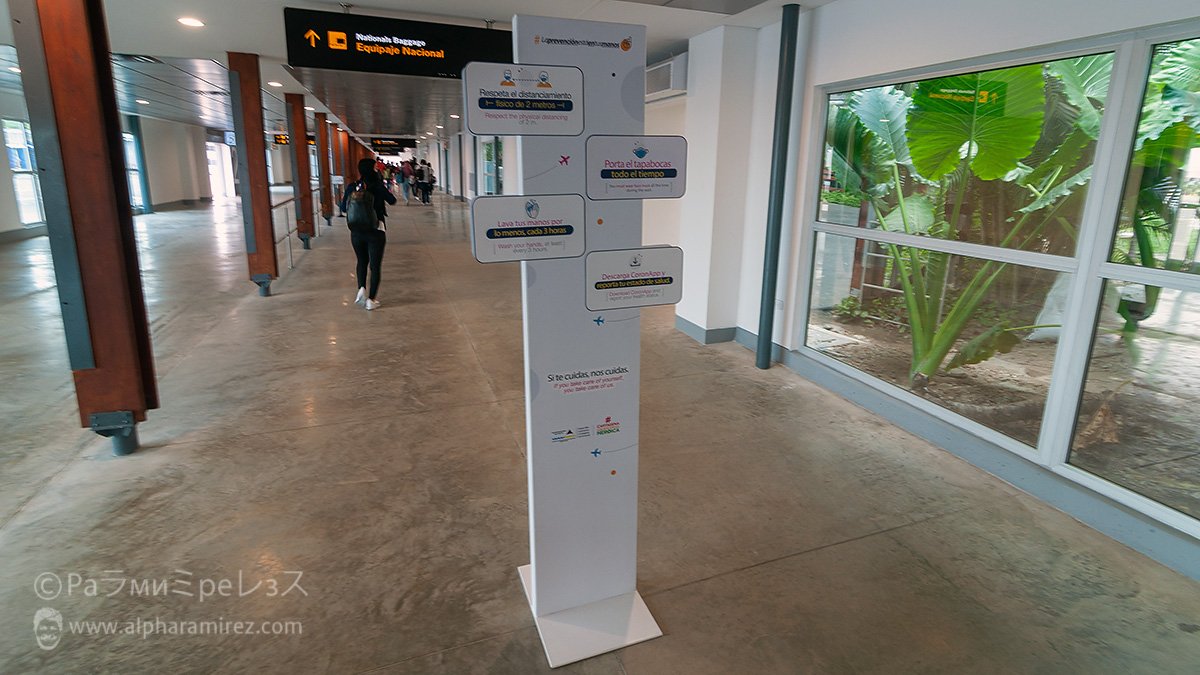 My temperature was taken before entering the baggage claim hall, again with one of those portable thermometers. I picked up my suitcase and left the Airport.
It was time to go back.
Do you remember I had bought the return ticket on Avianca because it was the only nonstop flight that fit my needs?
Well, Avianca cancelled it, and they put on a SIX hours connection! through Bogotá. To add insult to injury, the flight Viva had at 23:00 that was no good for me was moved to 14:00, it would have been good then…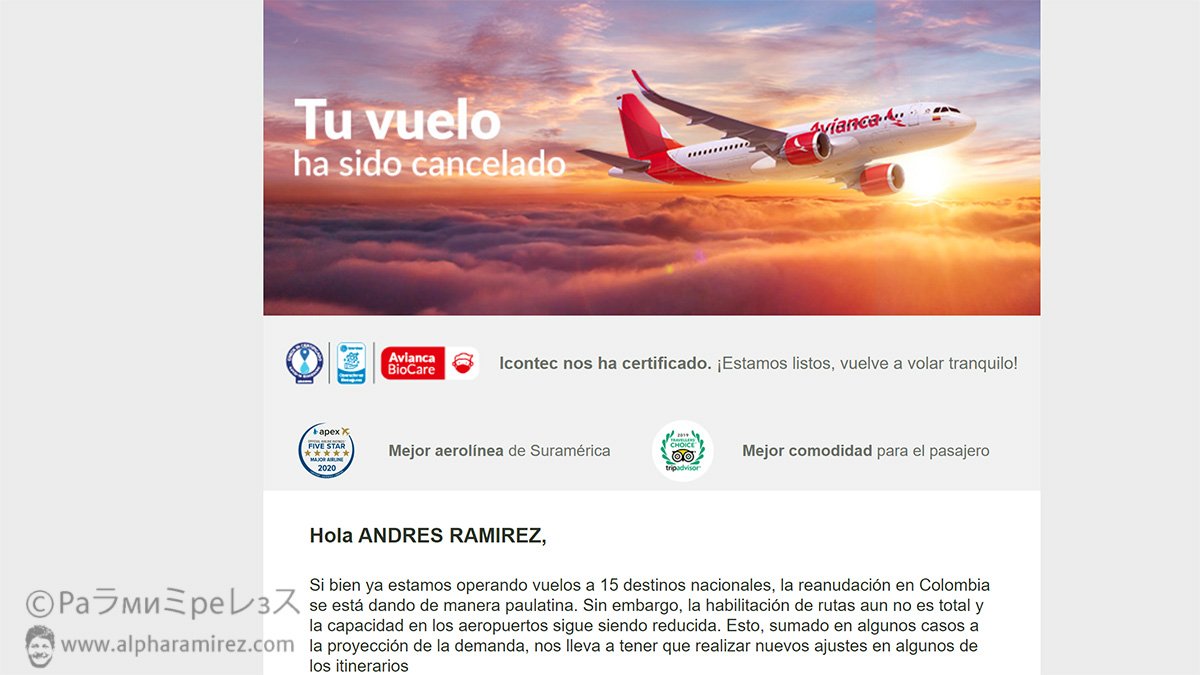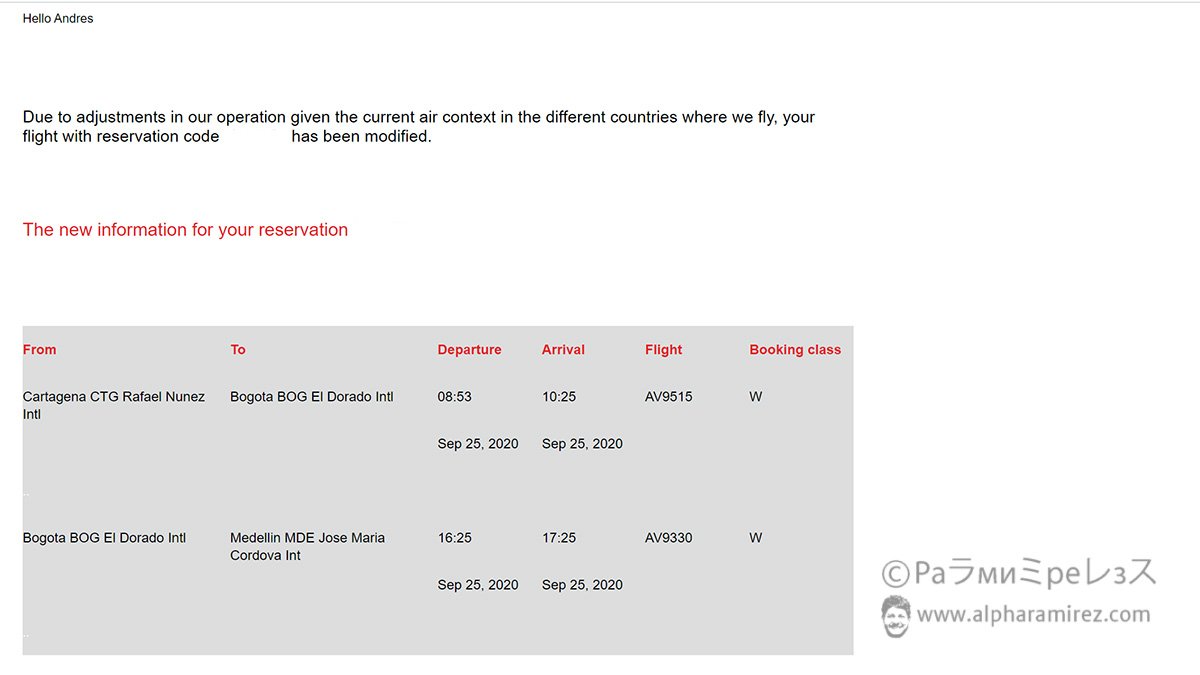 Anyway, it was all set now.
The process in Cartagena's Airport was the same as the one I had in Medellín-Rionegro's during the first leg. This time around people seemed not to be as lost regarding the "recommendation" to use CoronApp, though, and the temperature measurement was made with a portable thermometer and not with the camera.
Entry was only being allowed through a door in the northernmost end, the "normal" international entrance at other times.
I could also see the potential for huge lines to form, but when I arrived it was manageable and was moving somewhat fast.
Route: Cartagena (CTG) – Bogotá (BOG)
Airplane: Airbus A320
Airline: Avianca
Boarding was again modified like in Viva, from back to front by rows.
As a variation, in Avianca, they were also making those with a window seat first.
The waiting lounge wasn't terribly active either, in fact, there was an empty shop (repostería Rosita de Benedetti's) and of course many signs about washing hands and using face masks.
I missed flying on the pink Airplane with Viva by a hair, but this time around I got the Avianca Airbus A320 retro indeed, registered as N284AV.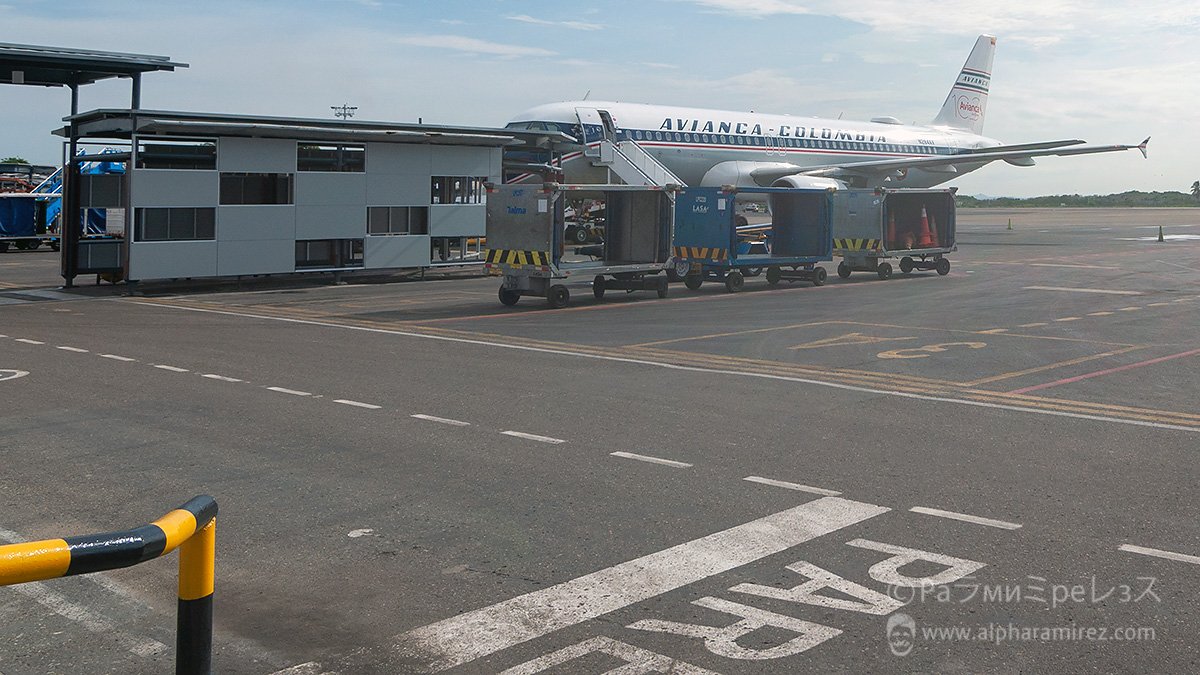 My inner avgeek was chuffed to bits, despite this being a changed flight and the upcoming 6 hours connection in Bogotá.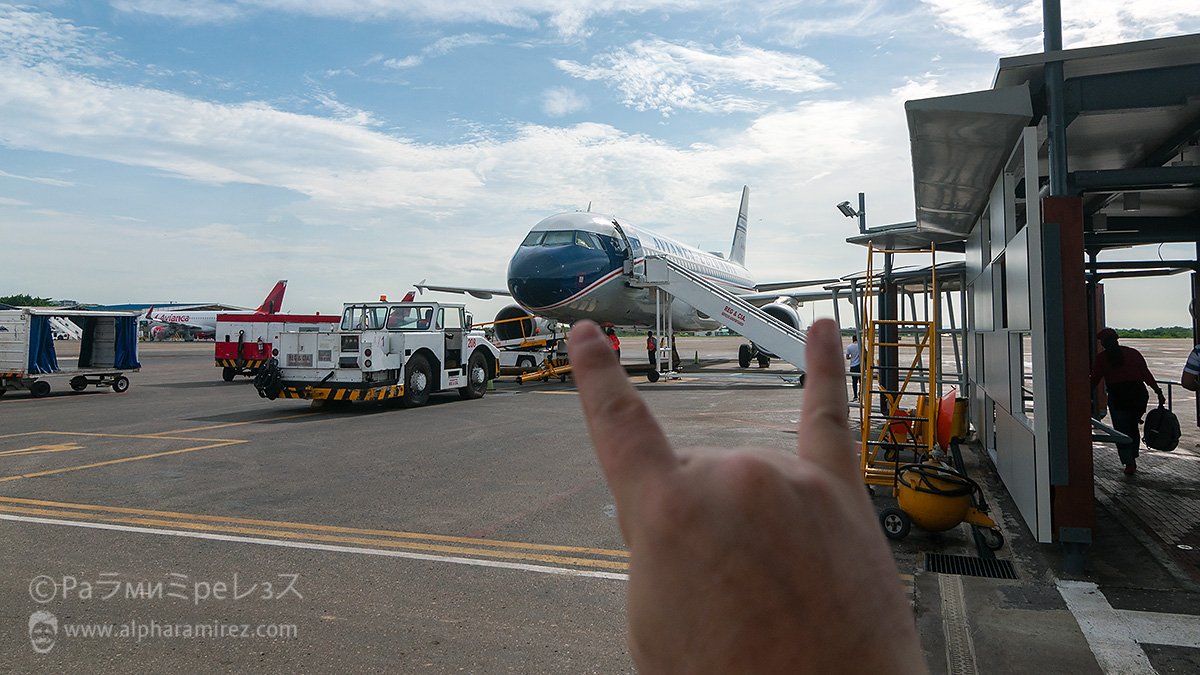 Right before boarding, in the tunnel, an agent was asking for the boarding passes while he looked which seats were being filled, that had never happened to me there. This flight was about 80% full perhaps.
We were again the only flight operating at that moment, and we left on-time. While taxiing there were additional instructions on top of the usual ones, in Avianca they didn't say they were never going to abandon us like in Viva Air.
But they were thorough and said something like:
-"You must have the face mask on always, but if there's a sudden decompression for any reason and the oxygen masks fall please don't forget to remove your face mask to use them and be able to breathe. Xoxoxo".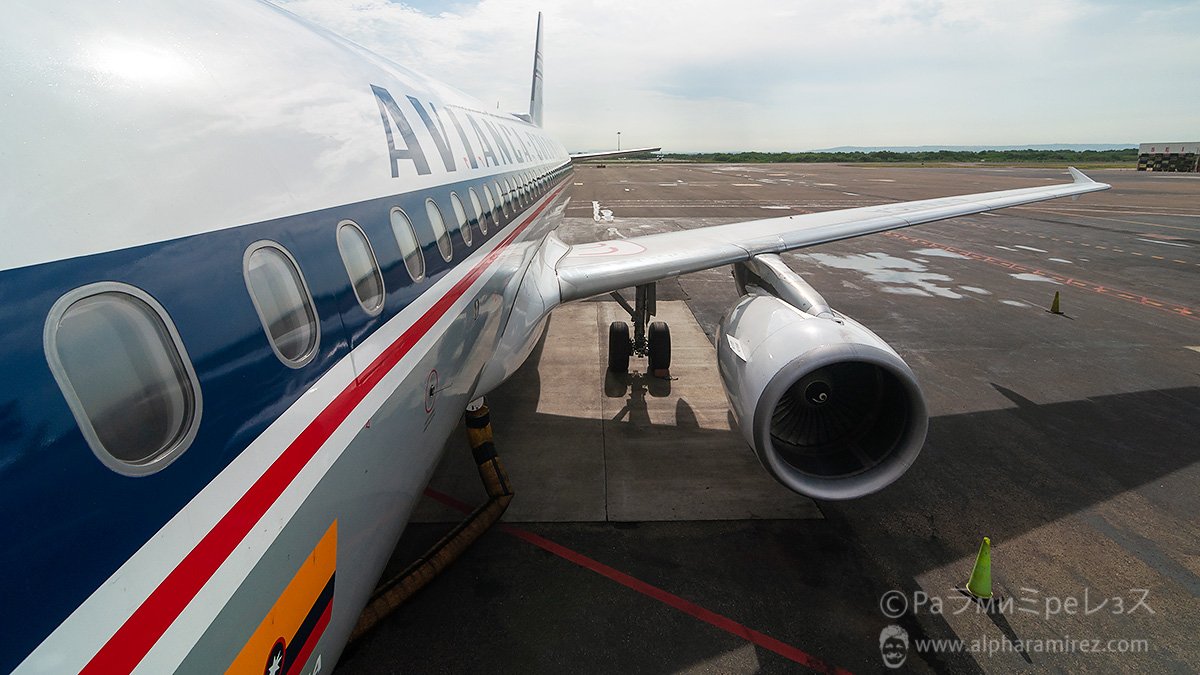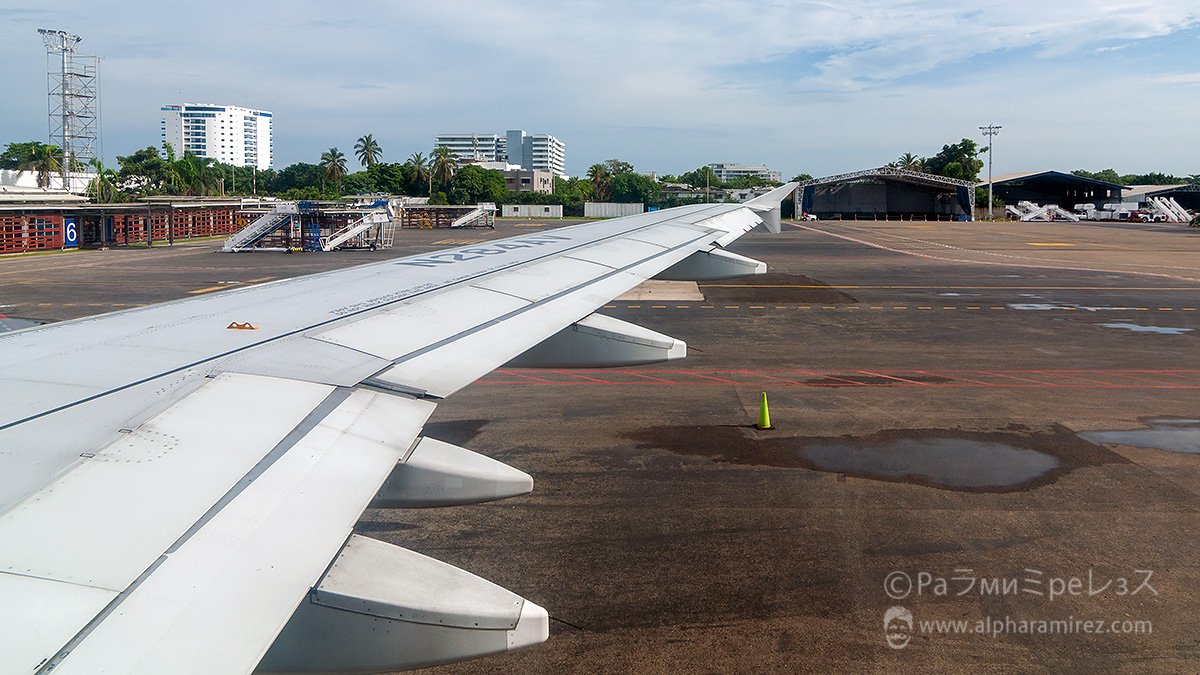 To my surprise, we again used runway 19 (I was expecting 01).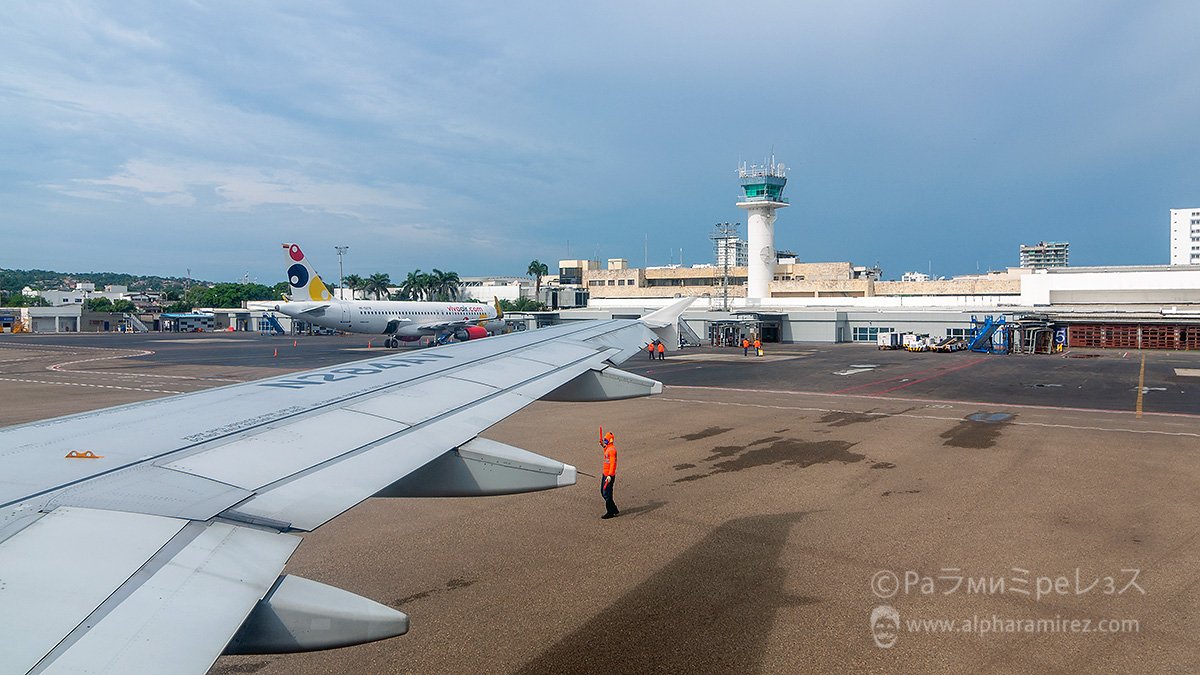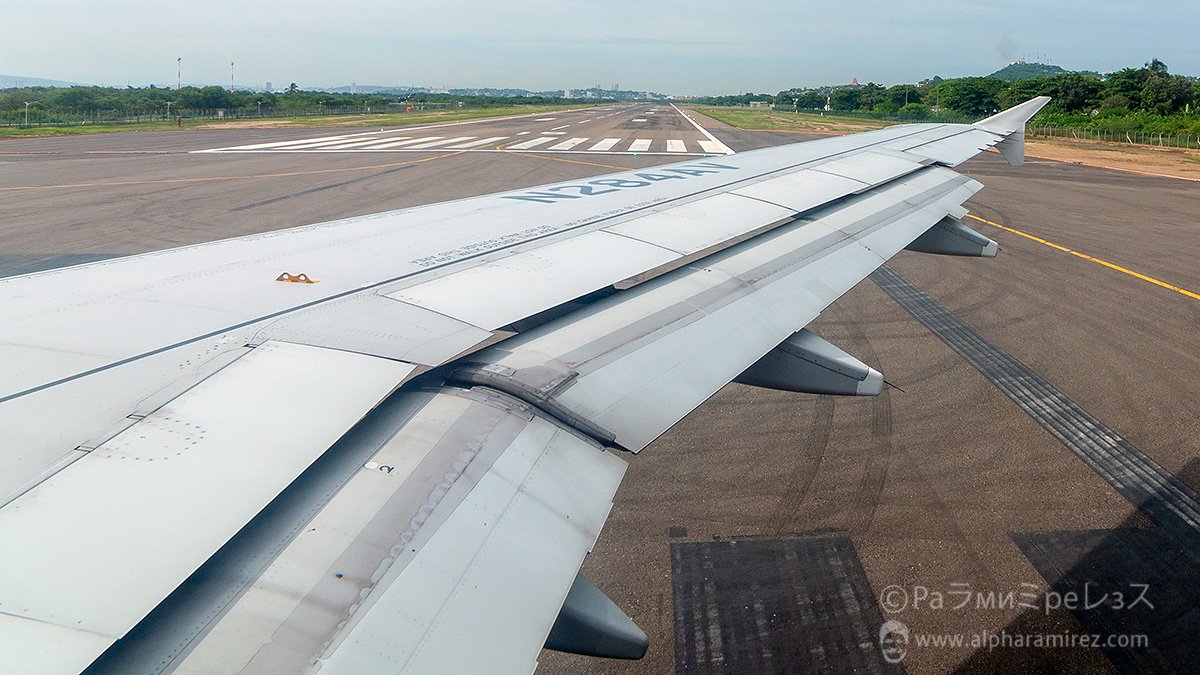 We climb over the city with a view to La Popa, Manzanillo island, parts of Manga and Bocagrande, El Laguito, Castillogrande all that sector there in the background.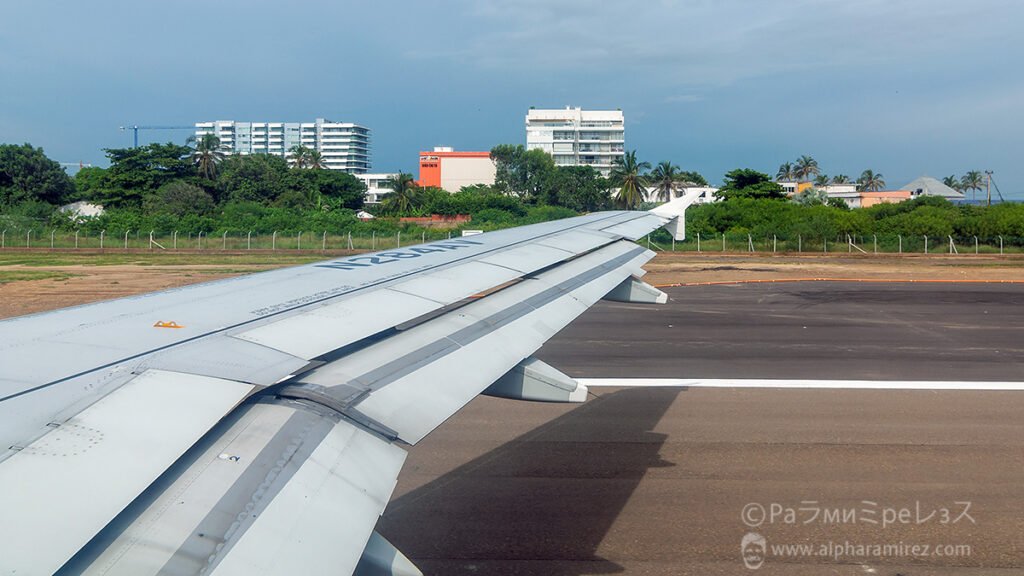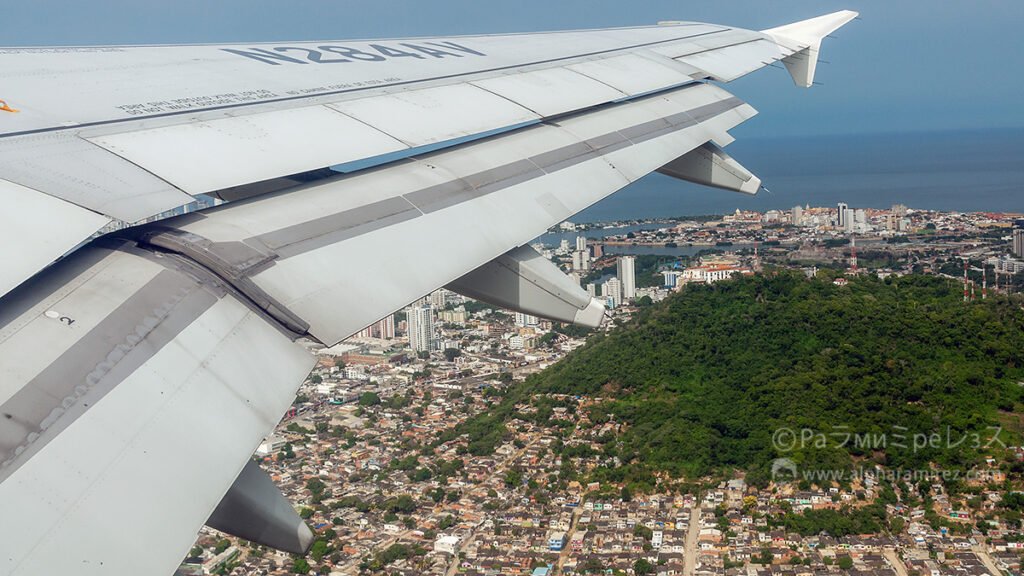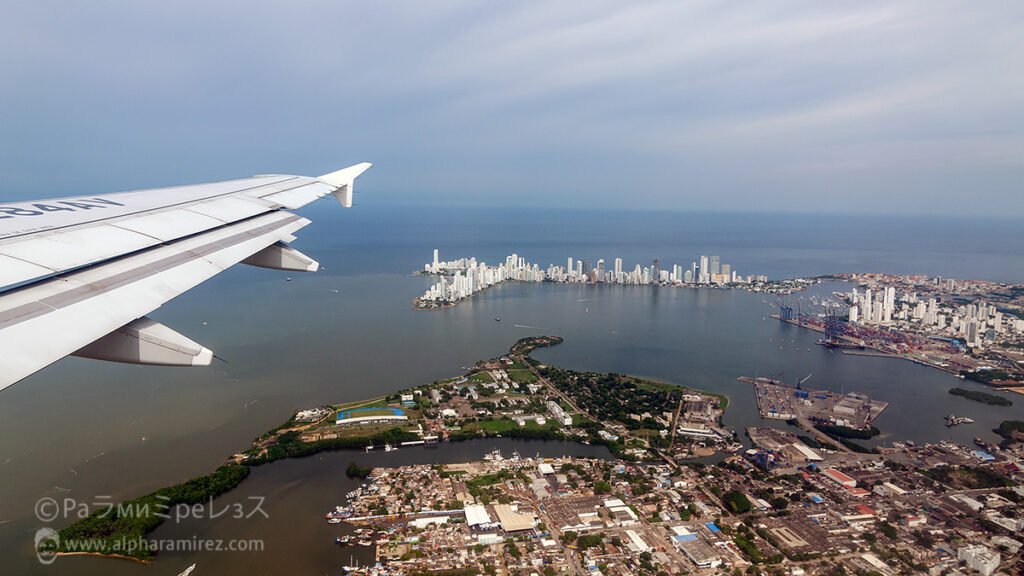 We flew over the clouds south of the city and nothing could be seen until after Montería.
We flew over Antioquia with a view to Medellín-Rionegro Airport (my final destination) and little towns of eastern Antioquia such as Rionegro, El Carmen and Guatapé.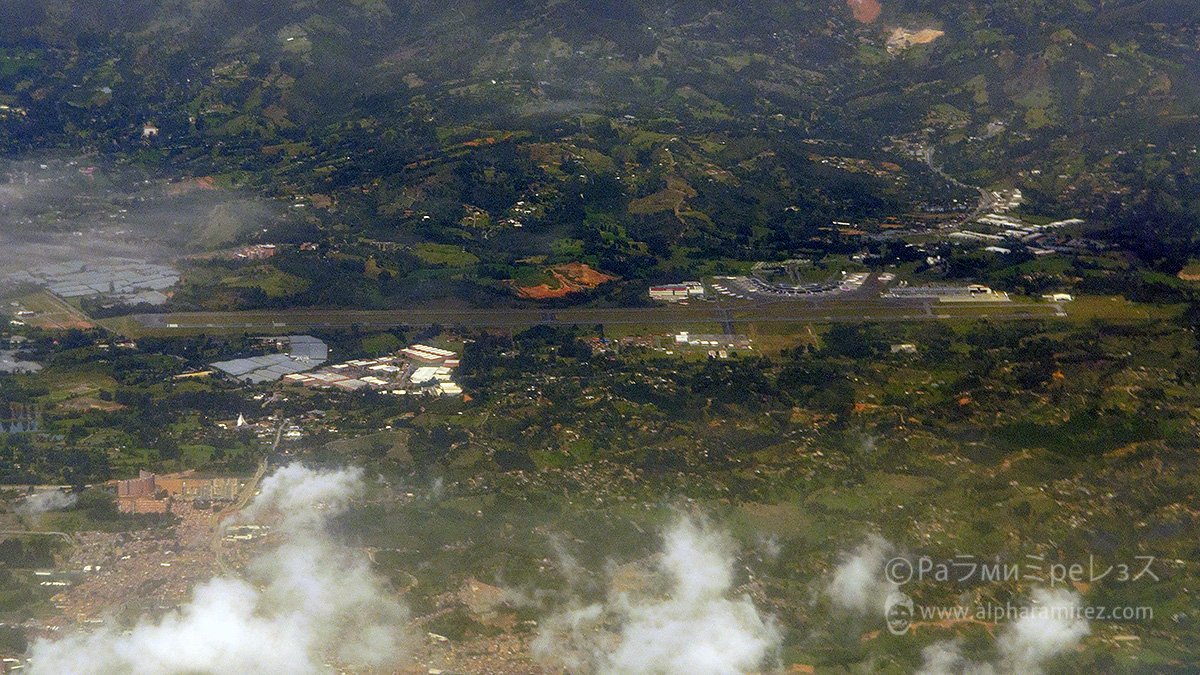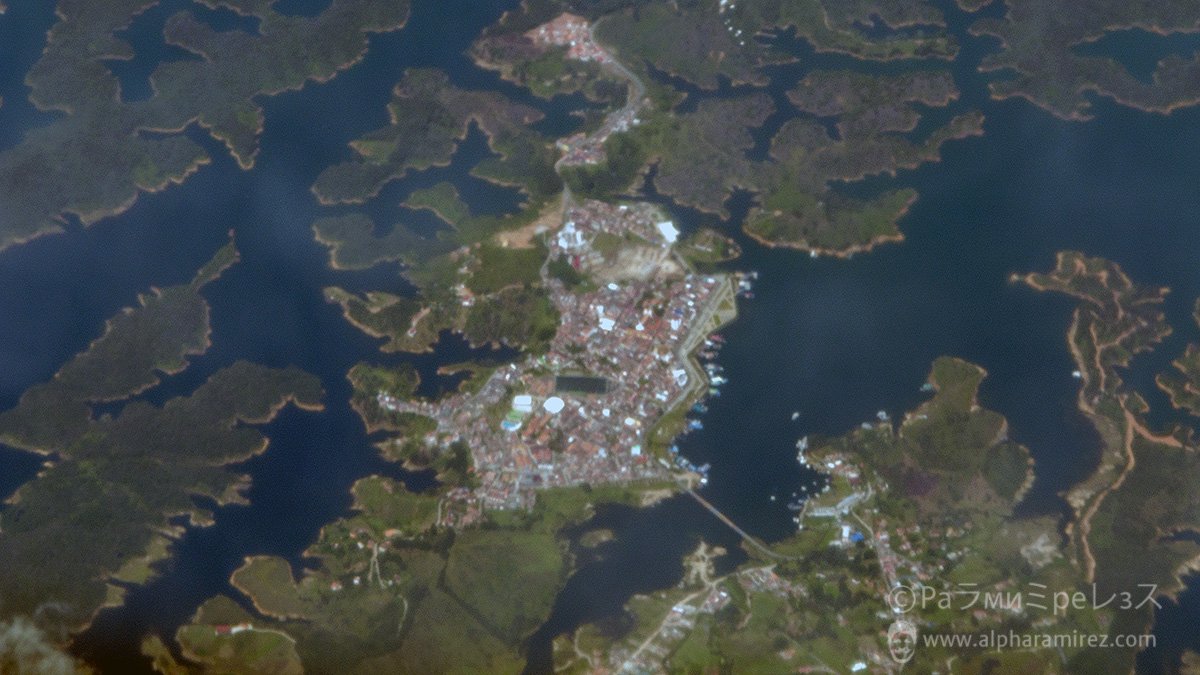 Entering the plateau in which Bogotá lies from Mariquita I could see part of the snow peaks, and we finally approached and landed on runway 13L, as can be seen in the following gallery.
Runway 13L is right in front of the international gates, and they were totally empty as seen in the following photo.
At the domestic gates, there were a bunch of LATAM and Viva Airbus A320 and not much more. Other than that, it was full of stored Airplanes. There was also an Avianca Boeing 787-8 which I'm not sure whether it was stored or what.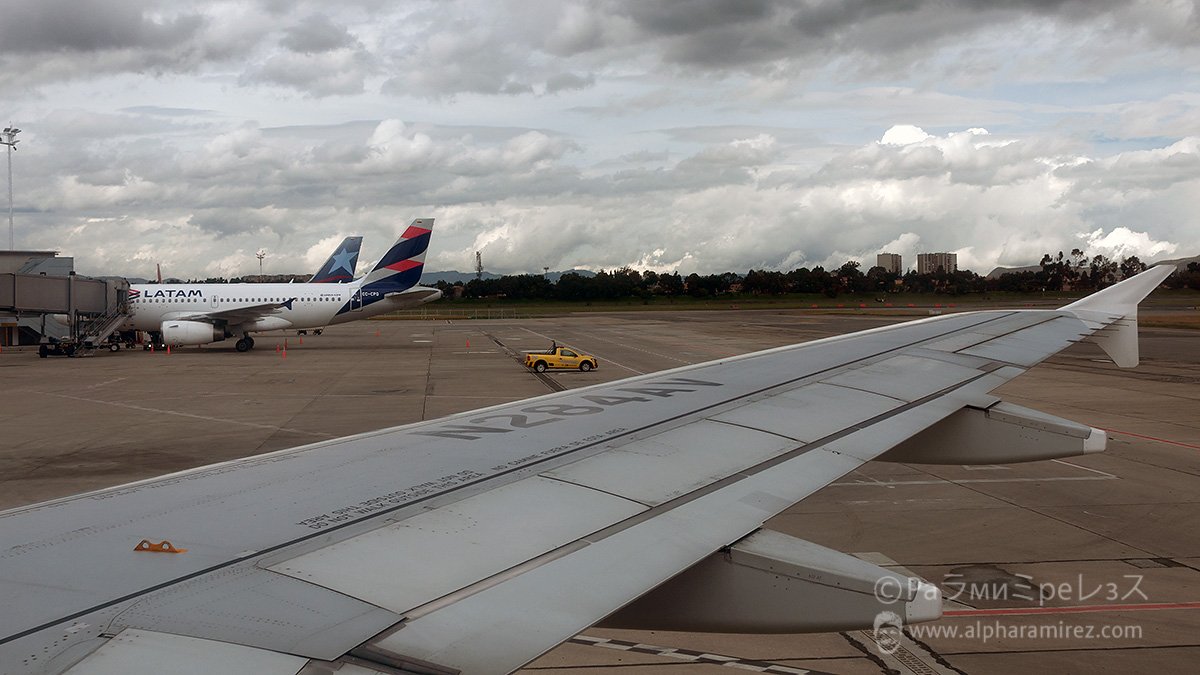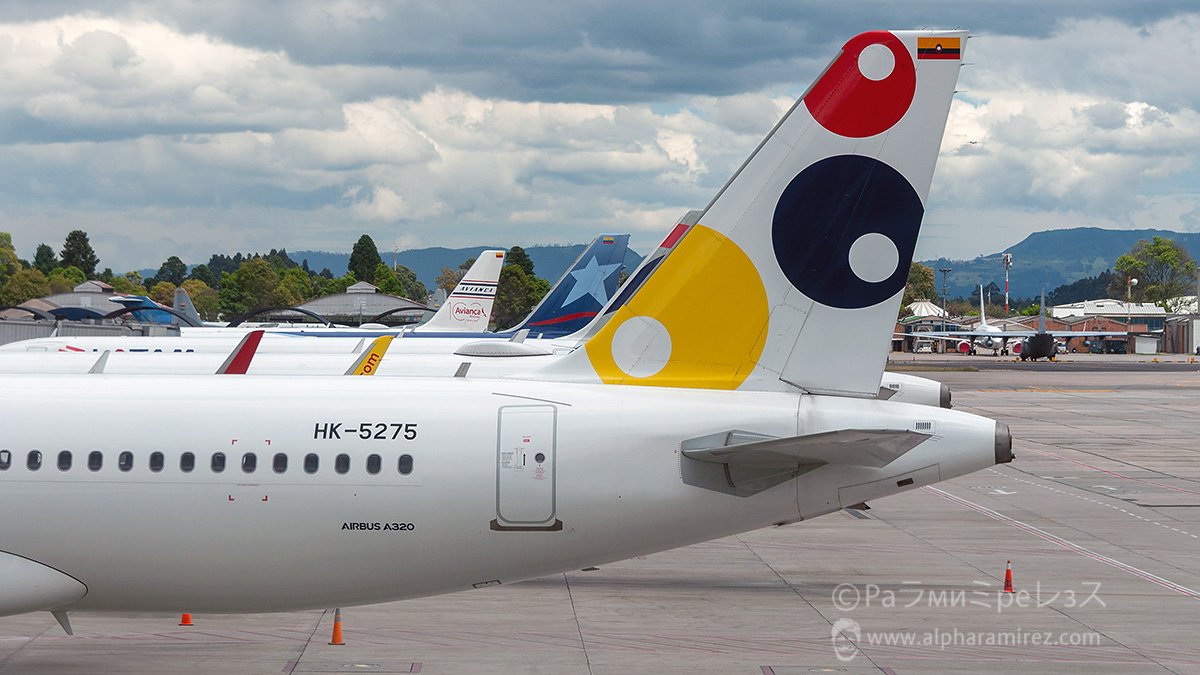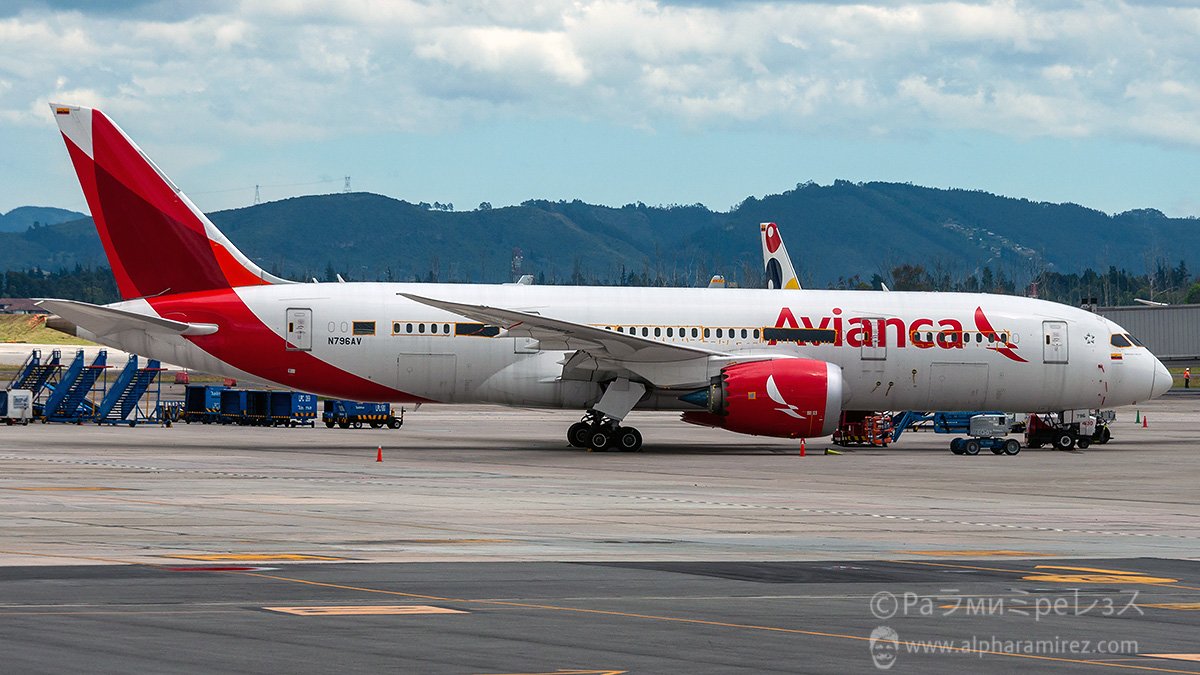 I had a 6 hours connection thanks to Avianca, and I wasn't about to just sit there. The Airport was dead and the operations were very sparse for me remain there taking photos.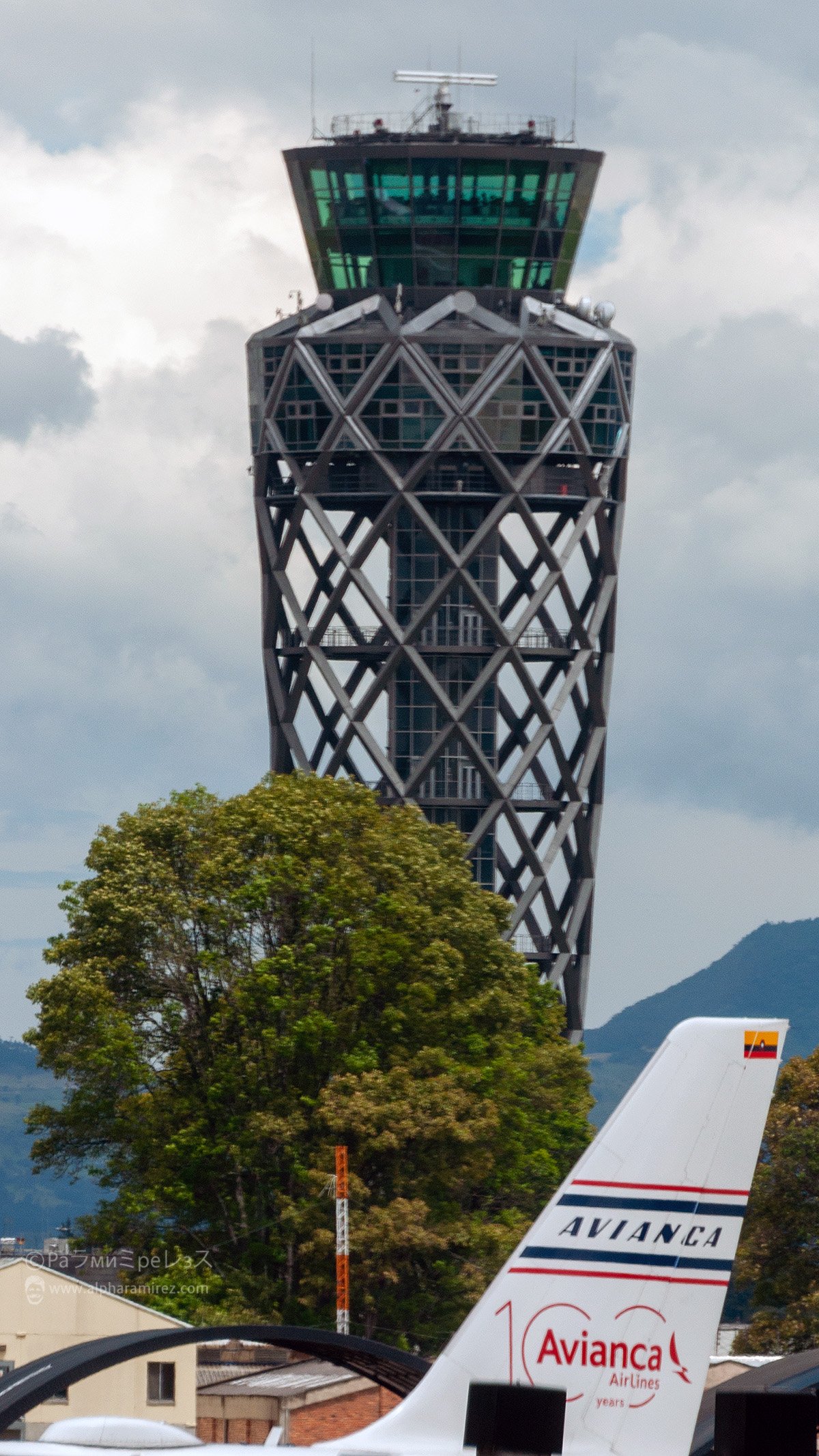 So I made my way to the exit. The camera to take the temperature was before the escalator to go to baggage claim and the exit.
The process was similar to what I experienced entering Medellín-Rionegro. Just a matter of standing on a determined position and waiting for the woman operating the camera to finish her work.
There are some red X painted on the escalator for social distancing.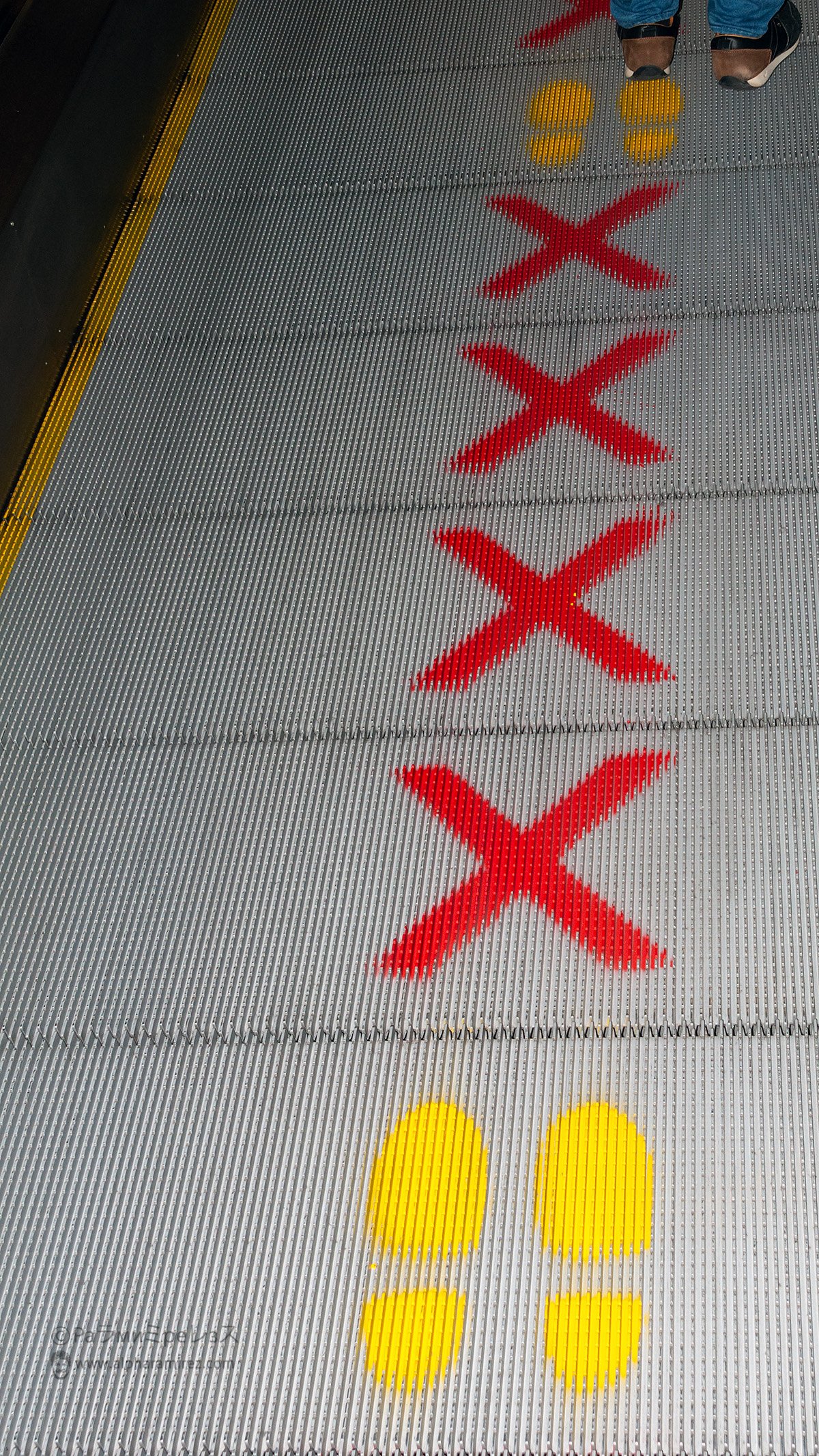 Additionally, some no-return doors are going from that sector to the baggage claim that weren't there before.
I ate nearby, walked around and went into clothing shops to try heart-shaped glasses on because it was boring as hell.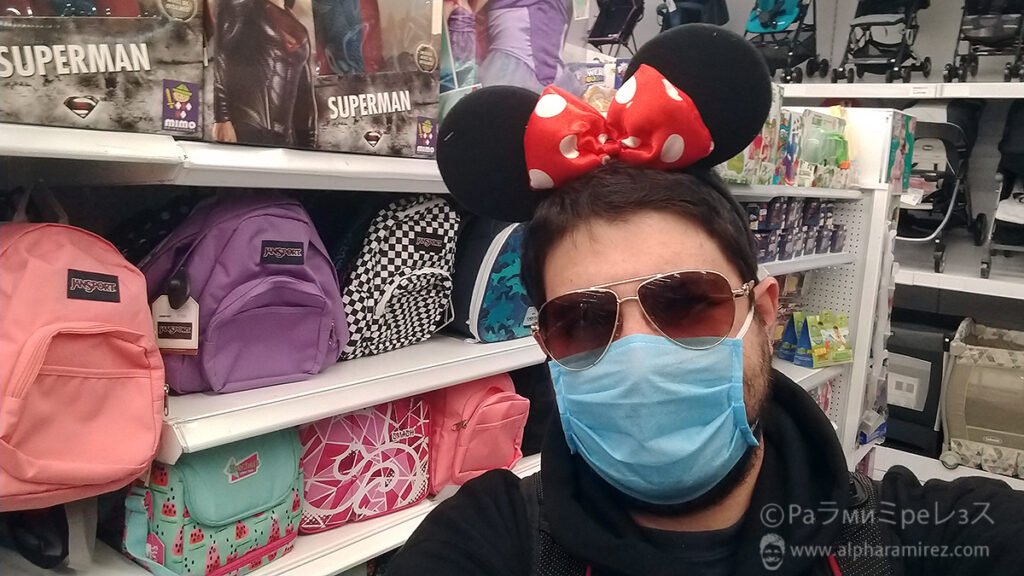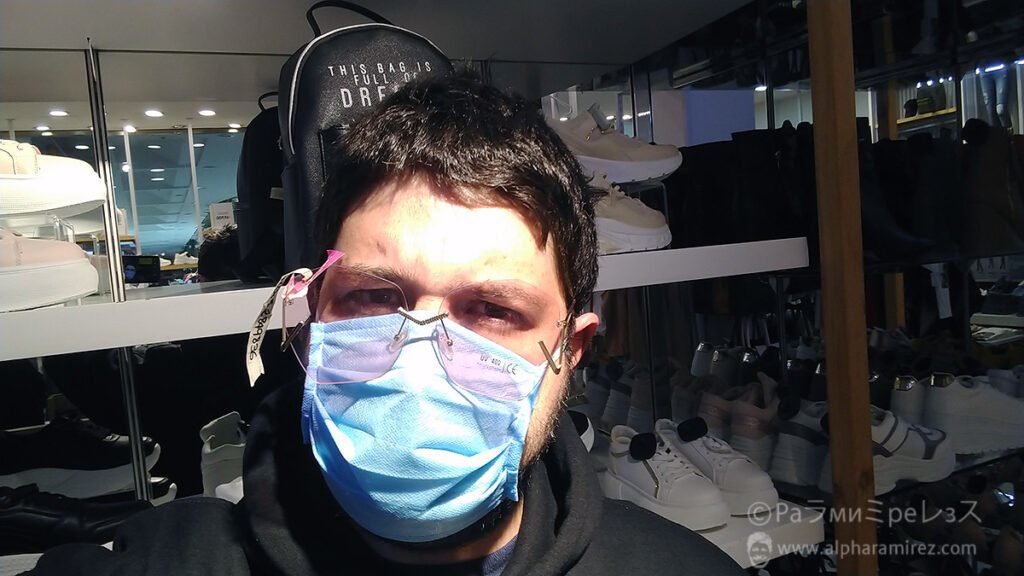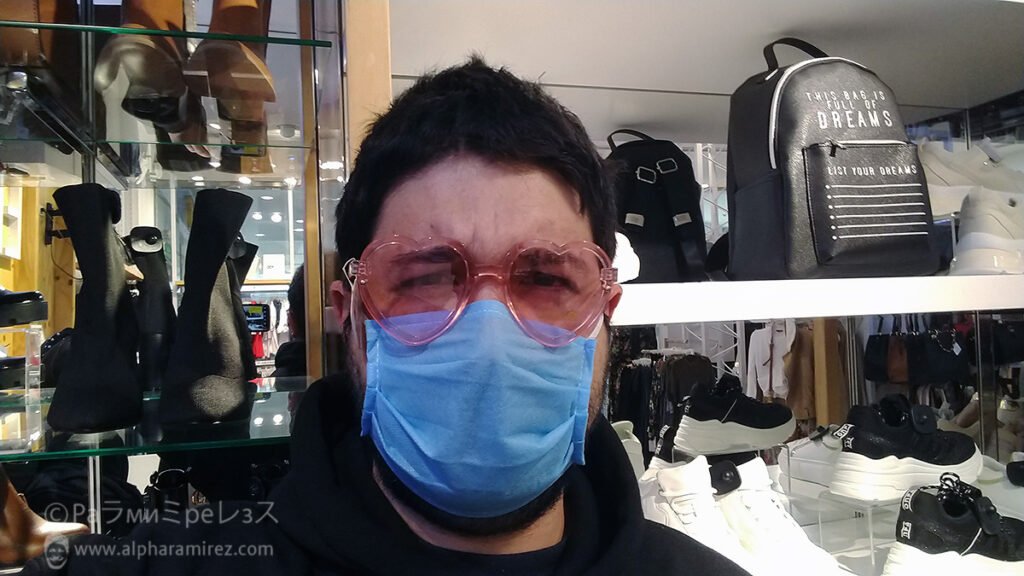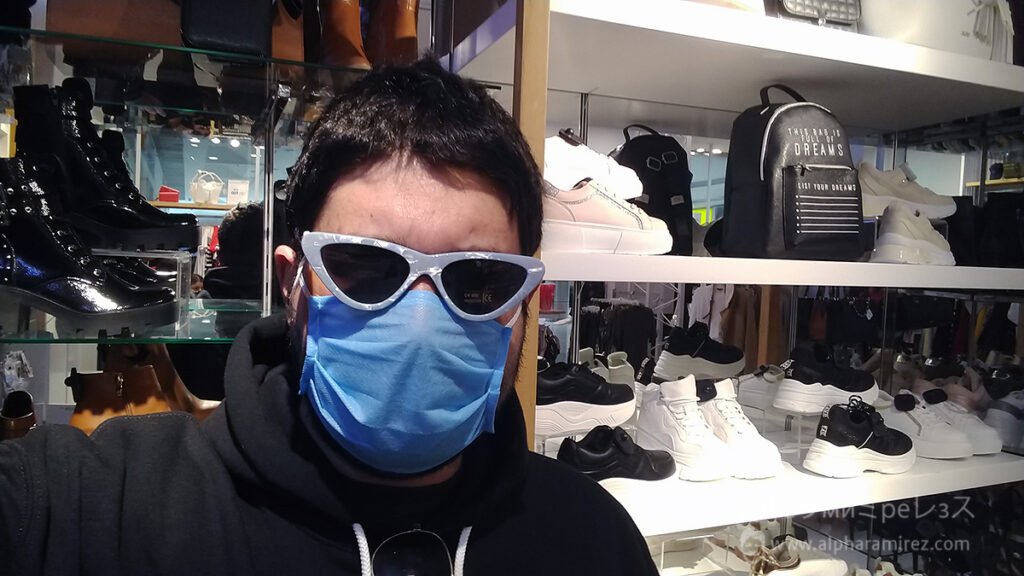 Back to Eldorado, I experienced the very same protocol to enter as in Cartagena with the portable thermometer and the showing of my ID, boarding pass and CoronApp.
The international check-in zone was empty, as could be expected going by the gates.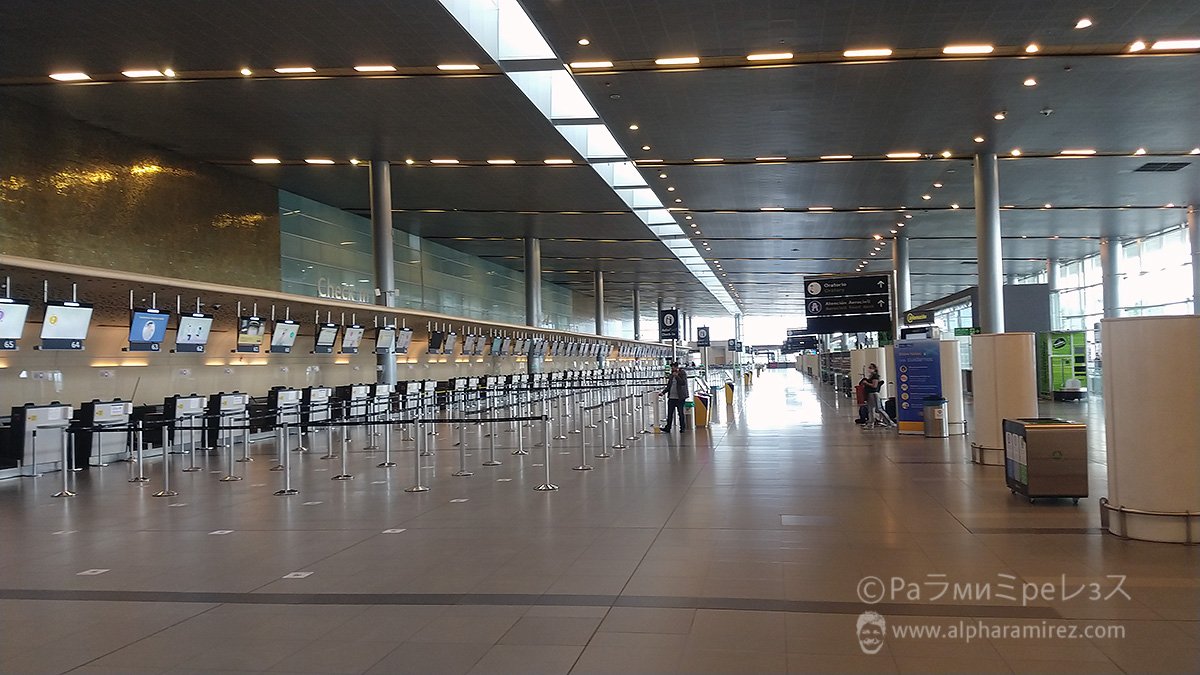 The novelty here was the presence of a QR code reader before the security filter in which I had to put my boarding pass before gaining access to the security filter itself. And there in the filter, there were some UV light devices through which they pass the trays that have been used.
Out of the three Airports through which I passed in this trip I only saw those things in Bogotá. Other than that, it was the security process we've had for many years now.
Route: Bogotá (BOG) – Medellín (MDE)
Airplane: Airbus A320
Airline: Avianca
There was some movement at Eldorado's domestic zone, I remember there was a flight to Pereira boarding at the same time, and there were some people as well. But it was quite dead anyway in comparison to the last time I had passed through.
The remaining Airplanes I saw operating were all freighters. For example, an ABX Air Boeing 767-300F, an AerCaribe Boeing 737-400F and a LASCargo Boeing 727-200F.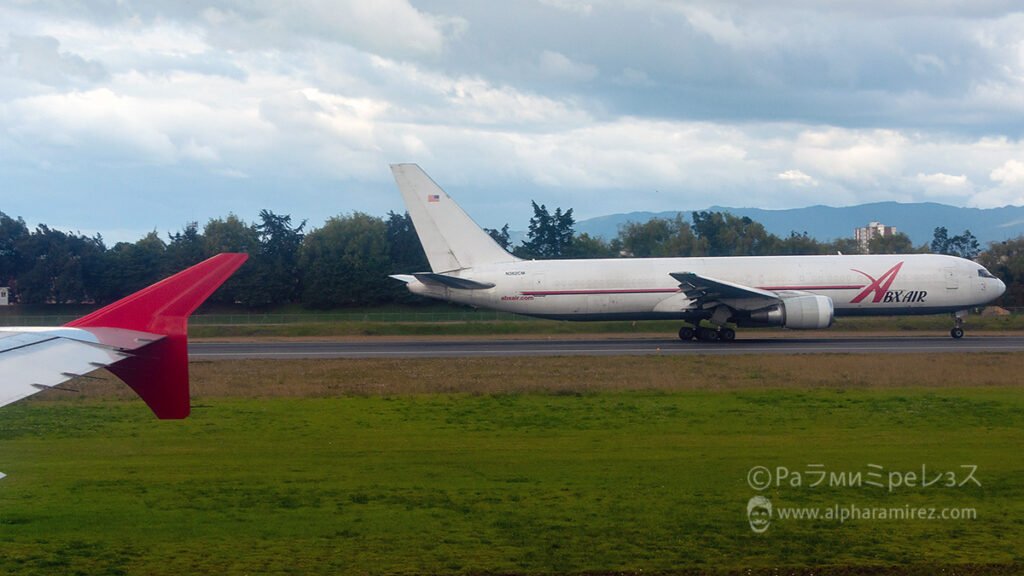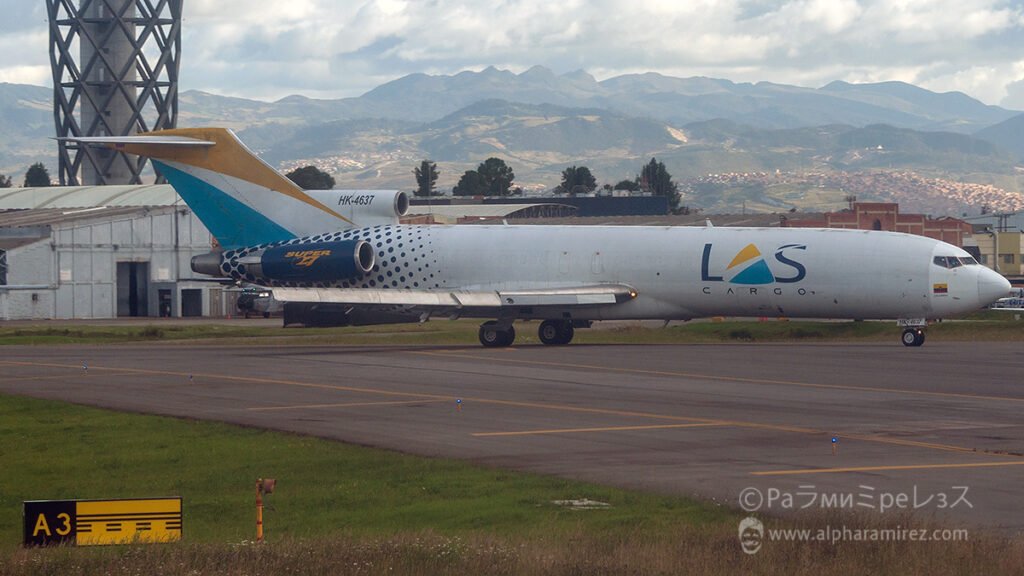 We boarded the totally full flight on-time. Who knows who else got their nonstop flights cancelled.
Our Airbus A320 for that flight was N451AV, again, another one that wasn't a repeat thanks to avgeek god.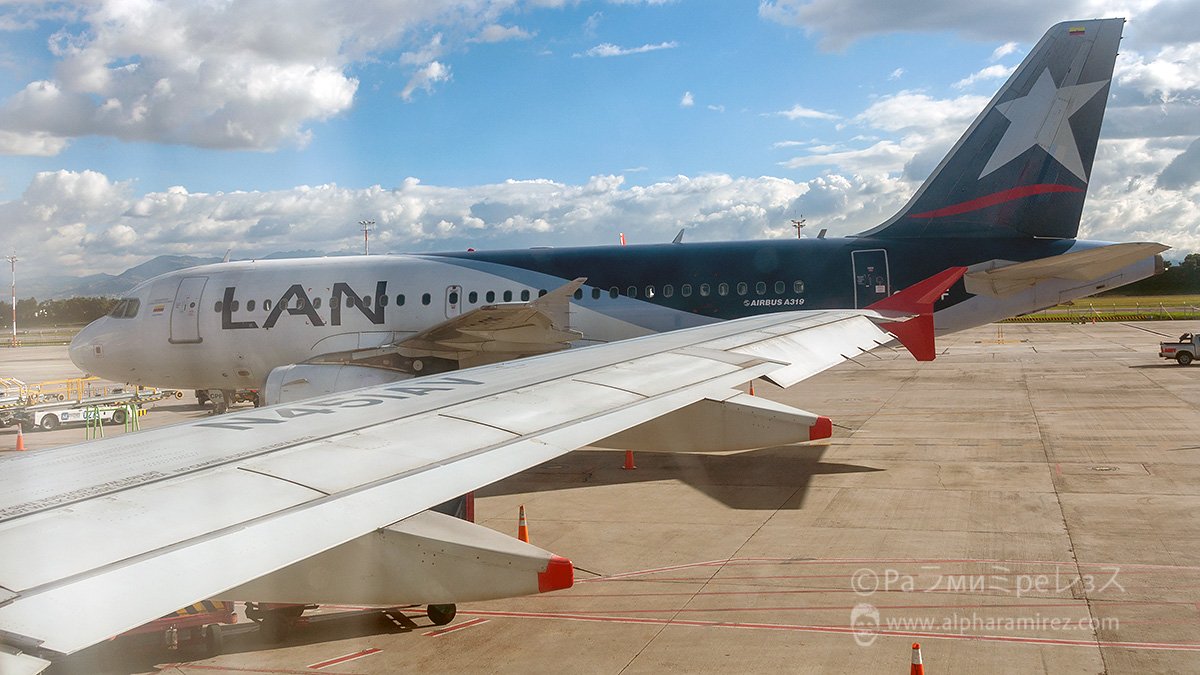 We took from runway 13L again, very uncommon when departing for Medellín.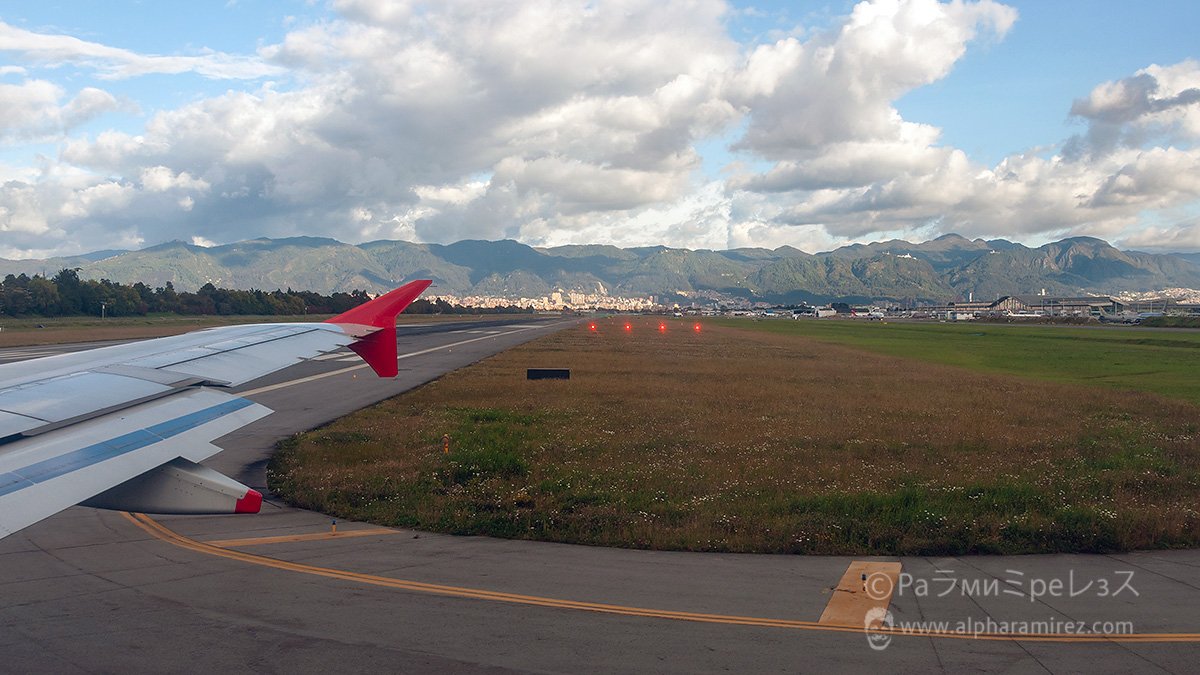 I guess the other runway is closed by NOTAM or something, it's been a while since I made an effort to be updated on those things, truly.
After takeoff, we turned right towards Soacha as usual and flew over the city.
Among others, in the Airport I could see the Avianca Airbus A320 retro on a gate, by now it had already flown to Santa Marta and returned, and a Transcarga Airbus A300F, hmmm delicious.
There are many Airplanes stored in the Puente Aéreo and taxiways.
In one single photo from the air I counted 13.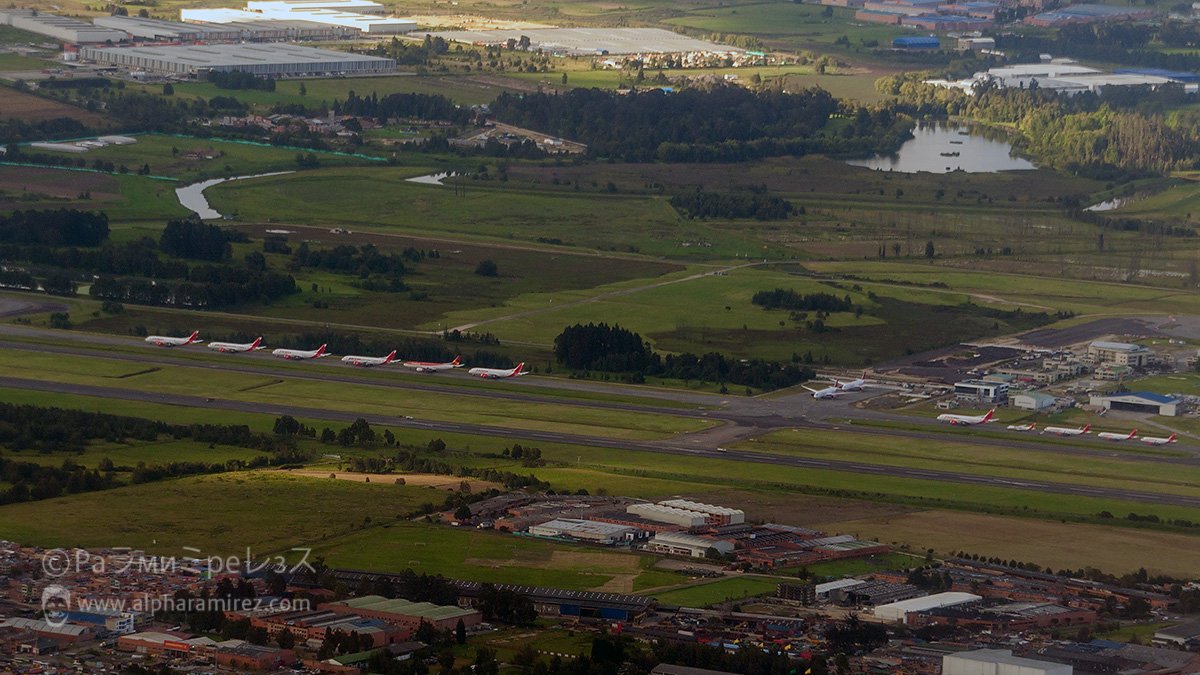 It was a sunny day and Bogotá slowly disappeared.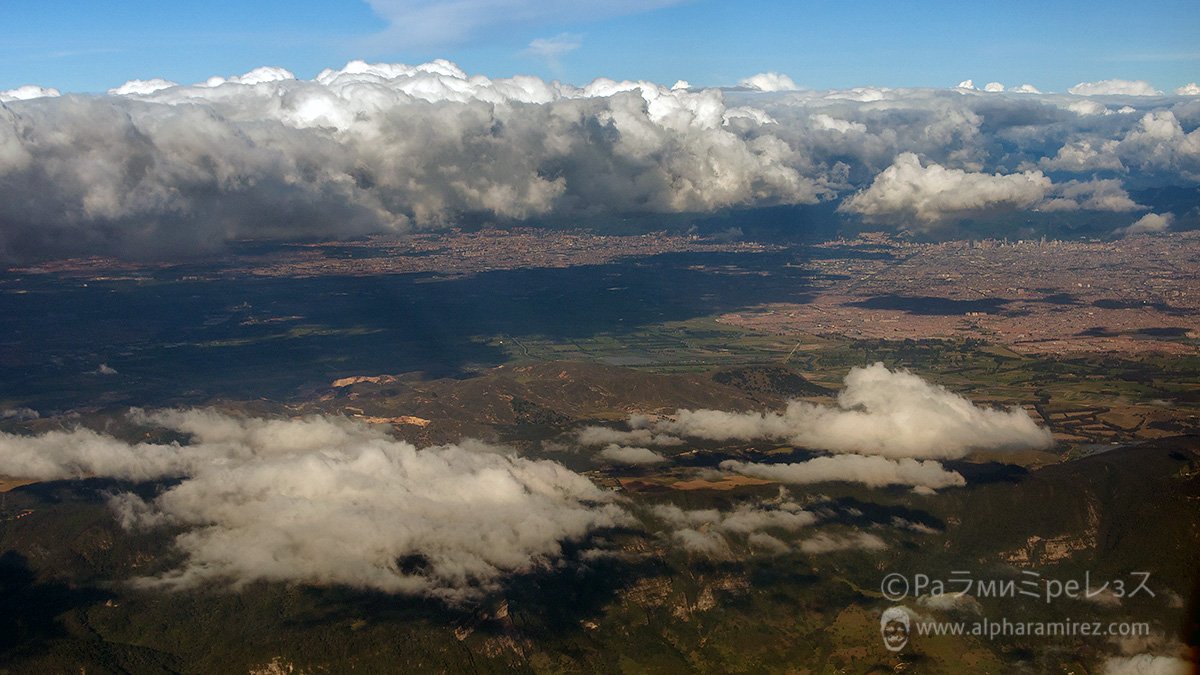 We flew over the usual route and I could see Mariquita.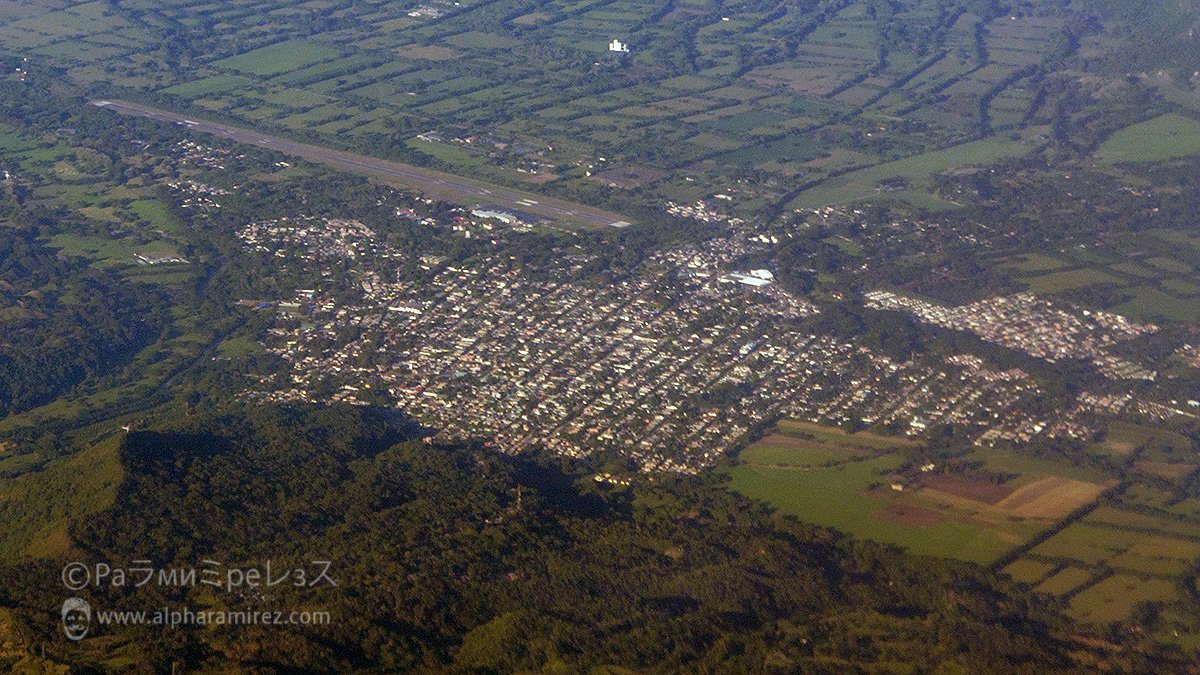 Soon enough we started our descent to runway 01 of José María Córdova Airport over mountains.
I had some eastern Antioquia towns such as La Unión, El Carmen, La Ceja and finally Rionegro flying over Llanogrande, and of course, El Capiro hill as well.
There were three Viva Air Airbus A320 at cargo that looked like they were stored, and three Avianca Airbus A330-200 all in Star Alliance colours, I'm not sure if they were stored or undergoing scheduled maintenance.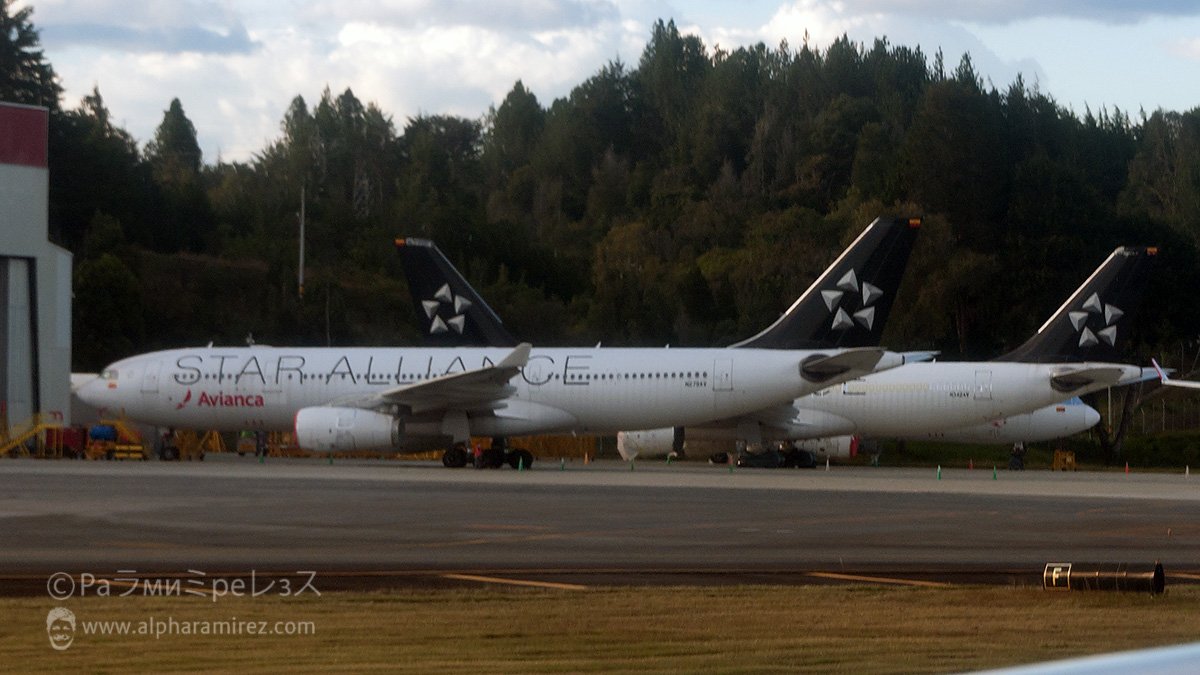 Again, when we reached the gate people began standing up when it wasn't their turn according to the new order, and Avianca's flight attendants had everyone sitting again super strict and bossyyy. People can't follow some bloody basic instruction…
On the way to baggage claim, there are some thermometers like embedded in the walls, you're supposed to just get as close as you can to them without touching them, and then continue your merry way when the temperature is taken. There are two or three people giving instructions and monitoring the whole thing.
I was kind of in a rush and it didn't occur to me to take a photo…
After that, I picked up my suitcase and left the place as I have always done.
I was very happy to be able to fly again, things are kind of dead still but I hope they'll gain momentum little by little.
I was also very happy to see flights had a high occupation or at least higher than I expected.
Now, the experience is way more annoying than it used to be. And it's not that it was a fun thing before regarding checks and procedures. Additionally, having a face mask on so much time is terrible. I hate face masks.
It must also be noted that in this initial period airlines are so much more in disarray than they usually are, and they're changing and cancelling flights all over (and there are few flights to start with).
Technically, when they do that one would be entitled to a full refund and that's that, but here they're being allowed to simply issue a voucher that may be useful, or not. Anything to do with consumer rights is not a matter for Colombia's government.
On the other hand, it was my understanding that the overhead baggage compartments were not to be used at all.
Judging by what I experienced in the three flights described here, they can be used indeed. It's just that you can't stand up to open and close them in flight. Basically, you store your baggage before you sit and you won't see it again until you stand up to leave the Airplane after landing. But they can be used.
I don't know if they miscommunicated the concept or I'm a thick arse (or both).
Loos are also restricted but can be used, which I think is the most natural and fitting thing. For example, in Viva, only the aft loos were available. I didn't quite notice what restriction they had in place in Avianca, but they also had one in place.
All in all, I think many of the measures standing right now are what can be reasonably done in light of the virus and the current status of the development of treatments or vaccines, and they're not wrong.
Nonetheless, I wonder if it's justifiable that they took six months to come up with what they came up regarding protocols and measures.
Those protocols are not rocket science, and more competent, suitable and willing authorities could have implemented them much earlier without damaging the sector in such a catastrophic way.
They made the whole sector suffer for six months, and even though there's a certain operation now, the full-blown consequences are yet to be seen. It's likely to get worse before any meaningful improvement.
I hope the "authorities" learn lessons. You can't go blocking cities and sectors willy-nilly when you have palliative measures at hand that could be swifter.
But anyway, the damage's done, now to get back on our feet with what we have.
---

Este artículo también está disponible en
Español
.