Please remember to read the notes on
contents and copyright
if you have not.
This article was first published on:
January 2019
This article was last updated on:
January 2019
---
This Kiev and Chernobyl article is kind of long and thus is divided into four (4) parts. You are about to start reading part two (2). Choose here any other part you may want to go to: | One (1) | Three (3) | Four (4) |

Este artículo también está disponible en
Español
.
---
Of course, in Kiev I made room for taking Aeroplane's photos.
I visited three Airports, almost always with the company of my friend Oleg.
One of those was Chaika, about 15 kilometres west of the city. There we sat in a tribune of sorts, started watching what was there, and taking photos.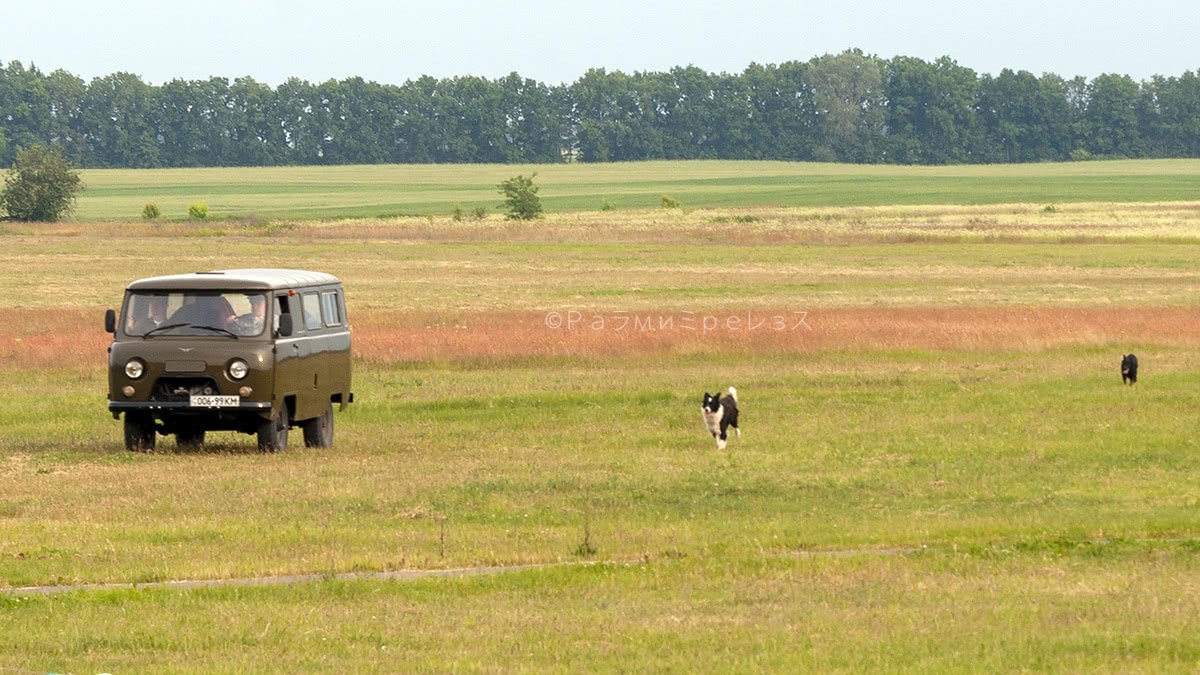 While at that, a babushka came out asking if we had permission to take photos.
My friend told her permission was not required, so the babushka left annoyed, and left us alone.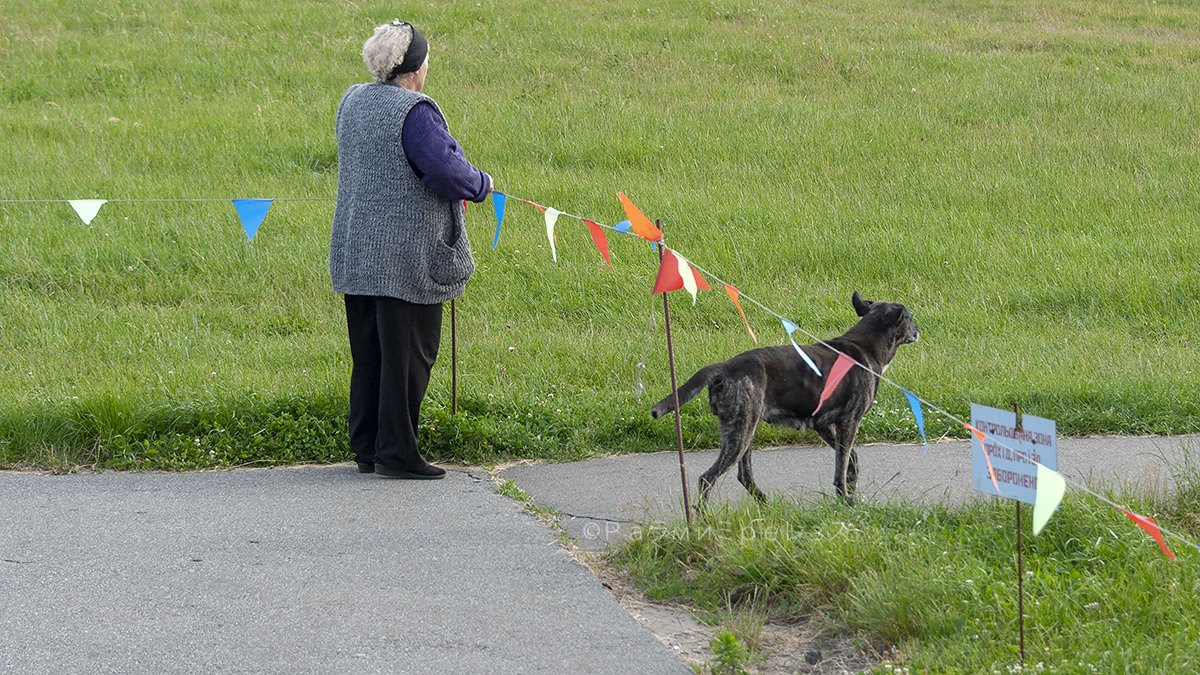 The outraged babushka and a doggy dog.
A Chaika firefighter's truck.
There was a delicious Yakovlev Yak-52 doing touch-and-goes, it was the only thing we saw actually flying. But it was more than enough for me.
It's a primary training and acrobatic Aeroplane of the Soviet Union times.
It's very appreciated because it's very capable in its acrobatic role, and at the same time it's relatively easy to takeoff and land.
When I was getting my Pilot's licence in the United States there was one in my base Airport, still with Russian registration. It was beautiful.
There is an international competition called World Aerobatic Yak 52 Competition, in which only this kind of Aeroplane is used.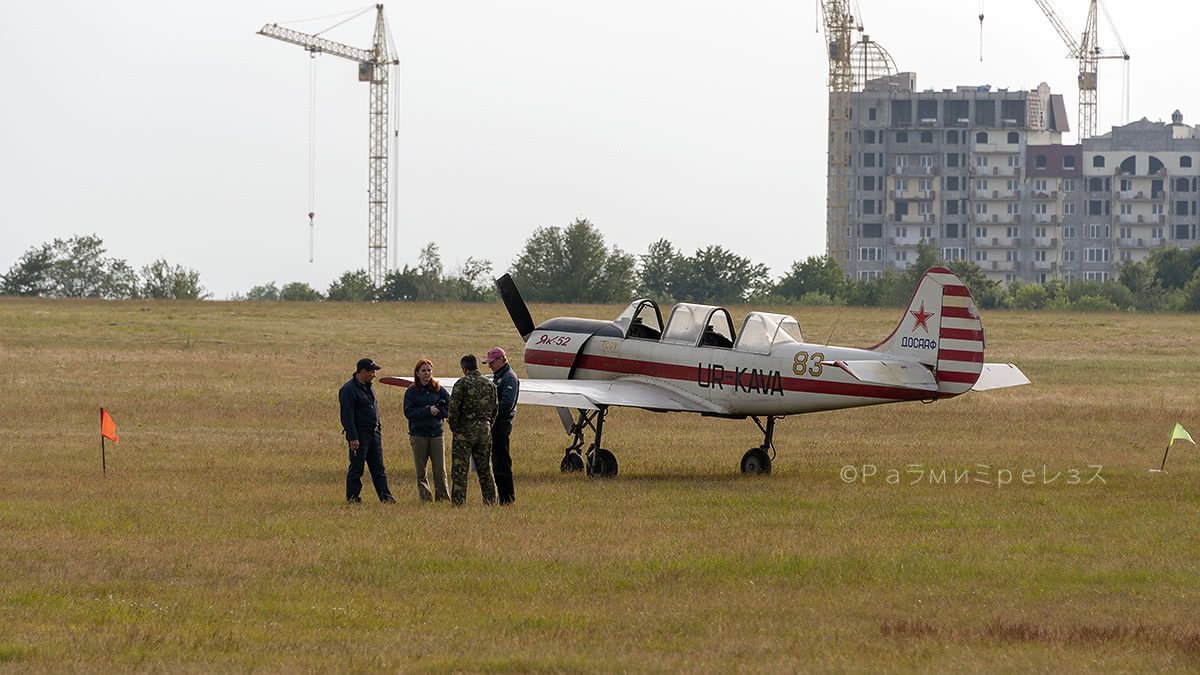 The Aeroplane had DOSAAF insignia.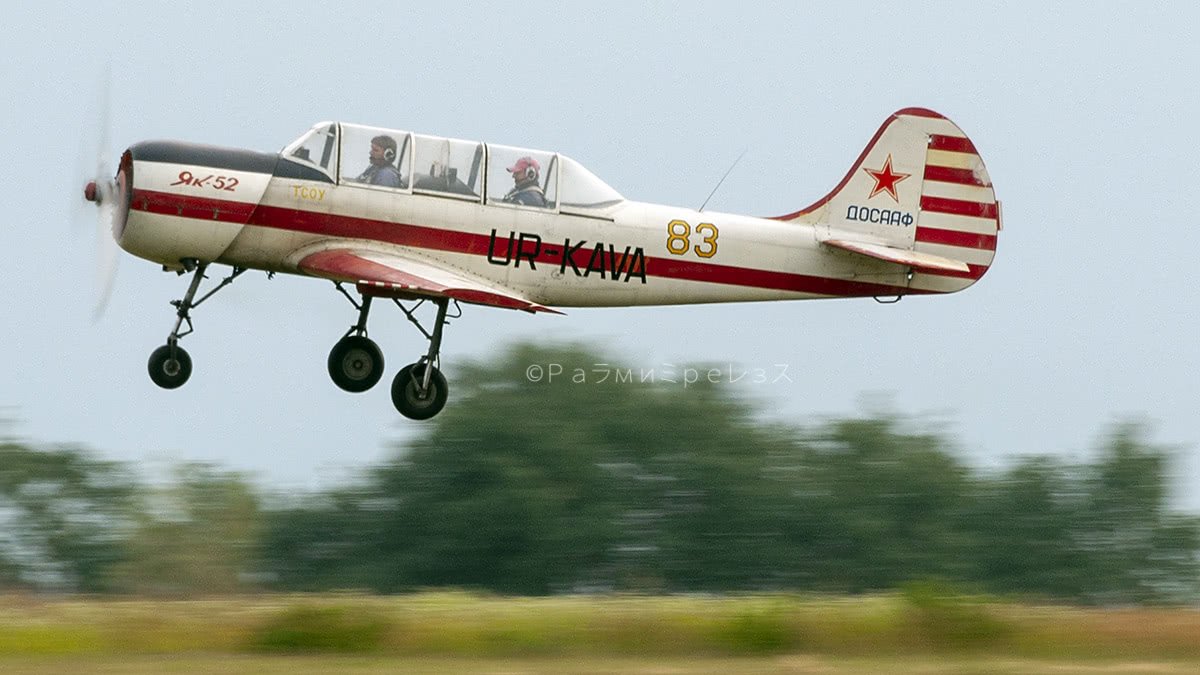 Besides landing in Boryspil when I arrived, I also went there to take some photos.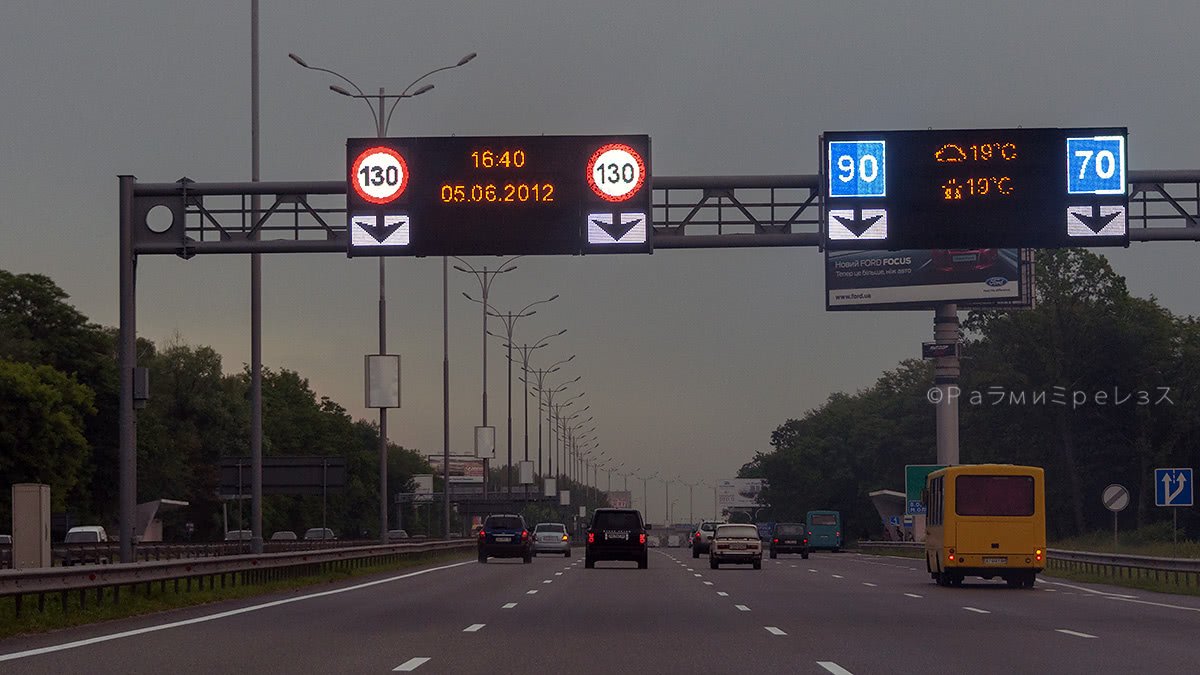 On our way to Boryspil with very delicious and adequate speed limits.
I went to a field that is close to the threshold of runway 18L, if I'm not mistaken.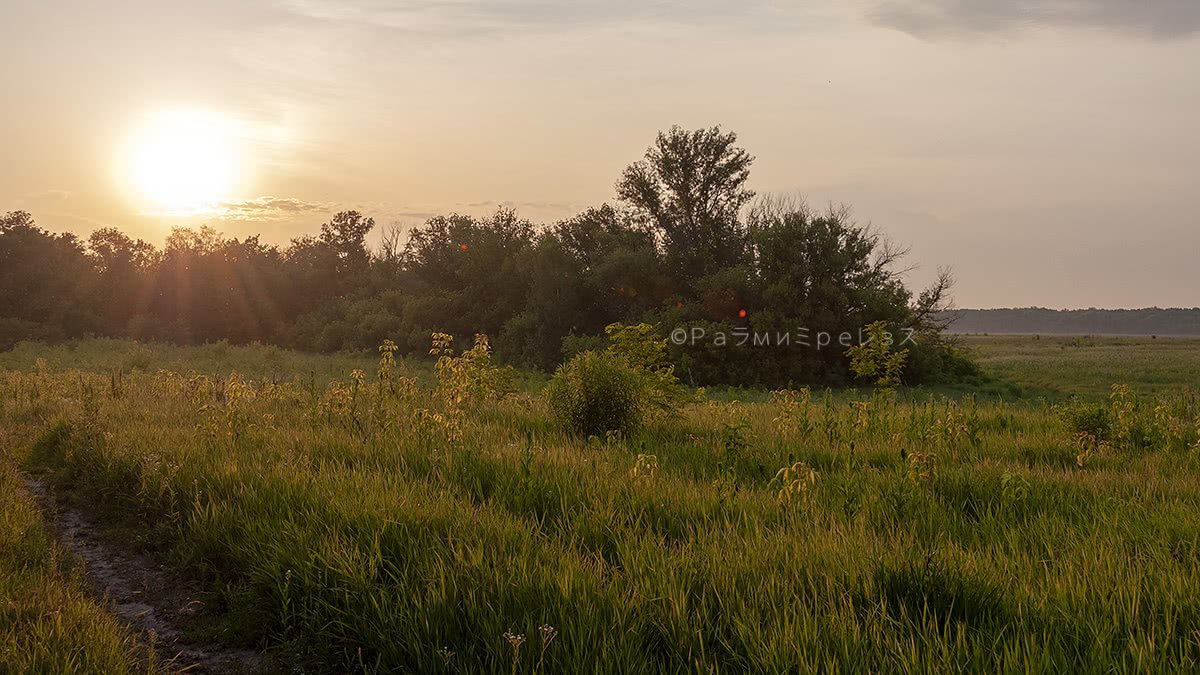 A most representative sample of Ukraine's civil Aviation of the moment flew by.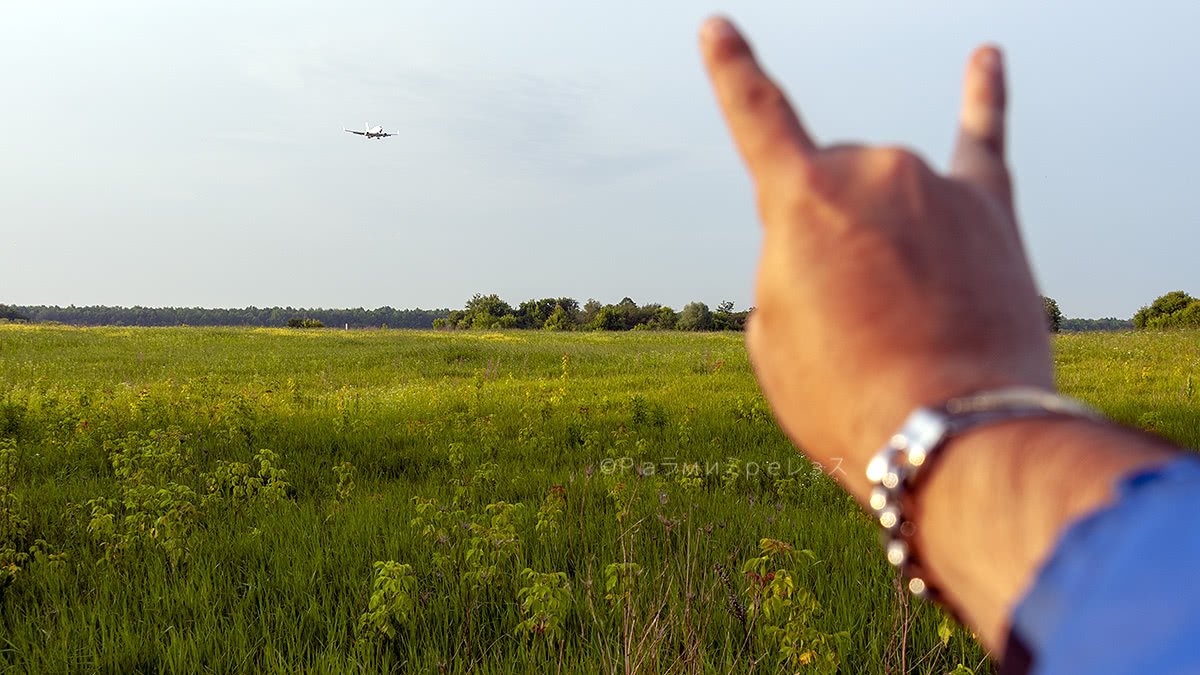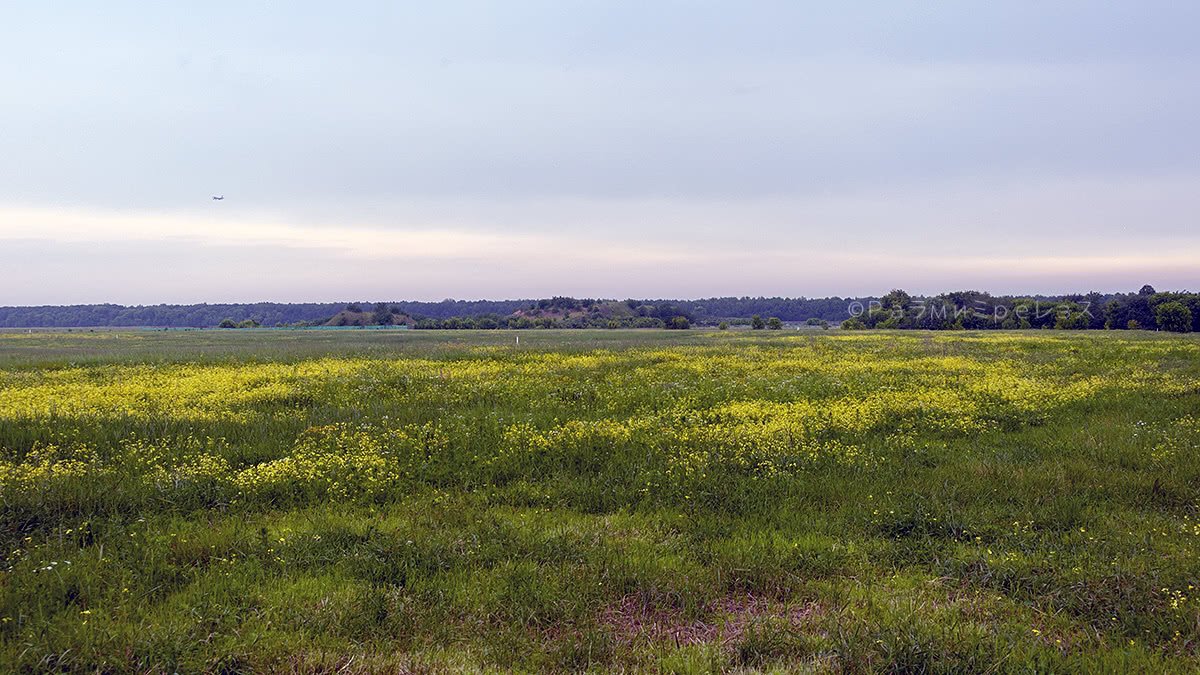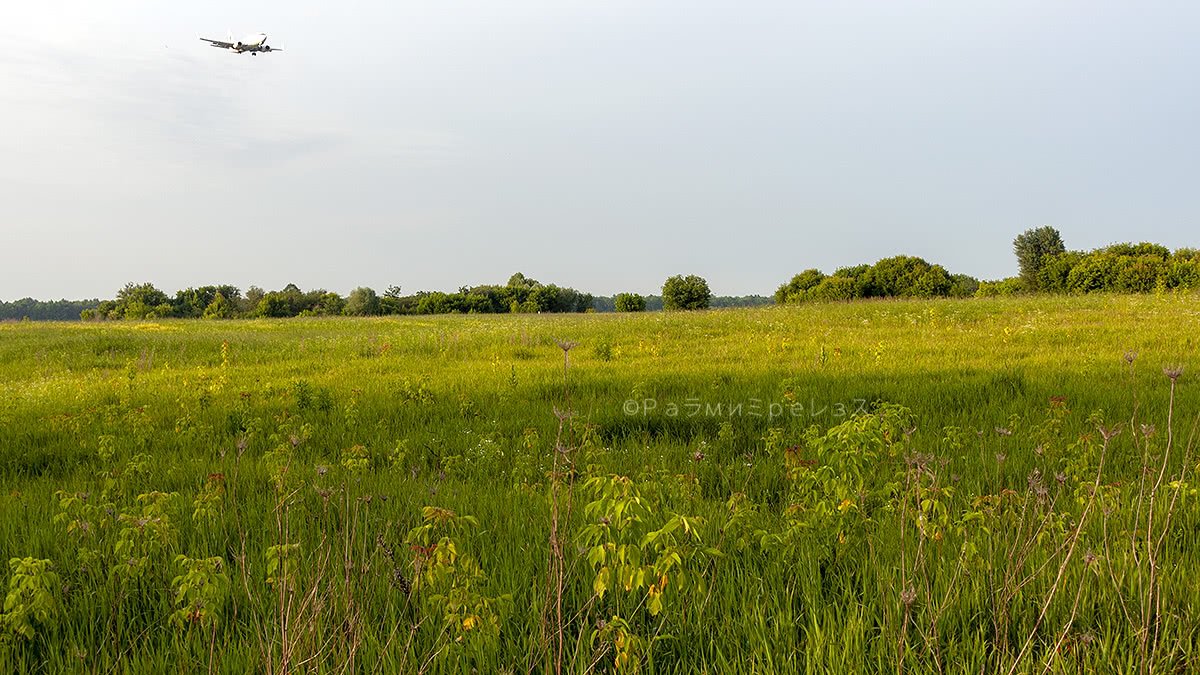 Aeroplanes of Aerosvit (no longer operates), Dniproavia (no longer operates), Windrose, Ukraine International Airlines, and some foreigners like Turkish Airlines.
Several bizjets arrived as well.
Aerosvit Boeing 737-800. The airline does not exist now.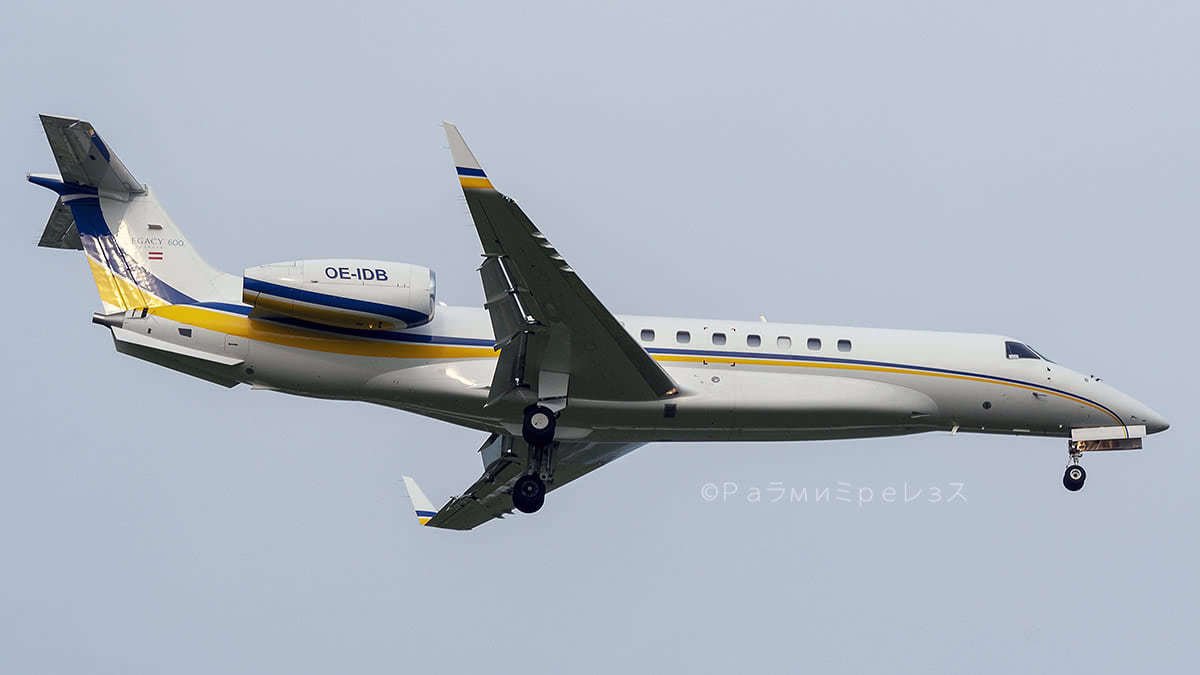 Austrian registered Embraer Legacy 600, but with stripes with Ukraine's flag colours.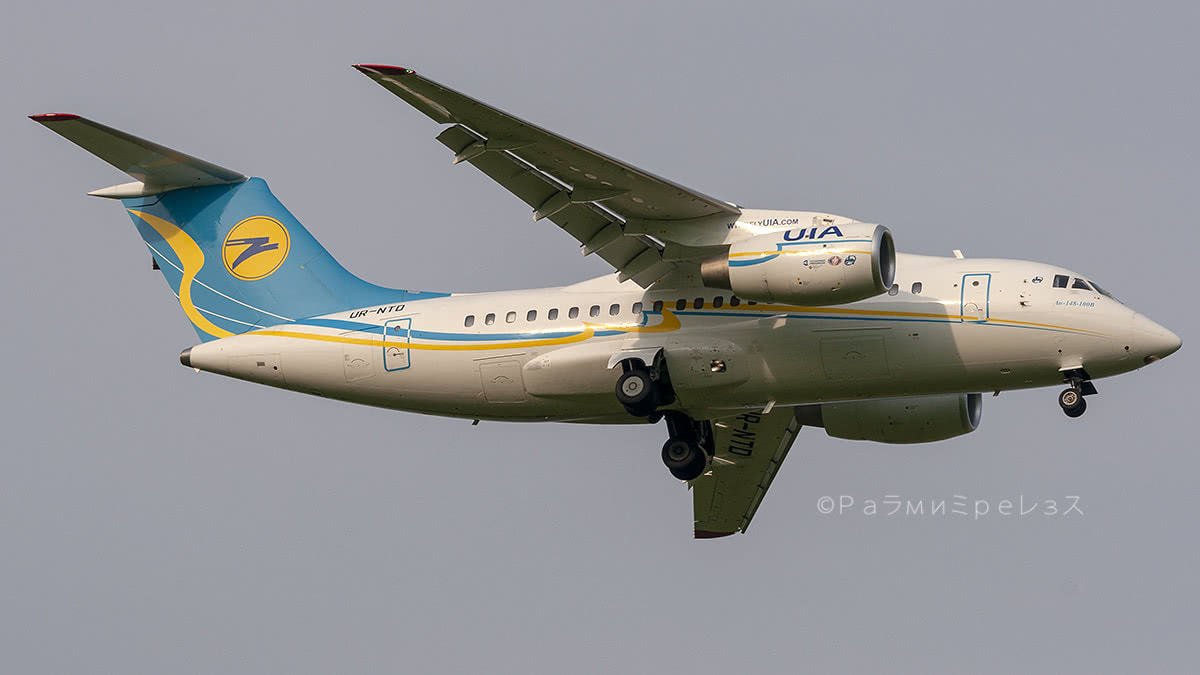 Ukraine International Airlines Antonov An-148. I left Ukraine in one of these.
It's one of the projects that's suffered the most with the issues that arose between Ukraine and Russia later.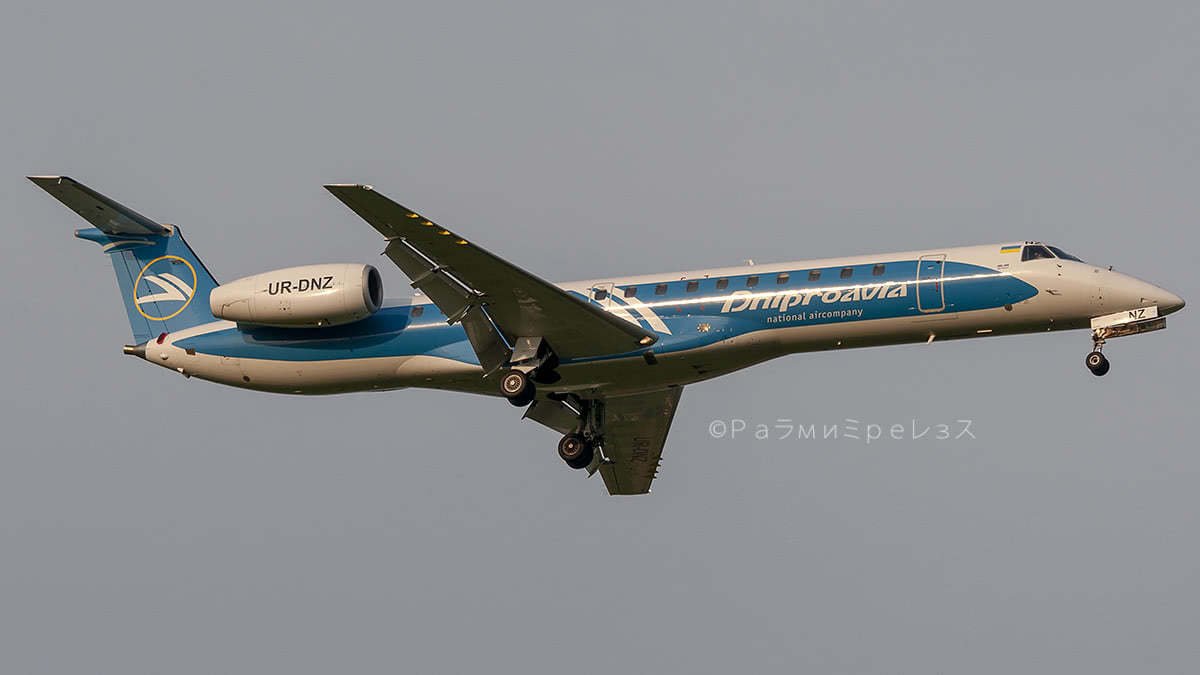 Dniproavia Embraer ERJ-145. The airlines does not exist now.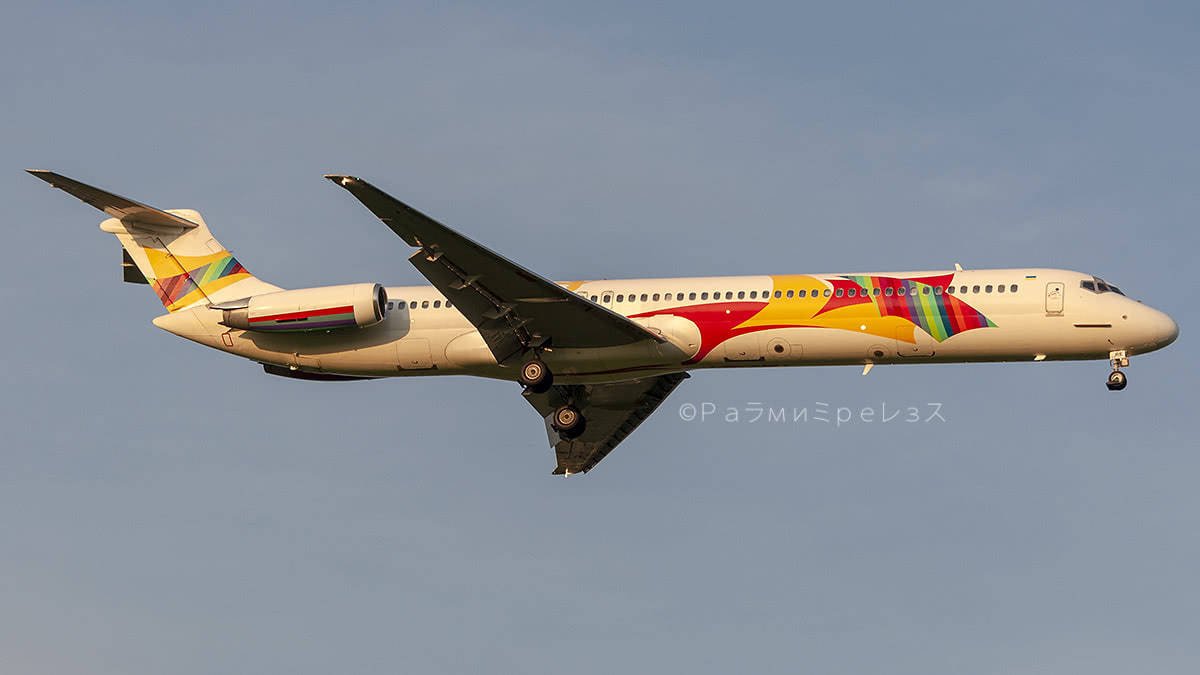 Windrose McDonnell-Douglas MD-80.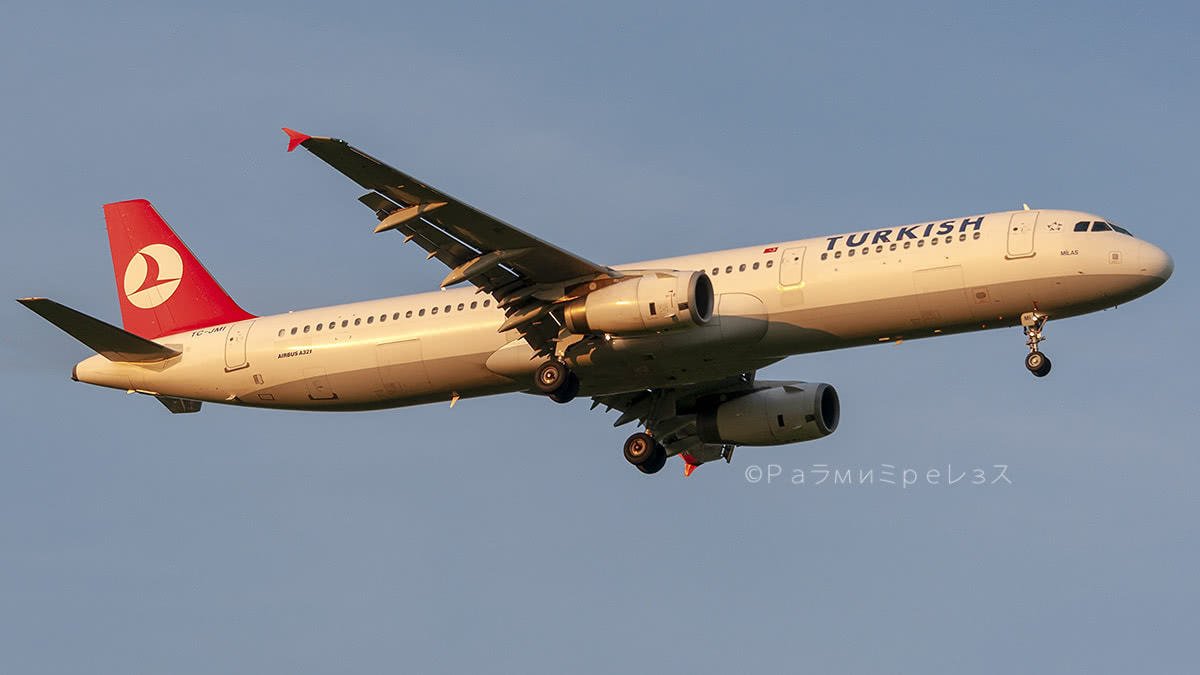 Turkish Airlines Airbus A321 from Istanbul.
Zhulyany was Kiev's first Airport.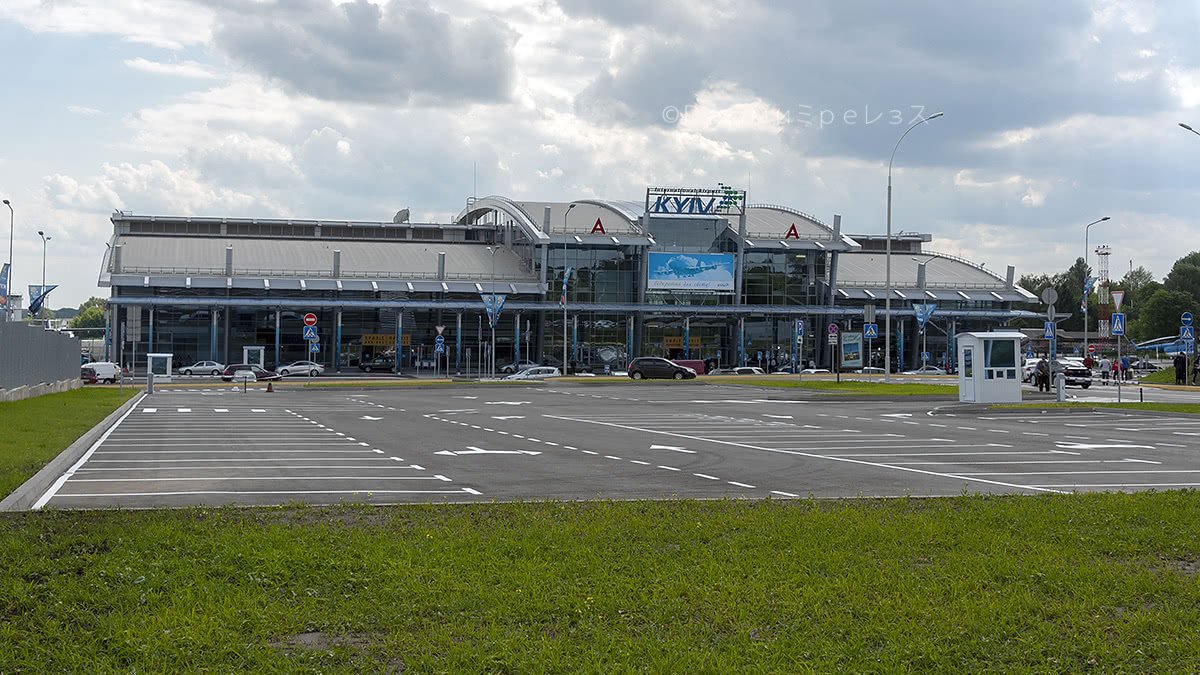 They built Boryspil in 1959 and Zhulyany took second place then.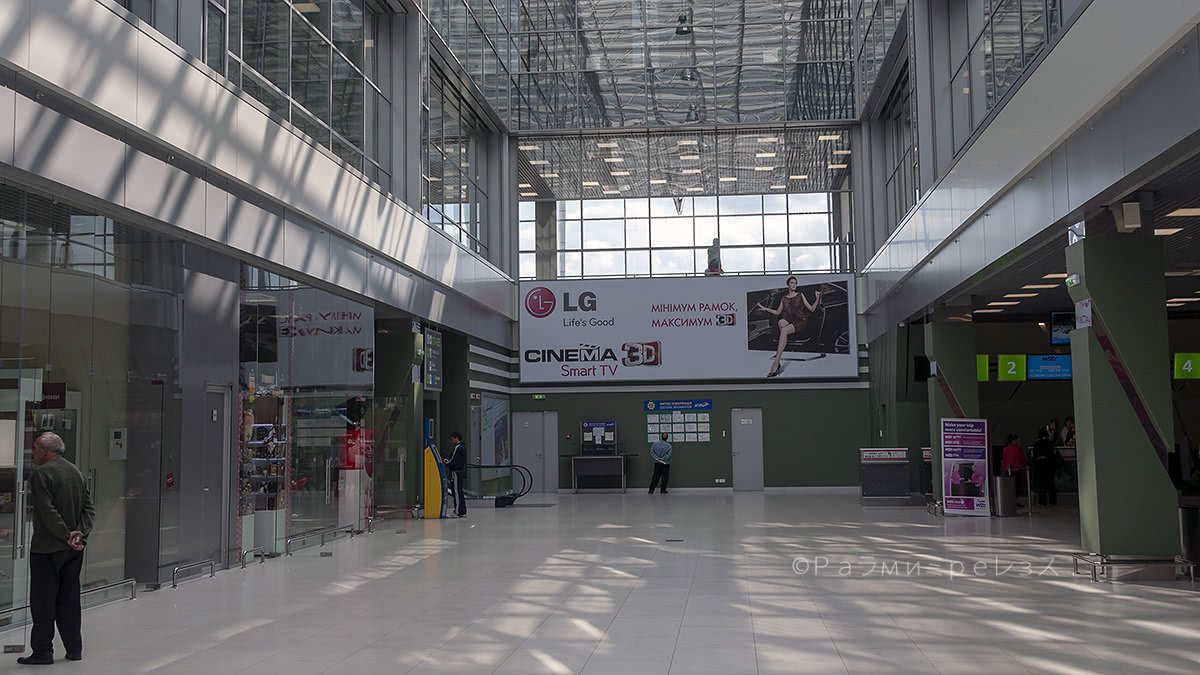 Nonetheless, in the recent years it's grown strong again and has expanded quite a lot, especially with the help of Wizz Air. Many bizjets visit Zhulyany as well.
I was there taking photos with my friend Oleg, and another friend that joined us. We took the photos close to the runway, close to a kind of mound.
My friends can be seen there in the mound, I was just like that in the time we spent there, I just descended to take this photo.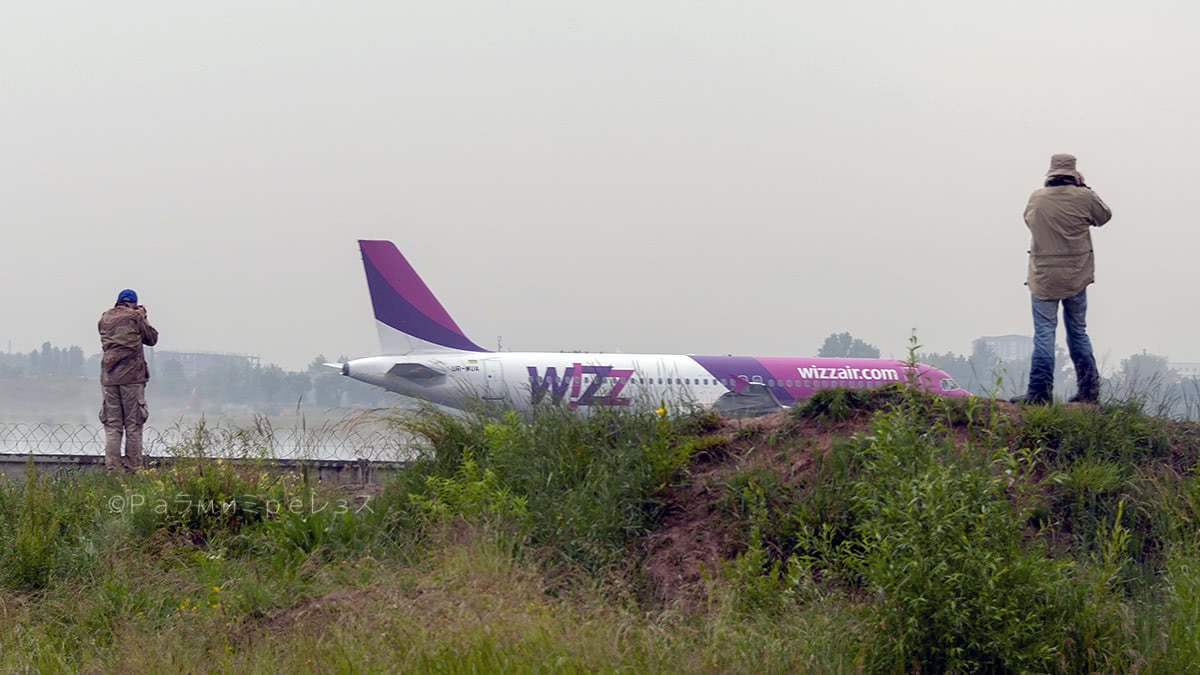 It was raining quite a lot, and the mound became slippery. I think the three of us fell, I laughed a lot about that.
In the photo above take a look at the trousers of my friend to the right… All messy.
And well, we were taking photos, but it seems there are people that use the mound for other things hihihi.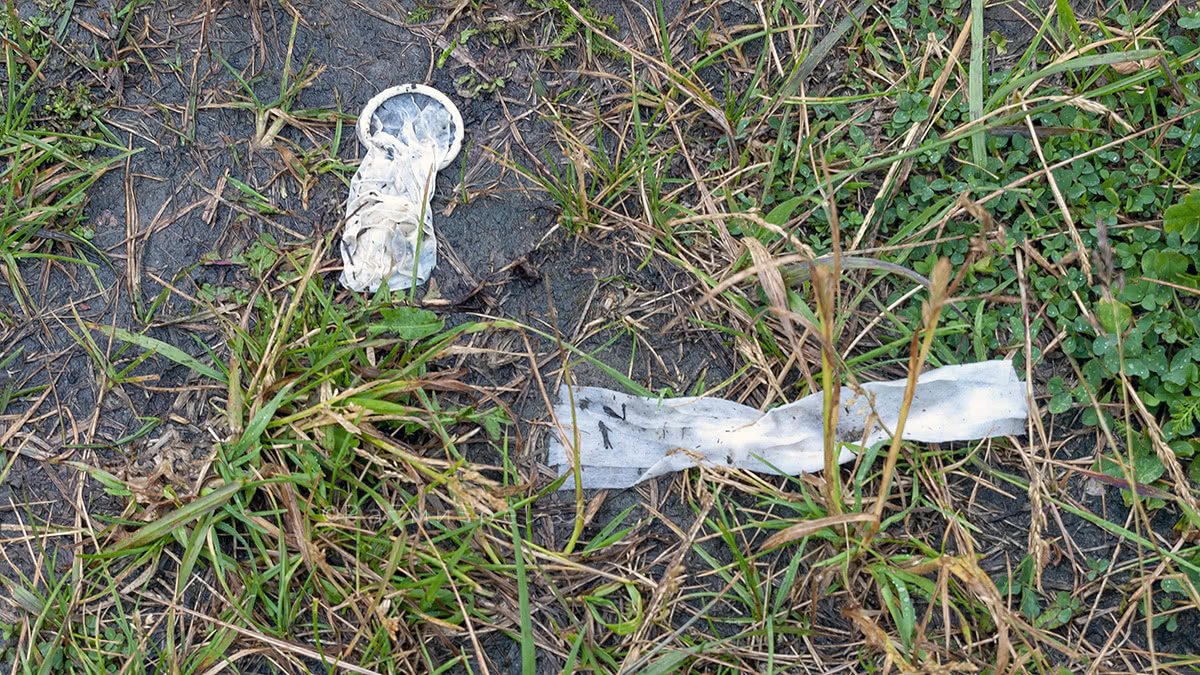 I saw VERY interesting things there.
On top of the usual Wizz Air Airbus A320 traffic and UTair Ukraine ATR (nowadays Azur Air), I saw traffic of Air Onix (does not exist now), a Hungarian registered Antonov An-26, and some Yakovlev Yak-40s, one from Motor Sich, and another from Constanta.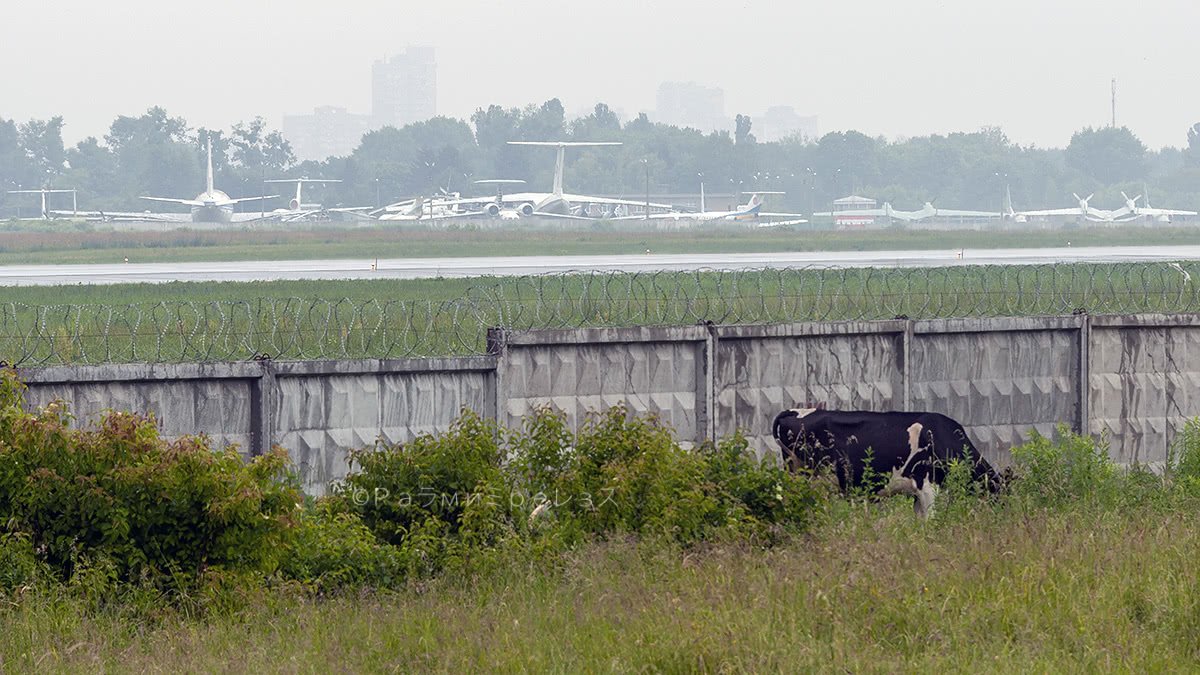 Airport little cow.
The Constanta Yakovlev Yak-40, registered as UR-MMK, was destroyed in Donetsk in a battle that took place in the Airport in 2014.
All within the context of the conflict engulfing the Donbass region that I mentioned before, and that is ongoing up to the time of writing.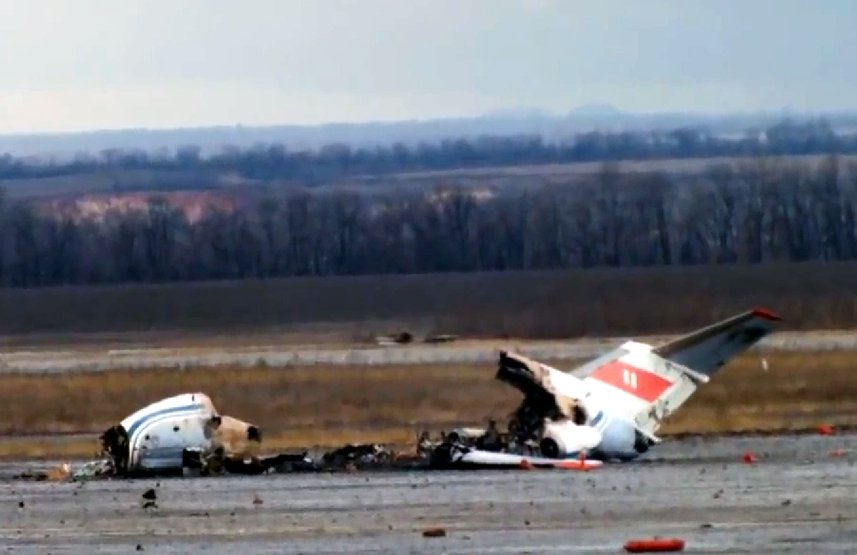 At least I managed to see it flying normally… What a pity.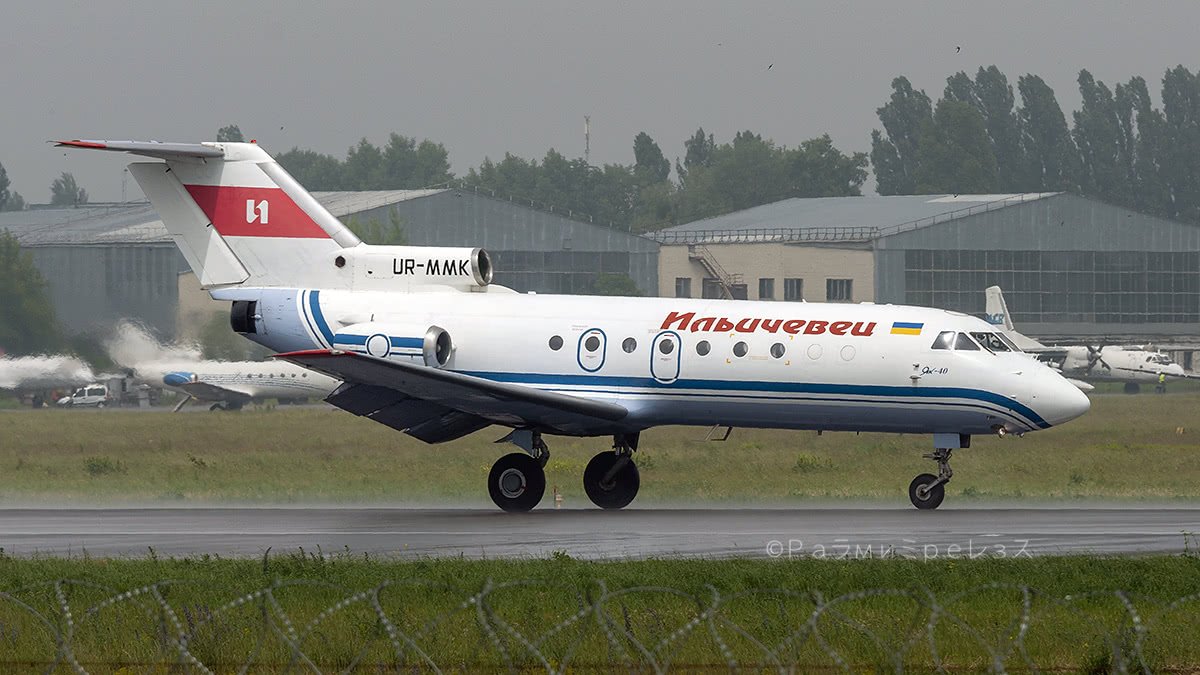 All while it was raining. We talked about many things, and I was drinking an Obolon local beer they gave to me.
We Aviation geeks get that combination of things (rain, mud, falls, Aeroplane's noise), and we still pass it dandy.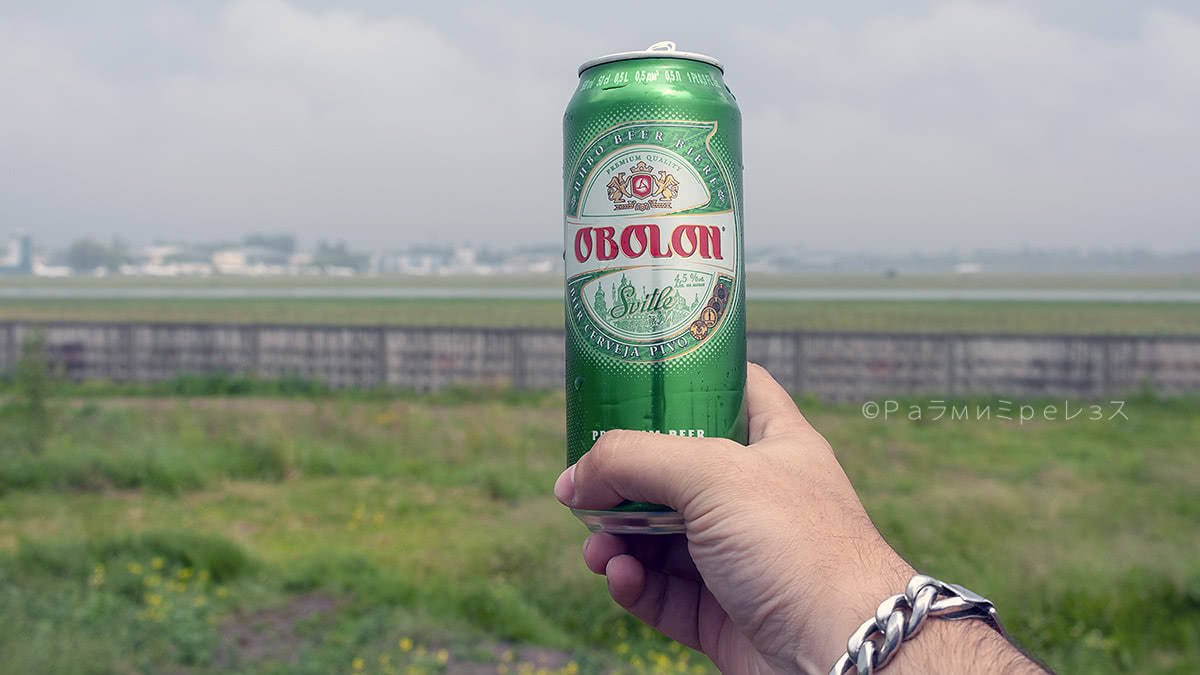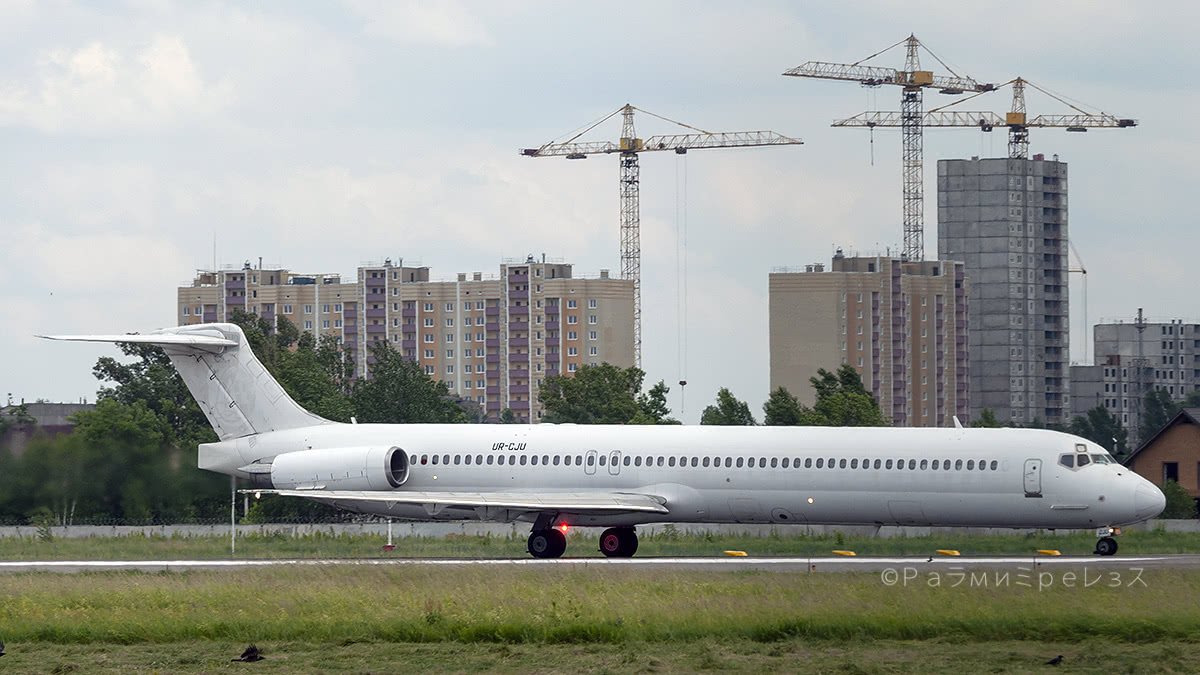 UR-CJU, a McDonnell-Douglas MD-80. I don't know who was it flying for at that moment.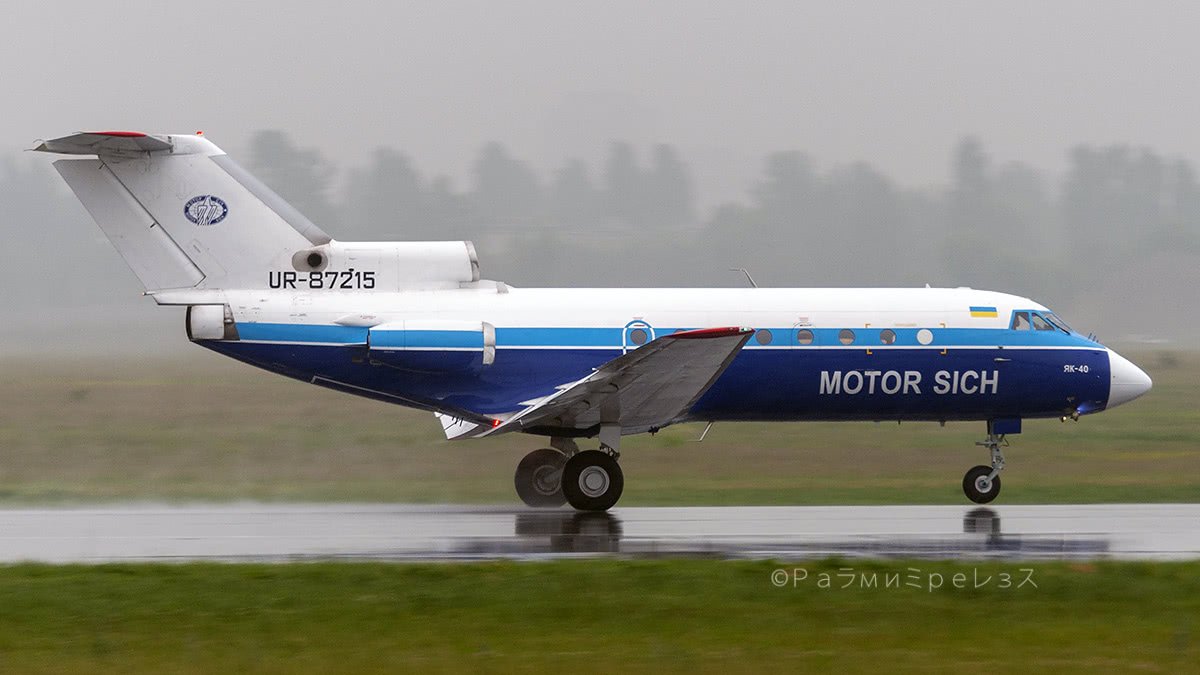 Motor Sich Yakovlev Yak-40.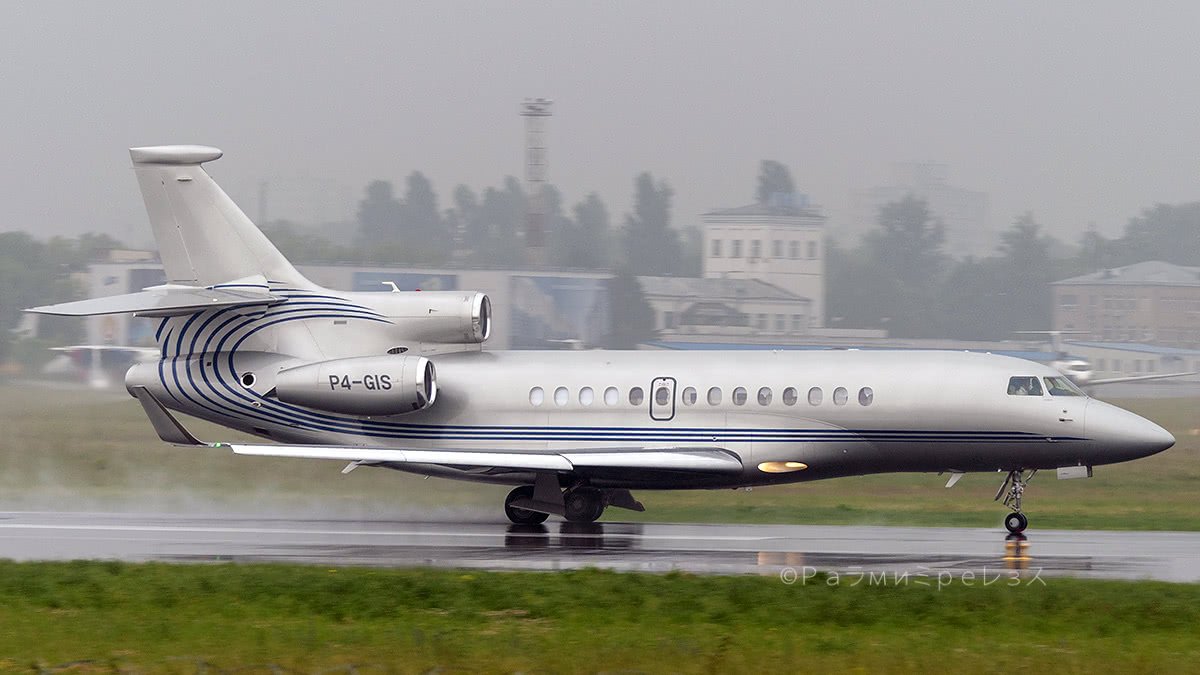 A bizjet of the many that arrived in that moment. A delicious Dassault Falcon 7X, registered as P4-GIS. It's a cute little thing.
Air Onix Boeing 737-300. The airline does not exist now.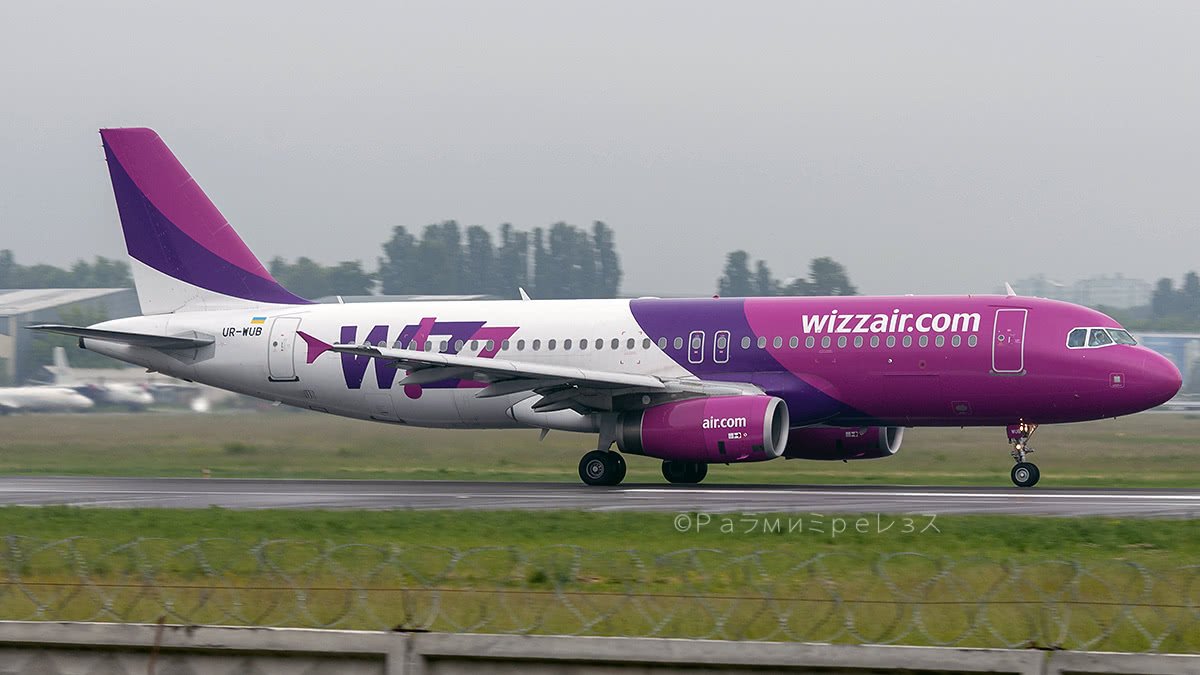 Wizz Air Airbus A320.
When Aces Colombia stopped flying in 2003, some of the Aeroplanes they used to fly went to operate with Wizz Air, by then just a fledgling new company.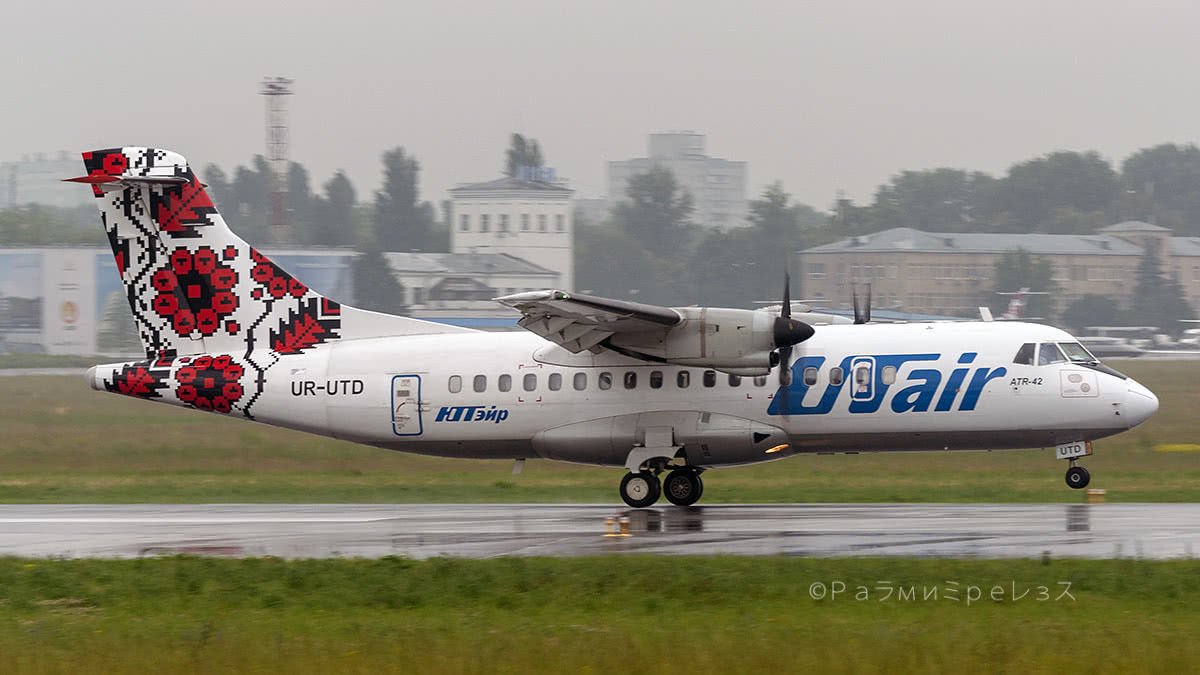 UTair Ukraine ATR 42. UTair is one Russia's most important airlines, and that was the Ukrainian branch. Nowadays it's flying with other name, and other owners.
A Hungarian Antonov An-26. In Zhulyany there's a maintenance workshop for these kinds of Aeroplanes.
When I was around, another one from the Bangladeshi military was supposed to appear, but we couldn't see it.
Last, but not least delicious, I was in the Ukraine State Aviation Museum. It's located right to the other side of the runway in Zhulyany with respect to the rainy mound.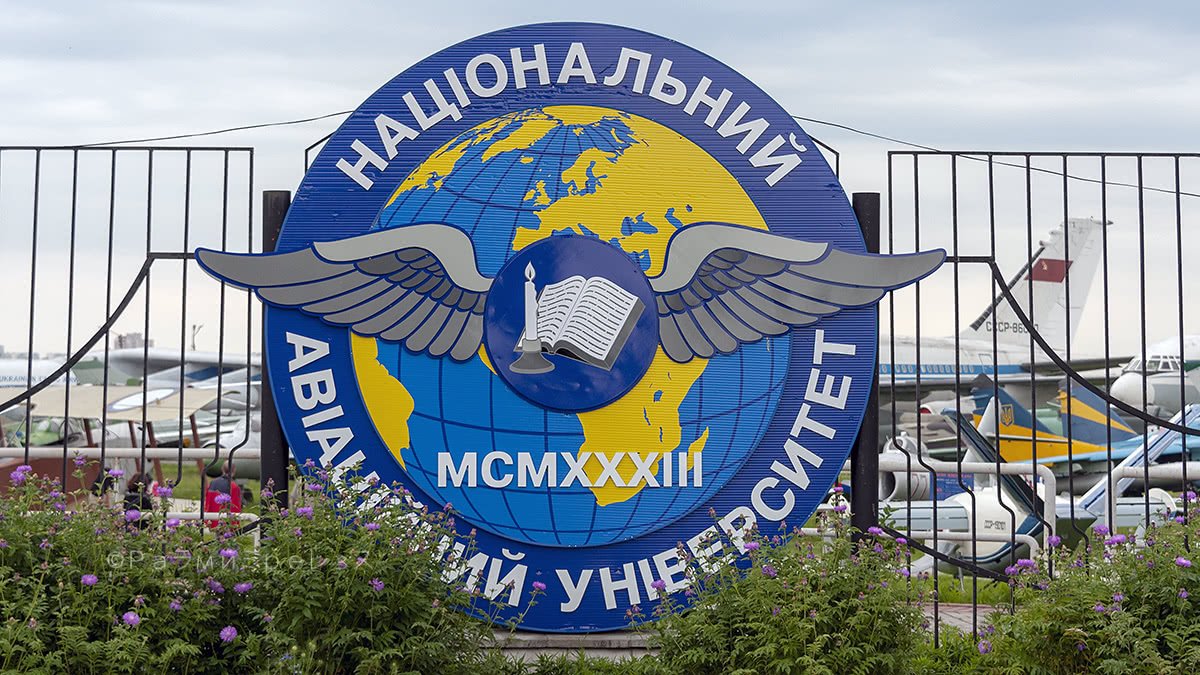 It's museum that could be on par with Monino, in Russia. In both quality and interesting samples.
But accessing it is simpler due to its location within the city. There are Aeroplanes such as the Tupolev Tu-142MZ, Ilyushin Il-86, Ilyushin Il-62, Tupolev Tu-104, and other very interesting ones.
To get in and take photos a ticket had to be bought, the one right in the photo below.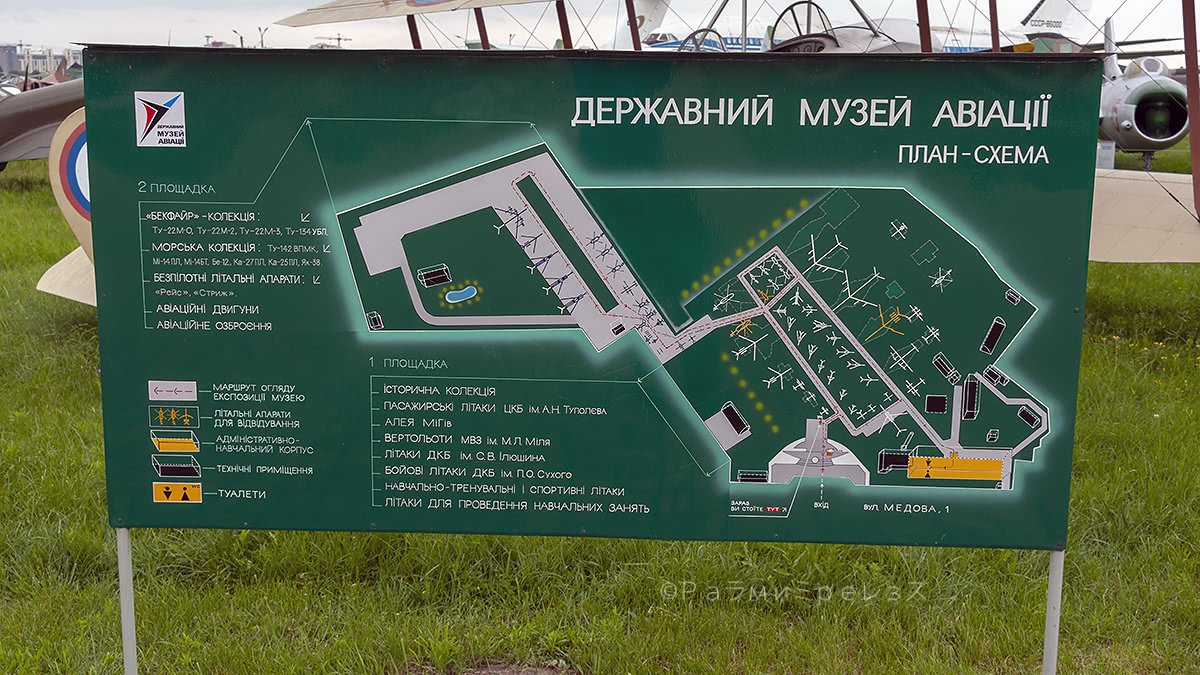 Besides, I saw just married couples (or about to get married) taking photos of themselves. Not unlike what I saw in North Korea.
With a woman as beautiful as some Ukrainians that I saw, and that likes Aviation, one would even consider committing satanic marriagecide…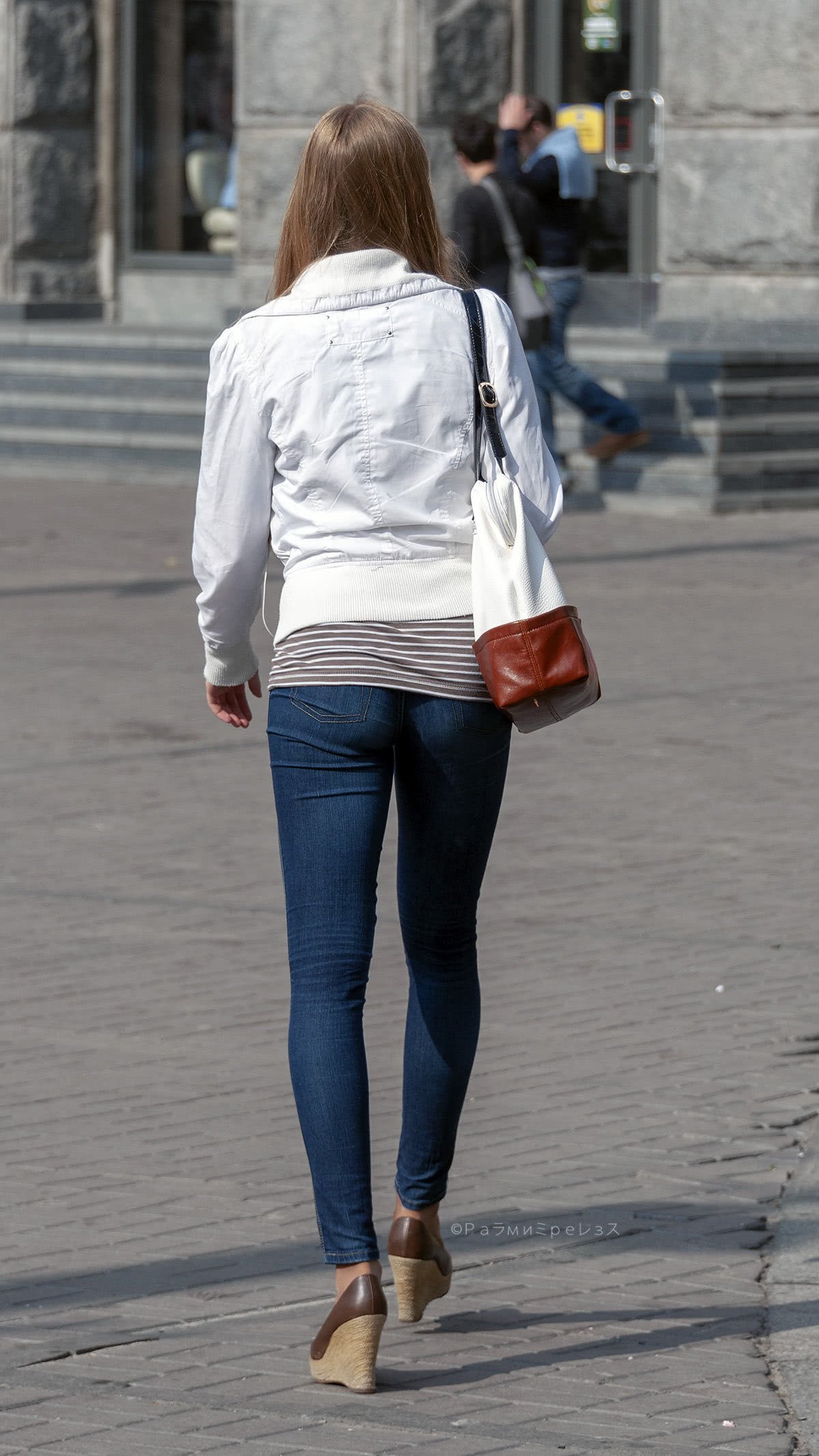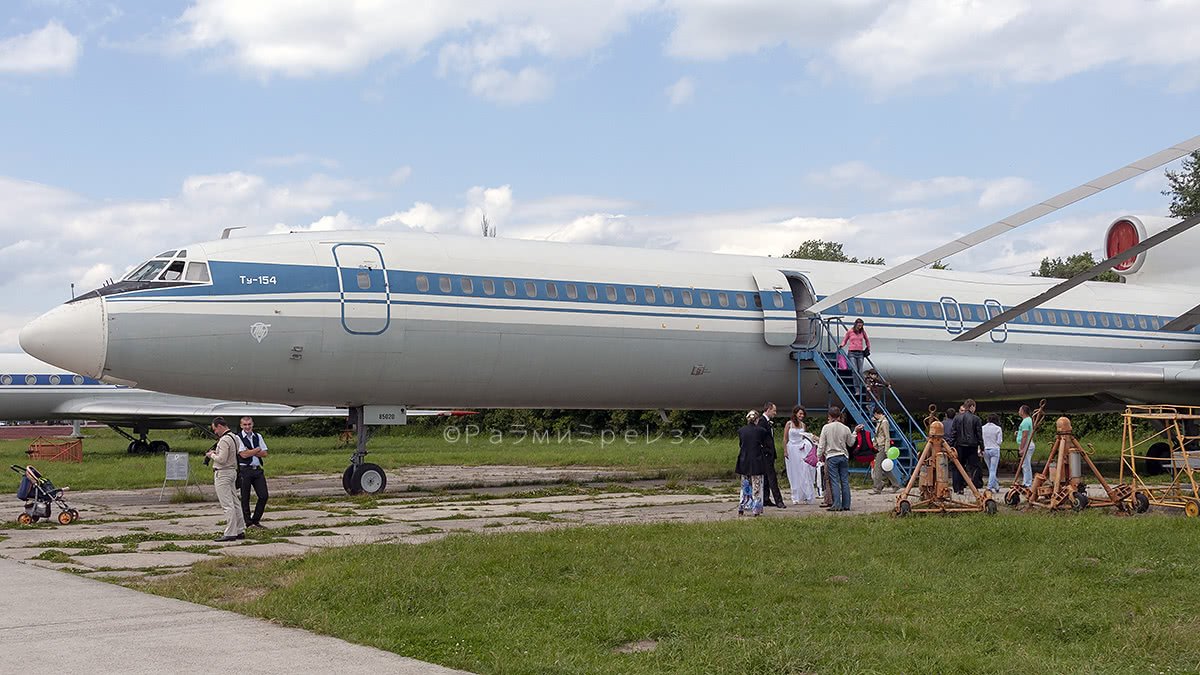 Would they still be together?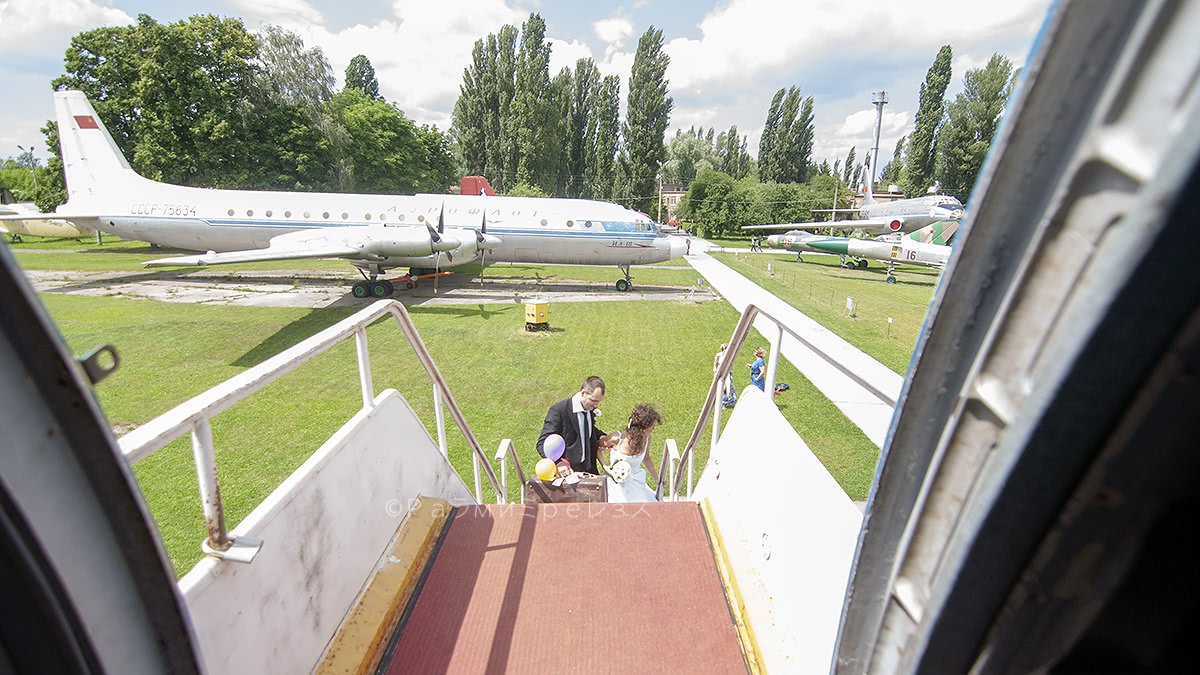 There were other people taking photos of themselves that weren't having a wedding at that moment, of course.
There in the museum's entrance a little puppy came close to me, and we were friends for a while. It broke my heart when she left to wander around, and I lost sight of her.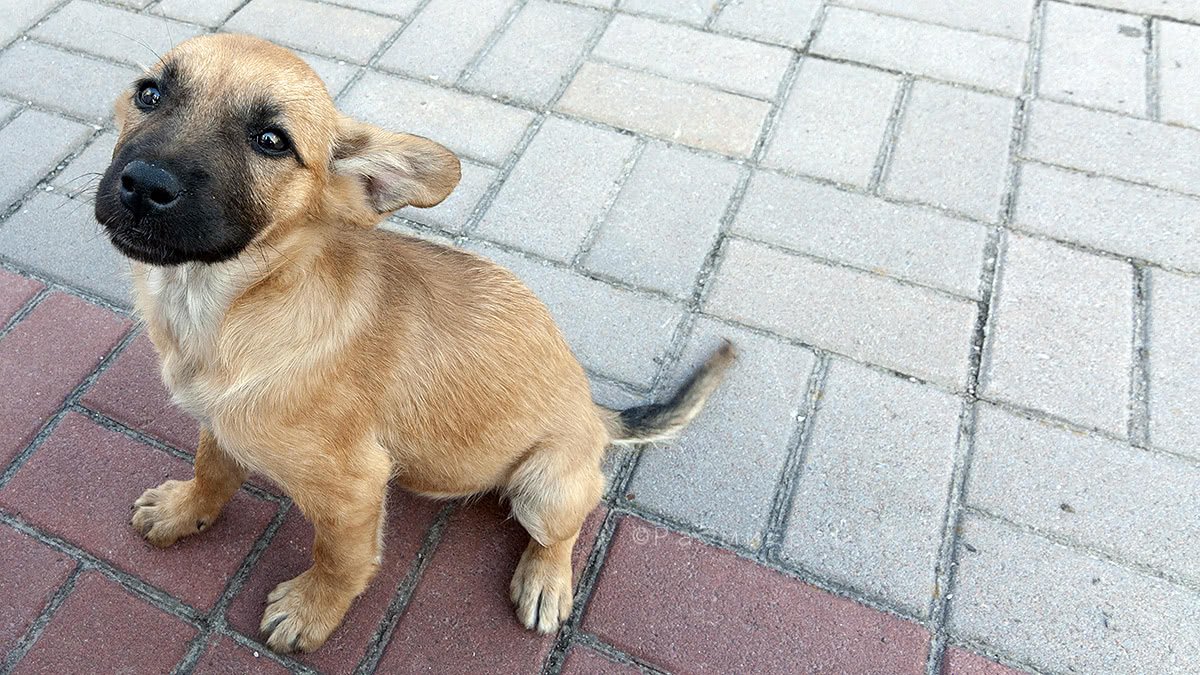 There are problems with street animals in Ukraine and countries of East Europe, like in Colombia. That breaks my heart hardcore.
I'm glad to have been able to save the ones we have at home.
But anyway, we were friends for a while.
Besides her, inside the museum itself there were others.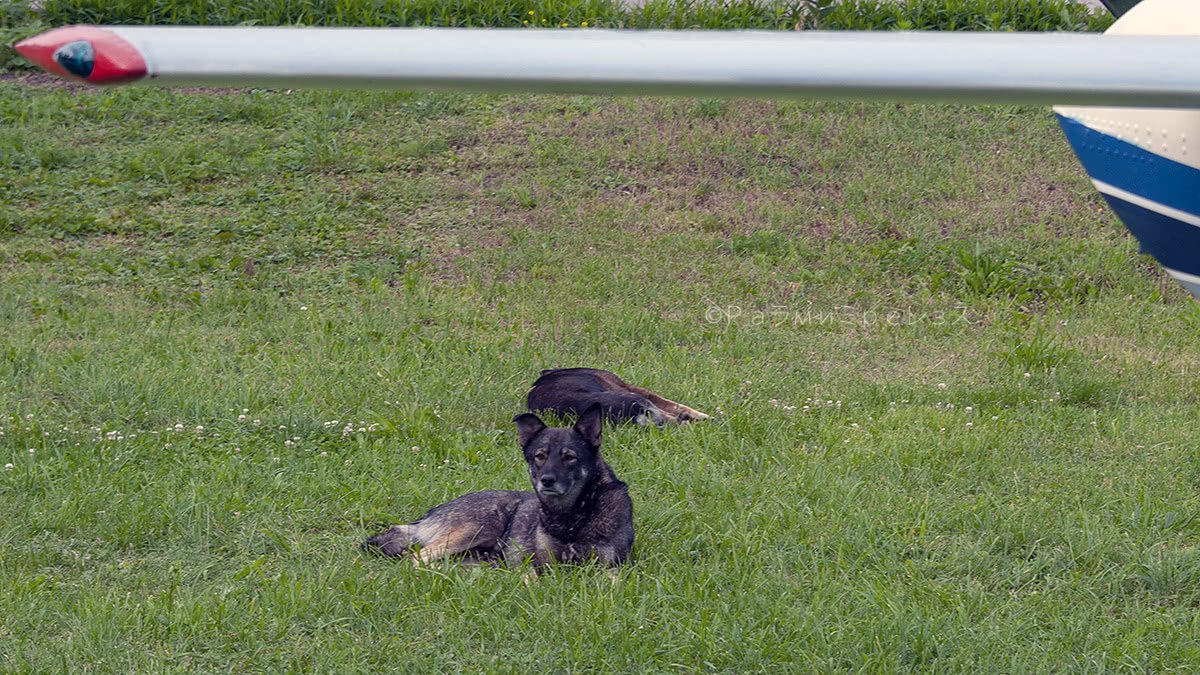 They didn't look as bad as the ones you would see in a small town of the Colombian coast… I want to believe they lived mildly well, but I can't tell for a fact. Hopefully they did.
There were a couple of interesting parallels in the museum for me. First, there were many Aeroplanes that had seen better days.
They were in exhibit as samples of a time long gone… But I had flown in the very exact type of Aeroplane that was in exhibit just a few weeks earlier.
For instance, that happened with the Antonov An-24, with the Ilyushin Il-18, with the Ilyushin Il-62, and with the Tupolev Tu-134.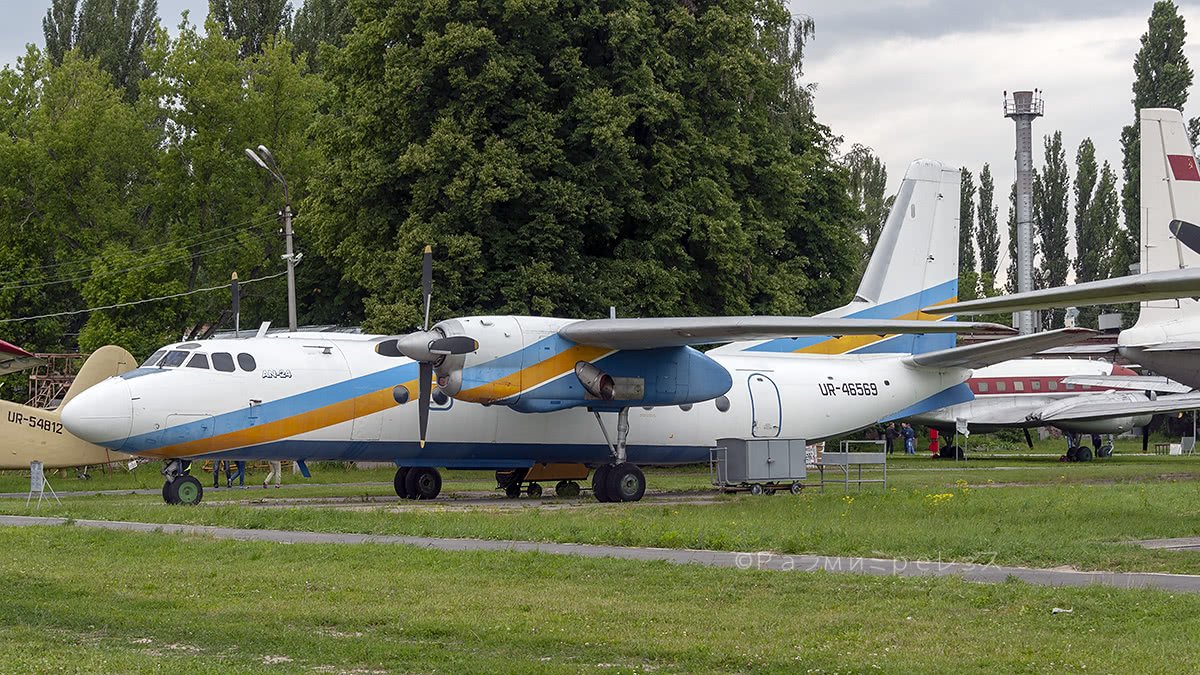 An An-24 in exhibit as the oldest thing, while I had flown in an exact Aeroplane just some weeks earlier.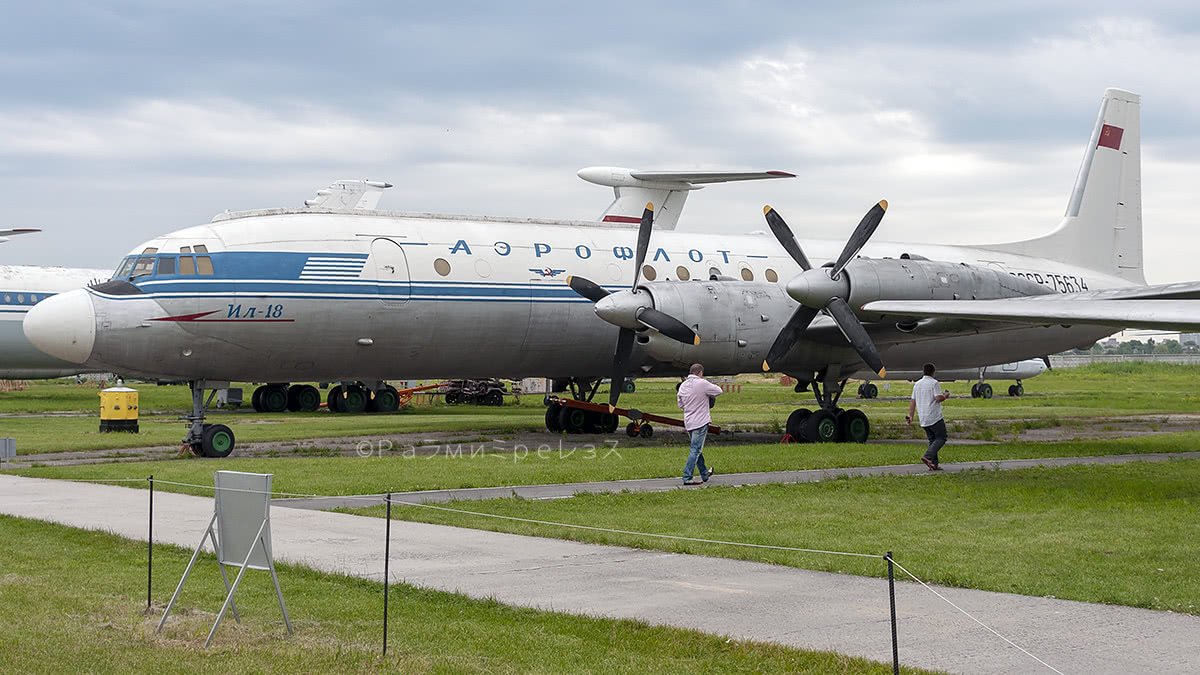 The same thing with this Ilyushin Il-18.
The other parallel was that some models of Aeroplanes were in exhibit, like antique things of millennia gone by.
But at the same moment, right in the other side of the fence, Aeroplanes of that very exact model were taking off, or landing in Zhulyany, just like that.
It happened with the Antonov An-26, and with the Yakovlev Yak-40.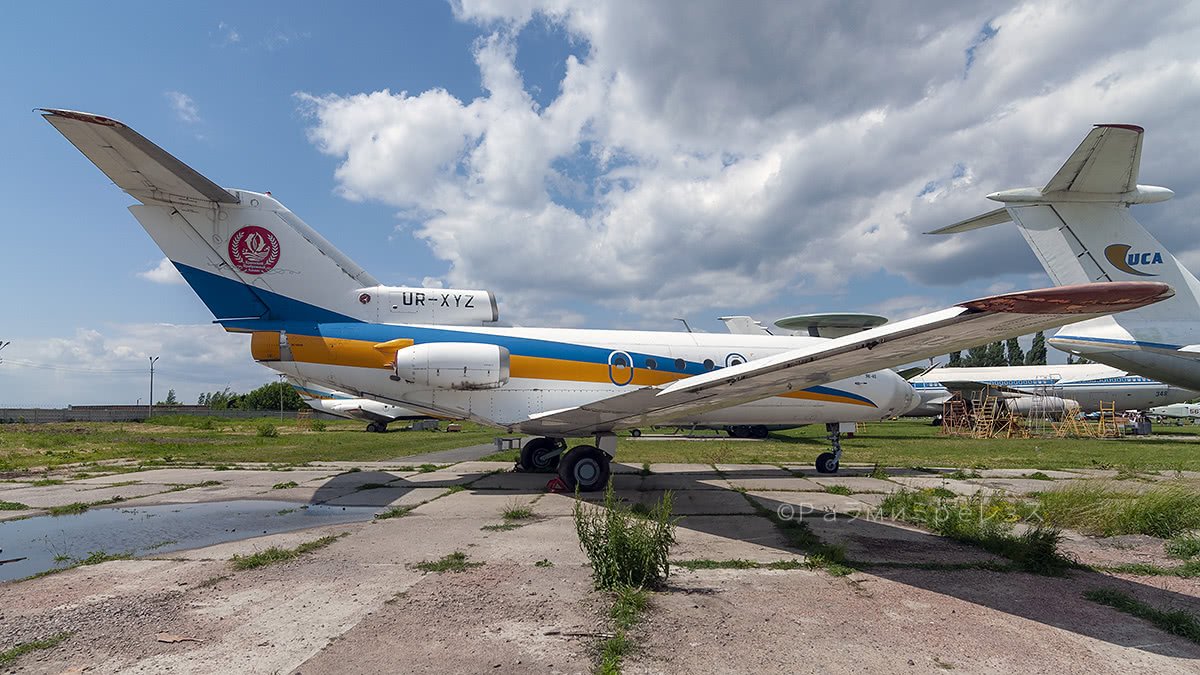 A museum Yakovlev Yak-40. But at the same time there were some others operating right in the runway, close by.
It made me think a while in the Aeronautic transition age I was living at that moment, and how fortunate I was for being able to witness it.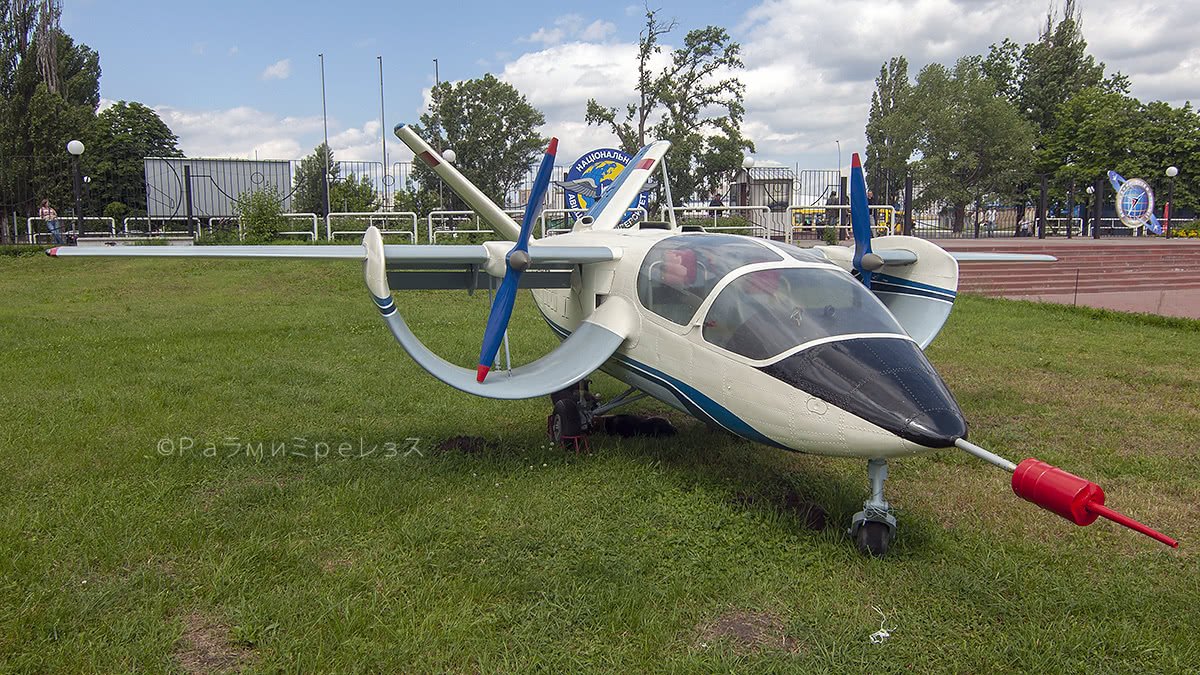 Antonov An-181. This was a model for aerodynamic tests, look at that peculiar configuration.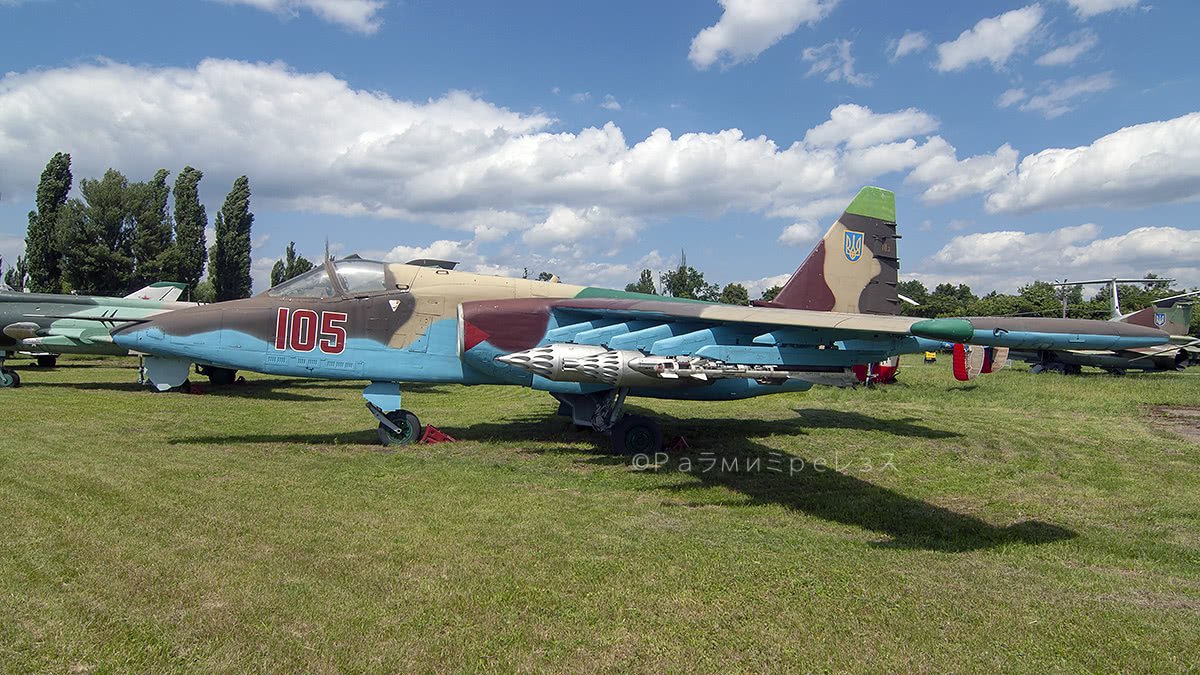 Sukhoi Su-25, Peru has some of these.
It's always been curious to me how the Peruvians do not have (or have not had) any issue buying Russian military Aeroplanes, without having been aligned with them politically.
In the rest of the region's countries (except Venezuela), that is anathema.
Even though in Colombia the army operates a bunch of Russian helicopters, and apparently they've worked just fine for them. Operación Jaque's Helicopter is Russian, for instance.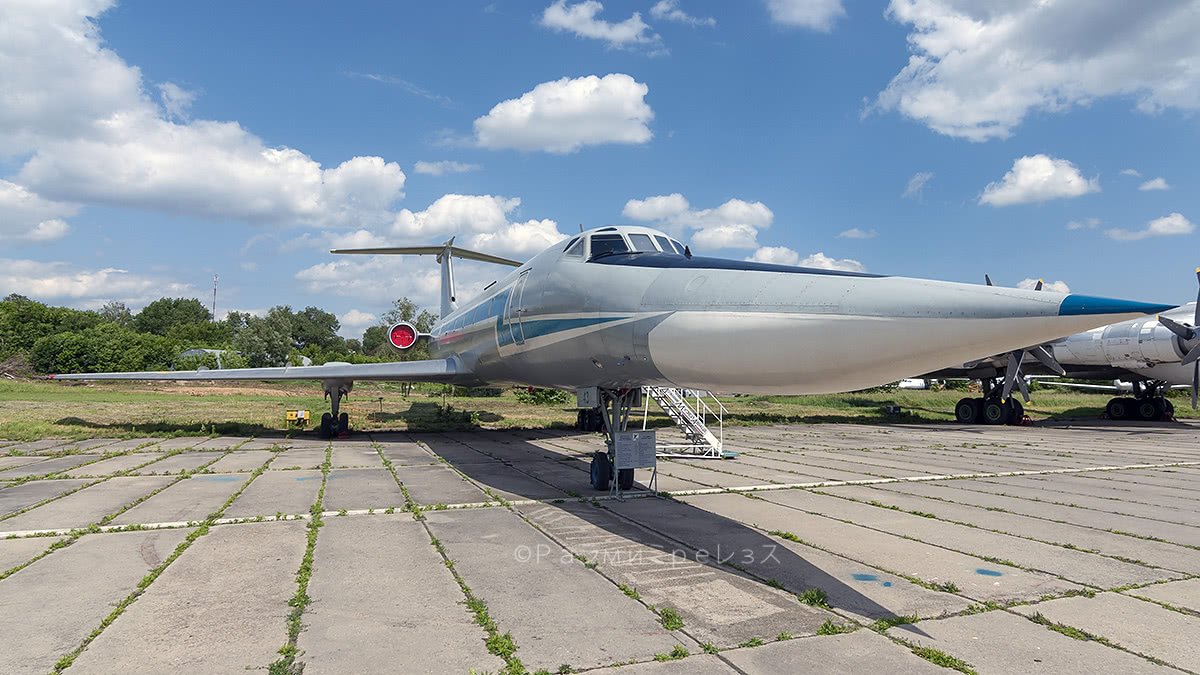 Tupolev Tu-134UBL, Tu-134 with a modified nose for Tu-160 crew training.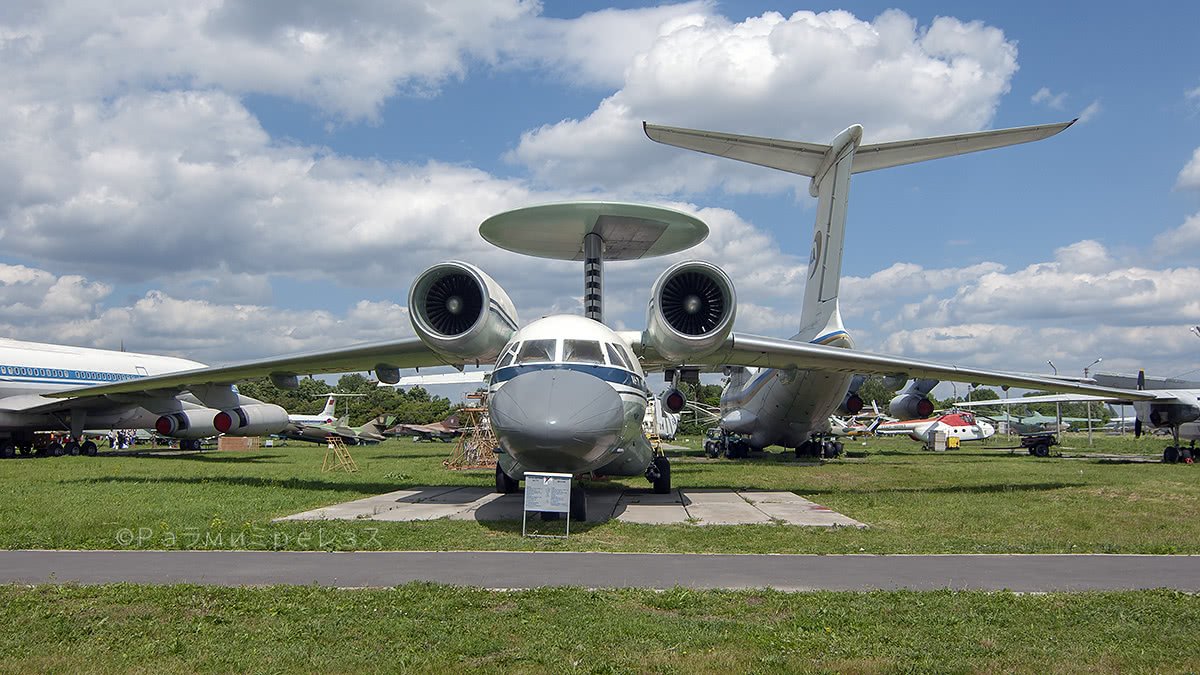 Antonov An-71. A Soviet AWACS based on the An-72, but with a highly modified fuselage.
Didn't make it past the experimental stage, and only three prototypes were made, including the one in the photo.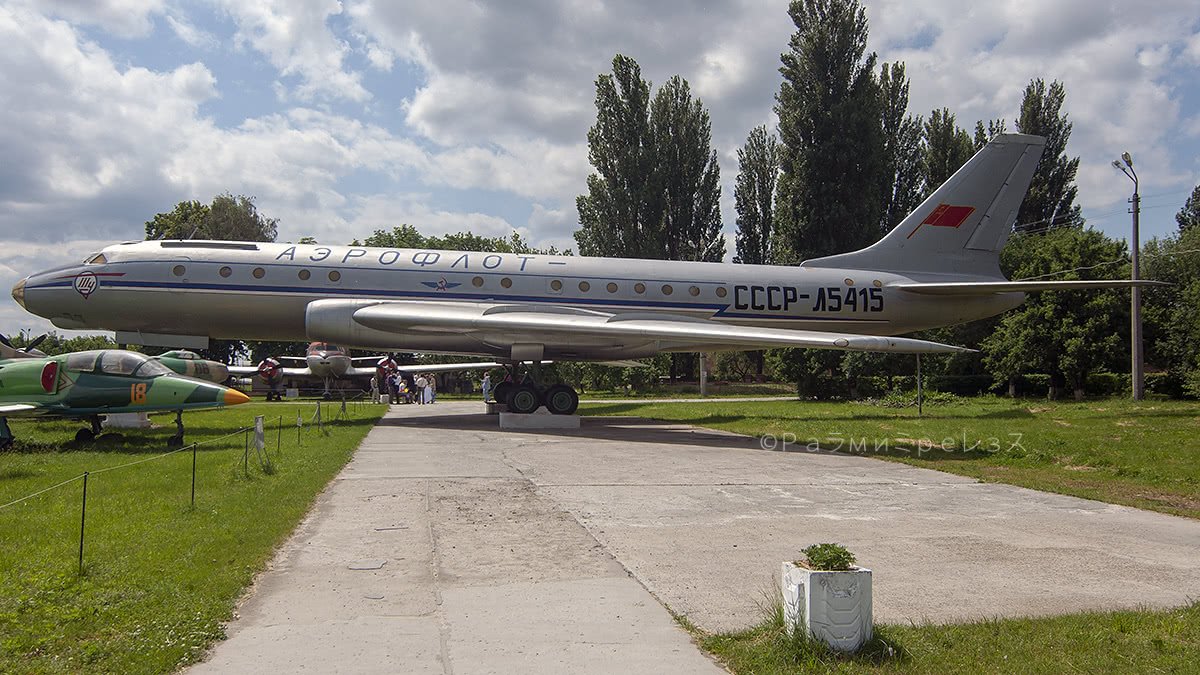 The first Tupolev Tu-104 produced in series. This model was the first Soviet commercial jet.
Mil Mi-26. It's the most powerful and biggest series produced Helicopter. The Venezuelan military forces has it in its inventory.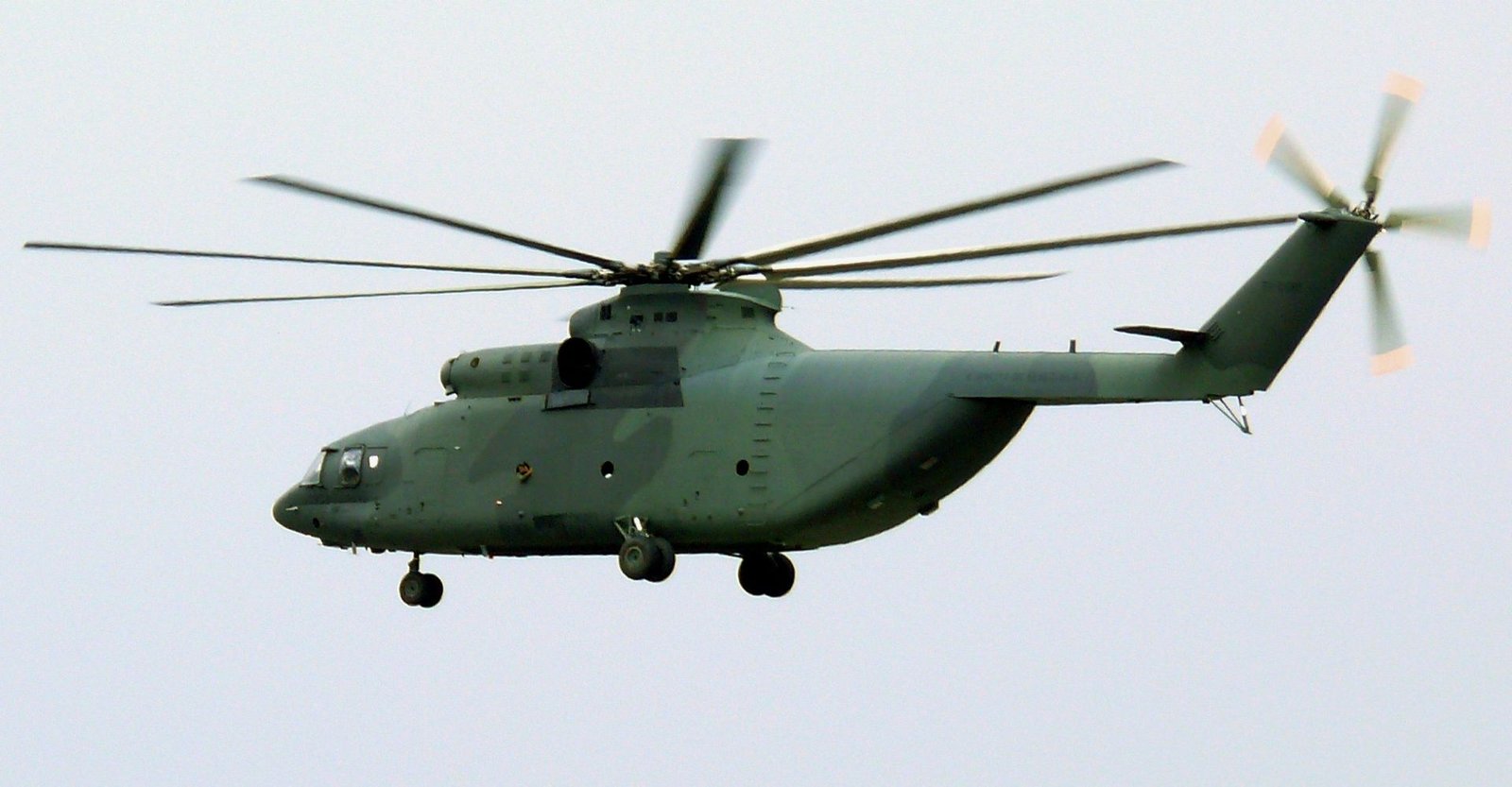 The biggest that wasn't produced in series, but flew successfully, was the Mi-12. It's in exhibit in Monino, Russia.
In the museum I had the chance to see with more available time, and more detail, three of my loves.
The first, the Tupolev Tu-154.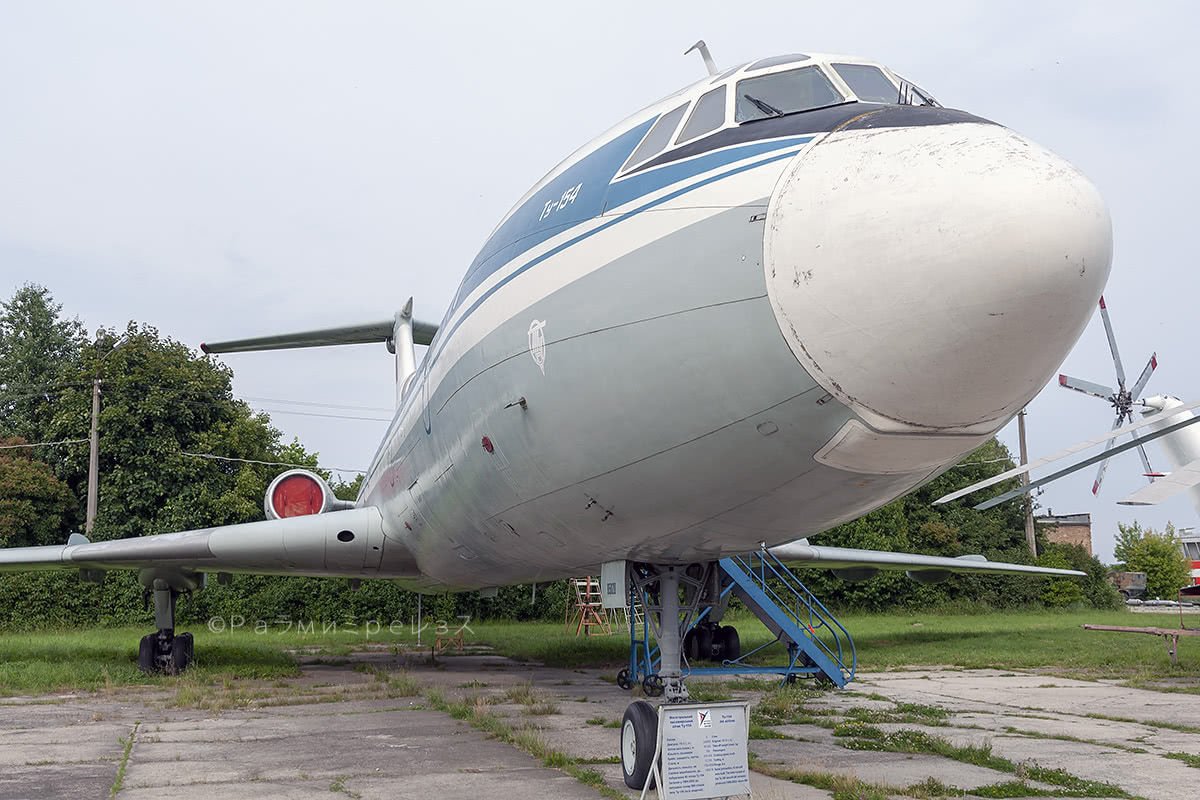 We could say it's the soviet analogue of the Boeing 727. There are still some flying, but I don't know if I'm going to get my chance.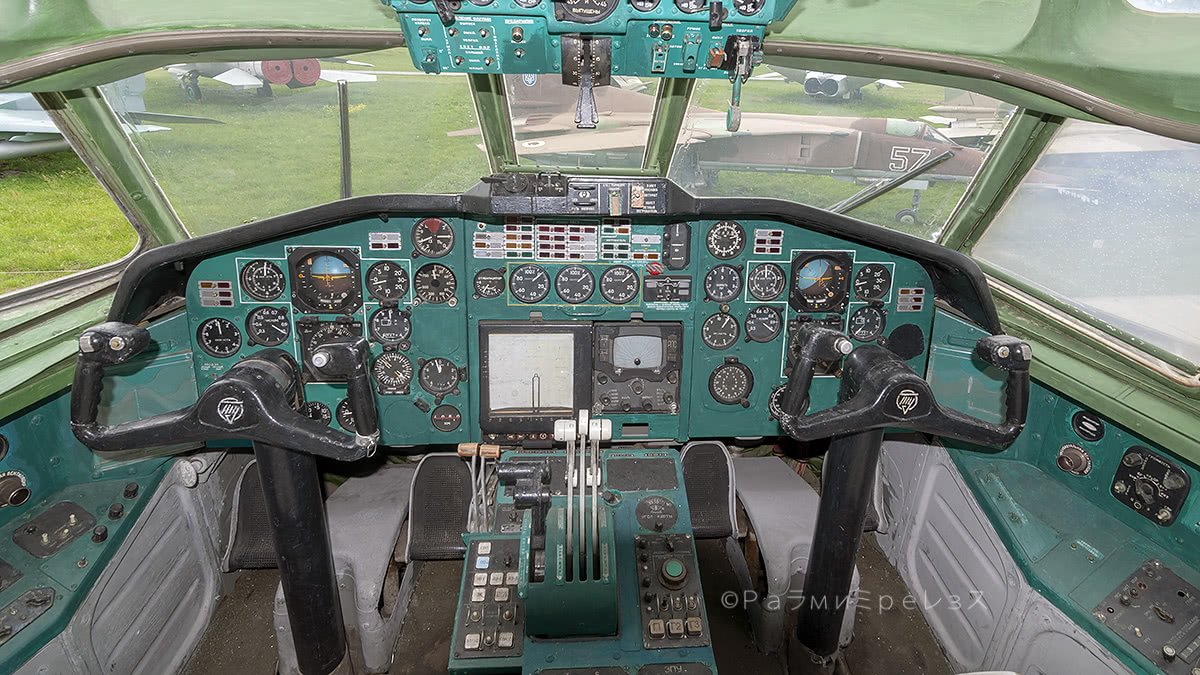 I'm dying to fly on one.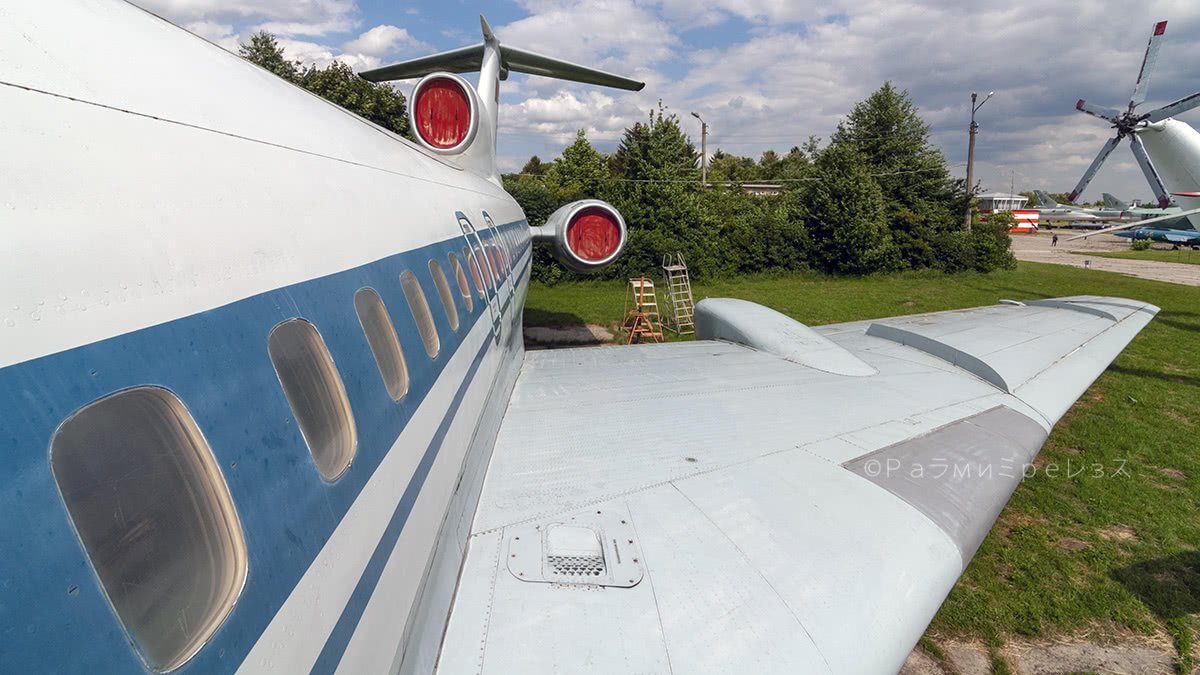 And of course, I stayed for a while in my beloved Ilyushin Il-62. The second.
I watched in the museum this old sample that had seen better days, despite having had the good fortune of flying in one just a few weeks earlier.
"Do not touch with the hands" says in that paper sheet.
Well I heeded, I didn't touch with the hands.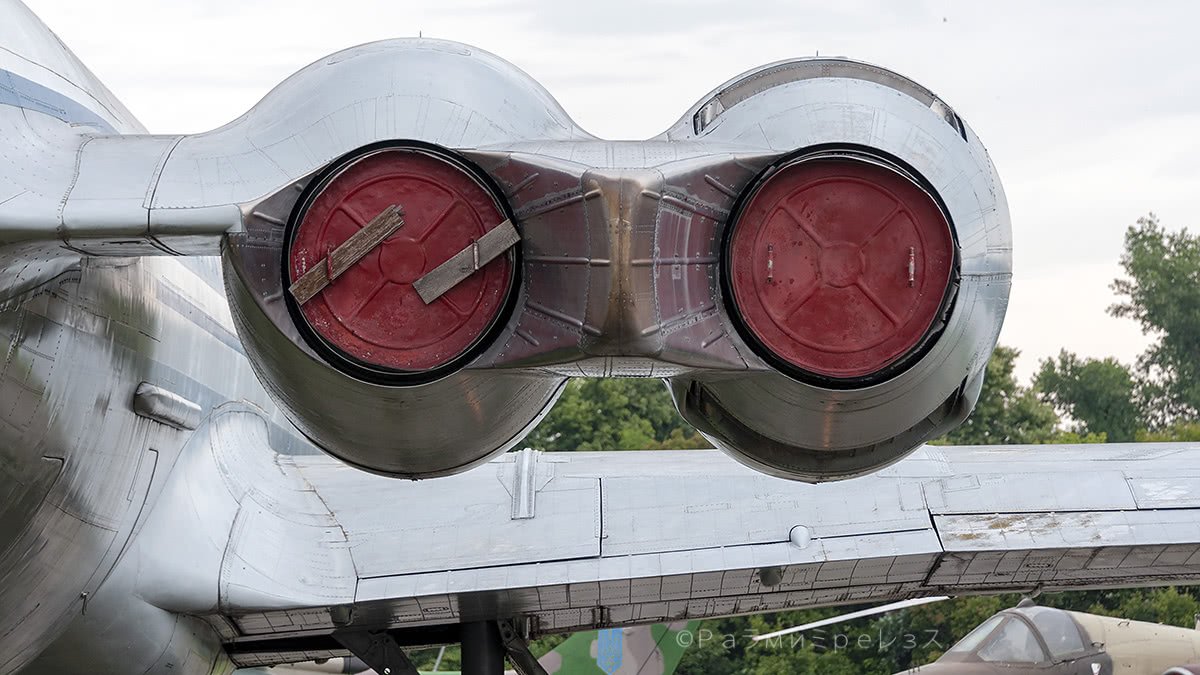 Two of the four engines.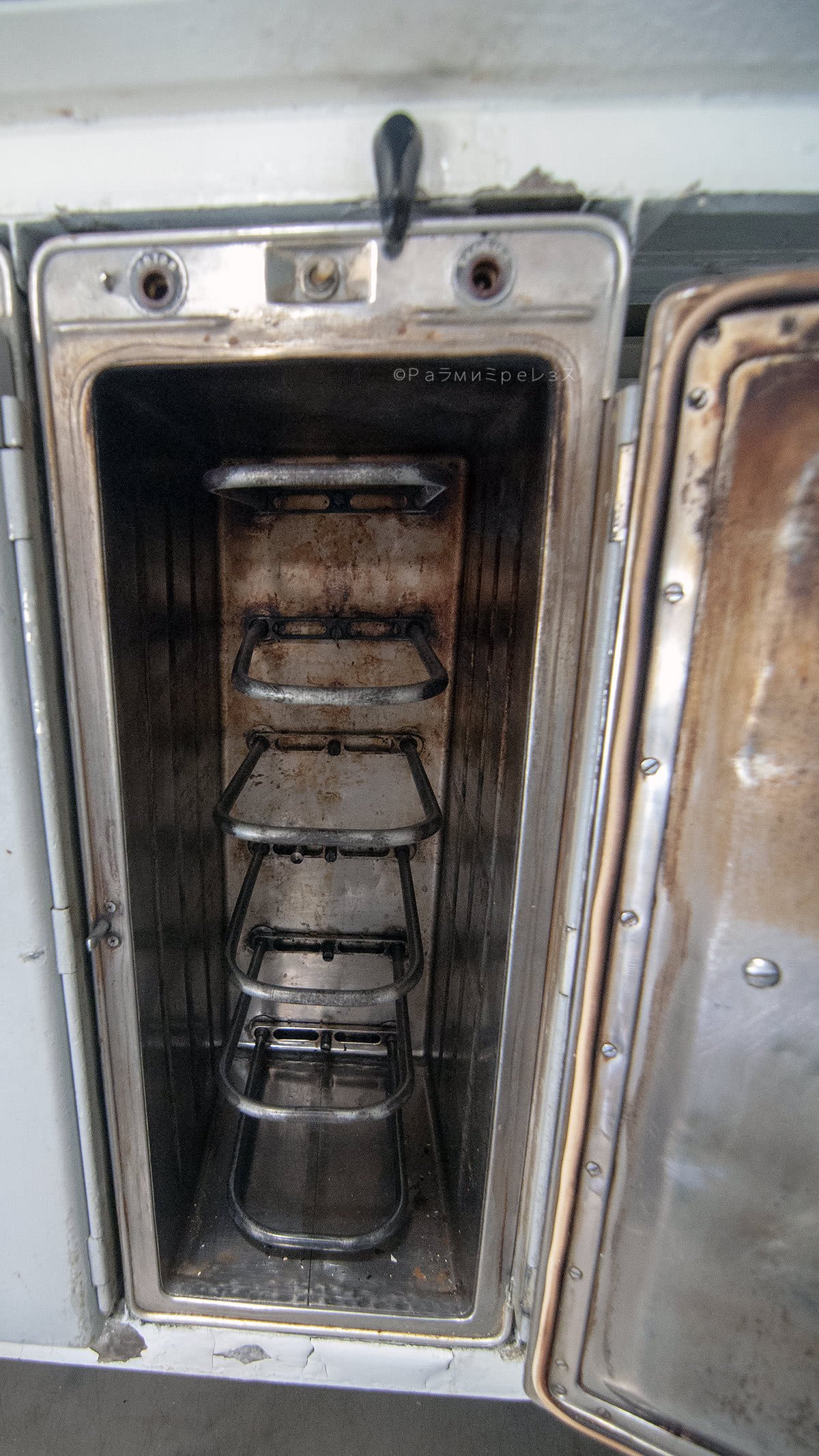 There is something very curious with the Il-62. This type of Aeroplanes are steered on ground with a special tiller to the side of the cockpit, generally.
But in this particular Aeroplane, on the ground it's steered with a "sub-yoke" located right in the main yoke.
That makes it appear as if the Pilot is steering the Aeroplane on the ground as if driving a car.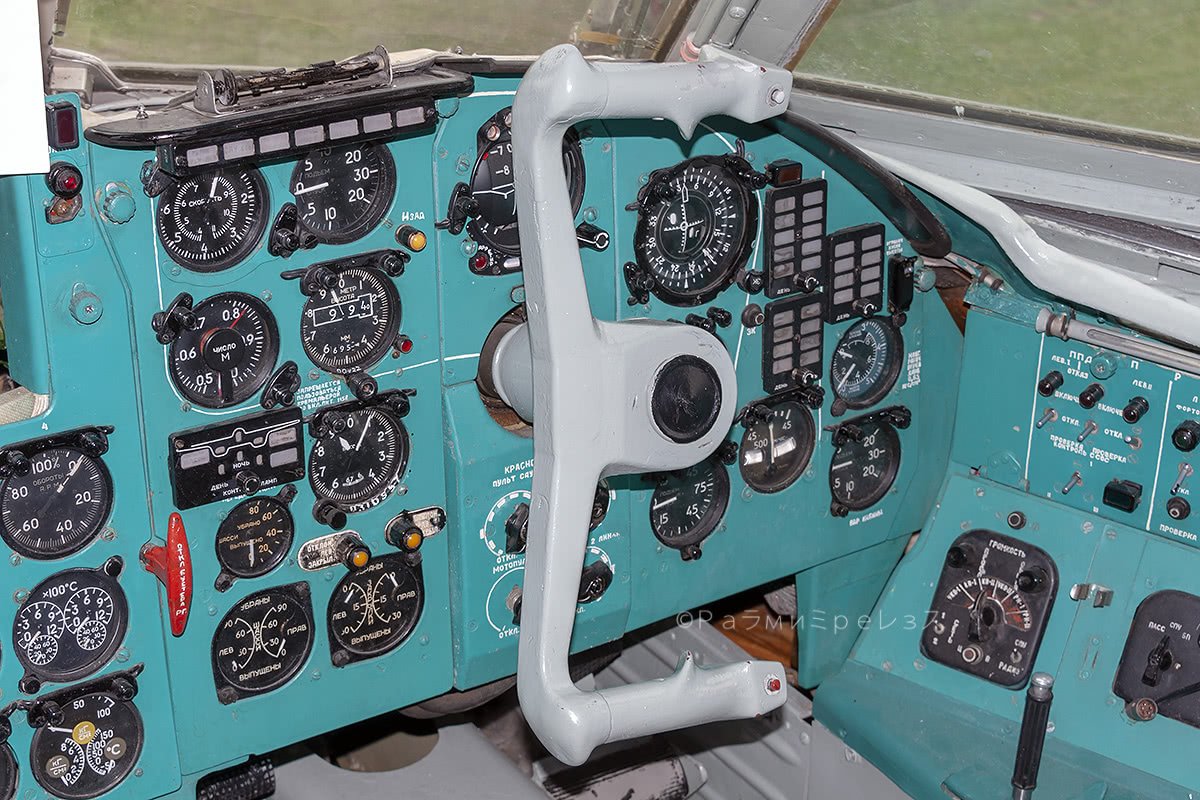 The one above is the First Officer's yoke.
Now compare with the Captain's one that I show you right below (in this Aeroplane the Captain is supposed to steer it on the ground).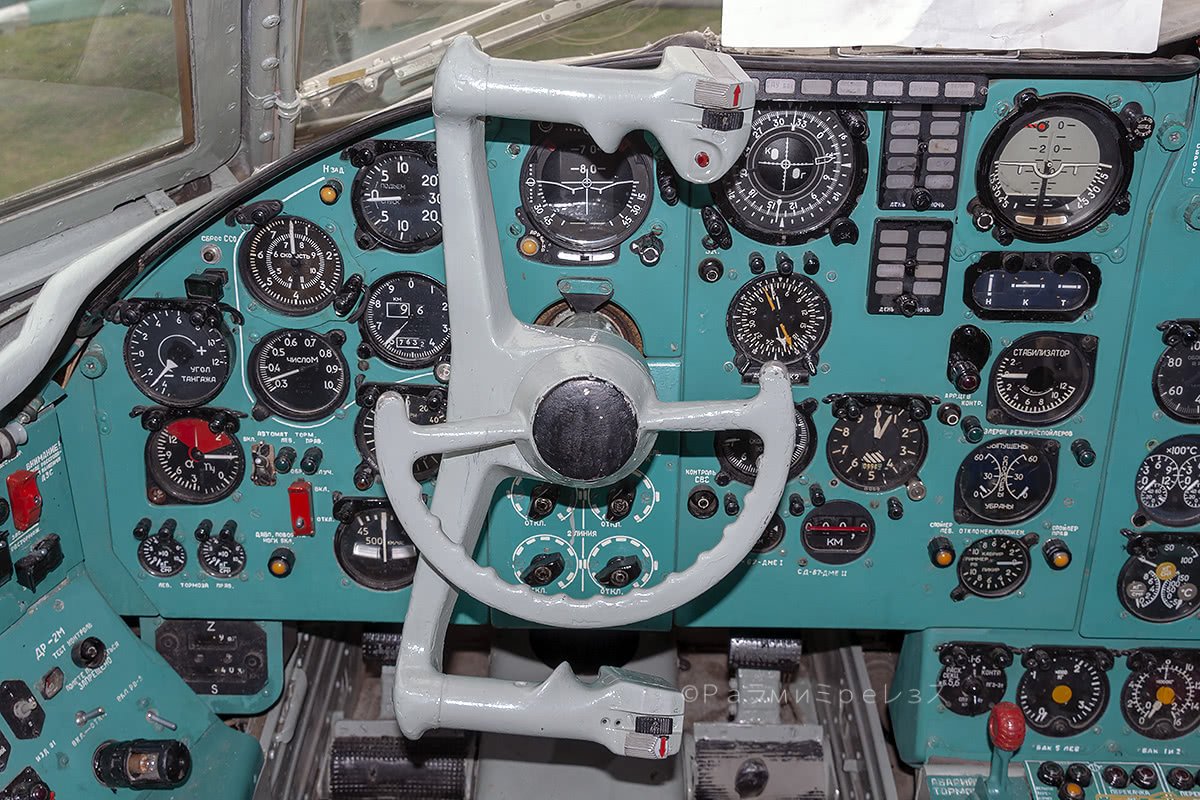 See the difference?
In this video, starting at minute 3:21 you can see what I'm telling here.
I love the Ilyushin Il-62 .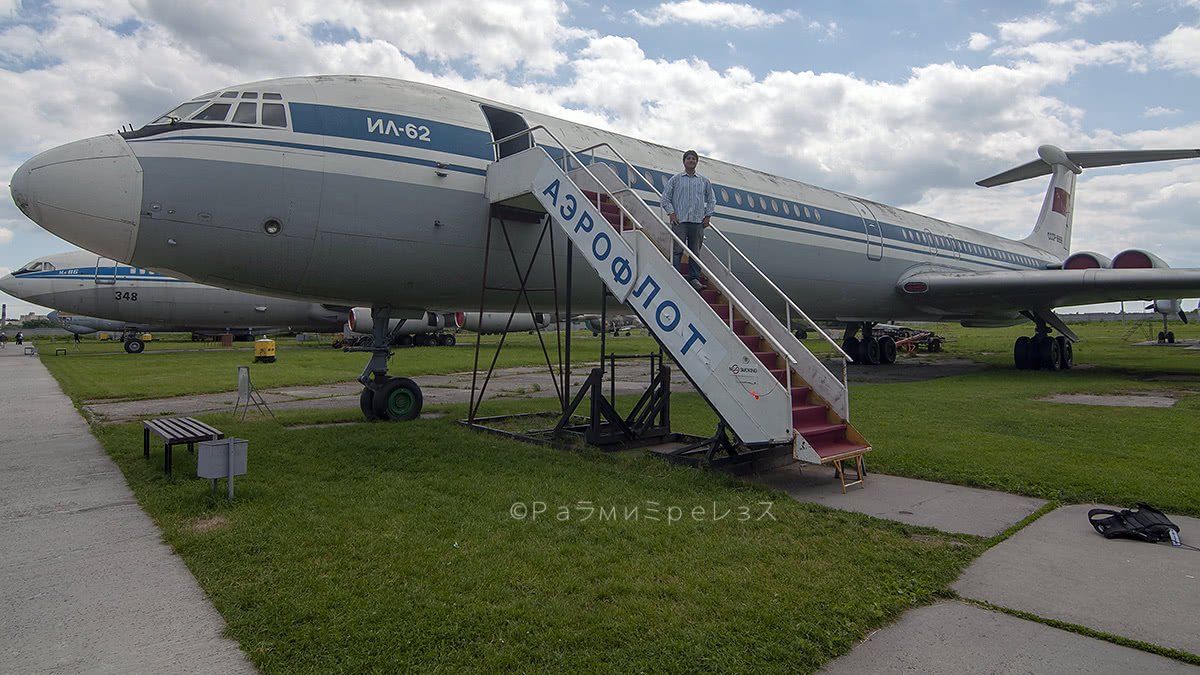 Wonderful!
And the third of my loves present there (truly they all were, but ones more than the others) was the Tupolev Tu-142MZ.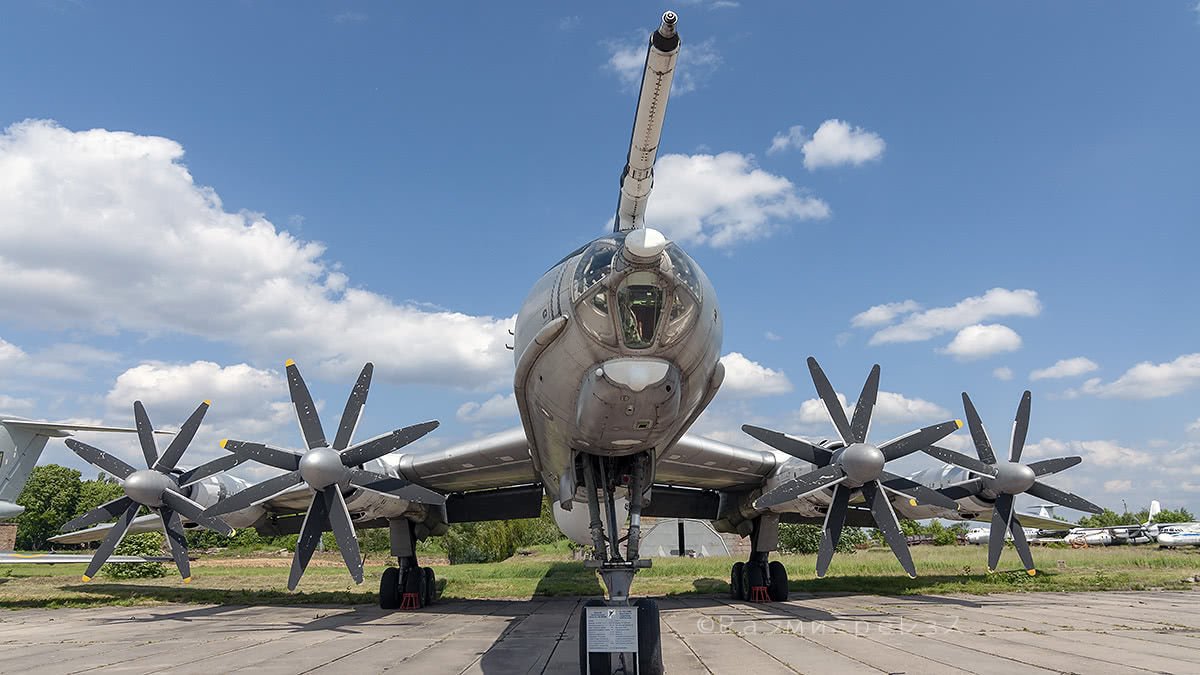 It's a military Aeroplane, a modification of my beloved Tupolev Tu-95 for anti-submarine warfare roles, with differences in equipment, undercarriage, and some measurements.
The Tu-95 is a turboprop bomber with counter-rotating propellers that went into service in 1956 and is still active (and it's foreseen it will continue for some more years).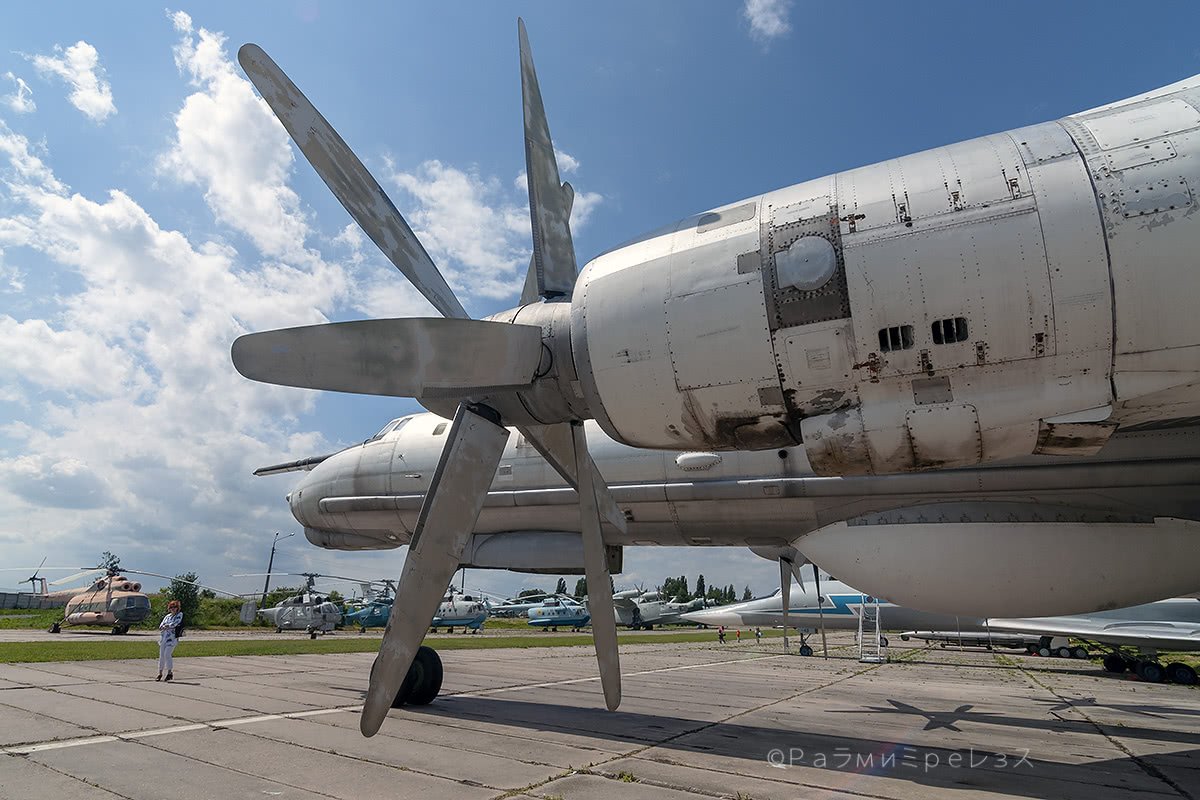 It has eight blades per engine, and it's very noisy. Four of them move clockwise, and the other four counter-clockwise (hence the name "counter-rotating").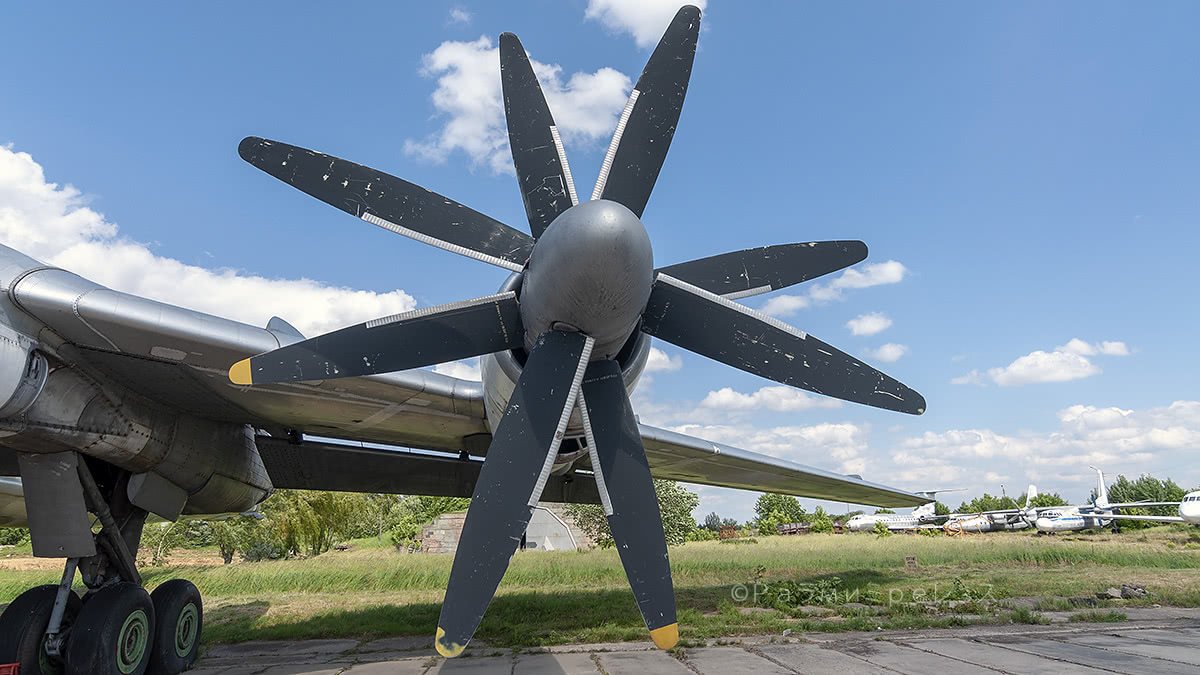 It's routinely intercepted by NATO or USAF Aeroplanes when it flies close to those airspaces. Watch the video below from minute 1:37.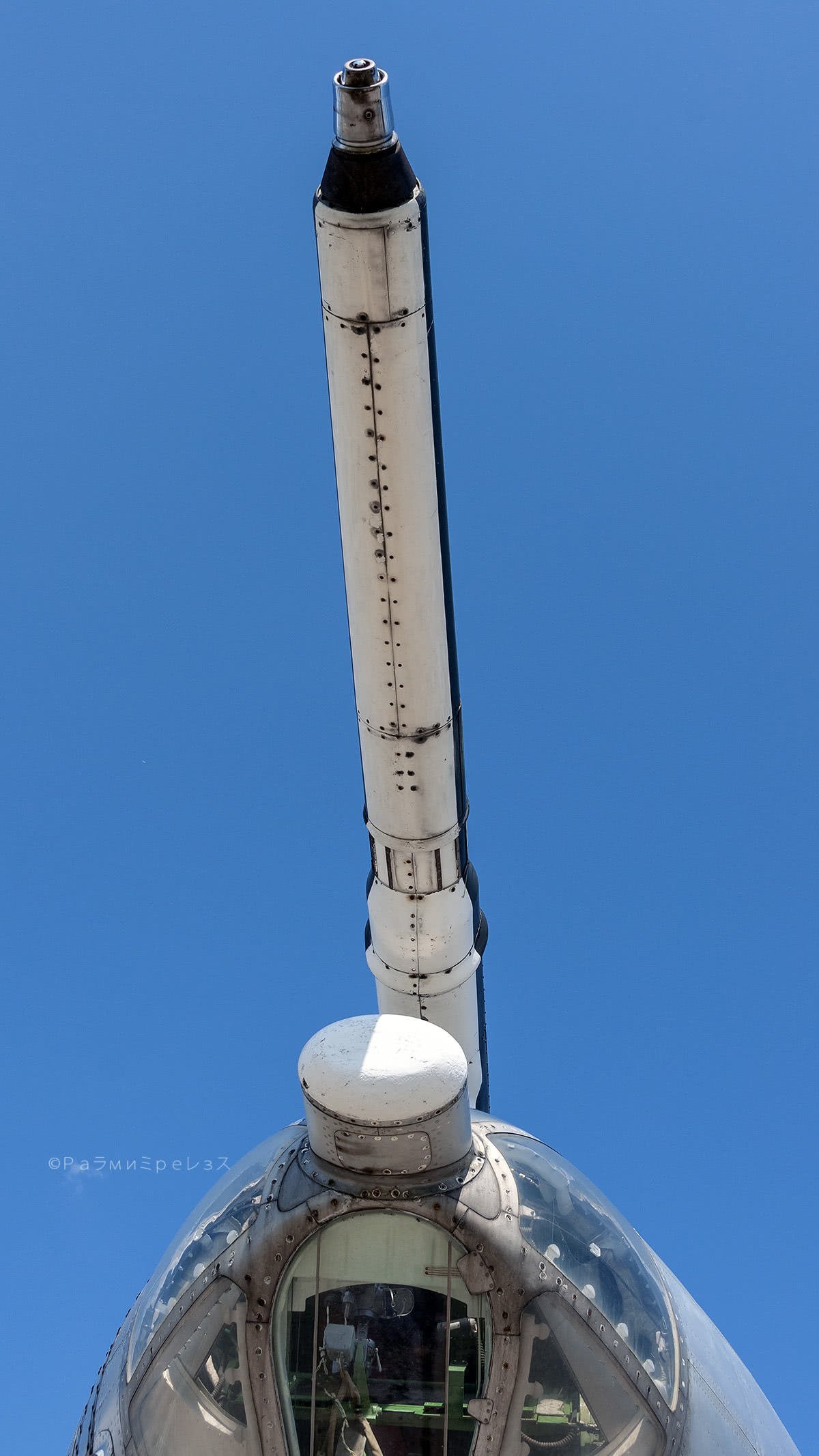 In longevity, United States has the B-52 Stratofortress, but Russia has the Tu-95.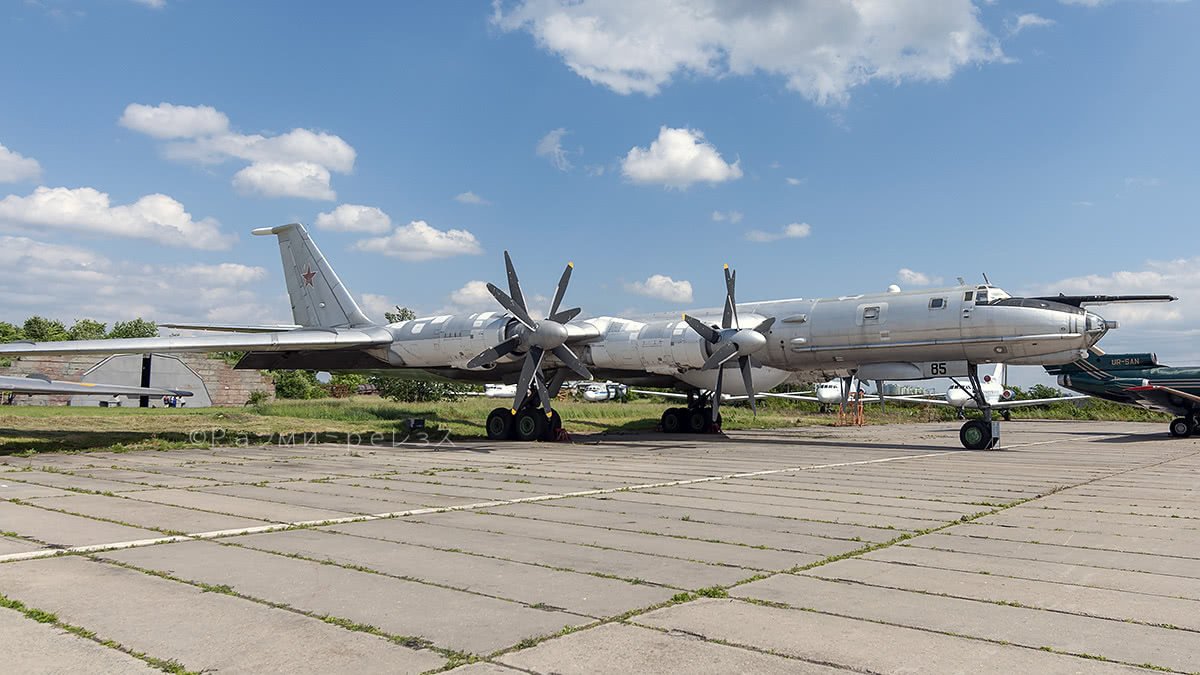 It's beautiful!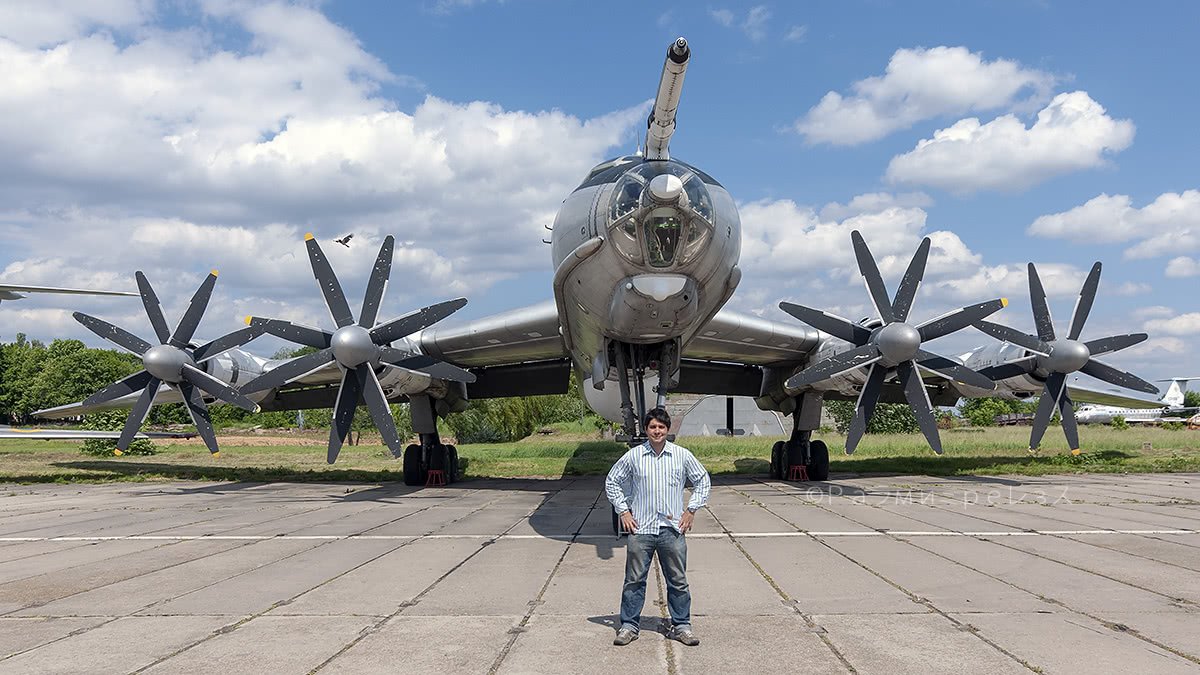 Besides the museum ones, there are some Yakovlev Yak-40s stored there. Those didn't exactly belong to the exhibition.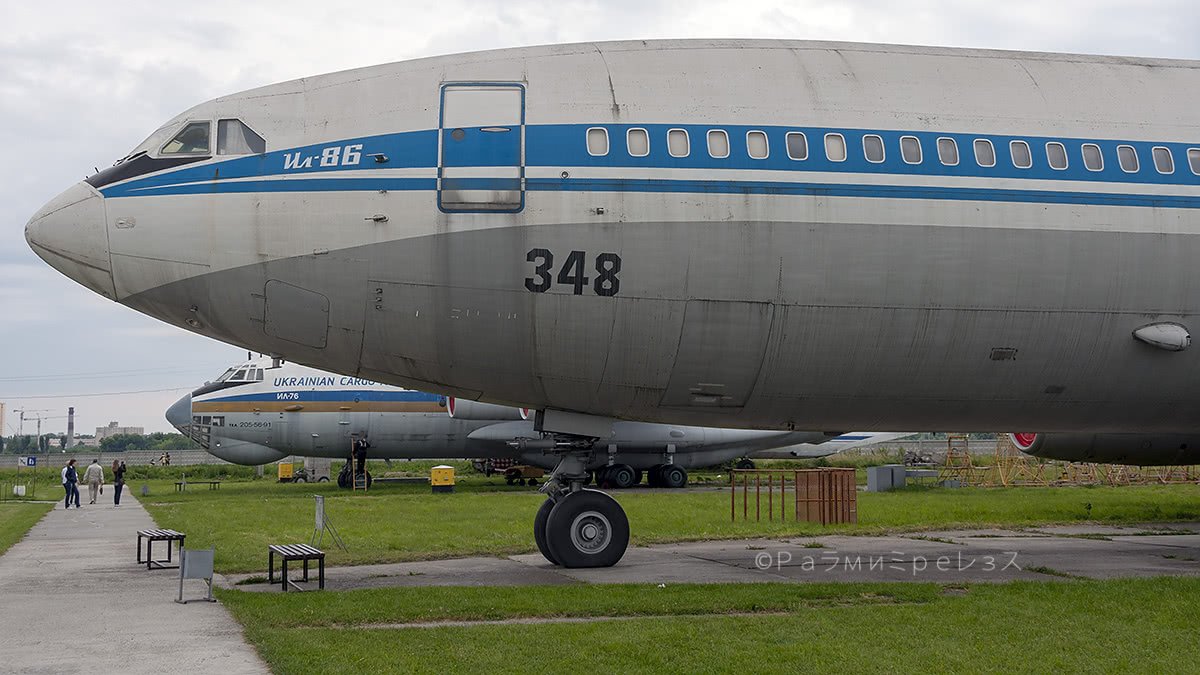 Ilyushin Il-86.
At the moment of my visit, they told me some of those Yak-40 were almost airworthy, on sale, and that they required little investment to be brought up to speed.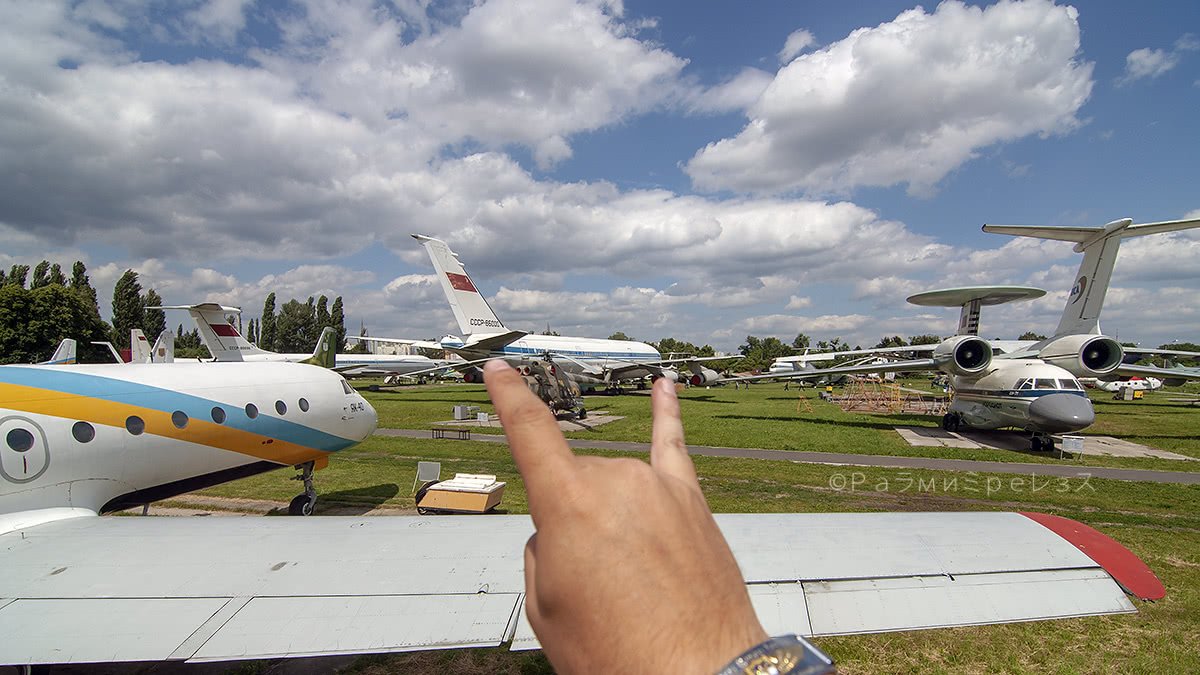 Obviously, that is "little investment" in Aviation terms, that's… Millions of pounds putting it lightly.
As you know, to be a millionaire in Aviation, you have to get in the business already being a billionaire.
I don't know for a fact if it was true they were on sale or almost airworthy. But they were there for my delight of the moment.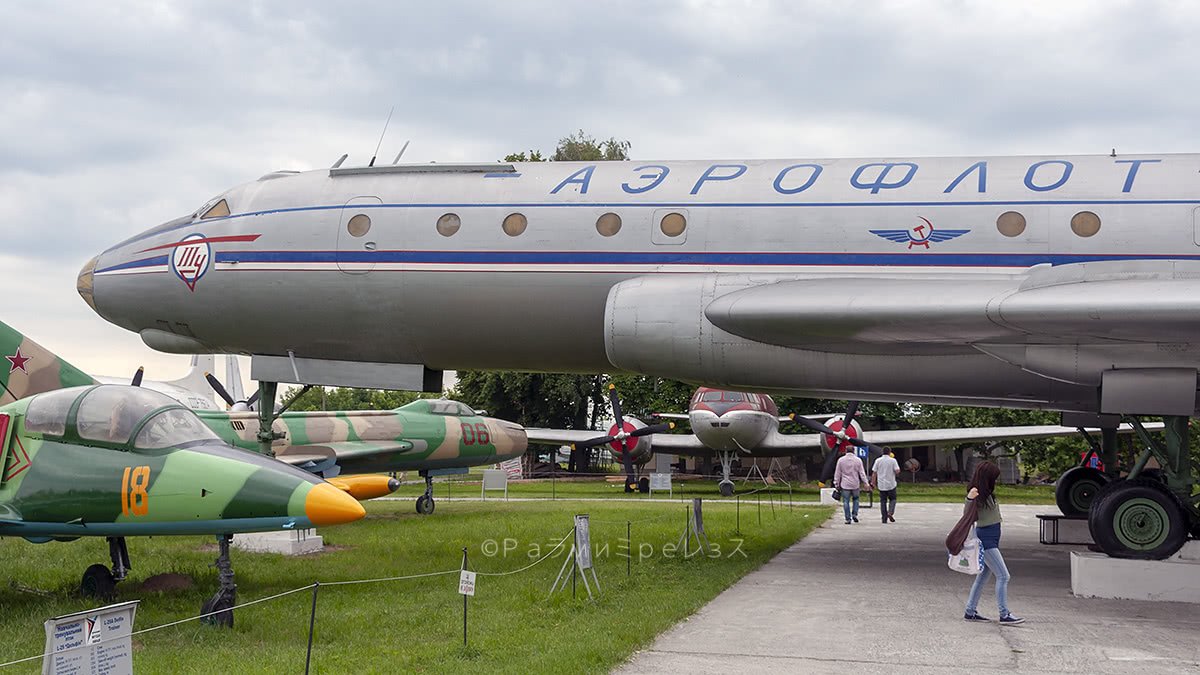 More museum photos in the gallery below.
As a closing comment on this section, there in Kiev is Gostomel.
It's Antonov's base, and where the Antonov An-225 Mriya, the world's biggest Aeroplane, usually lies when it's not operating, or when it's having maintenance work performed. It also spends a lot of time in Leipzig, Germany.
To my chagrin, the Aeroplane was out of sight these days.
I don't remember whether they had it in storage, or they had it flying somewhere else in the world. So I didn't get to visit Gostomel, nor see the Mriya ("Mriya" means "Dream").
Some months ago the Aeroplane was working between Bolivia and Chile. If I had had the money, I would have gone there just to see it.
But anyway, it's a pending homework, and another one of the reasons why I want to return to Ukraine.
Among others, like for instance, going to the Chernobyl museum in Kiev (I went to Chernobyl itself, but not its museum), find out more about Holodomor, and anyway, many a thing.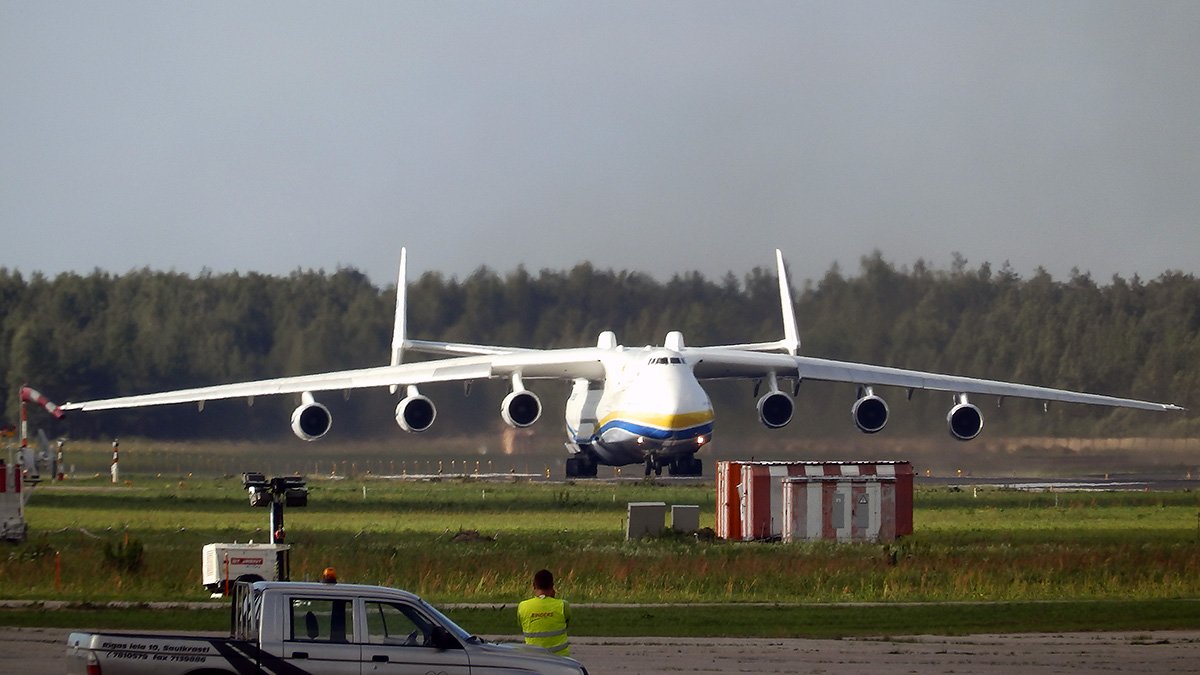 I would also like to see how're things there now with everything that's happened with Russia.
Things must have changed a lot compared to 2012.
I asked a friend if he preferred things as they were in that moment (year 2012), or with the Soviet Union. He told me:
–"There are some good things now, but the industry is destroyed. I don't know what to think, truly".
Around here it's taken for granted that most people hate the Soviet Union. But when you talk with people that lived there in the time, opinions are not so black and white.
Yes, sure, there are also people that lived there, and hate it. But it's not such a widespread truth.
In the end, they lost the Cold War, and history is usually written by the winner. But beneath that surface there are always more complex realities.
So having shown you part of my Aviation adventures in my stroll around Kiev, let's go to the third part of this article. A little mishmash about nuclear reactors, and the Chernobyl disaster.
---
This Kiev and Chernobyl article is kind of long and thus is divided into
four (4)
parts. You have just finished reading part
two (2)
. Choose here any other part you may want to go to: |
One (1)
|
Three (3)
|
Four (4)
|

Este artículo también está disponible en
Español
.