Please remember to read the notes on 
contents and copyright
if you have not.
This article was first published on: October 2019
This article was last updated on: October 2019

Este artículo también está disponible en
Español
.
---
An Australian touristic operator called Constellation Journeys set up a trip around the world.
This trip was made on a Qantas Boeing 747-400, exclusively chartered. Departure point was Sydney, and they visited Seoul, Jerusalem, Valletta, Barcelona, Cartagena, Lima-Cusco, Easter Island and from there they returned to Sydney.
Thanks a great friend's good graces, I was able to go to Cartagena for the arrival and departure of the Airplane.
Quite an interesting thing for an avgeek.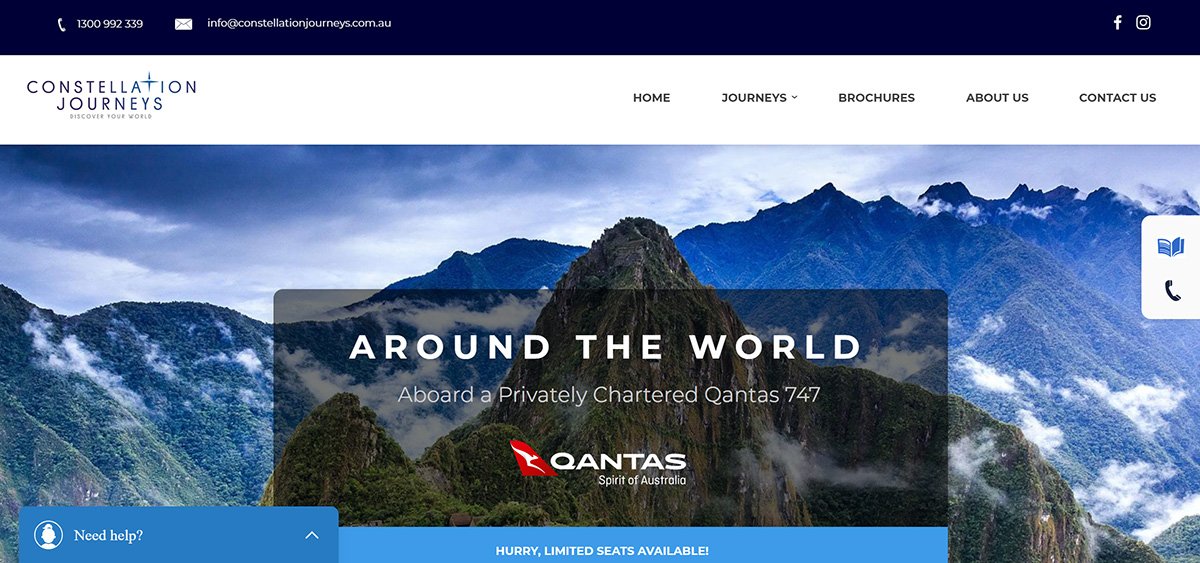 For starters, a passenger Boeing 747 in Colombia is a weird thing. The Airplane belonging to an airline of a country as far away as Australia that has no scheduled flights to Colombia, even more so.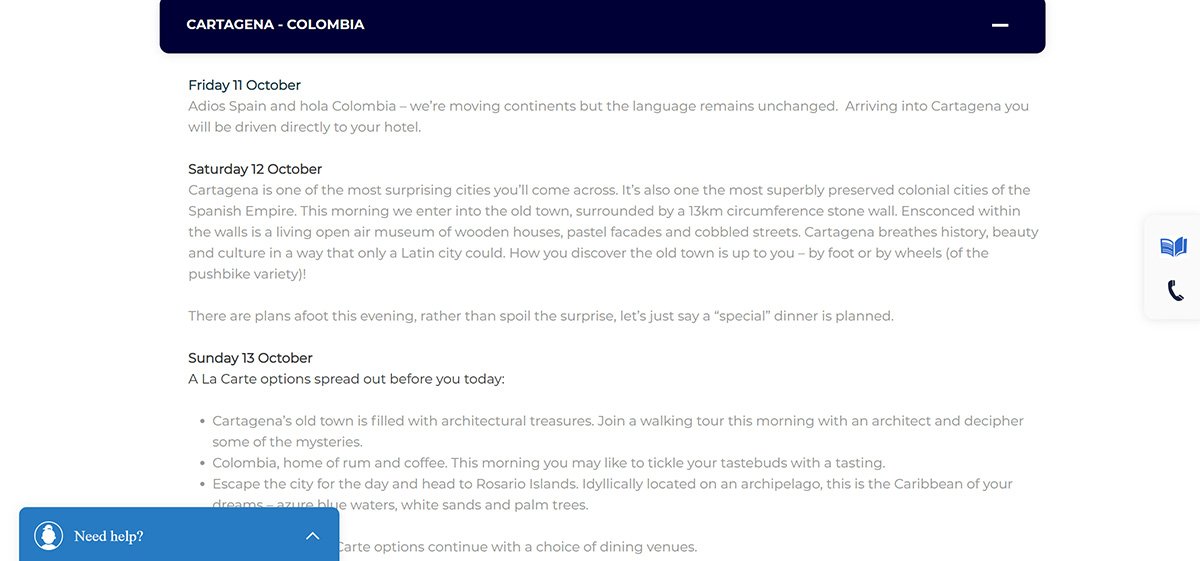 And for me, it was surprisingly heartwarming to know the chosen Airplane for the tour was the VH-OEE.
The flight had been announced months in advance, so we already knew the airline, the date, the origin, the destination and the type of Airplane. But the exact registration of the Airplane they were going to send was unknown up to that point.
And I was thinking:
-"Would they send the VH-OEE?"
But then I said:
-"Nah, from all the Boeing 747-400s that Qantas has why would they choose that one?"
But well! It turned out to be that one. We found out a few days before the arrival, when the tour started in earnest with the first leg between Sydney and Seoul.
As it happens, I flew in that very same Airplane between Brisbane and Sydney when I lived in Australia.
And that wasn't delicious just due to the fact that I was travelling and in a jumbo, but also because it was the first flight I had in almost a year.
For me it meant a kind of triumph, since that year had been emotionally very tough for me for reasons not related with the country, or what I was doing there.
Nonetheless, I had achieved what I had set out to do, and I hadn't failed anyone that was trusting in me while there, despite the difficulties I'm mentioning.
So getting on that Airplane after all that felt so much more sweeter that it would in "normal" circumstances. Mind you, we're talking about "normal" circumstances of getting on a Boeing 747… Extra sweet on their own!
And to rendezvous with it again years later, in Cartagena of all places? It was exciting for me, and brought back many good memories, more than five years after that flight.
Besides seeing the Airplane again, I took photos of other Airplanes of course. I walked around the city, and I met with people I cherish that live there.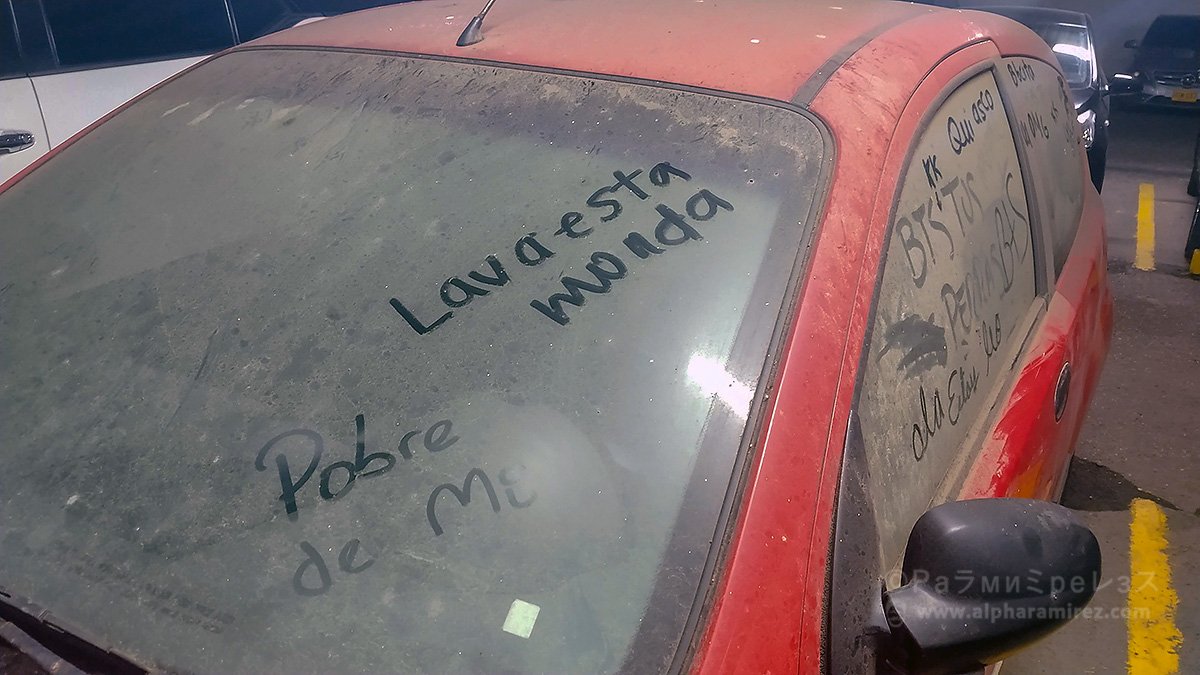 So to tell a full story, I will briefly interrupt what I lived in October 2019 in Cartagena, Colombia, and I will return to August 2014 in Brisbane, Australia.
Route: Brisbane (BNE) – Sydney (SYD)
Airplane: Boeing 747-400
Airline: Qantas
As I said, this flight had a personal component that me feel much better than usual. It being flown in Boeing 747-400 was just the cherry on top.
This was a particular flight. Qantas had a flight that routed Sydney – Dallas – Brisbane – Sydney.
The stop in Brisbane while returning from Dallas was because of the winds, in flight toward Australia they caused the Aircraft to not reach Sydney comfortably fuel-wise.
So to avoid any kind of trouble for that reason, they simply made it land in Brisbane, more to the north of the country than Sydney, and at an adequate distance to comply with the air safety and fuel criteria.
Once the Airplane landed in Brisbane, it was re-fuelled there, and it just carried on to Sydney then. But in Qantas they said:
-"Since we have to land in Brisbane, let's sell tickets on the Brisbane to Sydney leg and see how it goes."
Granted, Brisbane is Australia's third biggest city, and the flight must have been useful for many people with Brisbane as final destination. But the main subject was Sydney.
And well, guess who bought a ticket in that flight? I diiiiiid.
As of October 2019, the date in which I'm writing this, the flight still exists. But it's now operated by an Airbus A380-800, and that Airplane can fly nonstop from Dallas to Sydney, so the Brisbane stop doesn't exist anymore.
The flight arrived very early in Brisbane, the boarding time for us continuing to Sydney was 0550 local time. I don't like waking up early, I'm more of a night owl and I function better at night.
But anyway, the early wake up was to travel and fly. That was one of the most happy early wake ups of the time! A time in which I woke up to go to work between 0330 and 0400 local, even though waking up at those times was not my favourite situation to say the least.
Being so early, the usual public transport wasn't totally functional yet, and my friends were all asleep.
So I called a cab that left me at Roma Station, and from there I took the train to the Airport.
At 0420 local time I was already waiting for the train, due at 0427.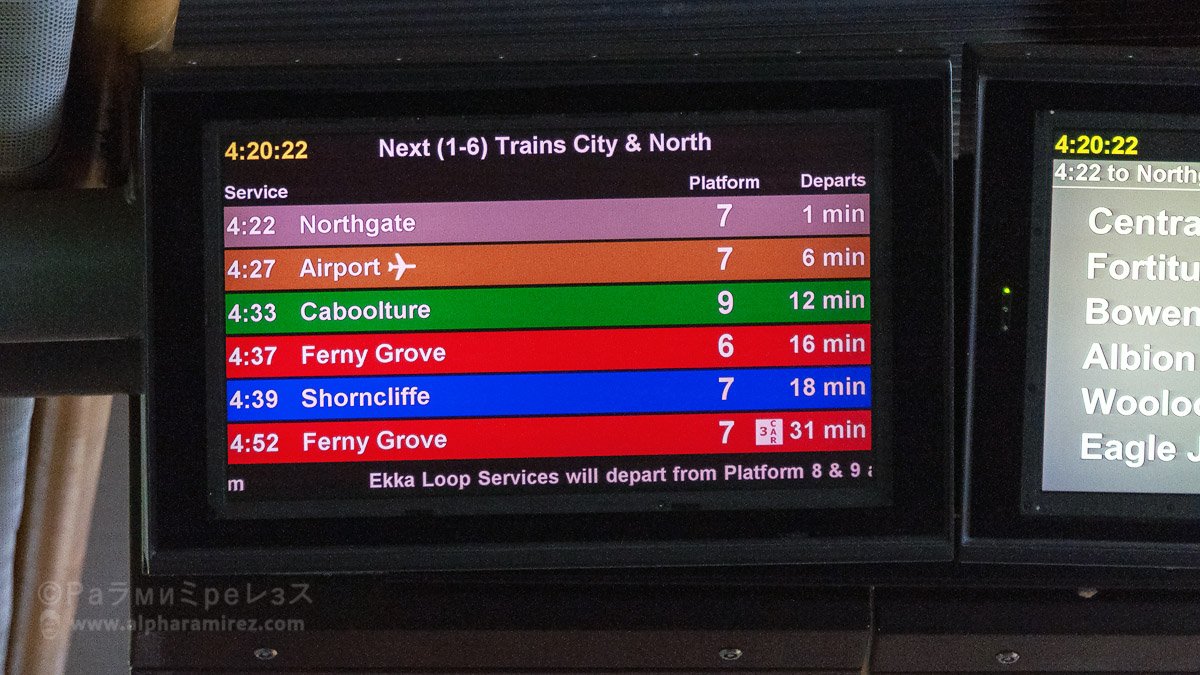 I think it was one of the first trains of the day, and it was pretty much empty.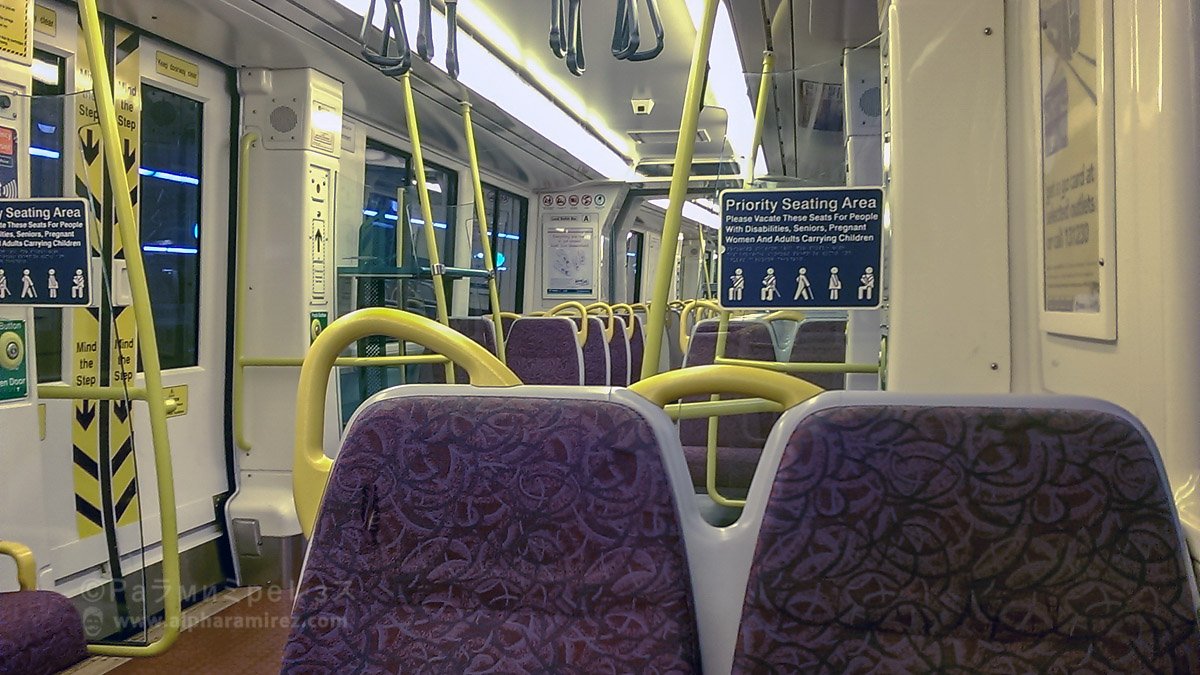 I arrived in the international terminal of Brisbane Airport very on time, and checked-in.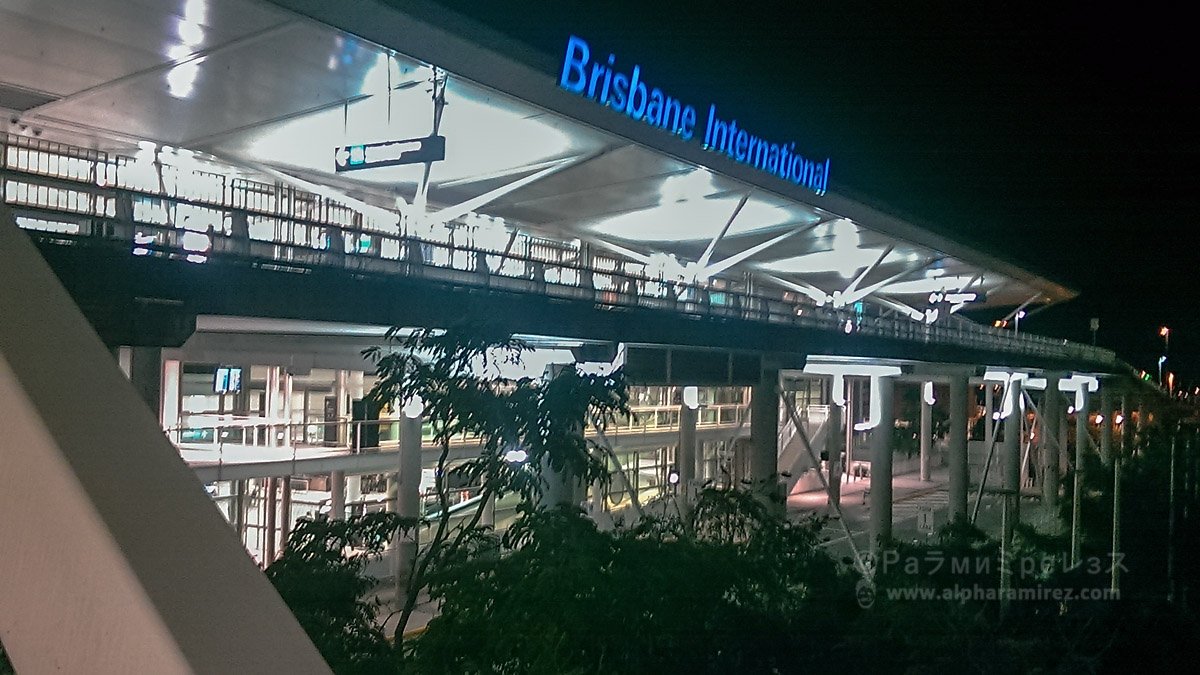 Since that flight arrived in Sydney's international zone (obviously), they put a special orange sticker on the boarding pass so immigration agents there wouldn't process me, as I was only doing the domestic leg.
Brisbane's agents still put a "departed" stamp, as can be seen in the photo.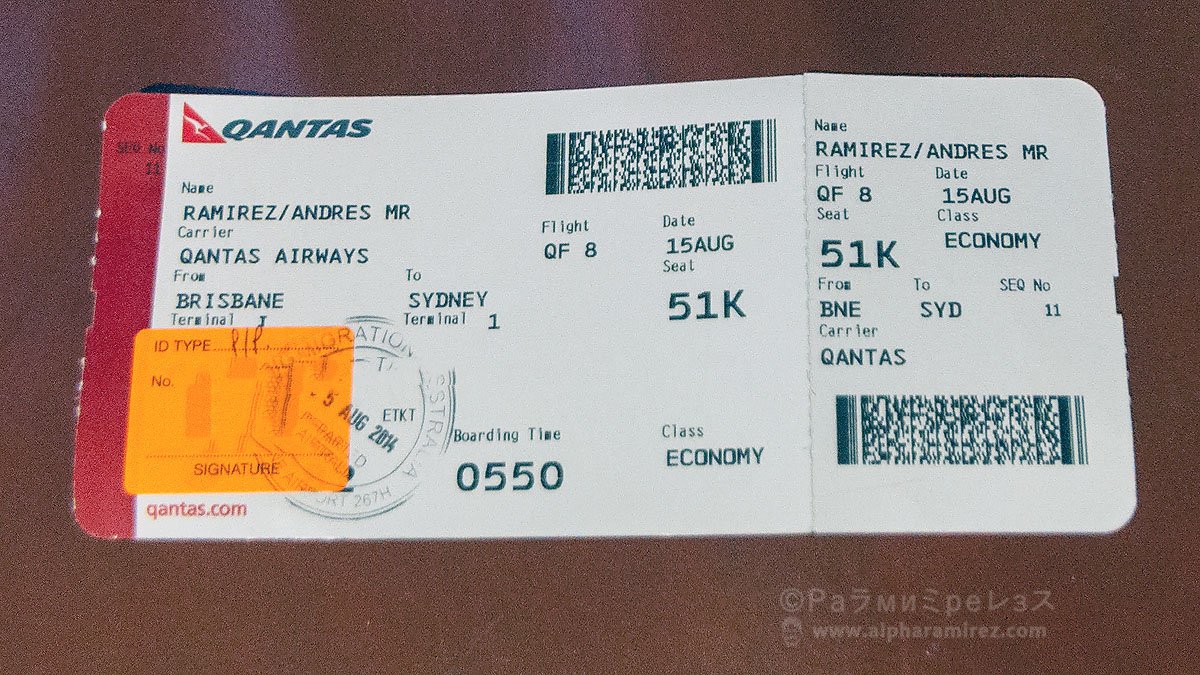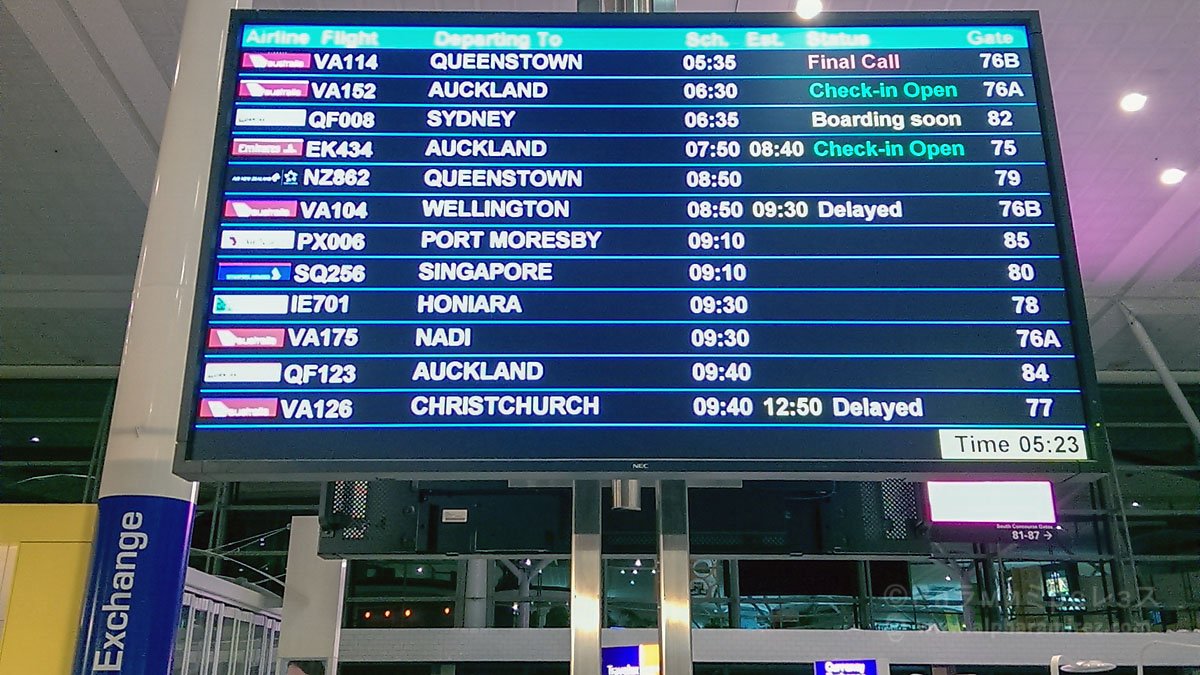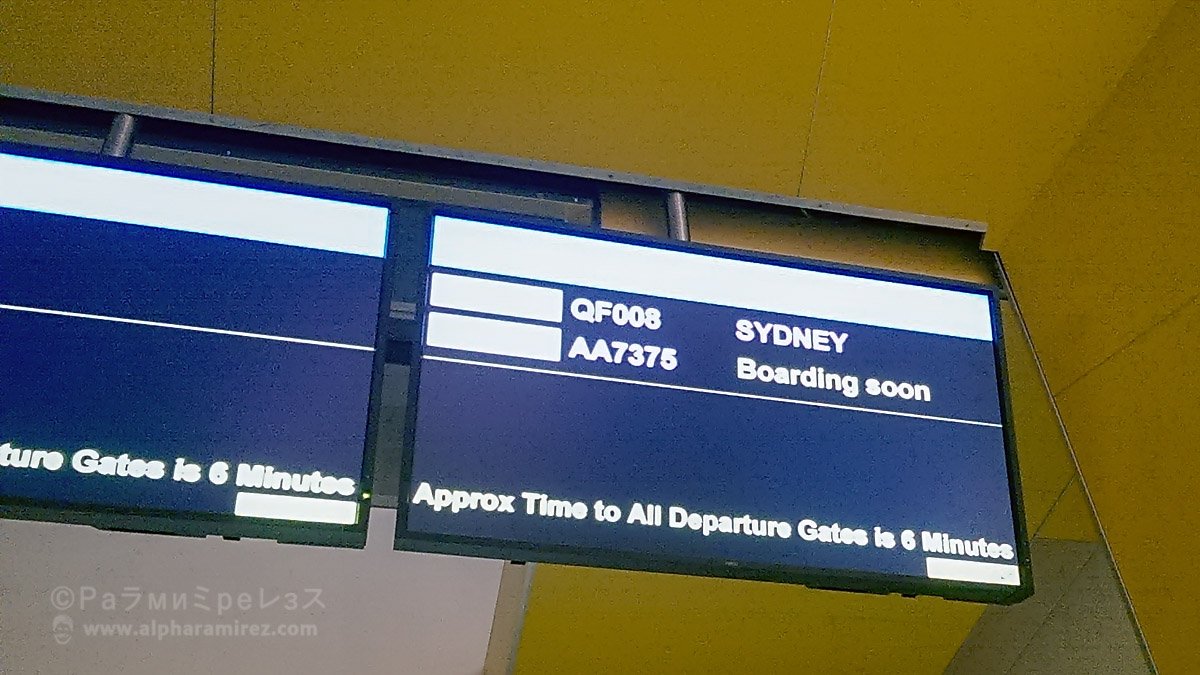 I was in the waiting room observing all mesmerised. The Boeing 747-400 looked gorgeous!
There was an Airbus A330-300 beside that didn't look too shabby either.
As you may know, the chosen one that day was VH-OEE.
The first rays of light slowly appeared, and the Airplanes looked just as good.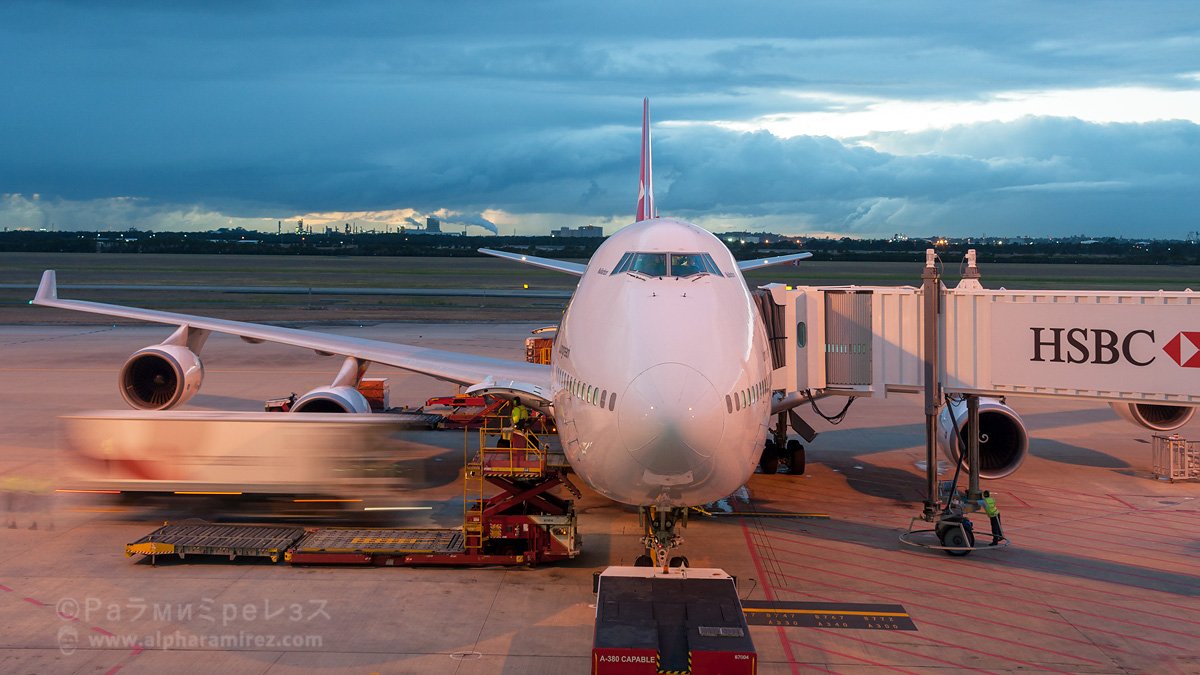 The boarding time was nigh.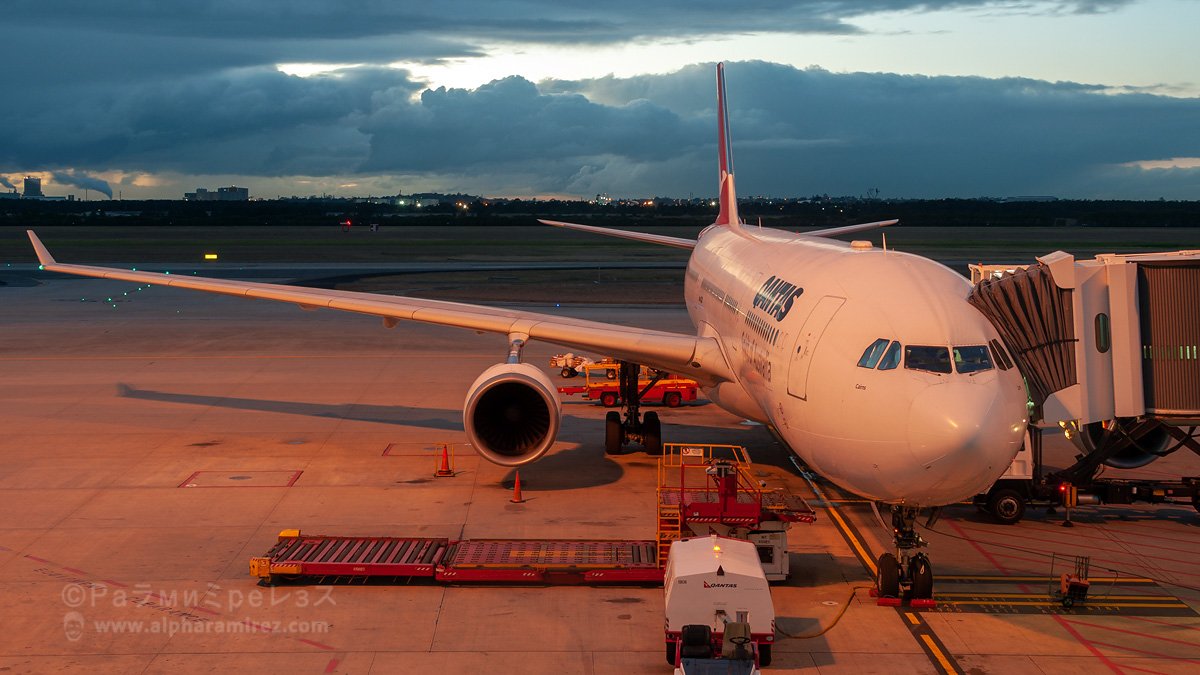 It was a cloudy Brisbane morning, but it wasn't raining.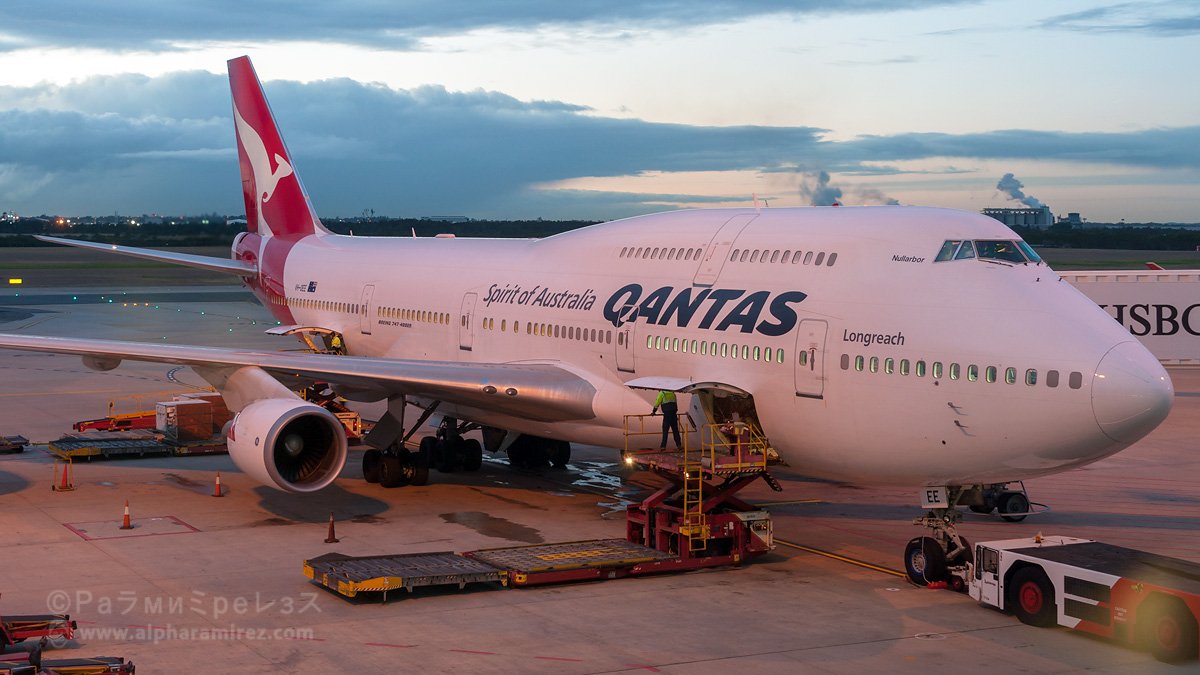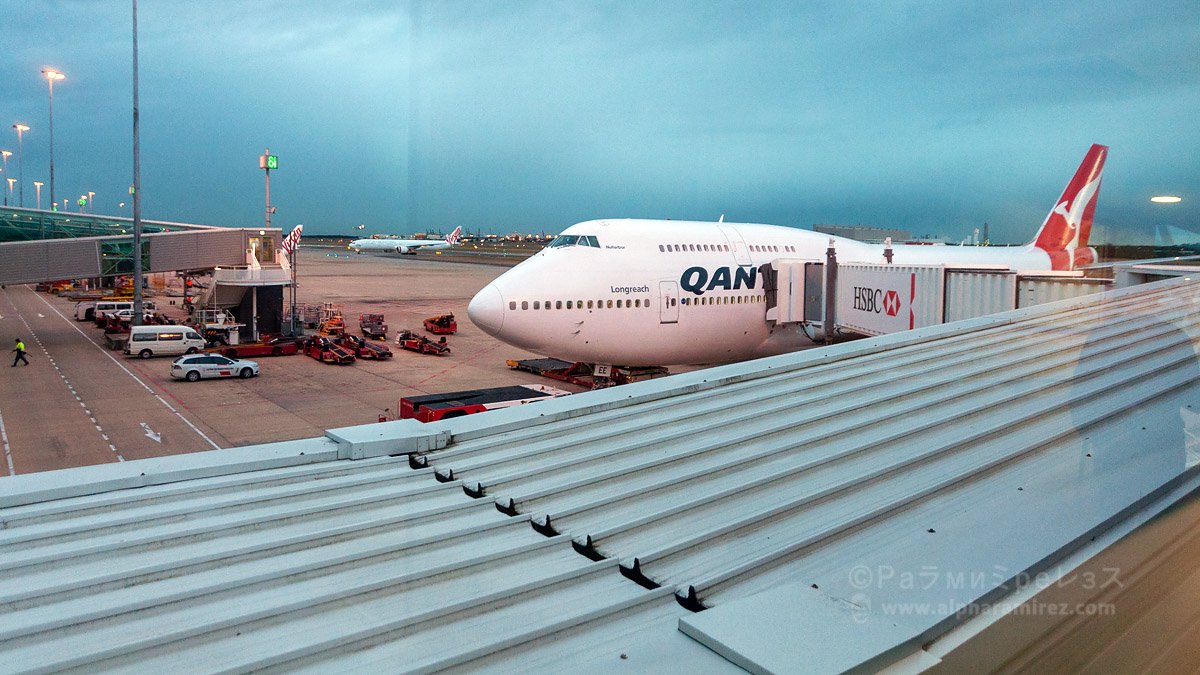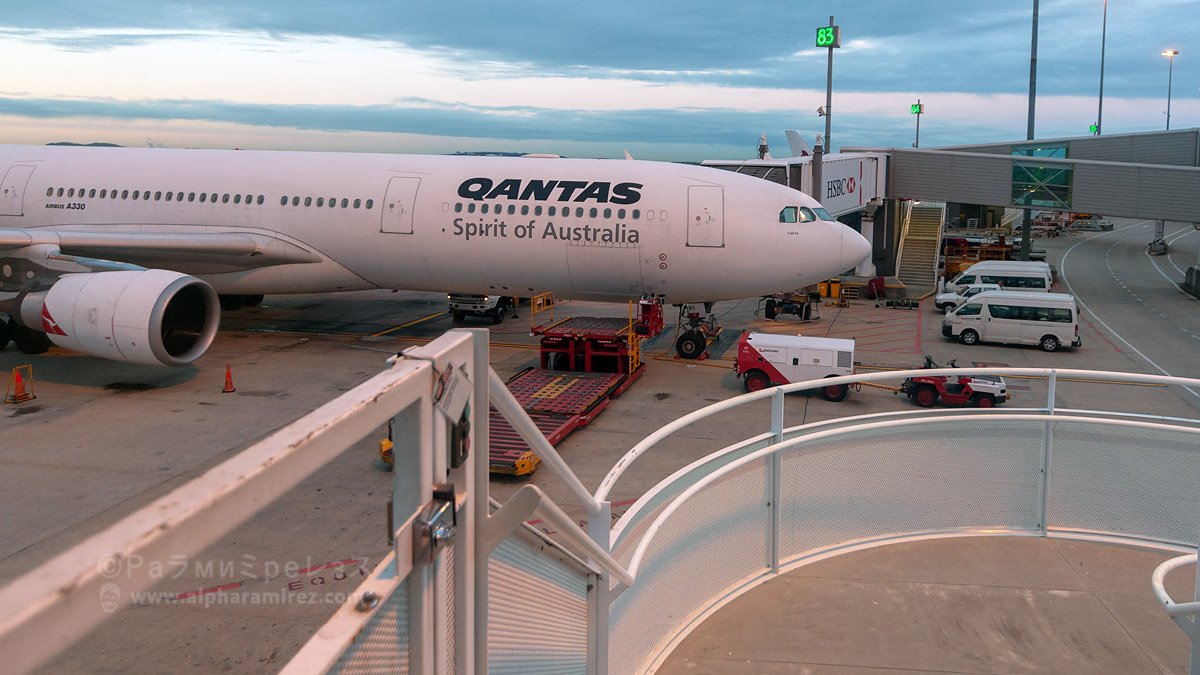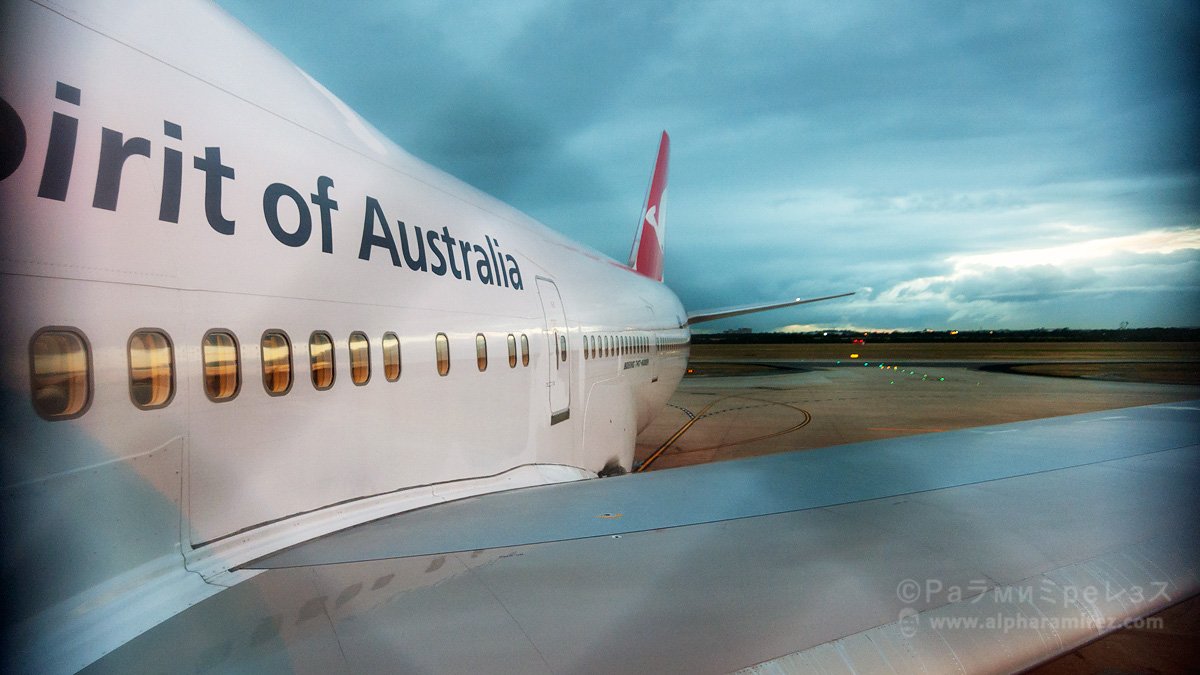 On entering the Airplane I could see many of the passengers from Dallas, with their knackered face. That flight isn't light! If I'm not mistaken it took almost 14 hours…
I sat in my window seat 51K, and to the side was a Virgin Australia Boeing 777-300. If my memory doesn't fail me, their flight from Los Angeles arrived around that time, perhaps that was it.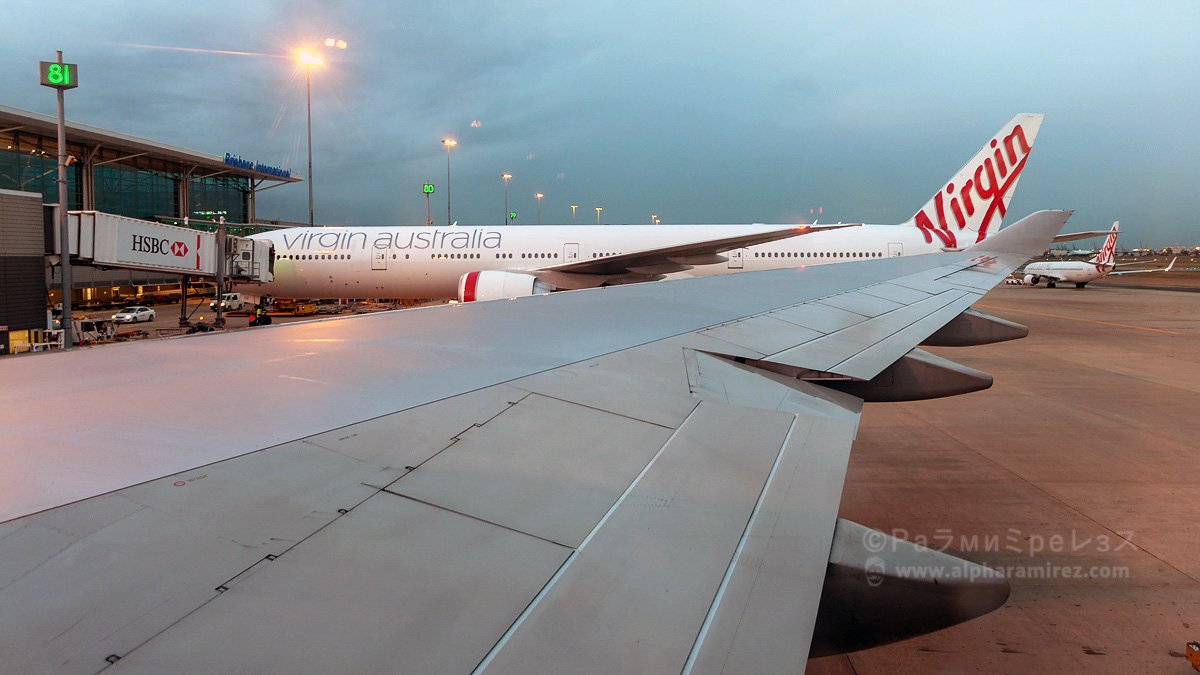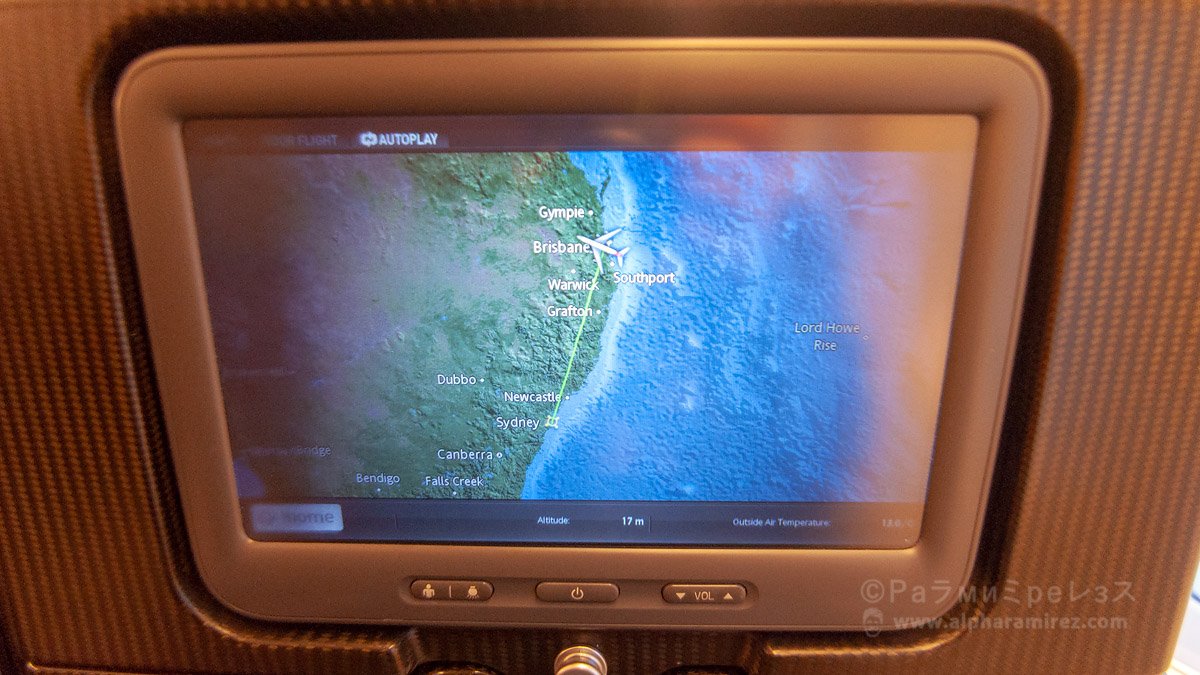 We were pushed-back on time and were on our way to the runway. On takeoff we almost flew over my house in that moment, and I clearly saw places of the city in which I had been many times in the earlier months.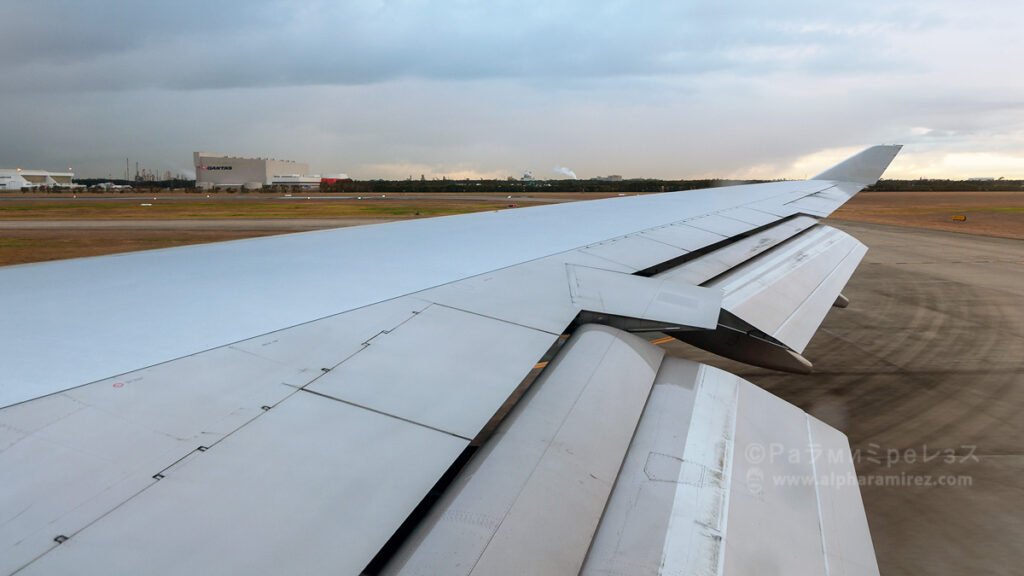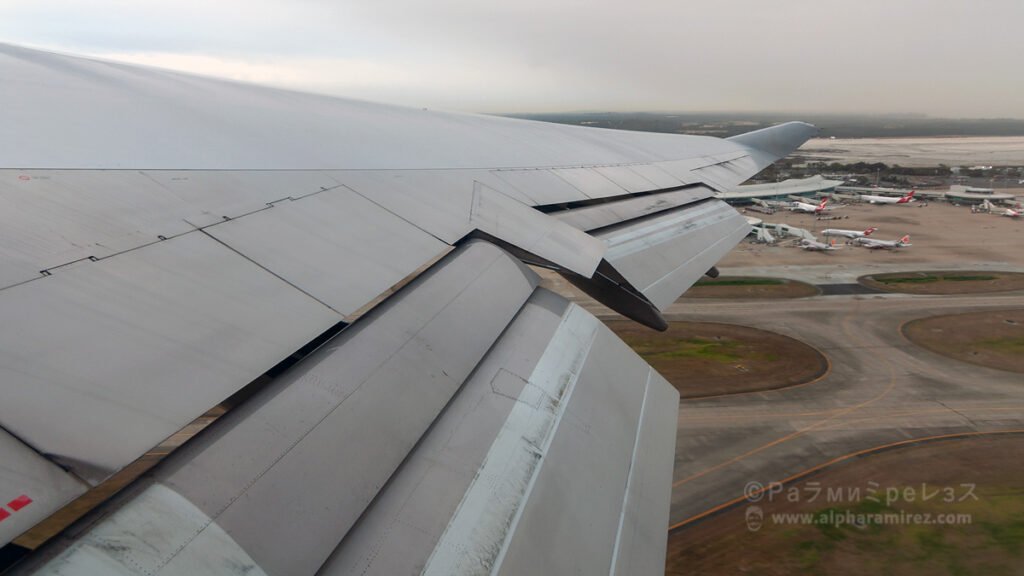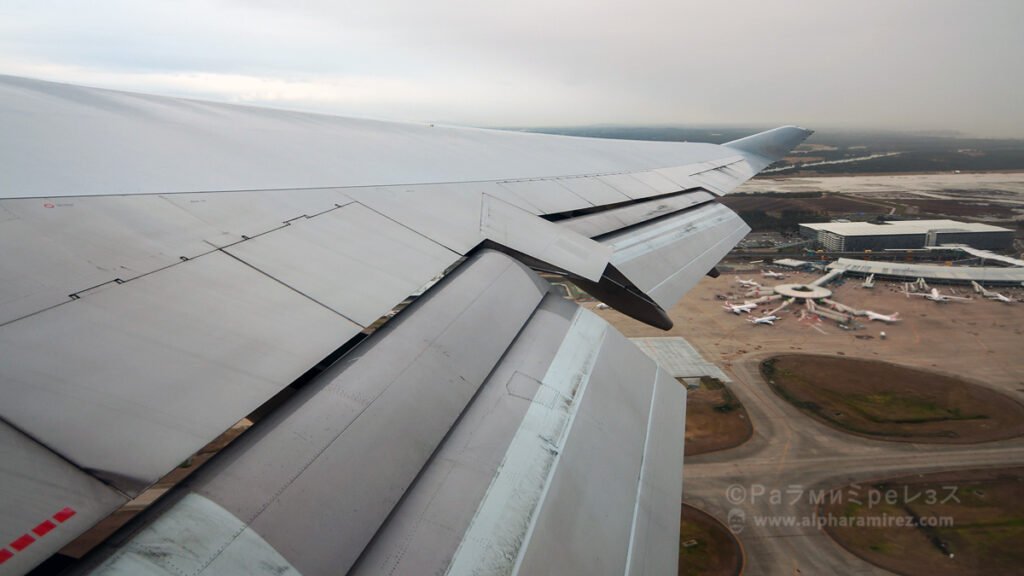 The Gateway Bridge was one of those places, located between the Airport and the zone of the city I lived in. It was the first time I was seeing it from above, even though I had driven through it a thousand times.
We continued the powerful climb and soon enough we were above the clouds that gave that Brisbane morning its gray hue that day. It was all sunny sun now.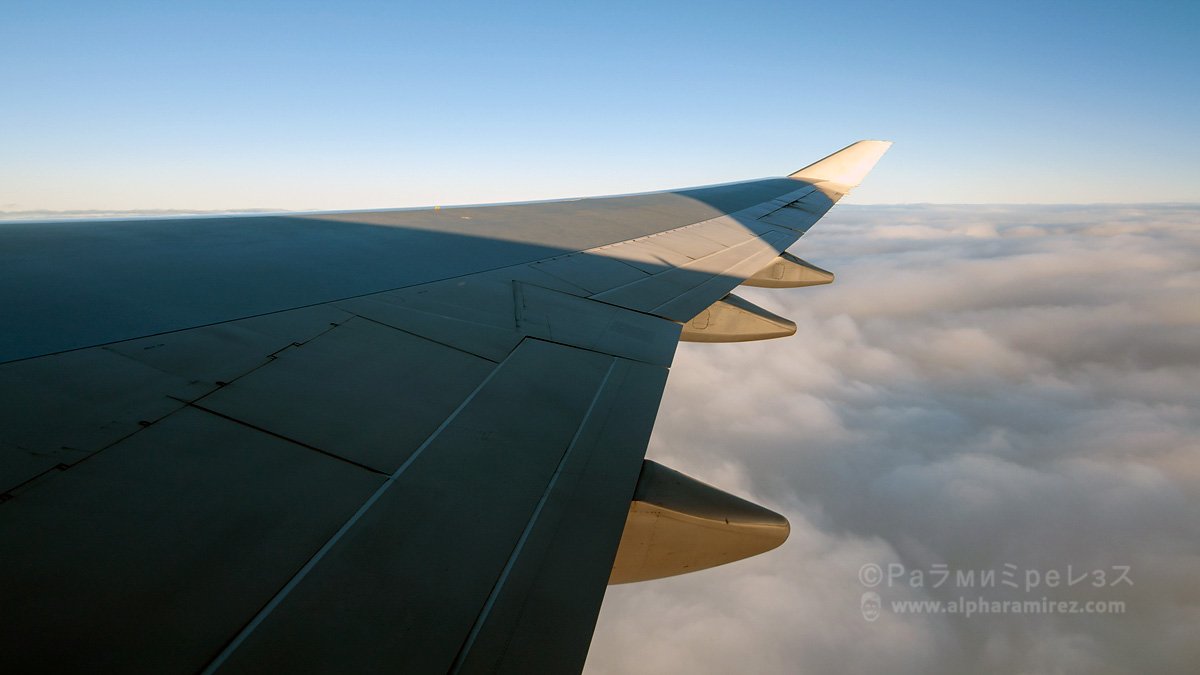 Despite being now totally sunny and at daytime, I could see the moon from my window. The flight was going to last about one hour and half, and a breakfast was offered. It wasn't bad at all given the time and route.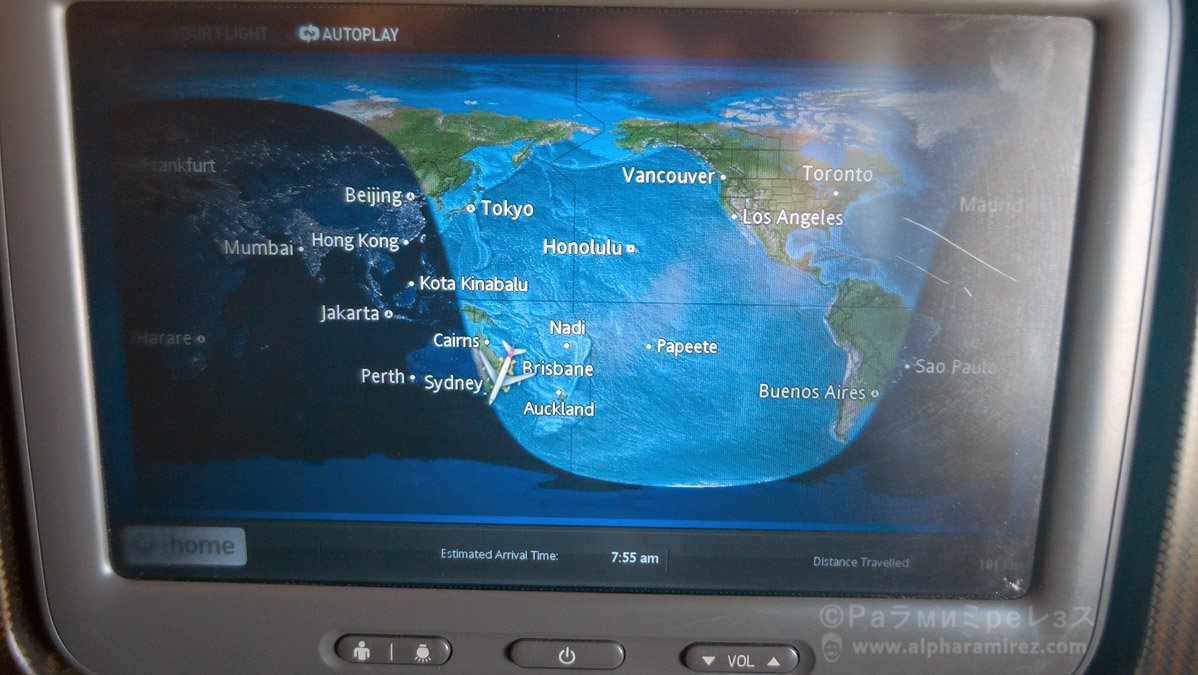 The descent was begun, and postcards from the state of New South Wales were in sight closer and closer. Urban and rural areas, beaches, the sea…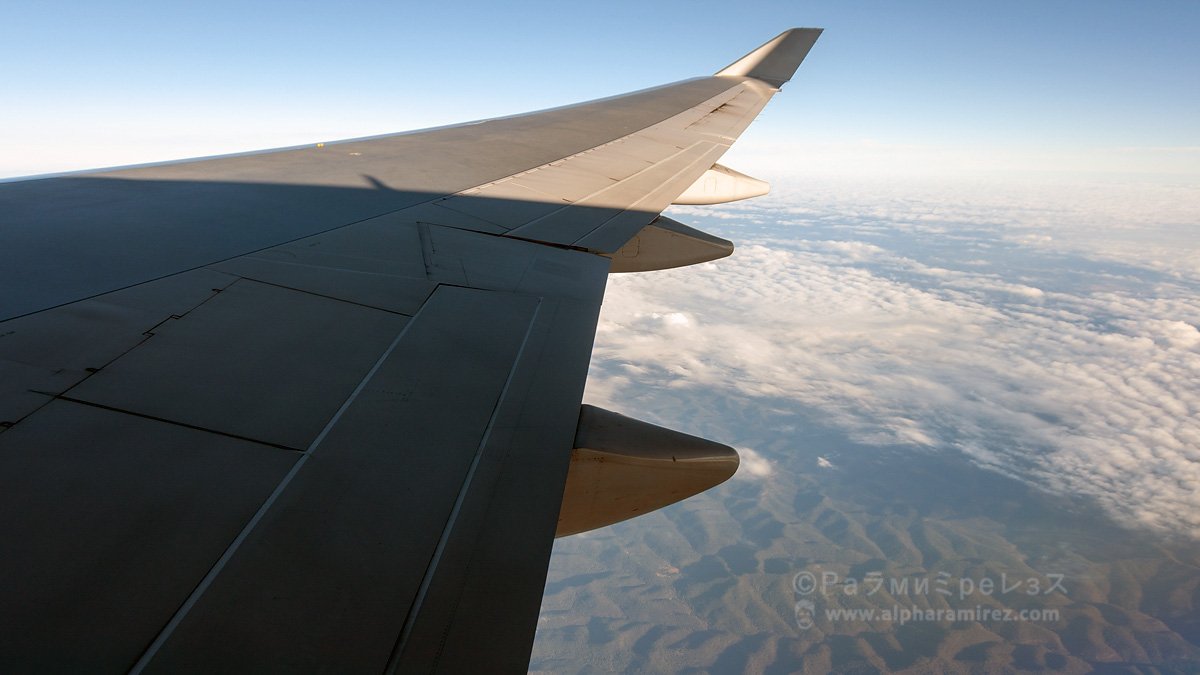 Suddenly we landed in Sydney International Airport, and there the sensation of… I don't know… Of… Triumph was magnified. Triumph, that is the word. That morning I felt triumph.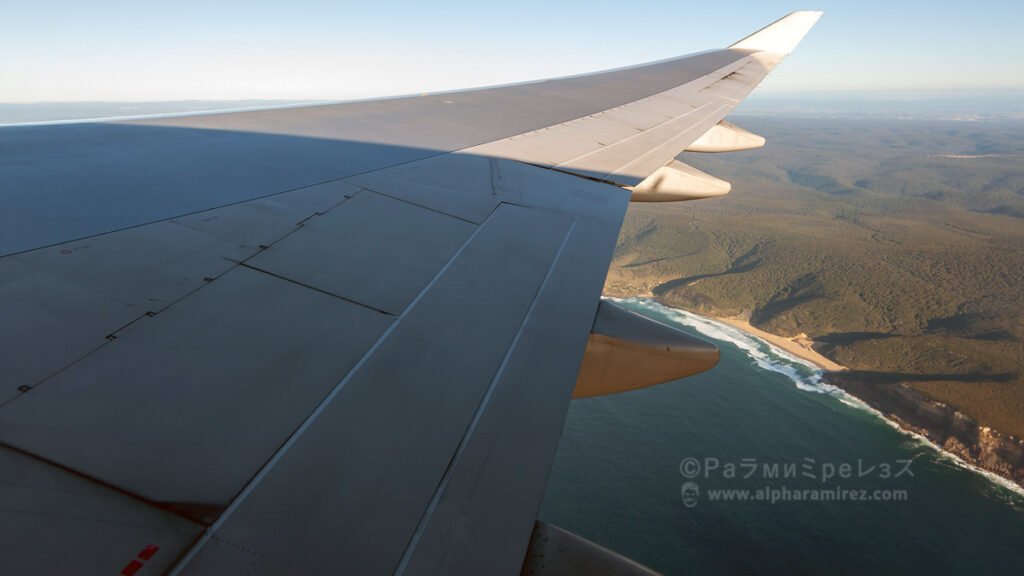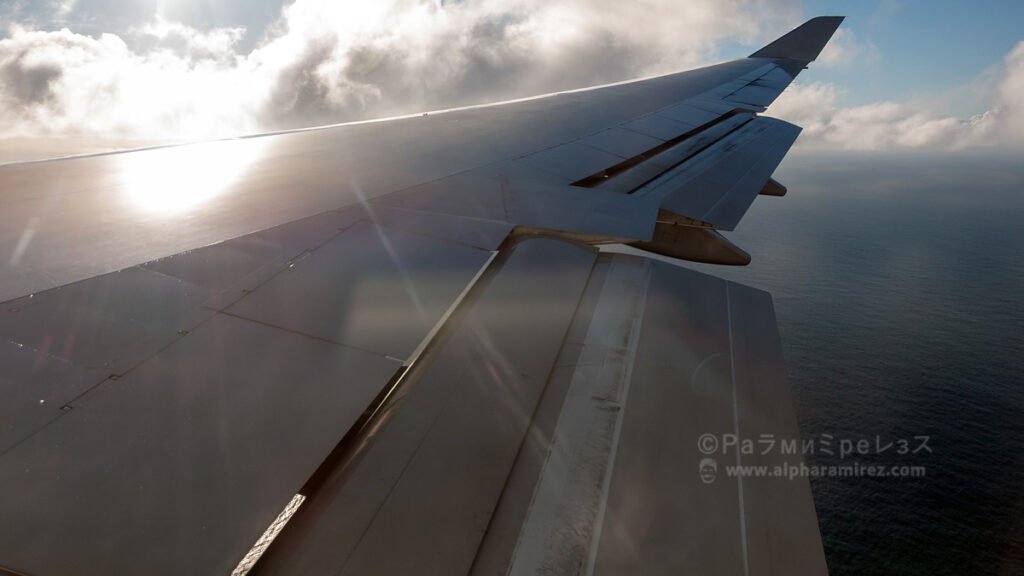 On the other hand, I didn't want to get off the Airplane haha. But anyway… We had arrived.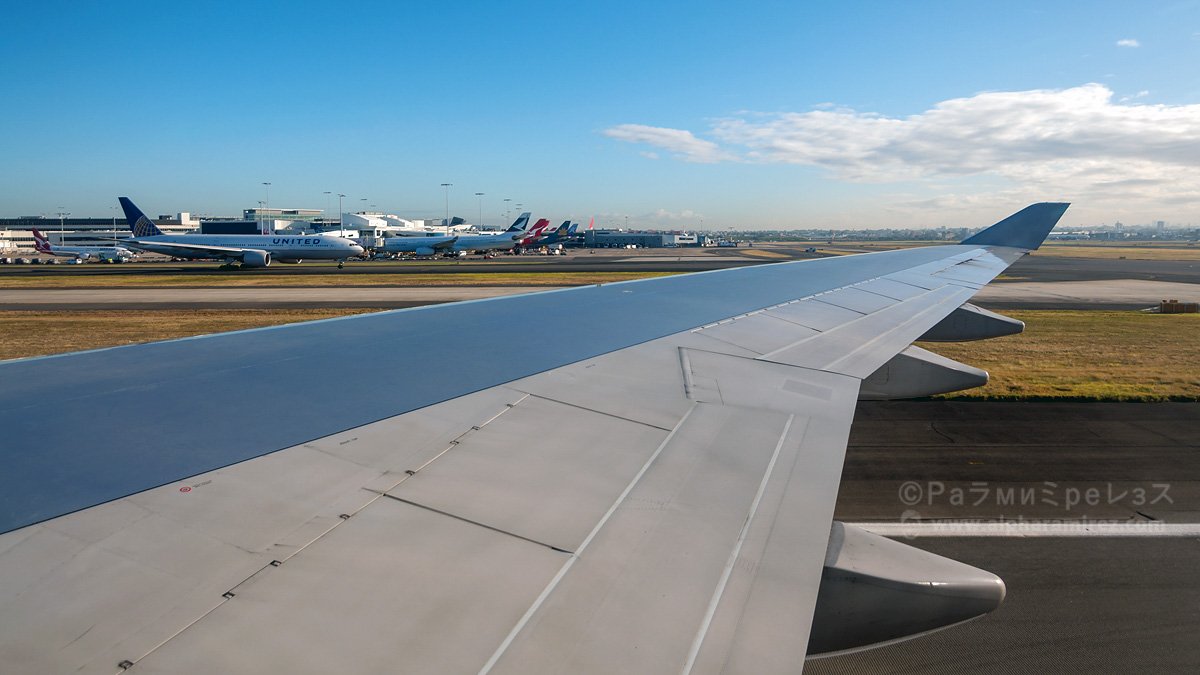 We had to wait for some minutes for the gate to be vacated, and then made our way there.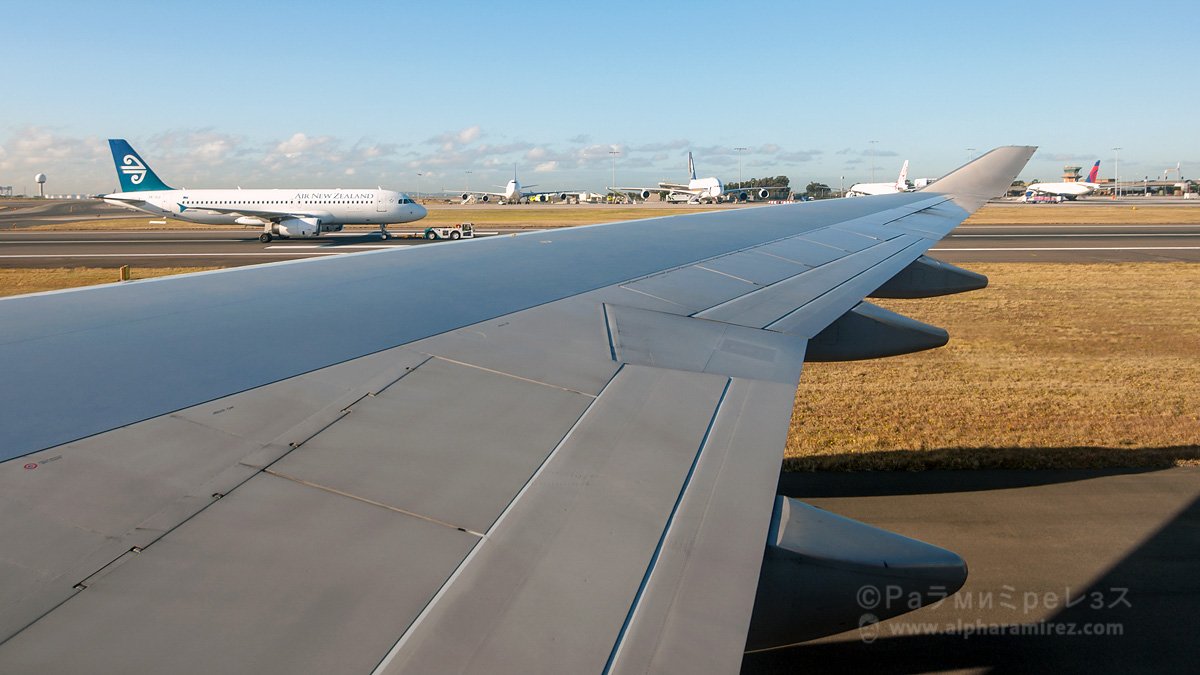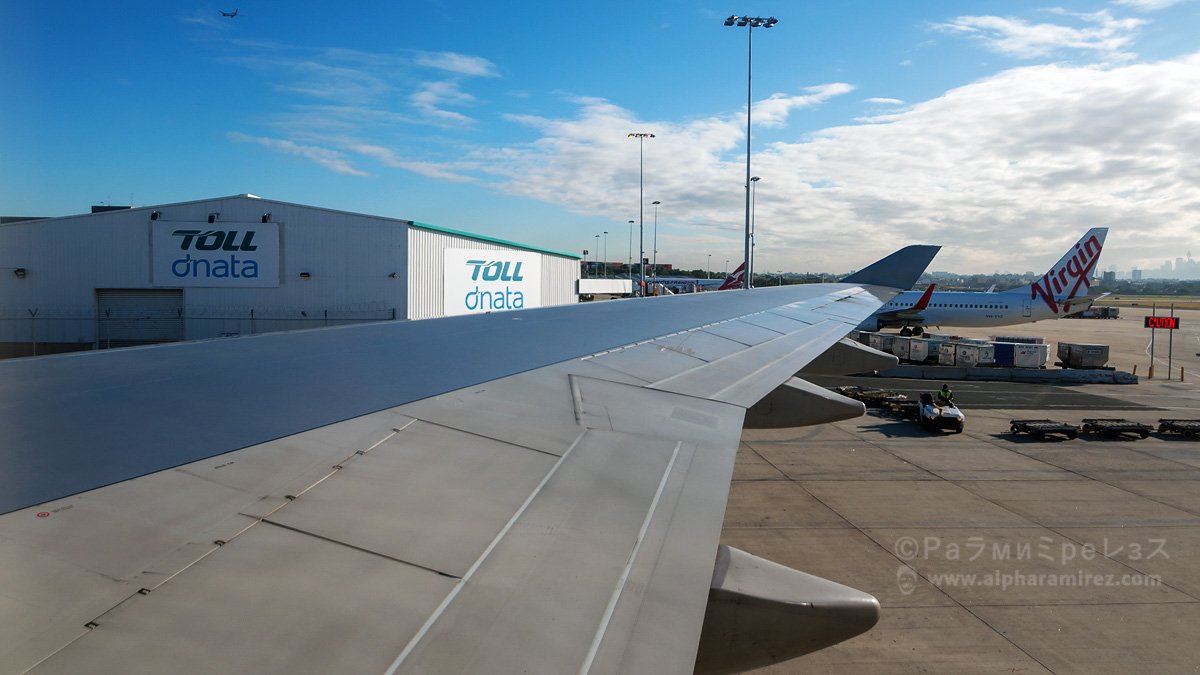 It was the gate almost in front of the Rydges hotel.
I disembarked and followed the immigration line alongside the people coming from the United States, but the agents told me to pass through the side when they saw my orange sticker.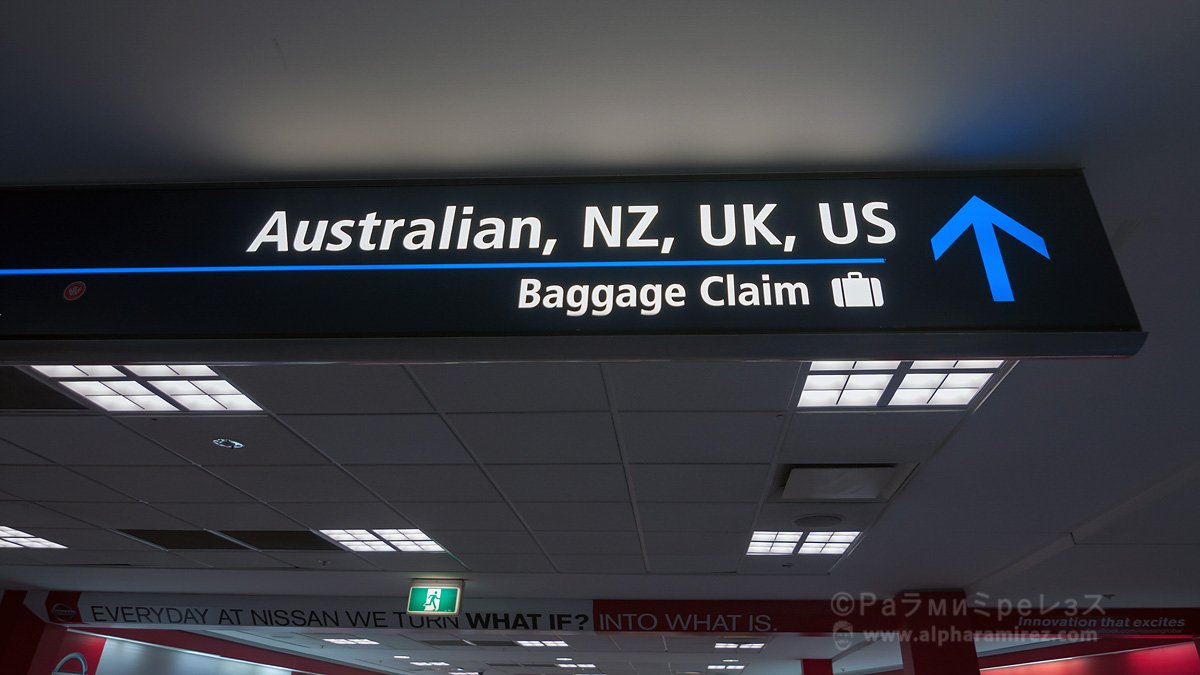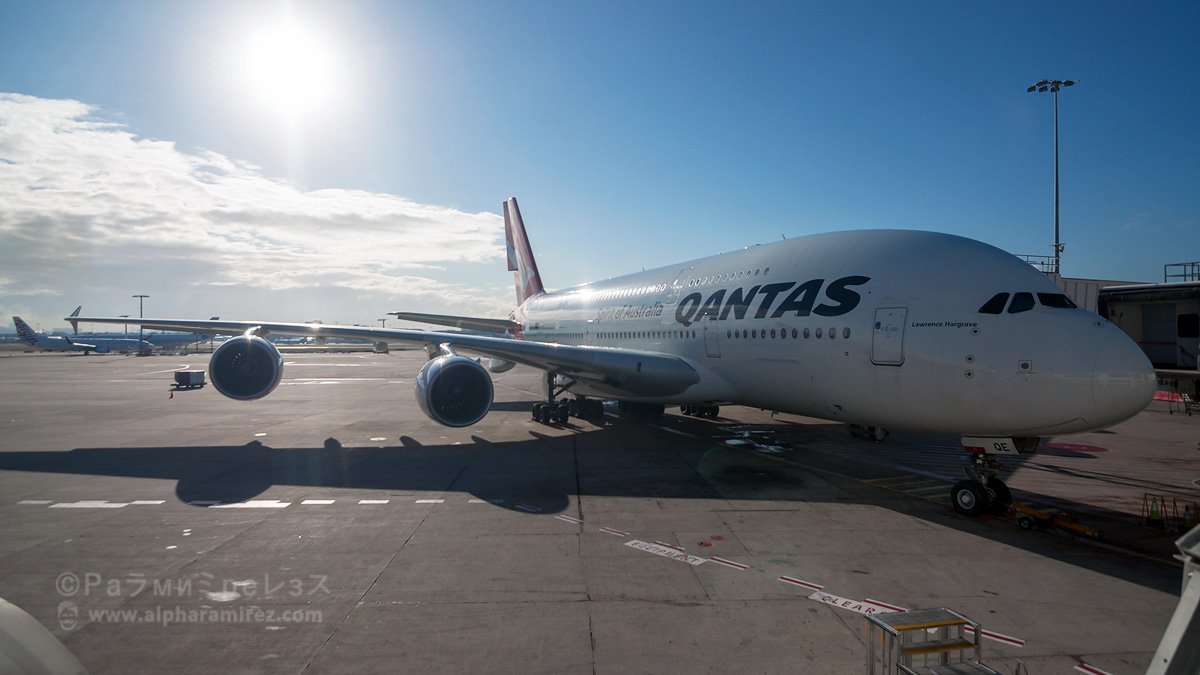 The Ebola epidemic of those days was quite current still, and the signs in the immigration zone were clear in that regard.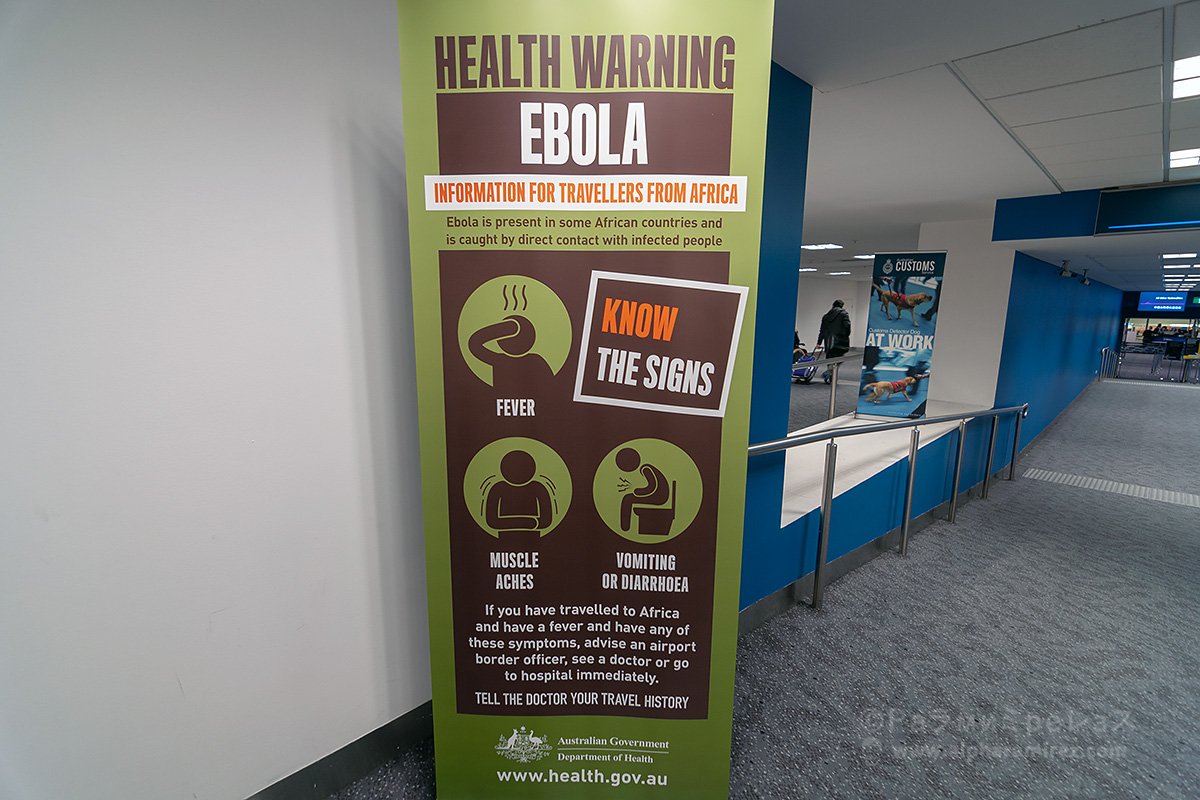 I picked up my luggage and went to the city. I was in Sydney already! And I had arrived in a Boeing 747-400 no less. What followed is something I will write in future articles.
So now that I showed you what happened in August 2014 in Brisbane, Australia, is time to return to October 2019 in Cartagena, Colombia.
Route: Medellin (MDE) – Cartagena (CTG)
Airplane: Airbus A320
Airline: Viva Air
Departure was in the morning, before 0800 local time. I thought the line at check-in was going to be longer, but there was almost no one.
From there I went to security, it was nimble as well.
When it was all ready I sat to wait amidst some fights because of suitcase sizes and payments. The usual with low-cost airlines, people don't read shit.
In my recent domestic flights Avianca had been the choice precisely because they were cheaper with the luggage I had needed to bring.
But people don't care to read the small print… I wouldn't like to be a ground agent working for a low-cost airline. All day arguing with people who can't read, and having to take insults because who's insulting just can't read.
But anyway, it was time to board. Our Airplane that morning was HK-5308, it was in a remote position, hence we boarded via stairs.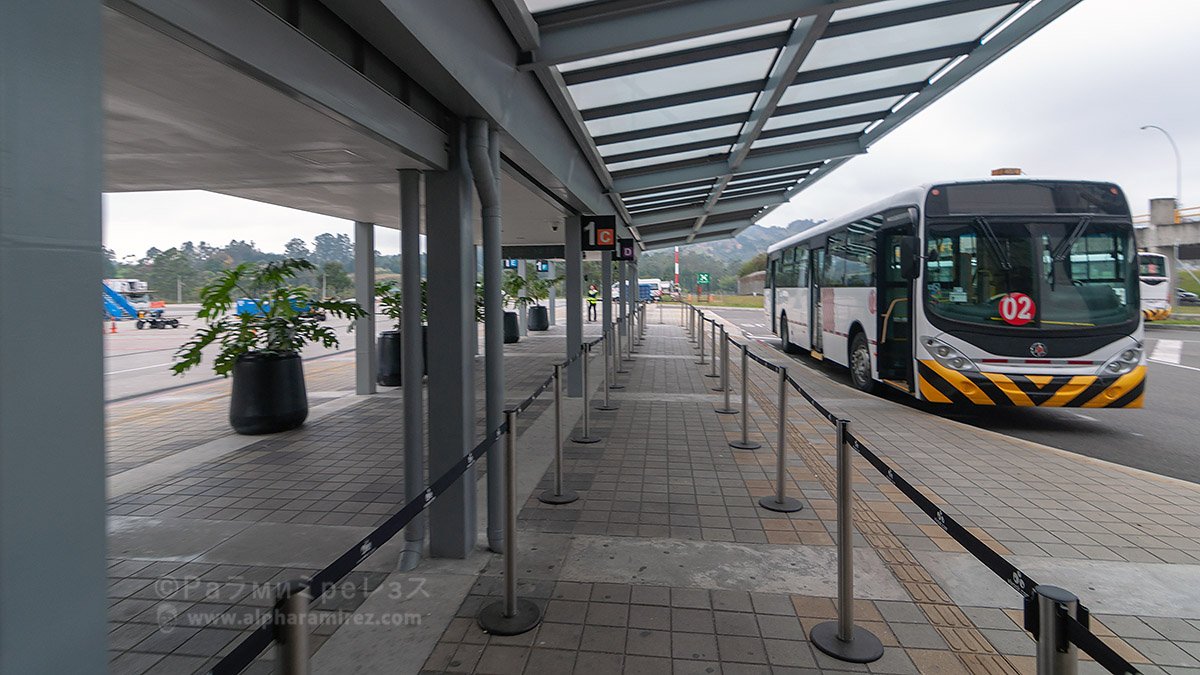 At gate 1B there was another Viva Air Airplane leaving for Bogota.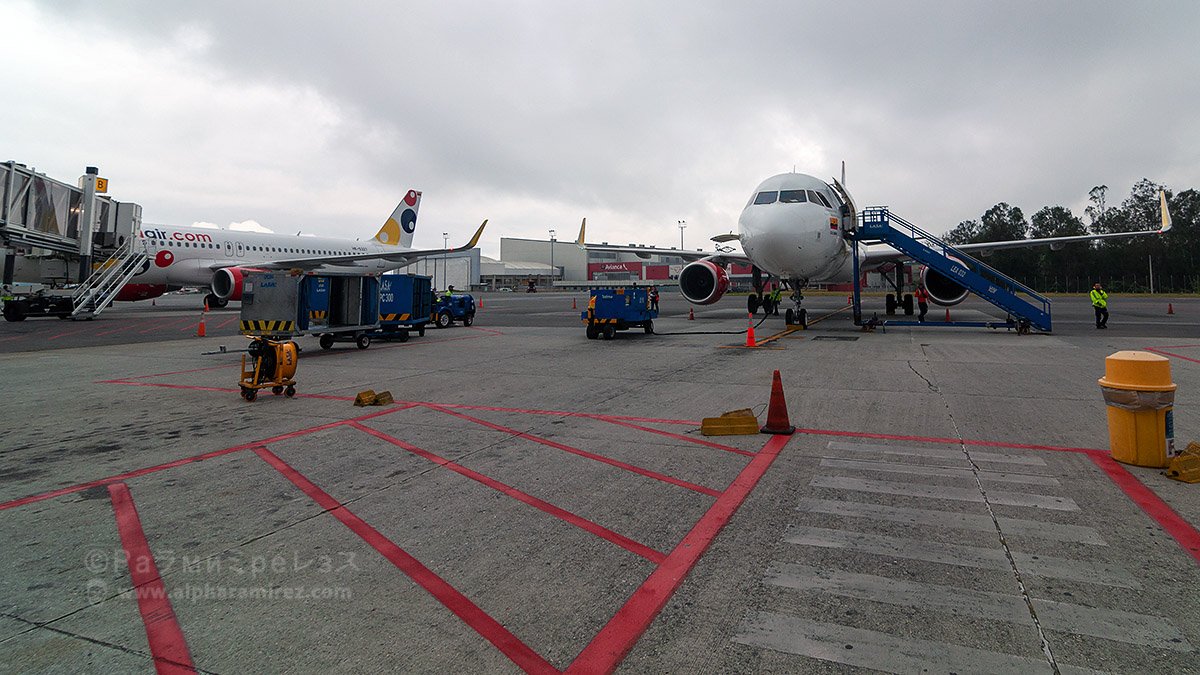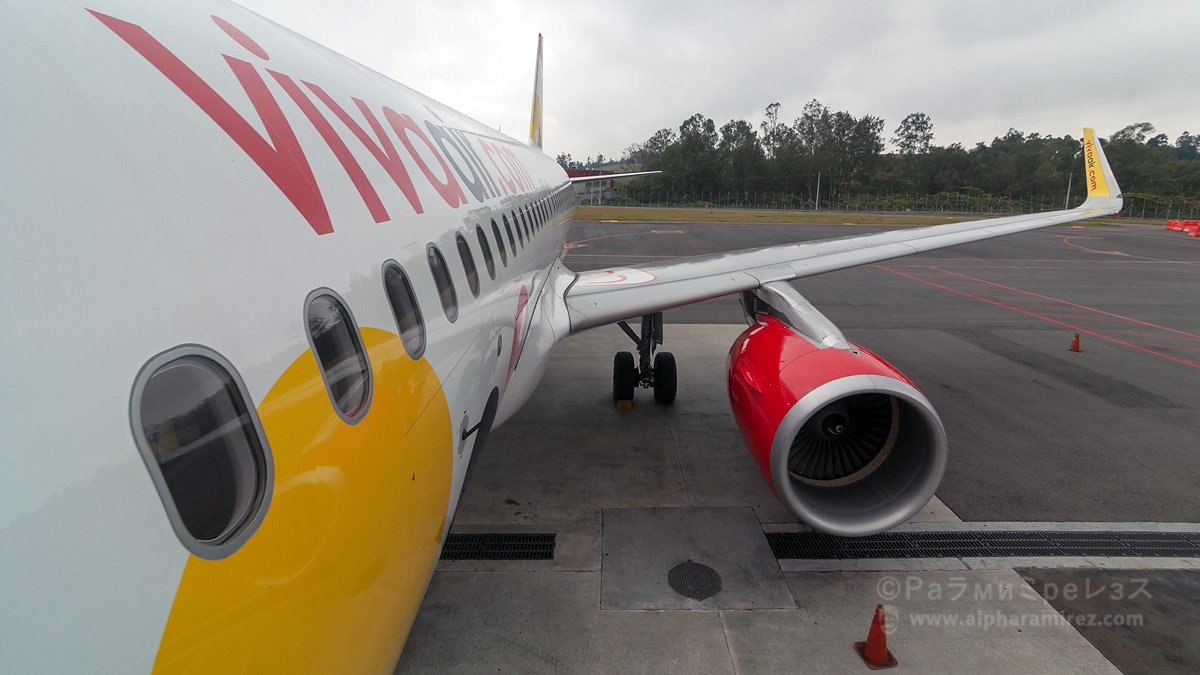 I boarded and went to my seat right away, it was 1A and I didn't have to walk at all. That seat has a lot of room to stretch once everybody is seated.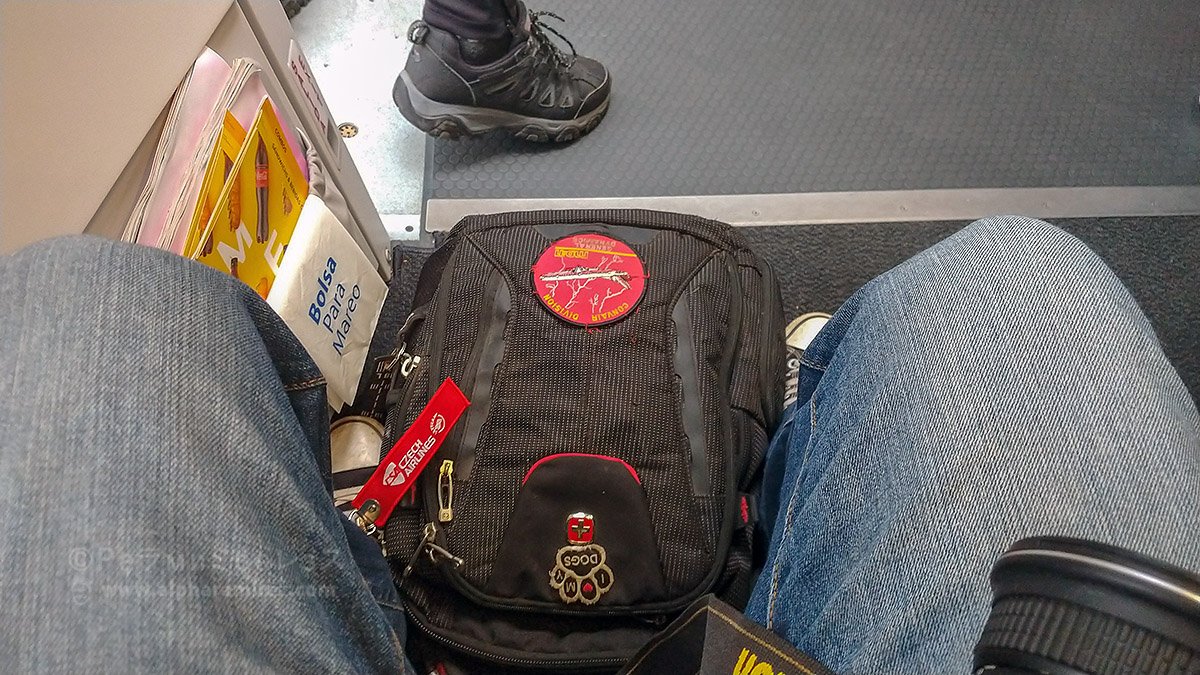 We were pushed-back right on time, and started taxi. When we did that the other Viva Airplane pushed-back, the one bound for Bogota.
The morning was cloudy but nothing to worry about. On entering runway 01 I had an almost unobstructed view of it because of the seat I was on. It looked cool with the lights on.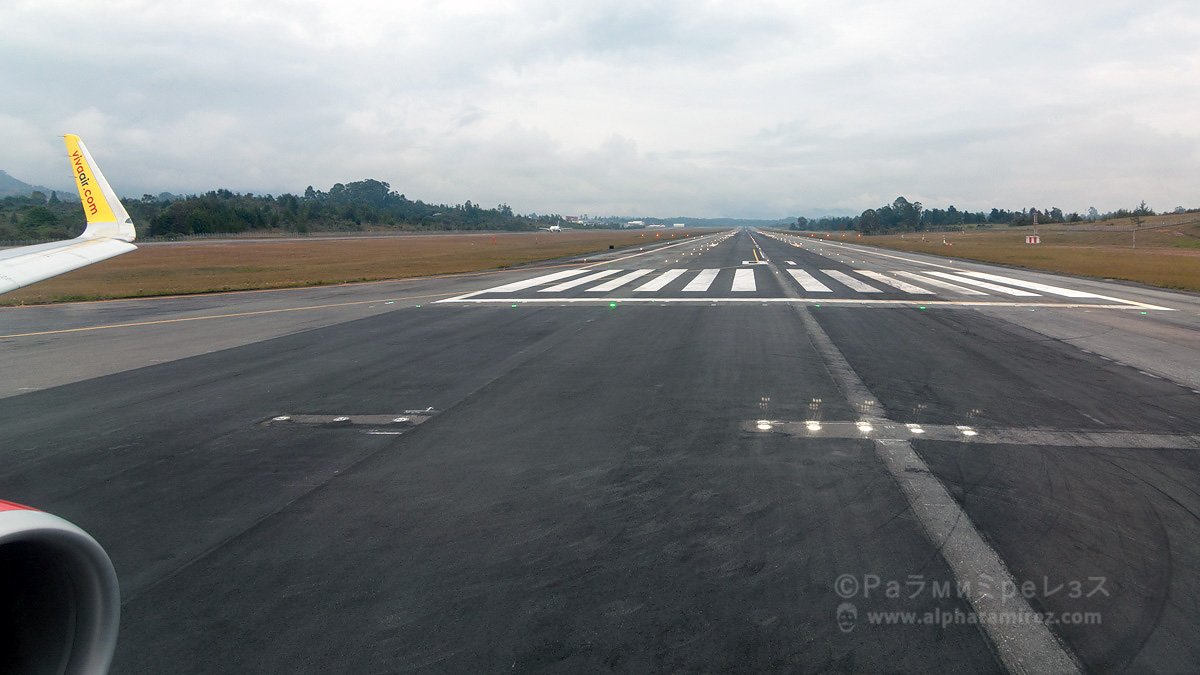 We took off soon enough, and nothing could be seen until after Monteria.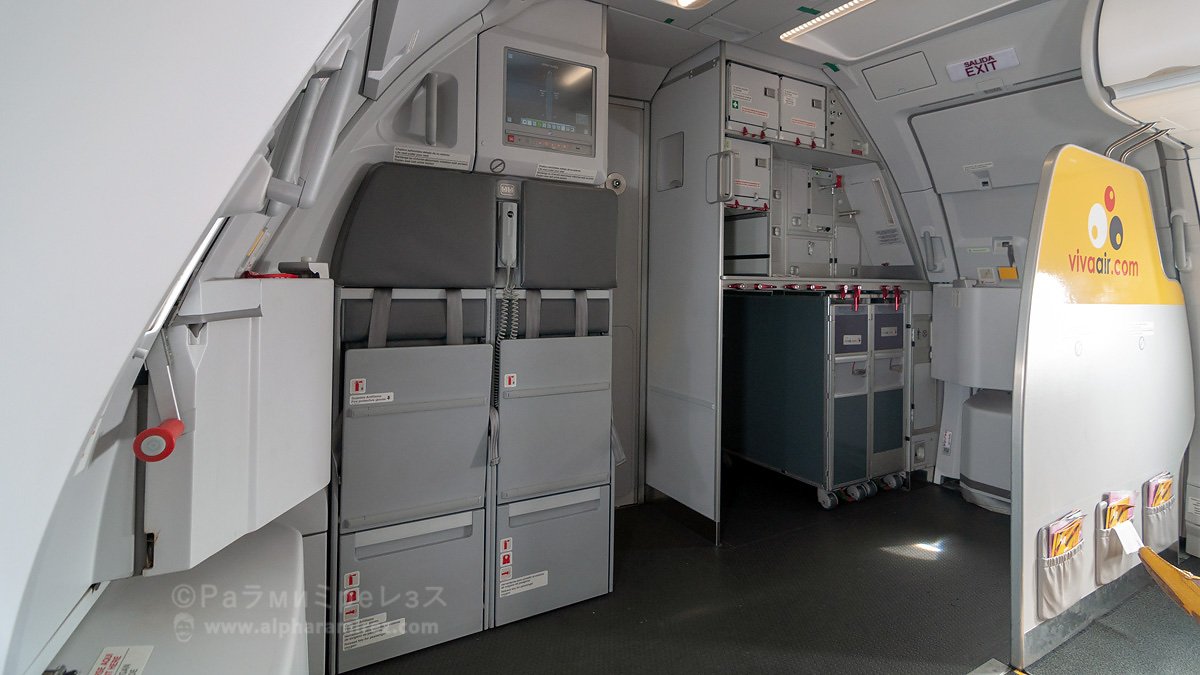 Visibility came back right after that city. It could be seen there in the far background, alongside the town of Cerete.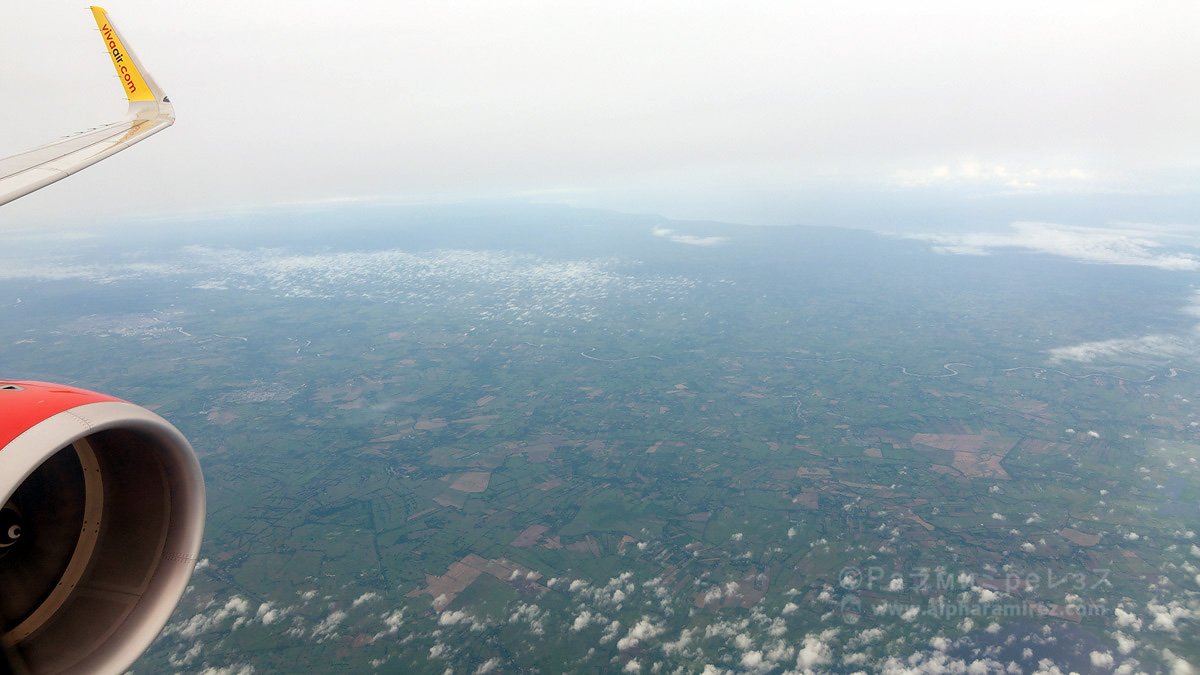 Advancing north we overflew Tolu as well.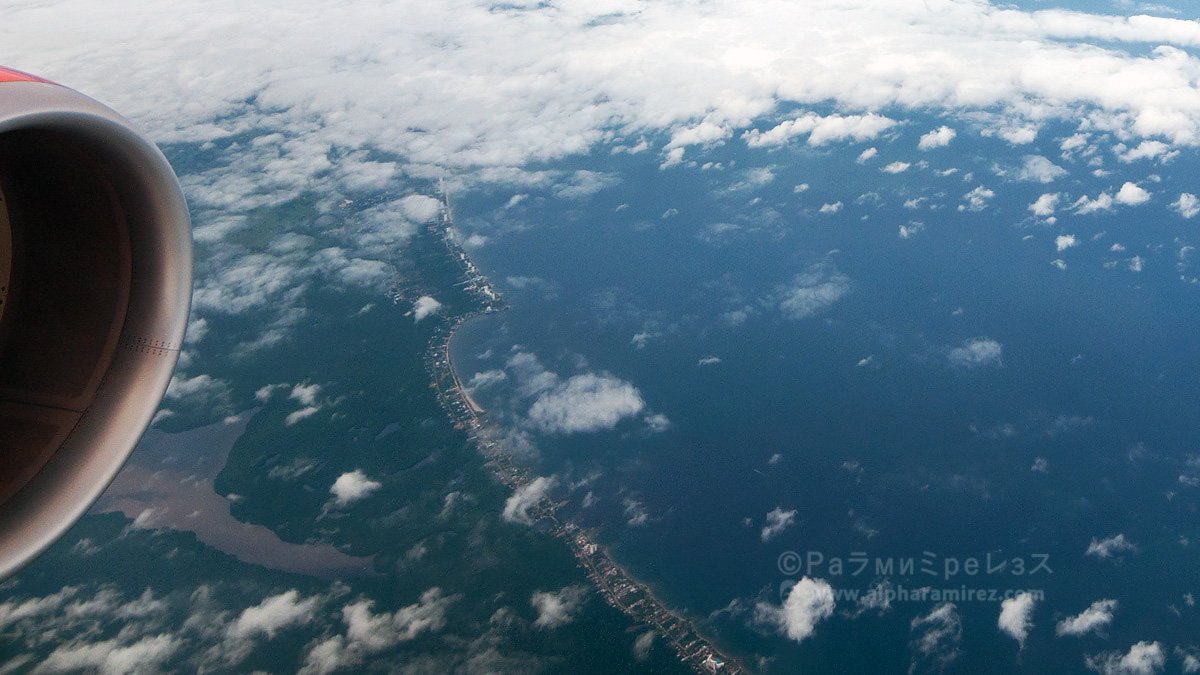 Reaching Cartagena there was good visibility, good light and a pretty morning.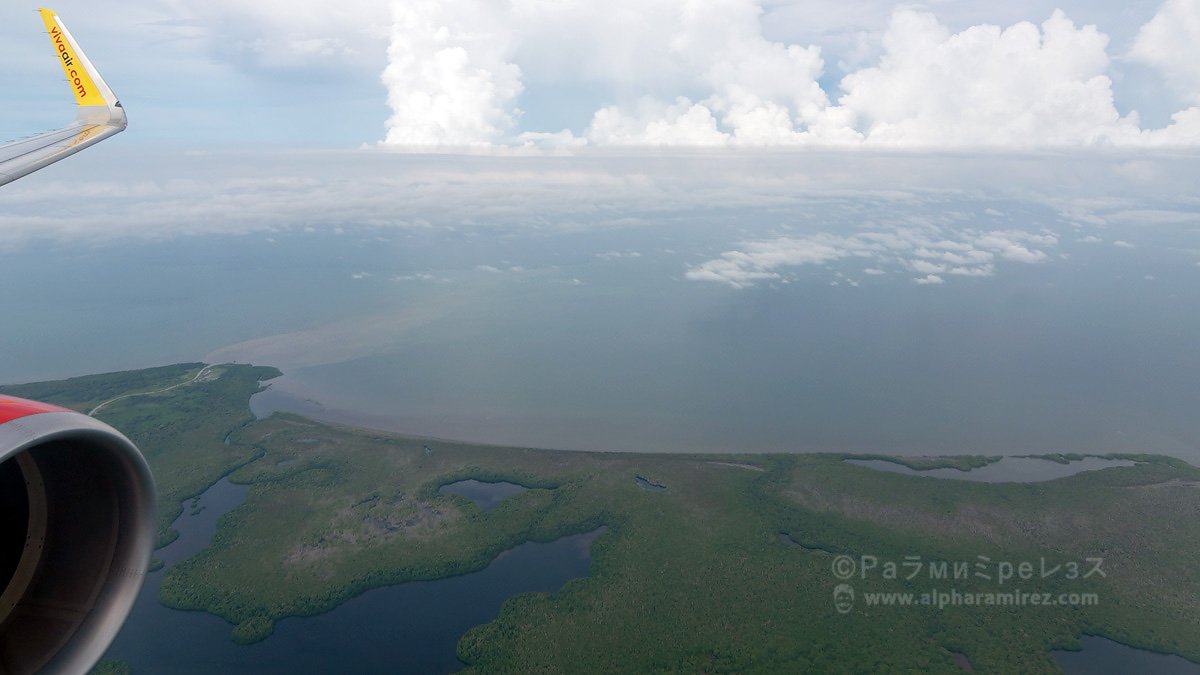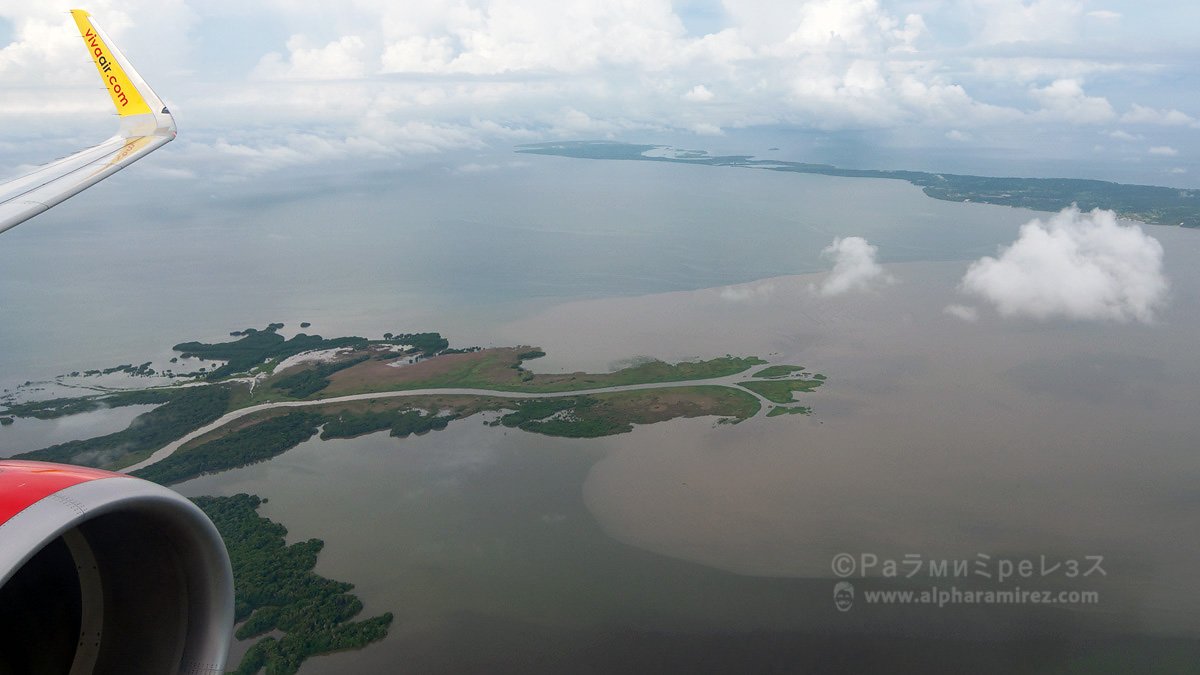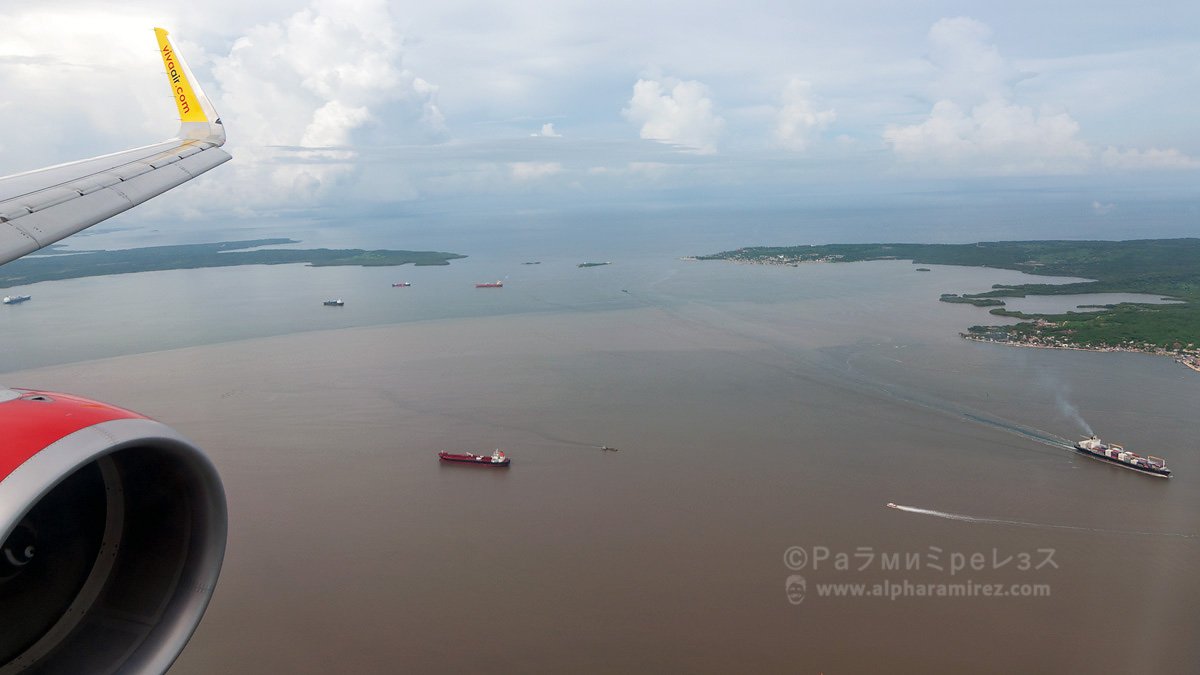 From my seat I had a very clear view of the Santa Cruz de la Popa convent, and from parts of Bocagrande, Manga and the harbour.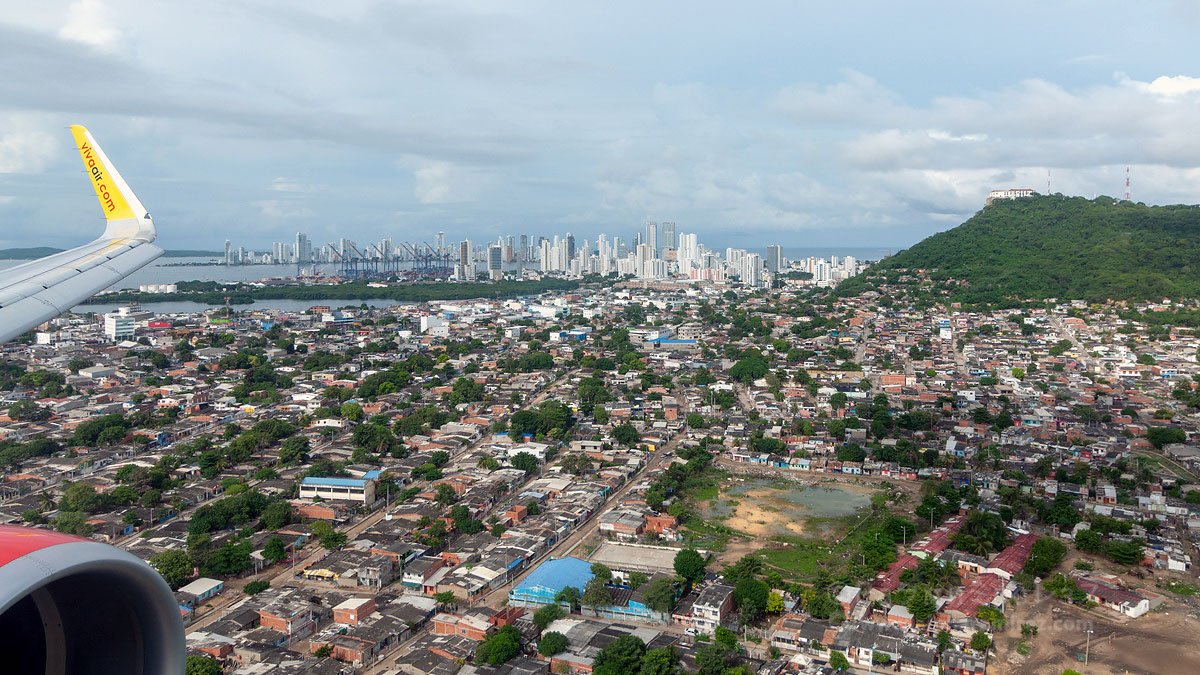 On landing in runway 01 we went all the way to the threshold of runway 19, where we made a 180 degrees turn to go the apron.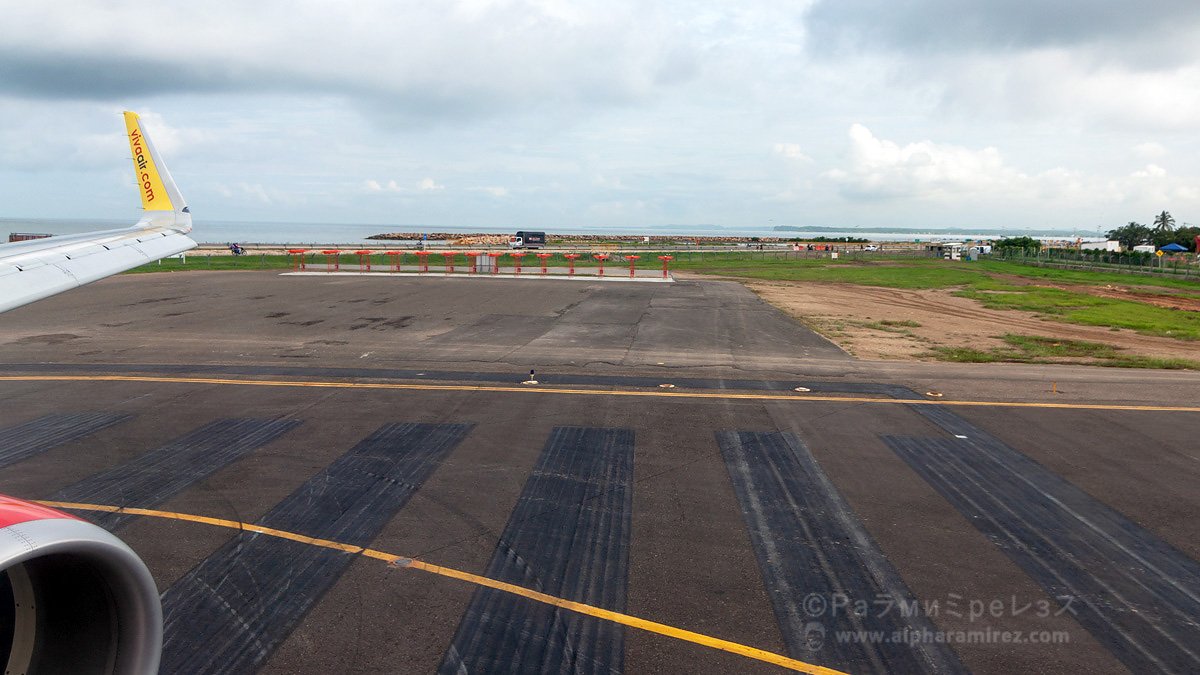 There was Colombian Air Force Boeing 727-200 "Vulcano".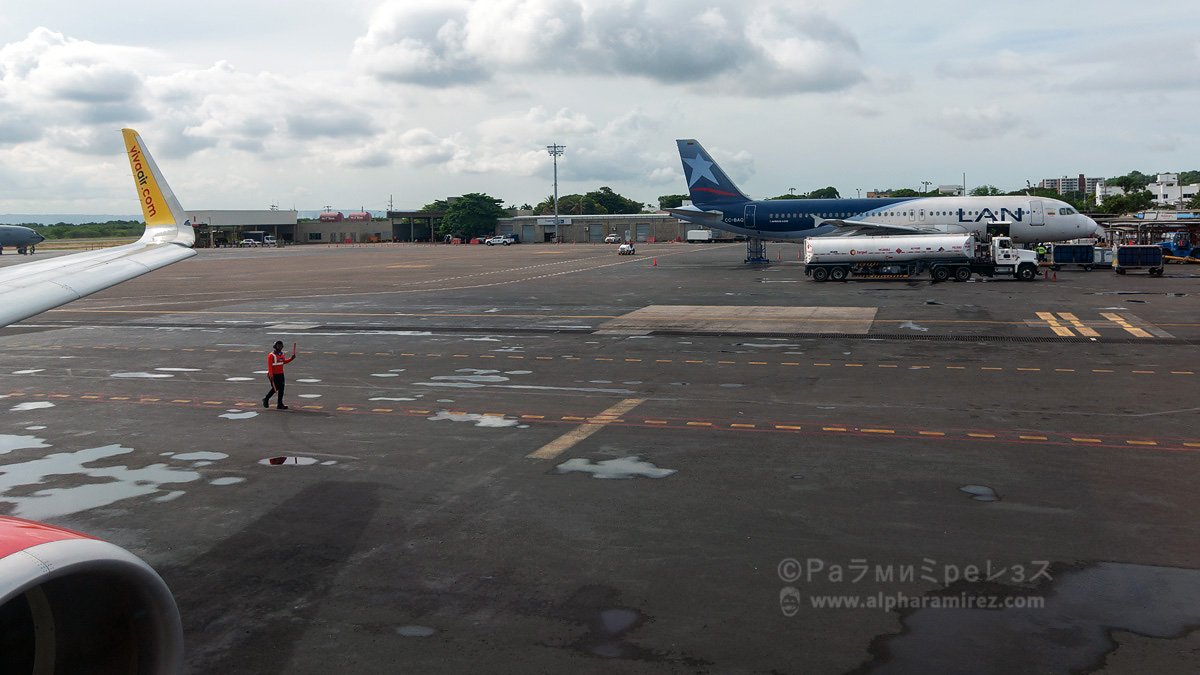 There also was the Viva Air Airbus A320 "Claudia Obando", operating for the Peruvian branch of the airline, and making the Lima-Cartagena-Lima rotation. I hadn't seen it in a long time.
More information about Viva Air special colours including "Claudia Obando".
I picked up my luggage and left the Airport.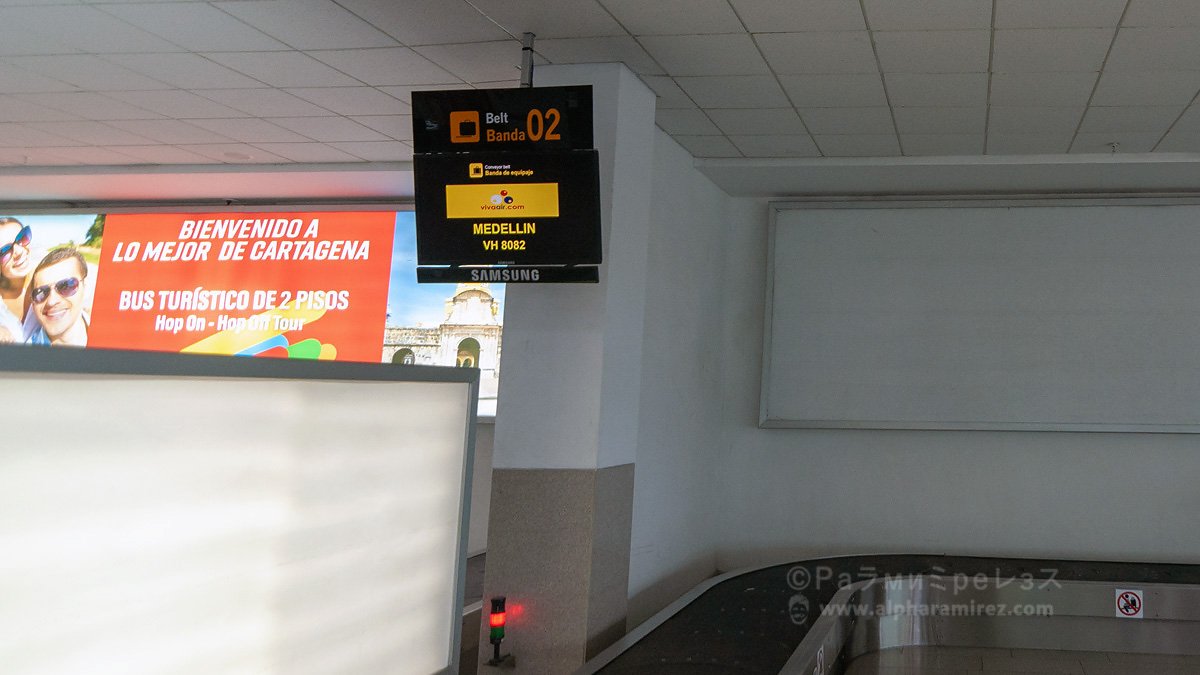 Fortunately I reached the place I needed to be at that time, in those conditions. At noon a huge thunderstorm was unleashed… Streets looked like rivers.
That day I just relaxed, and took a few photos in the night. Particularly of my good friend Pablo O. who arrived piloting an Avianca Airbus A320. I will show you the photo later in the article.
The day after my arrival in Cartagena the Qantas Boeing 747-400 was due to arrive, inbound from Barcelona, Spain.
The day before the arrival the flight appeared in the tracking apps and in the website of AENA. According to the scheduled times, it was going to arrive at around noon.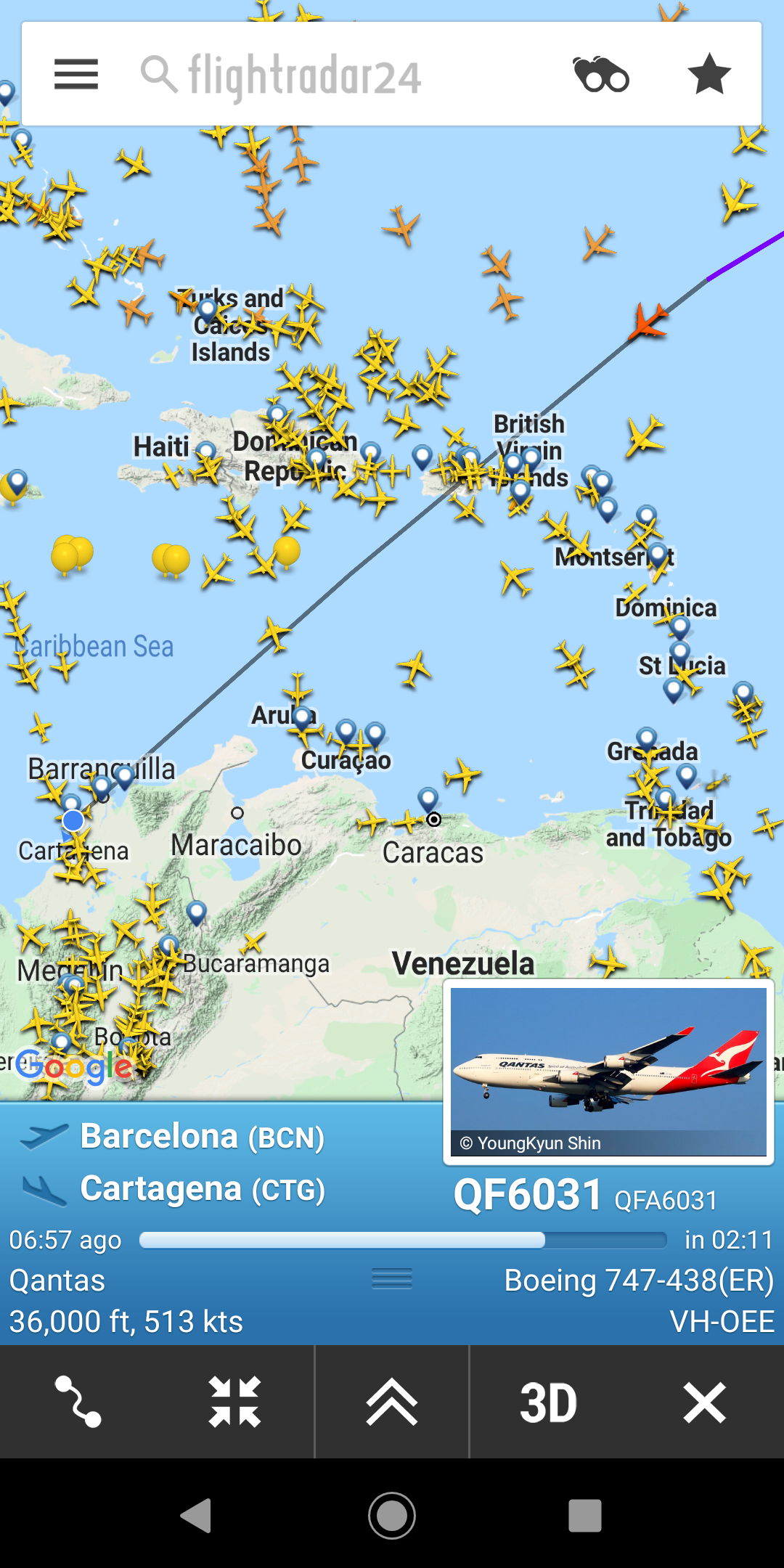 That wasn't completely good as the light at that time of the day is rather harsh, but anyway, that wasn't in my hands.
I was also concerned about the thunderstorm that had happened the day before right at that time, as I mentioned.
If the weather pattern were to repeat itself, the Airplane would not just arrive with ugly light, but also in quite the downpour.
Fortunately, the departure from Barcelona was delayed somehow, and even though the day was rather gray, there was no huge thunderstorm. It wasn't even raining.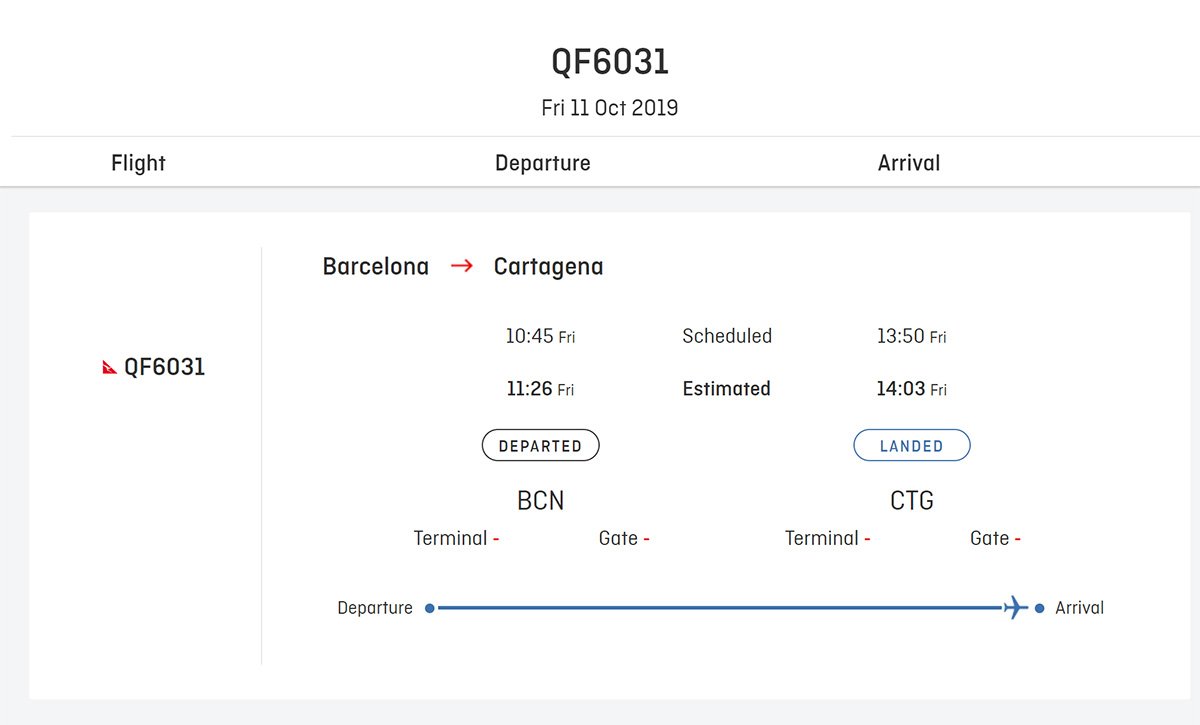 The landing finally happened at about 1400 local time.
So I met with my good friends the Gustavos (it's two of them), and Sergio L., and we moved to the place we had planned for the photos.
Right when the Airplane was approaching they changed the active runway.
It wasn't going to land on runway 01 now, but on 19. The photo could still be made alright with the runway change from the place we were at, but it was going to have less contrast.
The Boeing 747-400 was precisely the first Airplane to land on runway 19 when it became the active runway.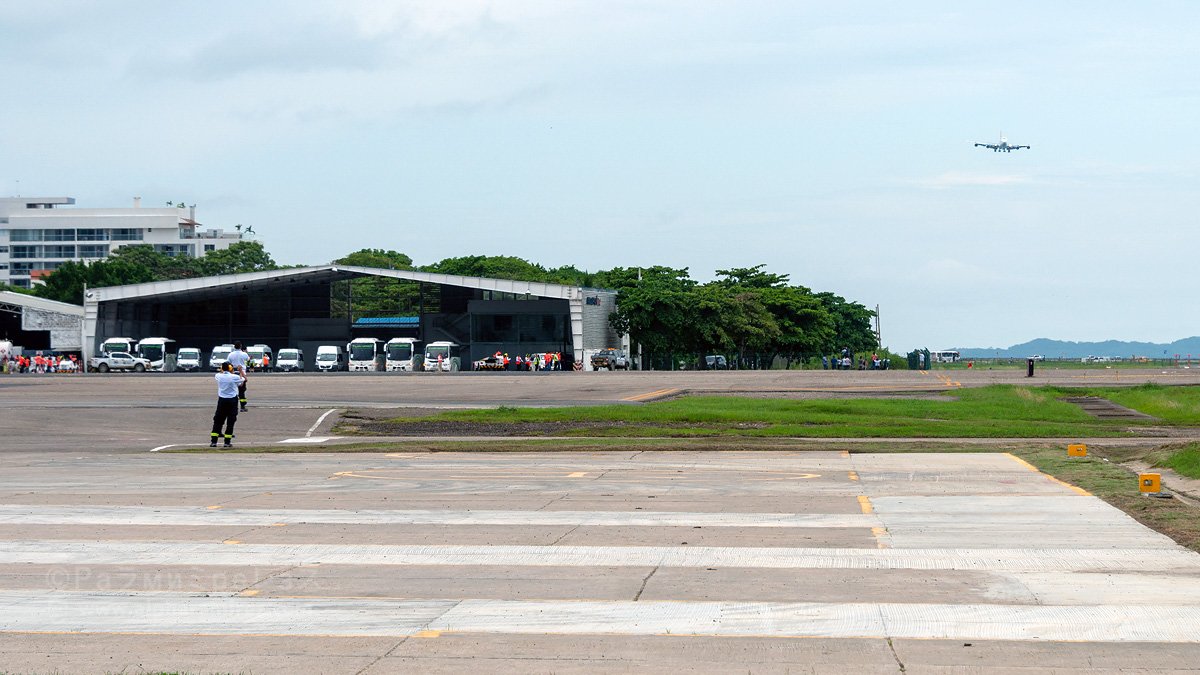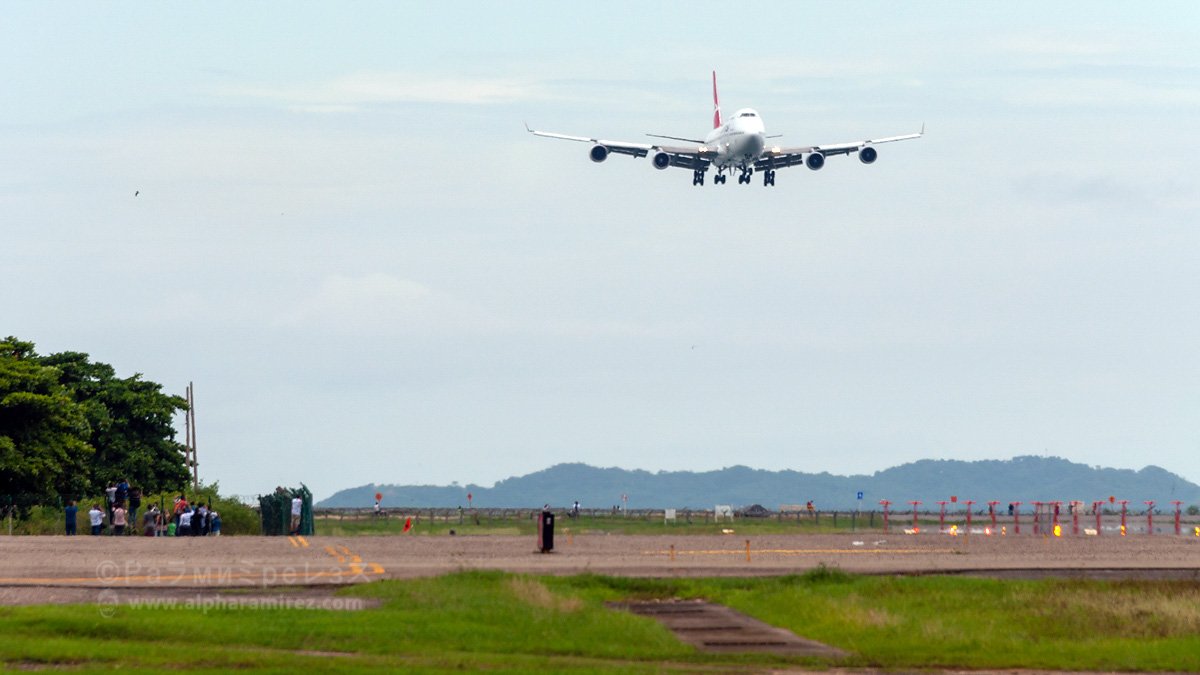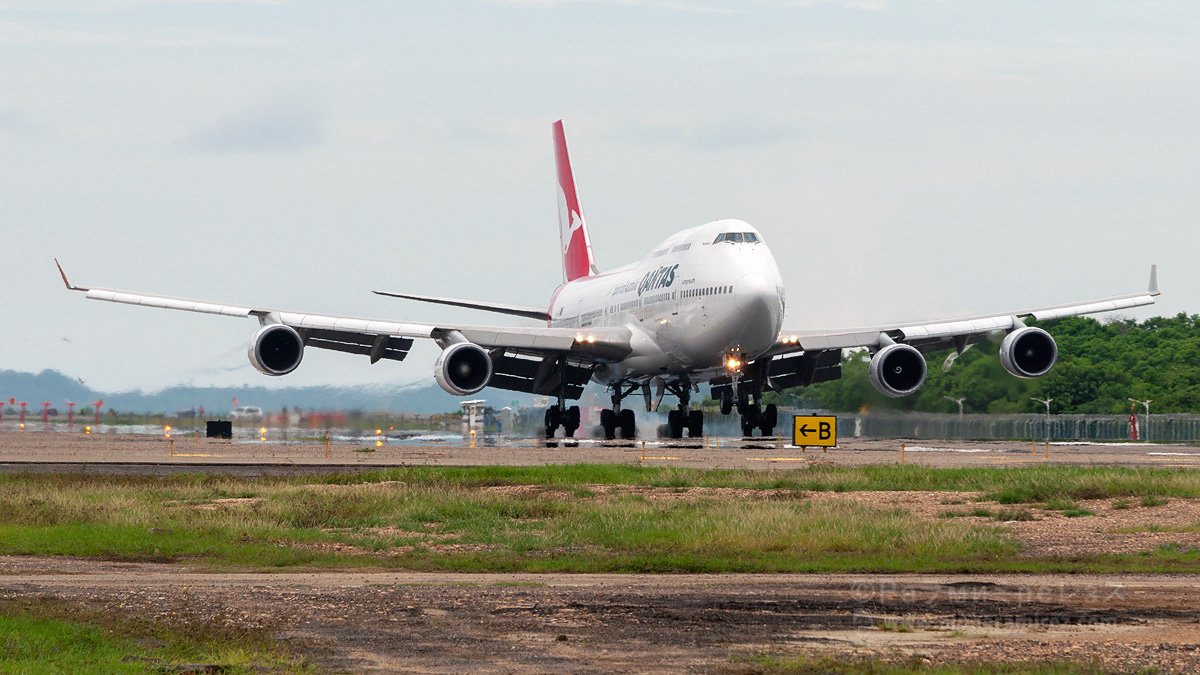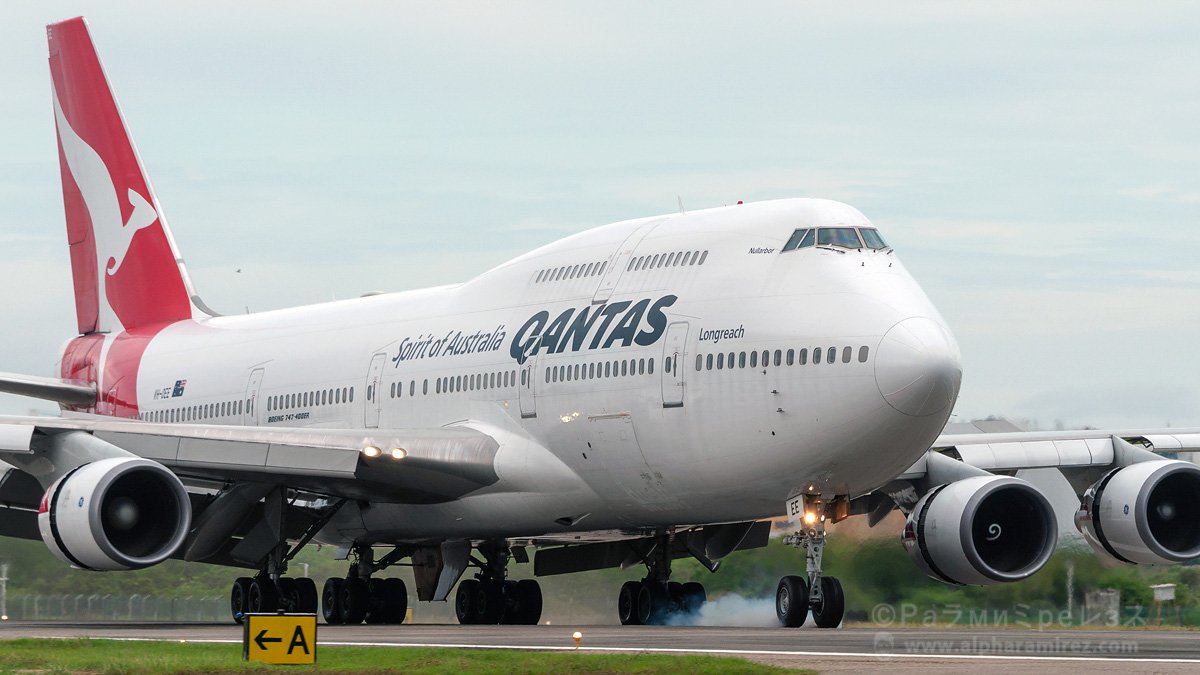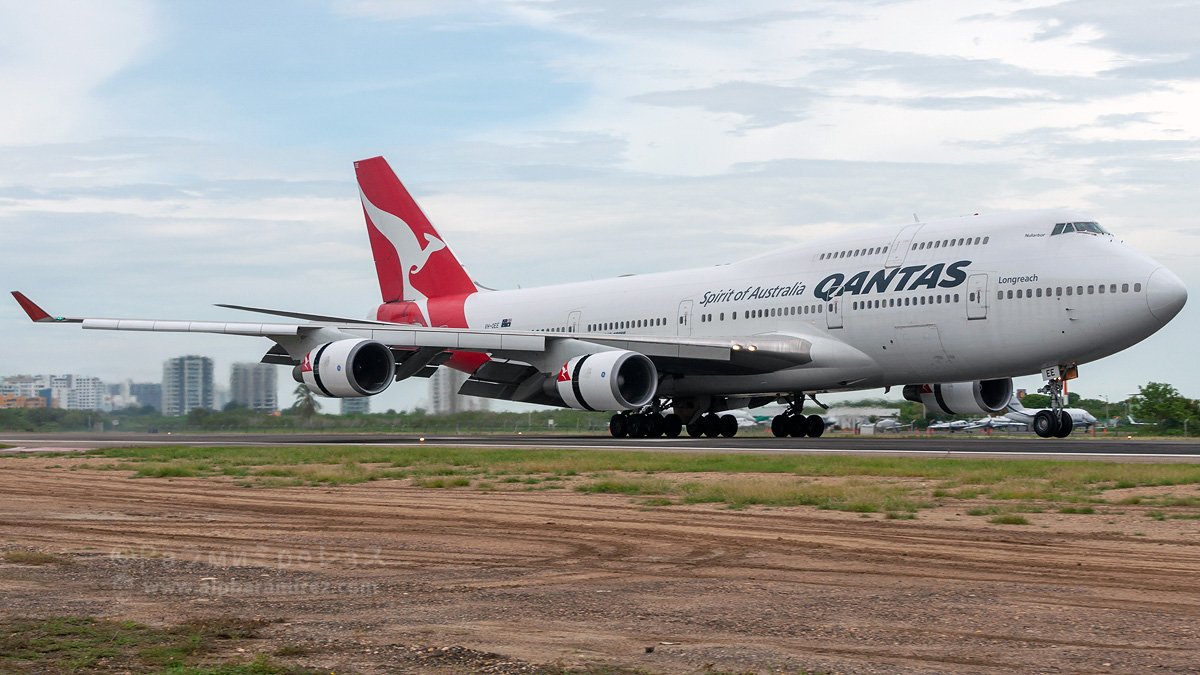 But in the holding short point of runway 01 there was an Avianca Airbus A320 that had been ready for takeoff before.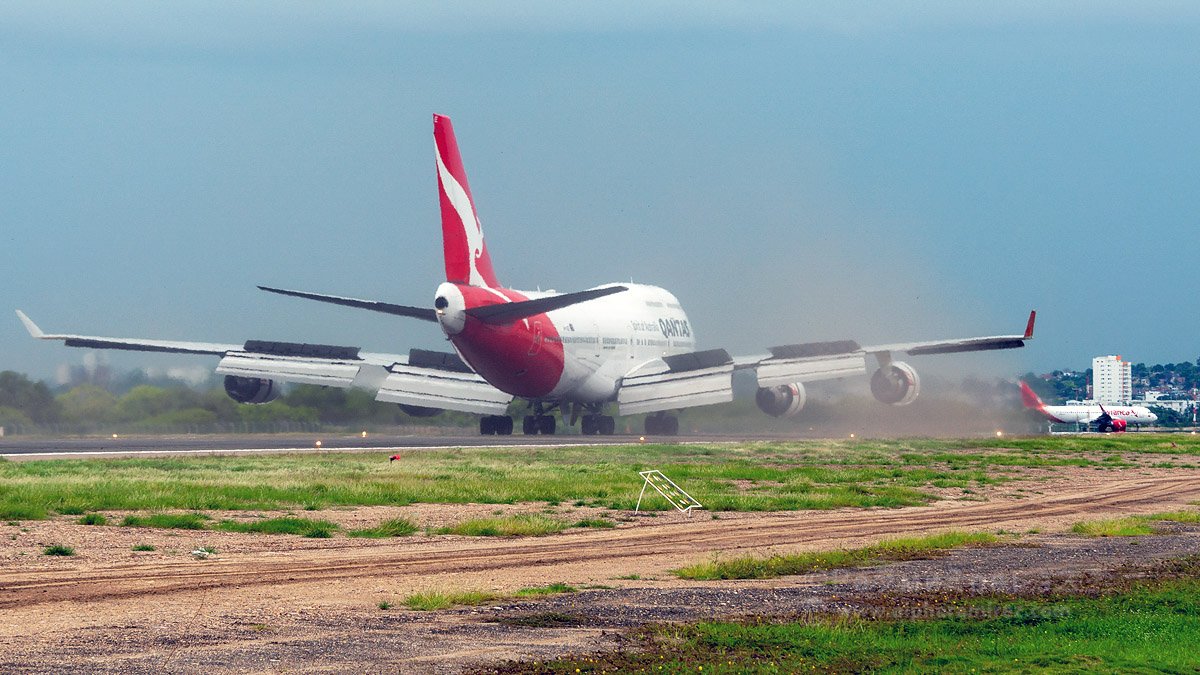 So the 747 positioned behind the A320, and both Airplanes had to wait for another Avianca A320 to land on runway 19.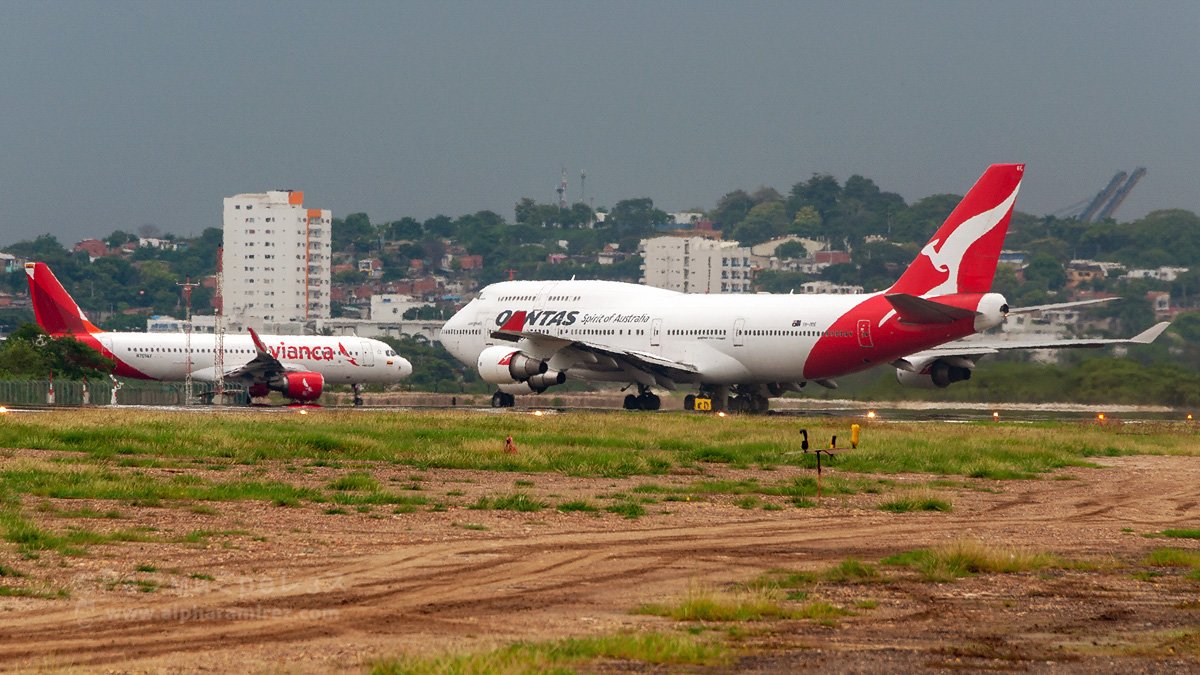 This last A320 had to backtrack at the threshold of runway 01 since it couldn't use the area meant for making the turn, as it was being occupied by the two Airplanes of Avianca and Qantas.
When the last A320 that landed made the 180 degrees turn at the runway threshold, the crew of the first A320 that had been waiting for a while at the threshold decided that it was safe to takeoff from there, and did so.
And only there could the Qantas Boeing 747-400 move. It had been there standing for a good while now.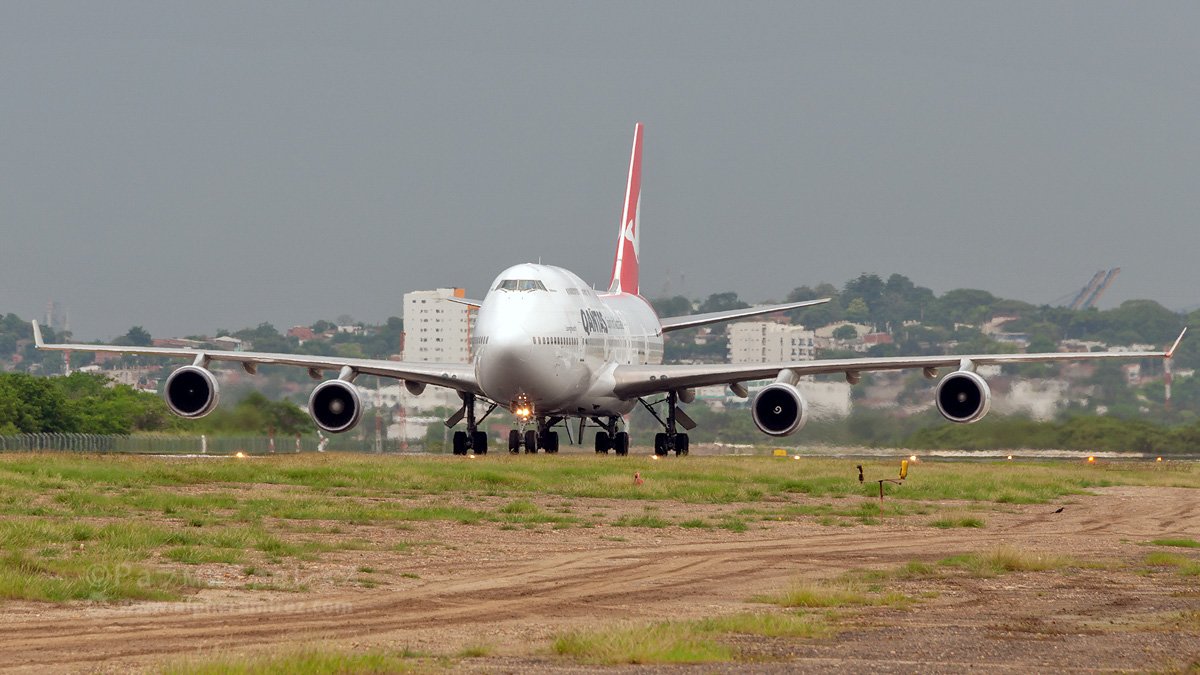 Let's see something about the Airplane and the signs it has.
First, the airline name.
Qantas means "Queensland and Northern Territory Aerial Services".
It's the third oldest operating airline, after KLM and Avianca. It was founded originally in a little town called Winton, in 1920.
The airline was born precisely in Queensland, one of Australia's states, in which I lived.
If it were an independent country, Queensland would be the 16th biggest country in the world. It's huge!
Little time after the foundation the headquarters were moved to another town called Longreach. That's the reason for one of the signs on the Airplane.
Longreach is a very important place in Qantas' history, so much so that nowadays there is a museum there with a Boeing 747 and a Boeing 707 exhibited (among other things).
The building of the first hangar they had is considered historic heritage.
On top of that, "Long Reach" fits those Boeing 747-400s the airline has perfectly, given the very long nonstop flights they make. Many have the"Longreach" sign.
In 1930 the headquarters were moved again to Brisbane, the state capital and the third biggest city of Australia. I lived there.
And nowadays the headquarters are close to Sydney Airport.
The individual name of this Airplane is "Nullarbor". Honouring a plain located south of Australia where there is a big extension of arid terrain with almost no vegetation.
"Nullarbor" means "Without Trees" in Latin, because of what I just wrote.
Now that you know a little bit more of why the Airplane has all those signs and names, let's continue where we left.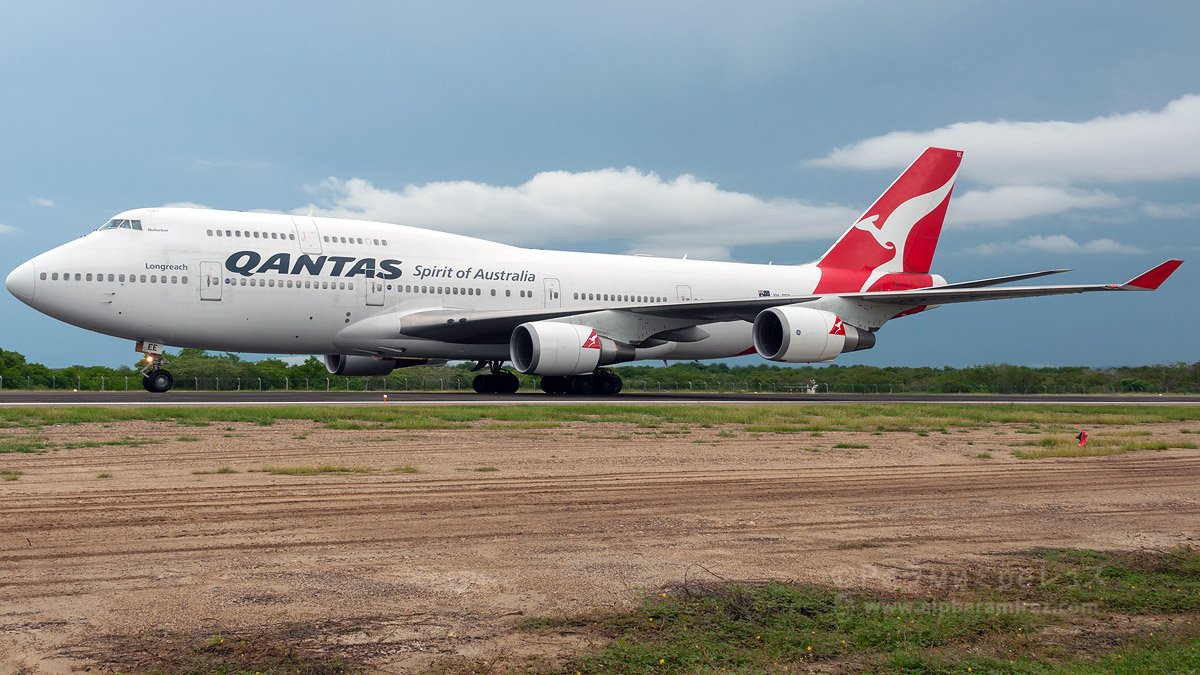 Cartagena's Airport doesn't have taxiways between the apron and the runway. So bottlenecks usually happen when there's traffic. You can see a chart of the Airport below.
The Qantas' Airplane taxied on the runway toward the apron then, and the tour's entourage was there waiting already.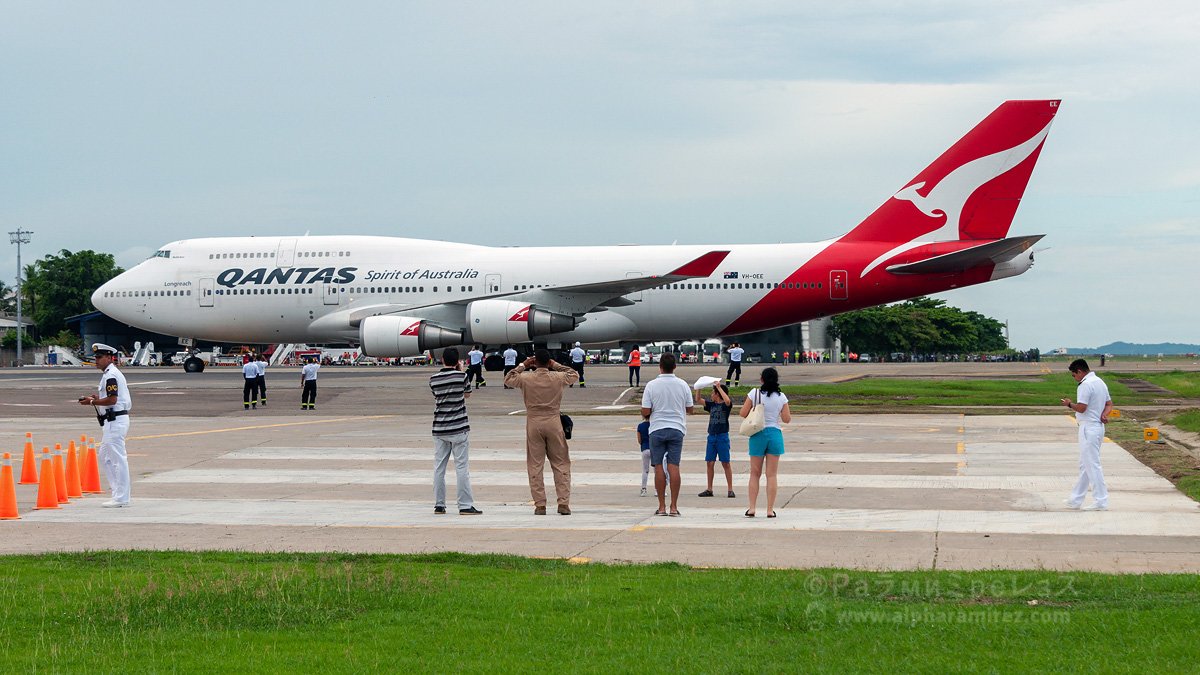 Many buses were in place to receive the passengers and crew, on top of the people who were just noseying around (including myself).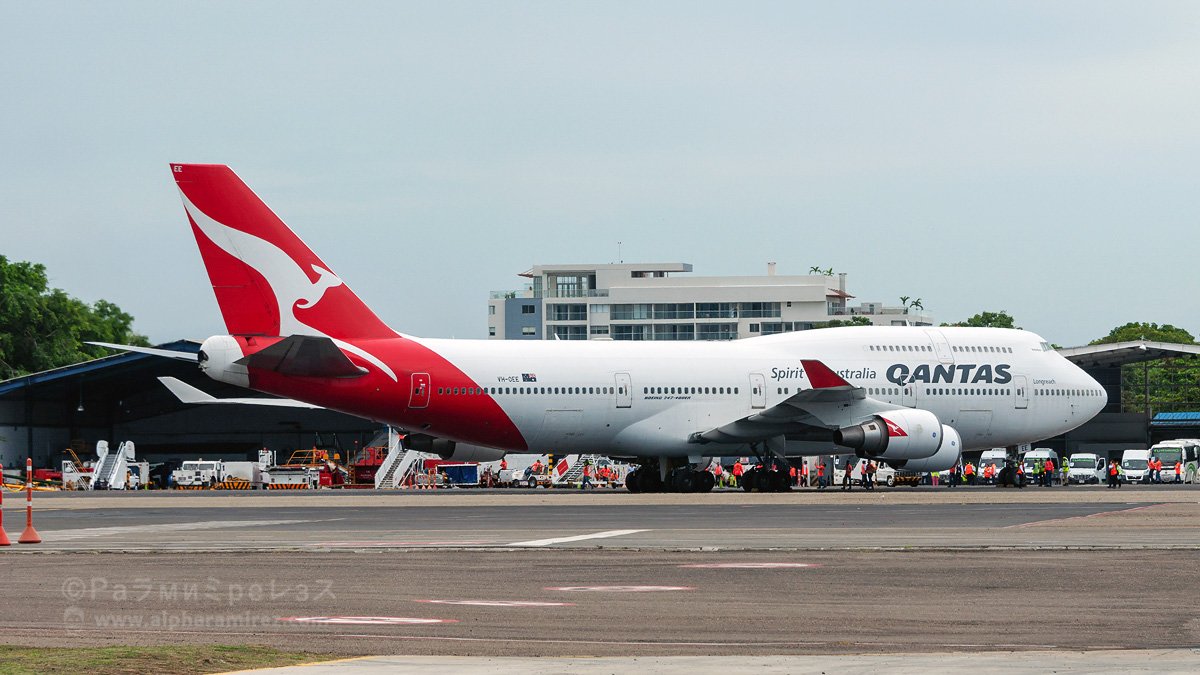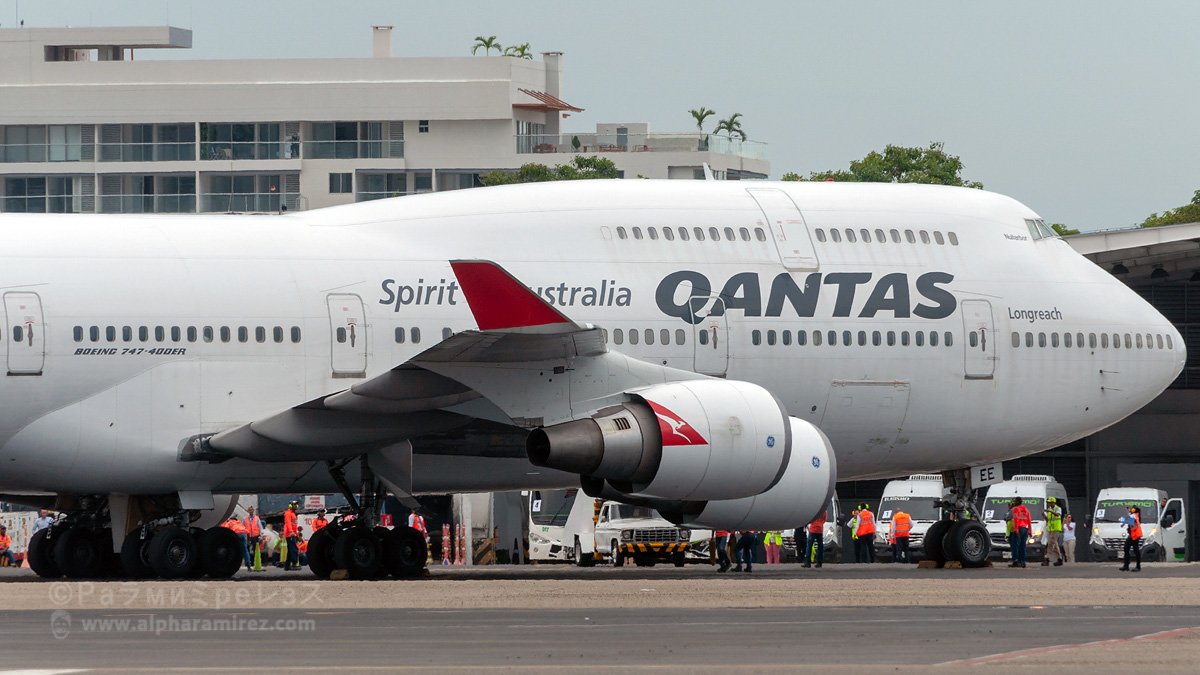 We went to another place later, and saw the crew disembark.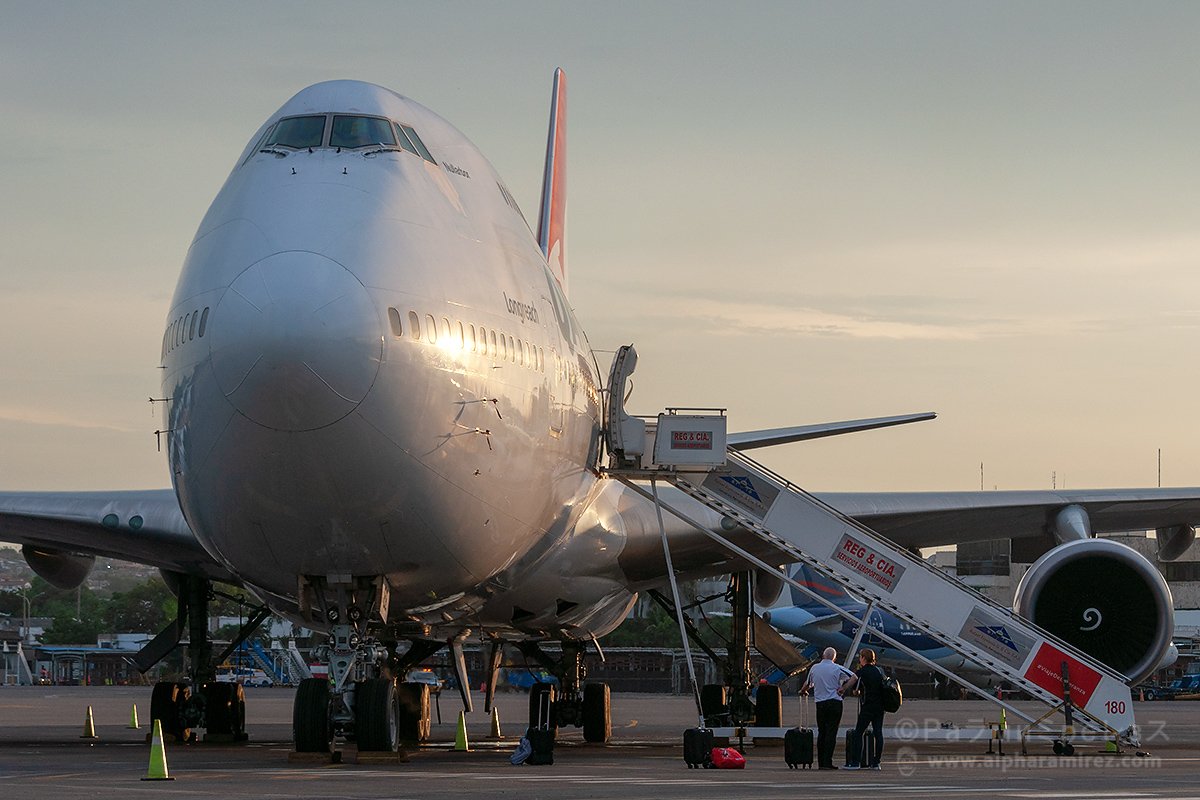 Other friends, such as Gabriel H and Luis A. were there.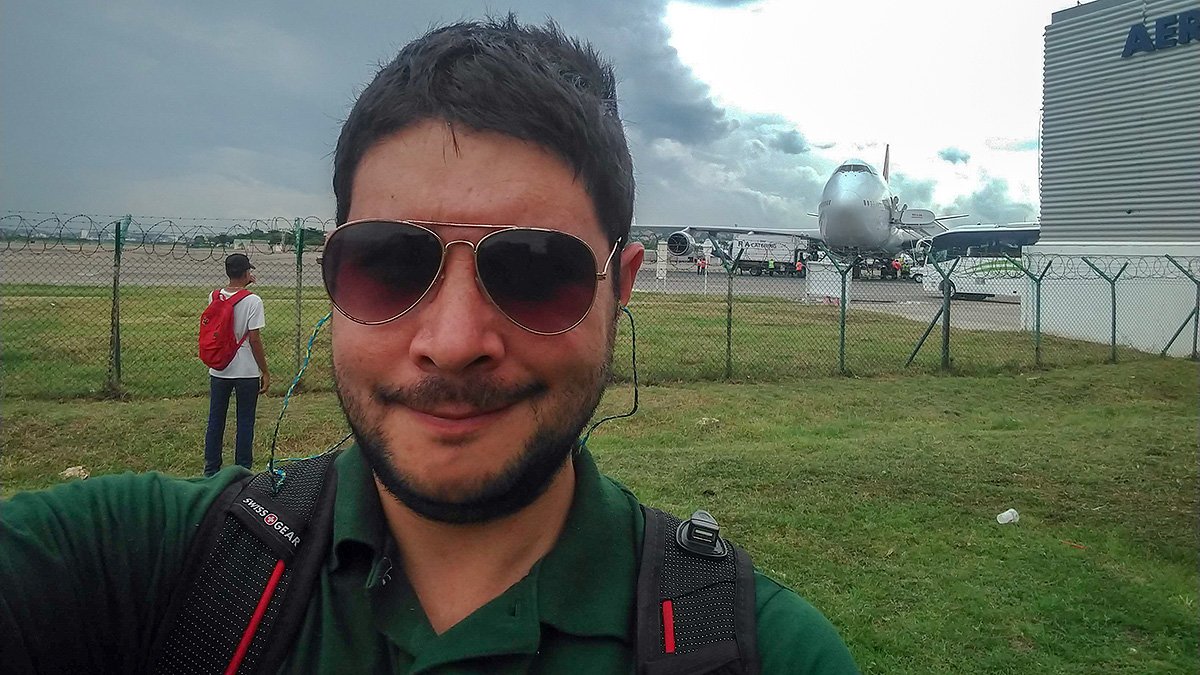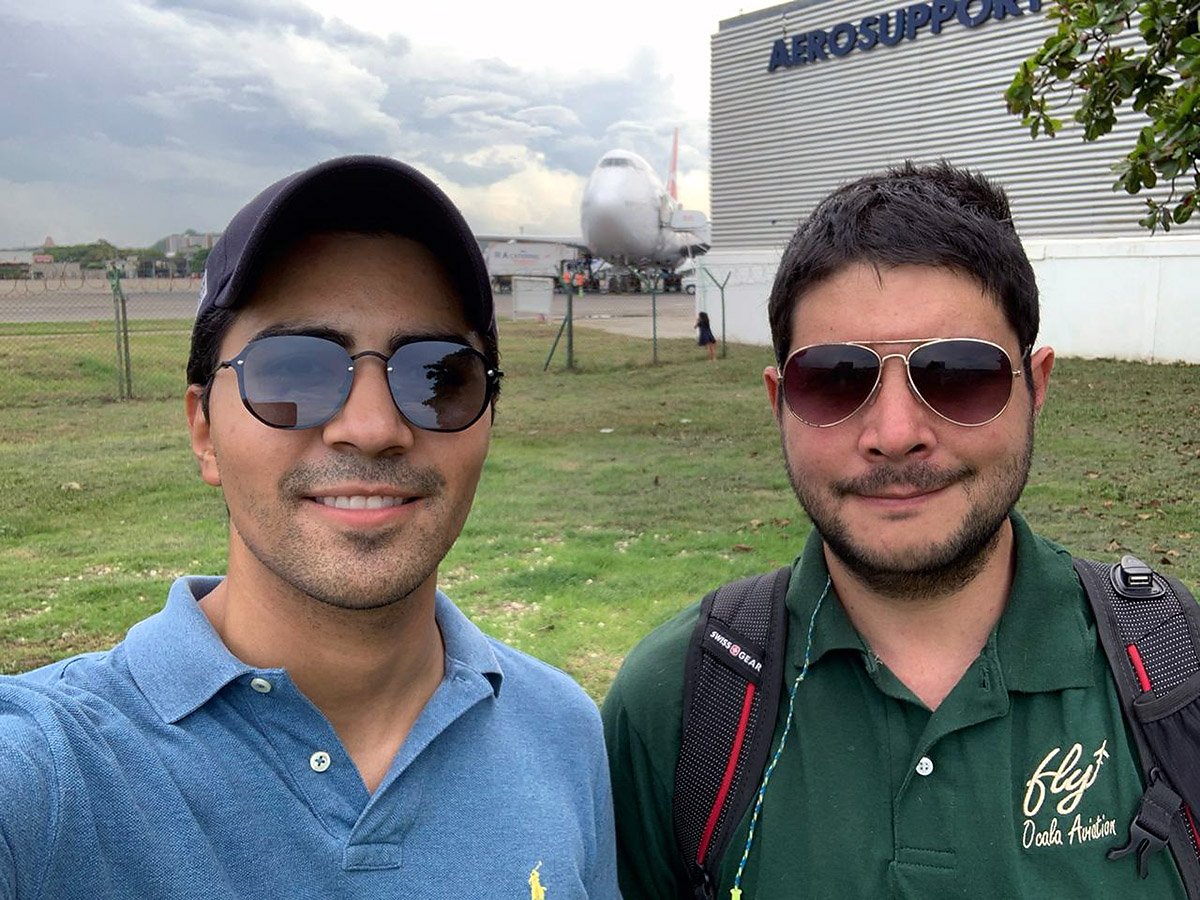 The other Gustavo made a very nice 360 degrees photo. There is someone very tender in that photo.
360 degrees photo of the group.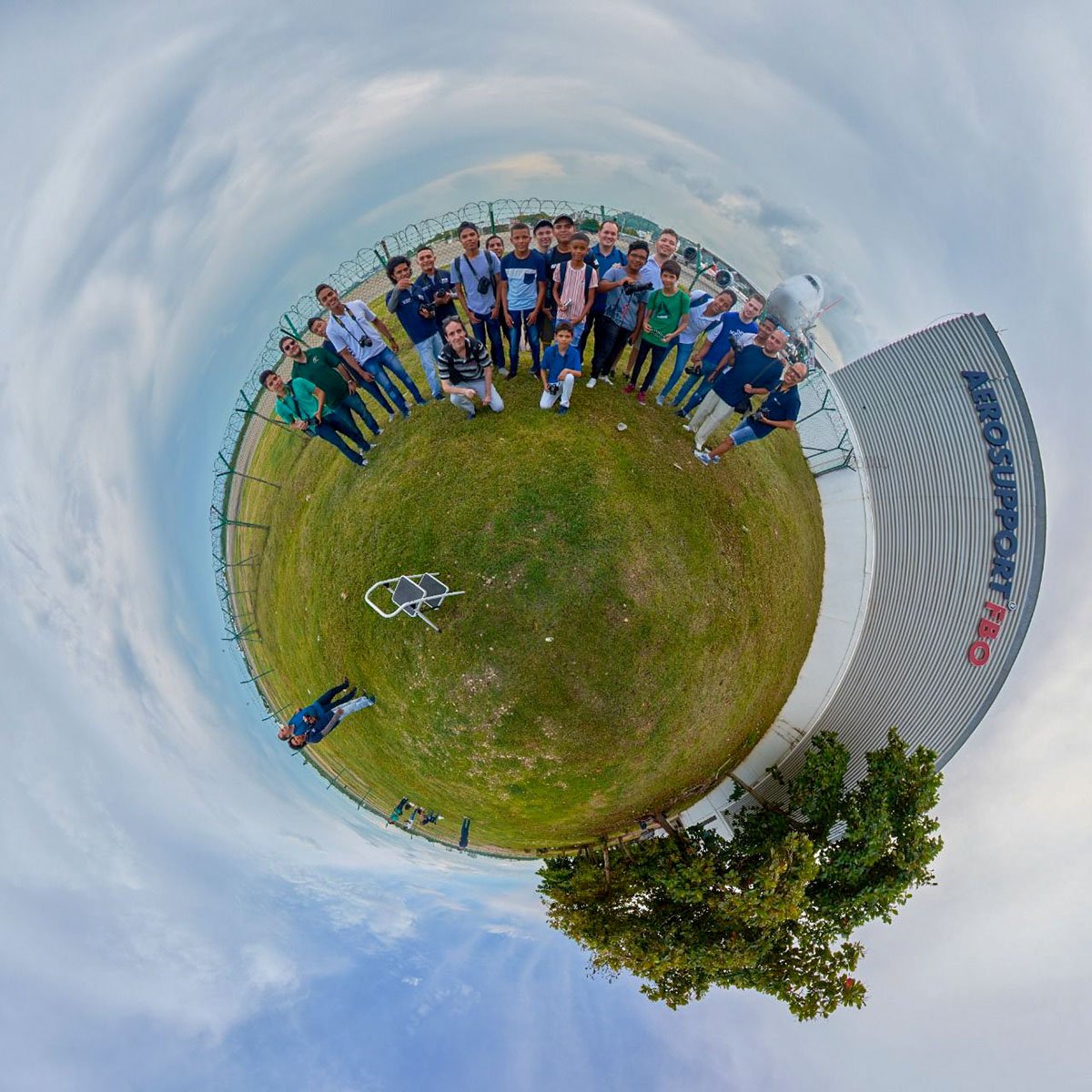 One of the Pilots was quite happy when he saw the amount of people who had gathered to see his jumbo, and got out the top escape hatch to greet.
We were there for a while, alongside a snake friend that was in the place.
The snake was picked up by the animal control team of the Airport. When I asked them, they said they would keep the snake in a special warehouse, and then she was to be set free in a rural area close to Turbaco, south of Cartagena.
They told us the snakes could go to the runway at night, and die crushed. I hope that's the handling they're given, I don't like people bothering animals for nothing.
Night came, and my friends took me to the place of a person they know, this person has a property with a great view overlooking the Airport's apron.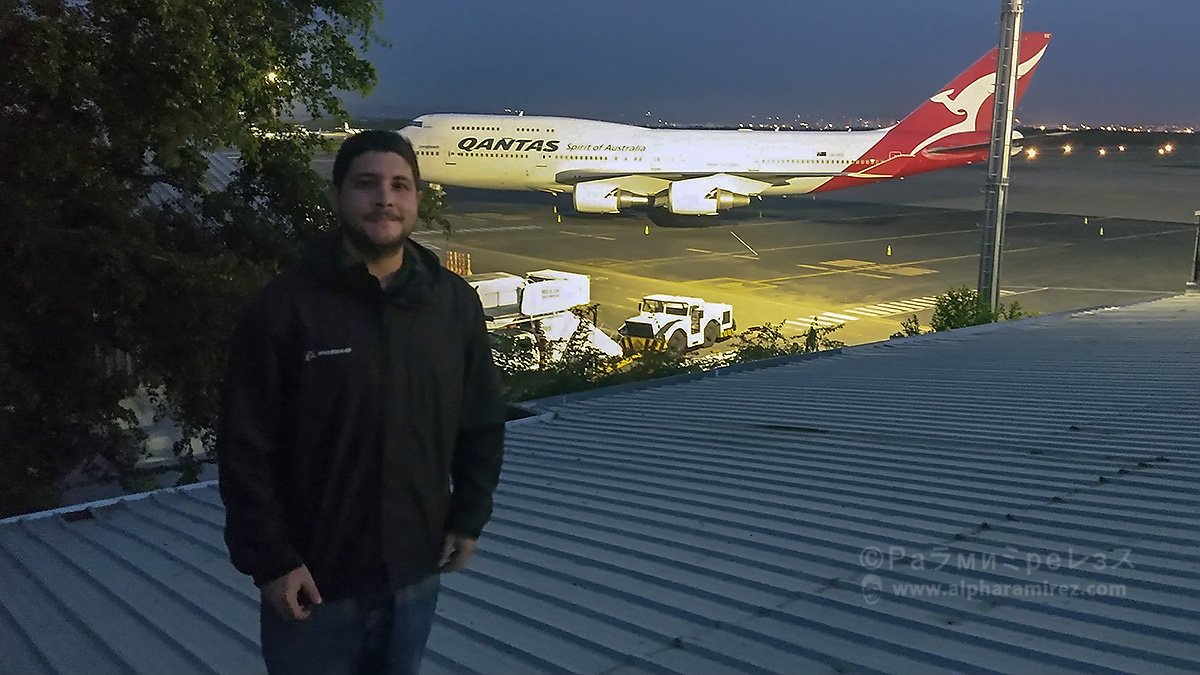 There was a lightning pole that didn't allow for a good photo of the full Airplane at night, but we had a good time there nonetheless.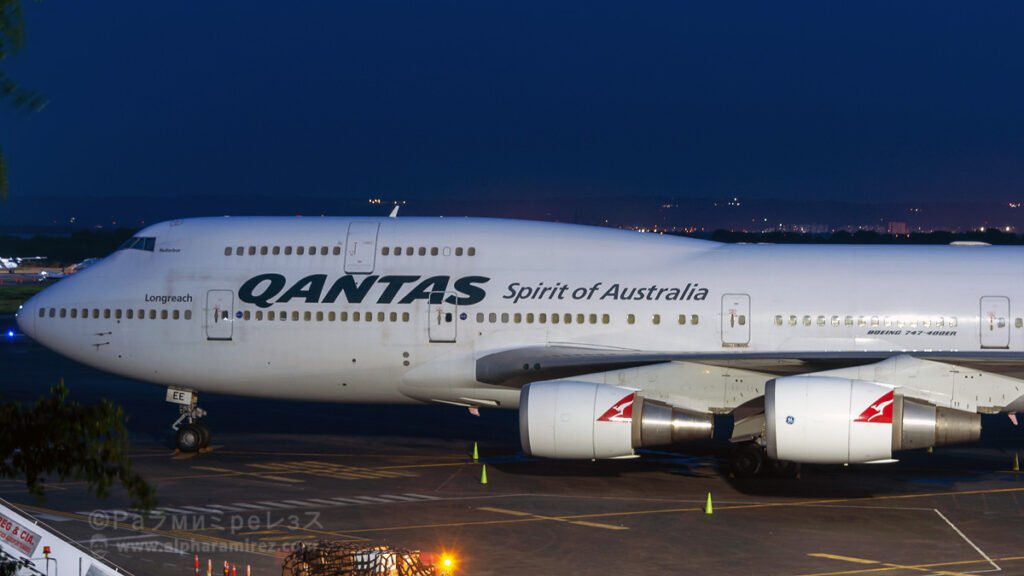 The day ended in the Airport as we were drinking something with my good friend Sergio D. who had arrived piloting a Dassault Falcon.
I took good photos of him, which I will show you later.
The next day I woke up early hoping that there would be better light for the photo. Indeed, it was a beautiful morning, and that allowed me to take better photos.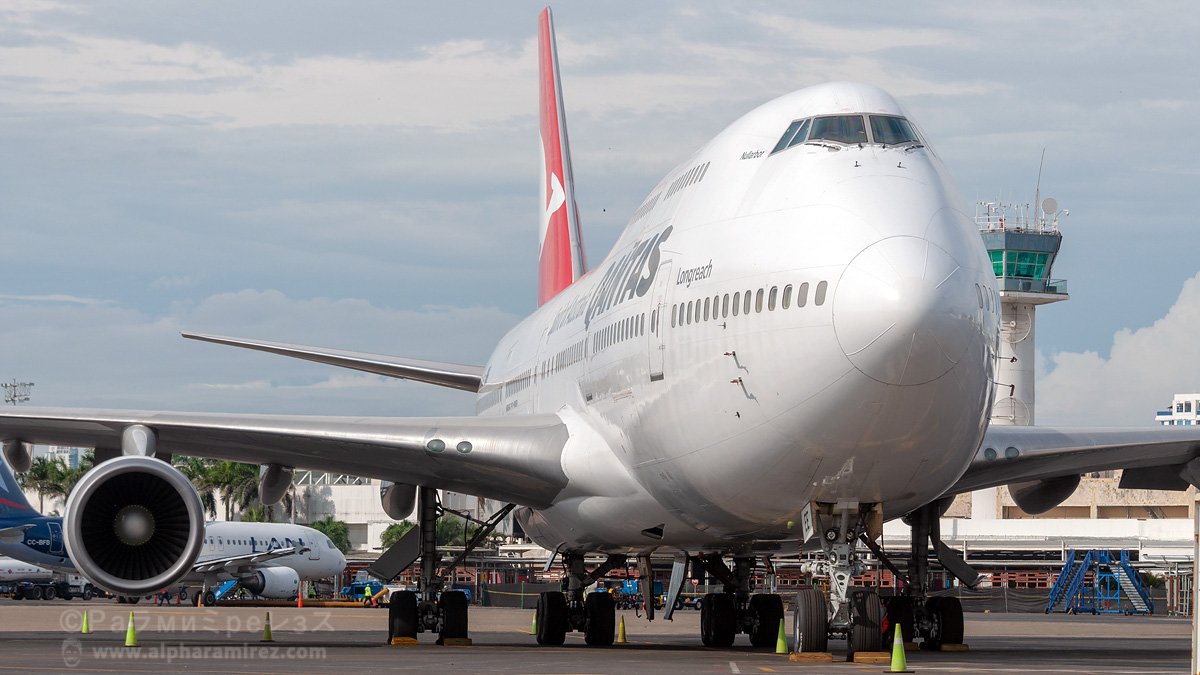 I returned in the afternoon to see the landing of the KLM Boeing 787-9. The Airplane arrived on-time, but the weather was all gray again.
Airplanes of KLM and Avianca were seen together for a while, they're the two oldest operating airlines. Both are due to turn 100 years old in 2019, as you will see later in the photos of the KLM Boeing 787-9, and the Avianca Airbus A320 retro.
Qantas is the third oldest! Will turn 100 years old in 2020.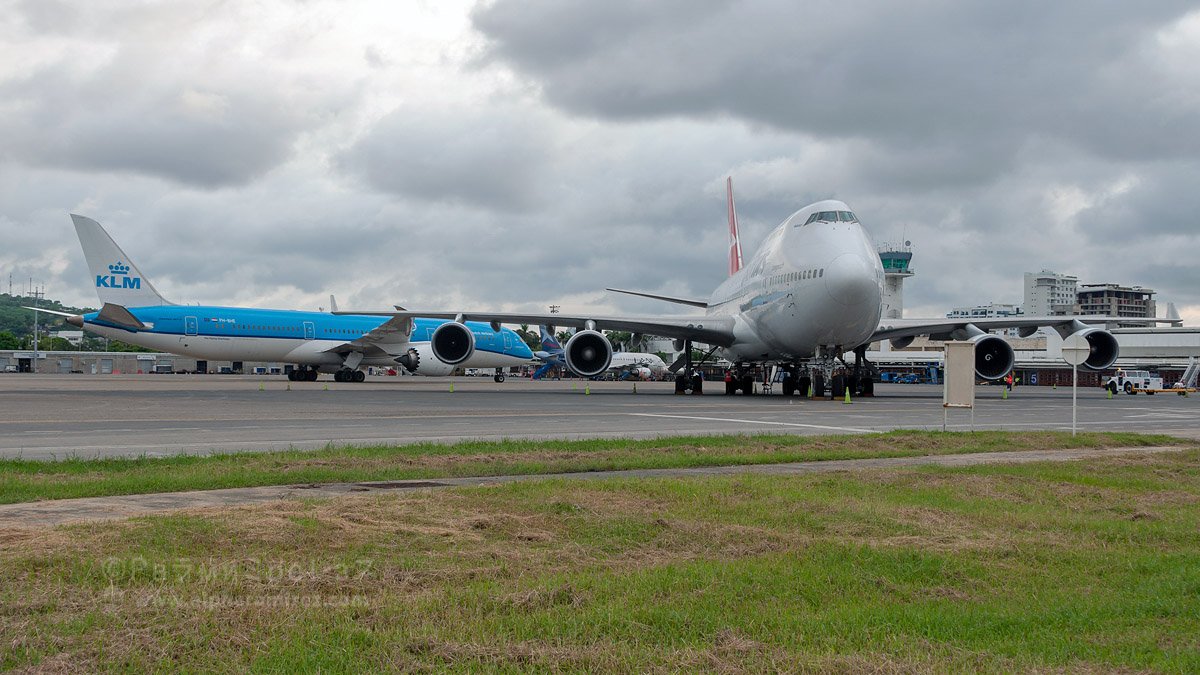 The Avianca Airbus A320 retro was around as well.
More information about the Avianca Airbus A320 retro.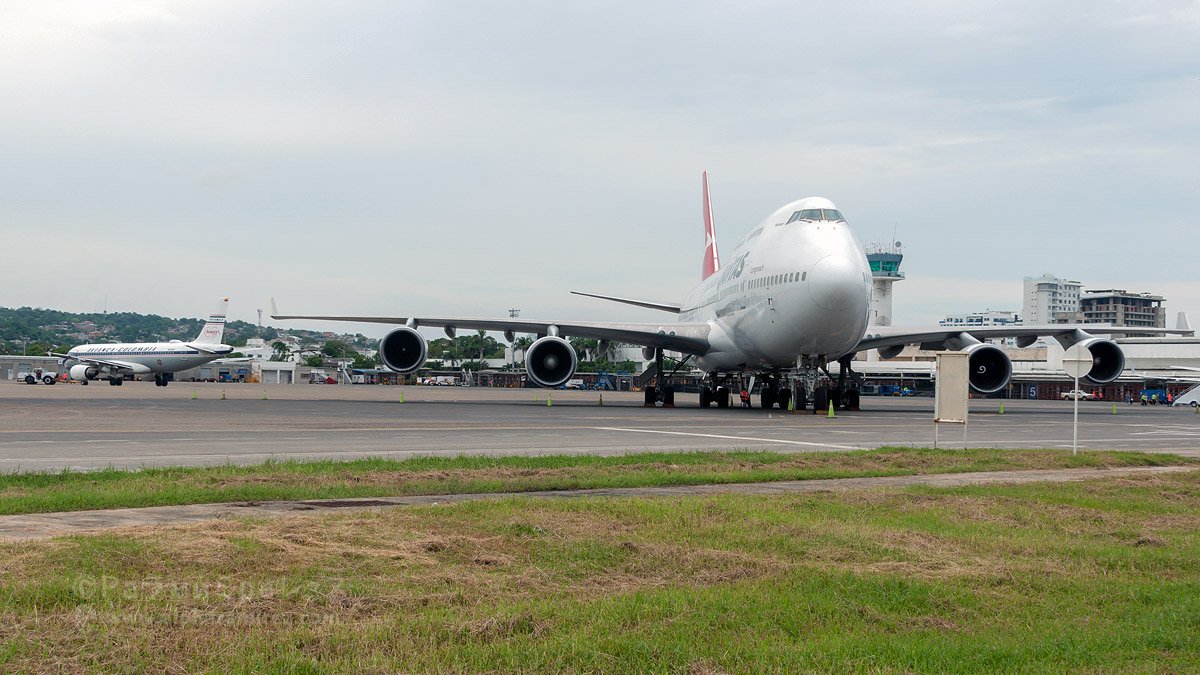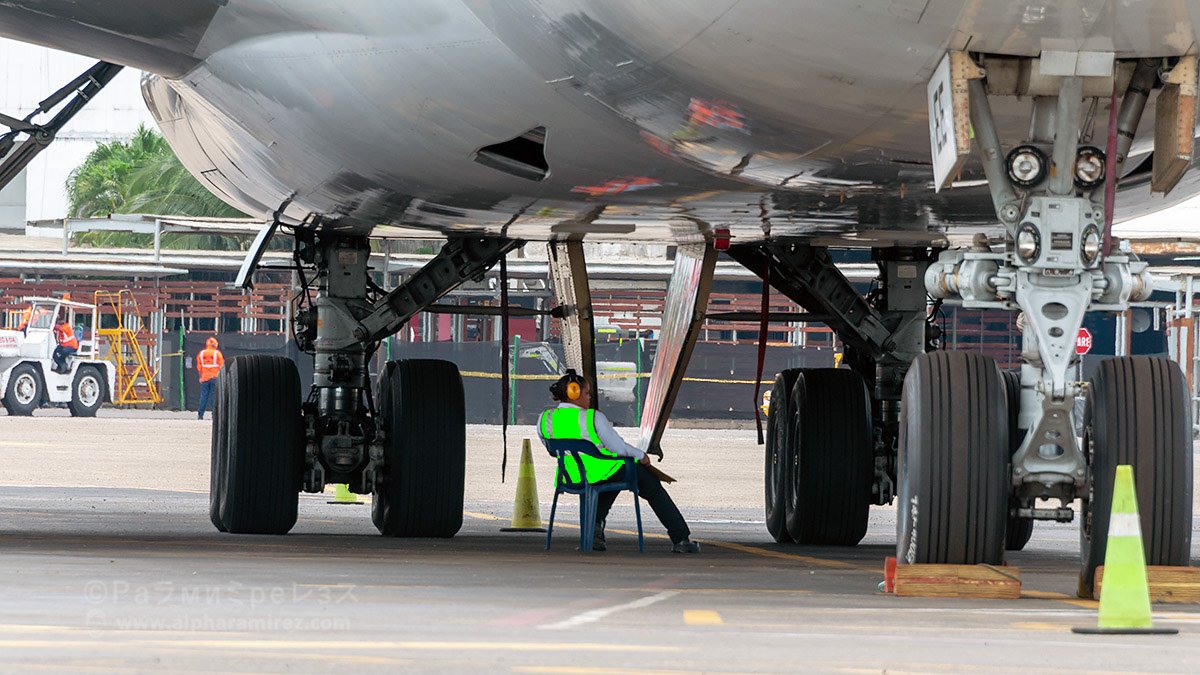 There I left to do other things in city that hadn't much to do with Aviation, and I only returned two days later for the Airplane's departure.
I took photos of other Airplanes as I was saying, but since the weather didn't help much with the light department they were few and far between.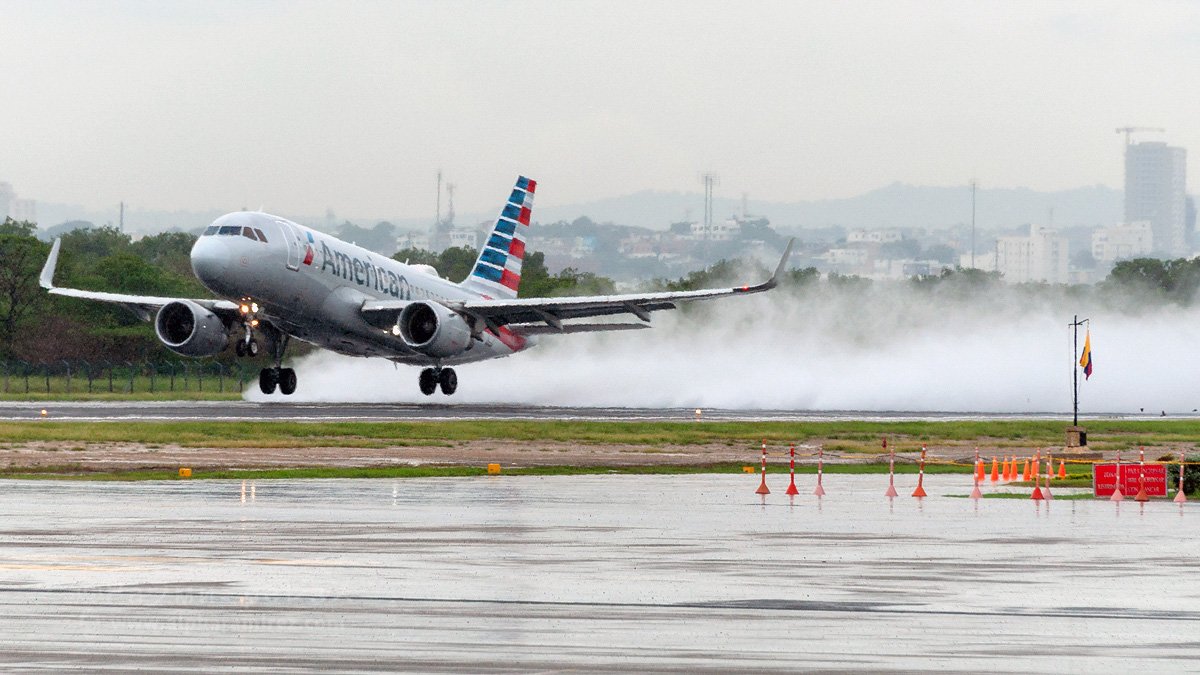 It could be said that the additional photos I took were divided into four motives. I will show you some examples:
1. The photos of my friends Sergio and Pablo, the former in his Dassault Falcon, and the latter in his Airbus A320.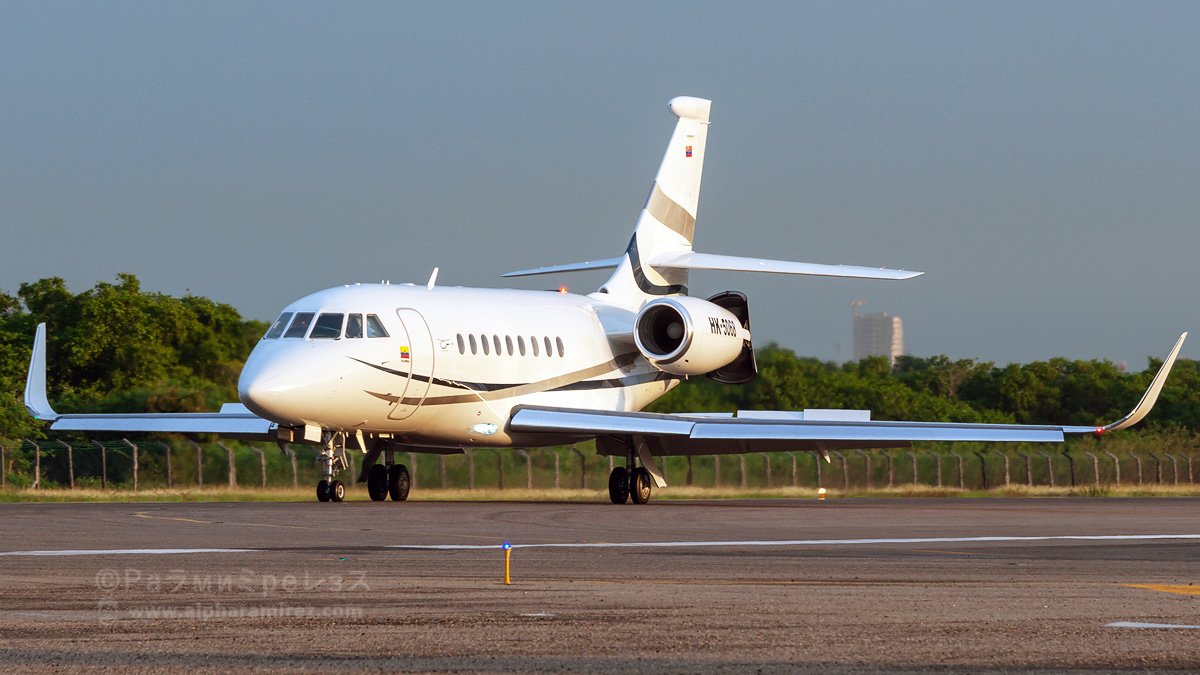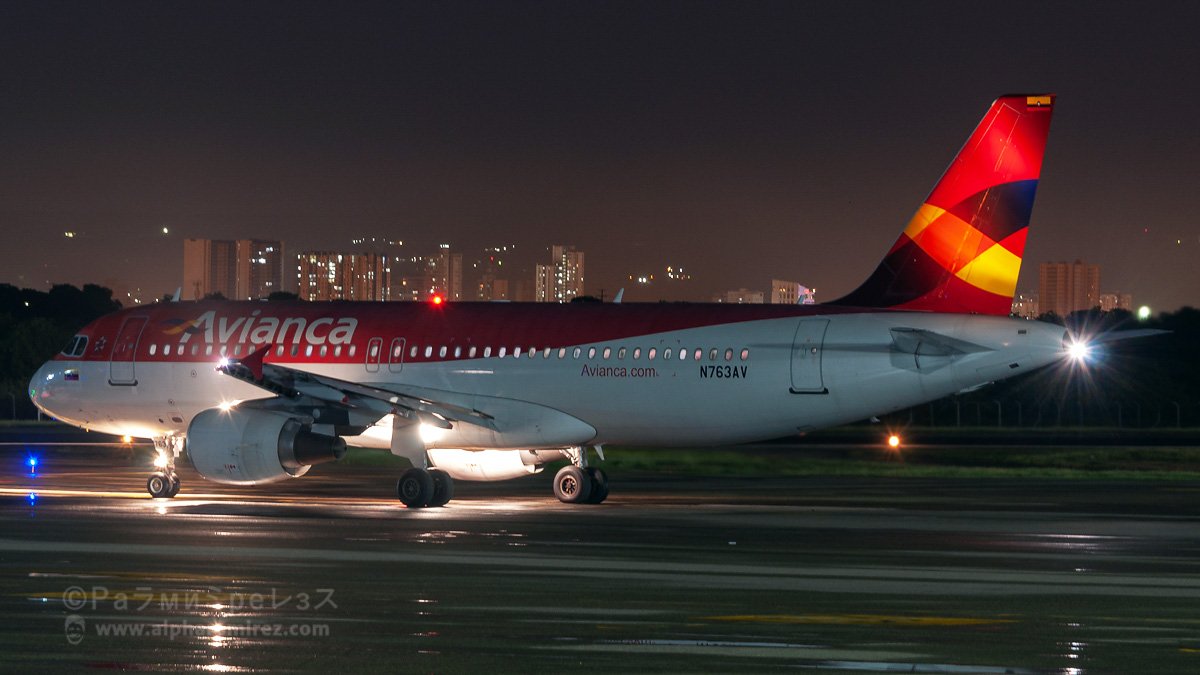 2. Photos of the international traffic that arrived in the day, especially airlines from the United States.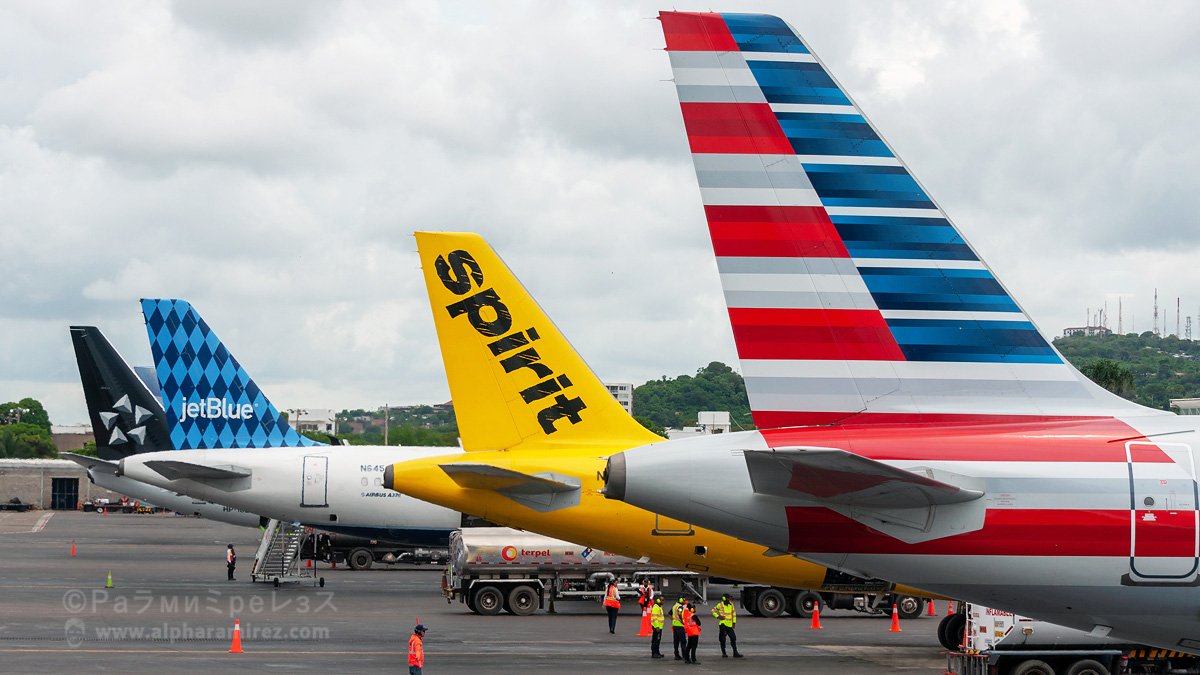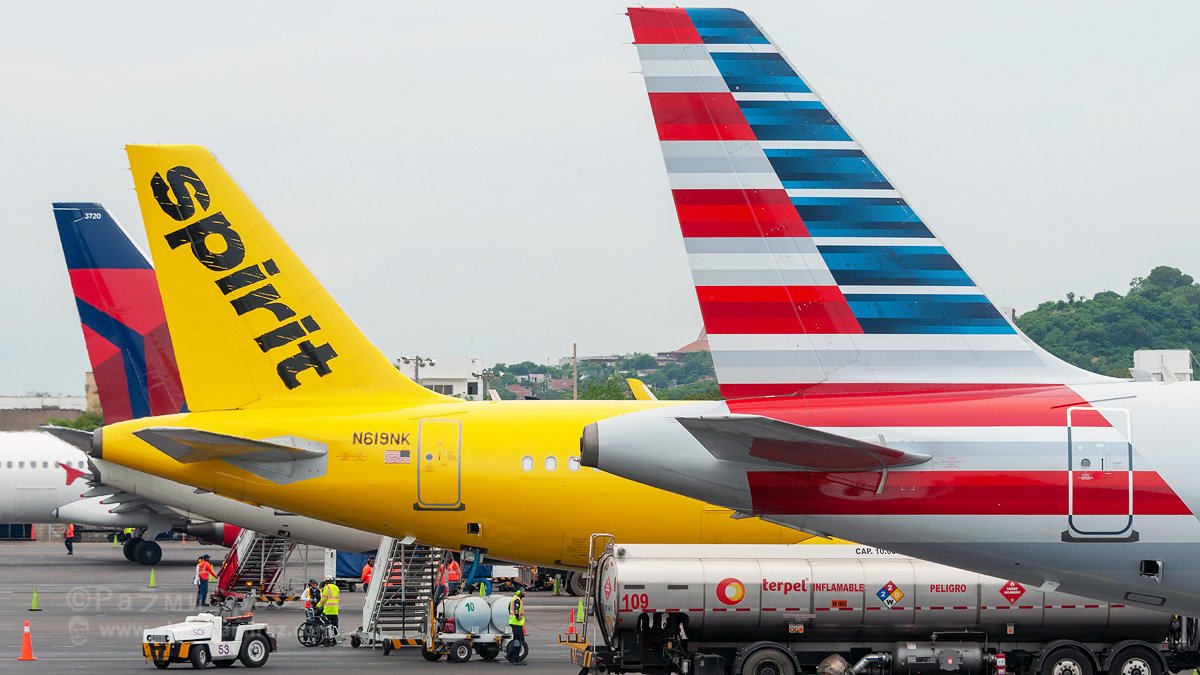 3. Photos of the KLM Boeing 787-9.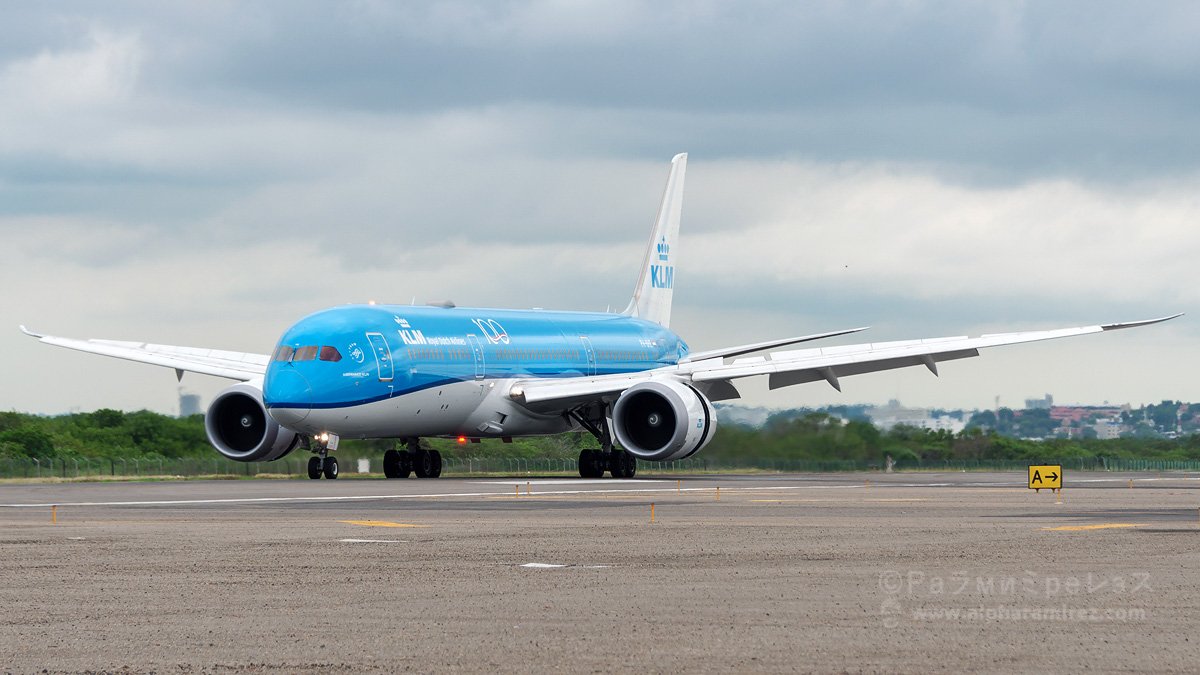 4. Night photos in general, when weather wasn't so important to get the photo.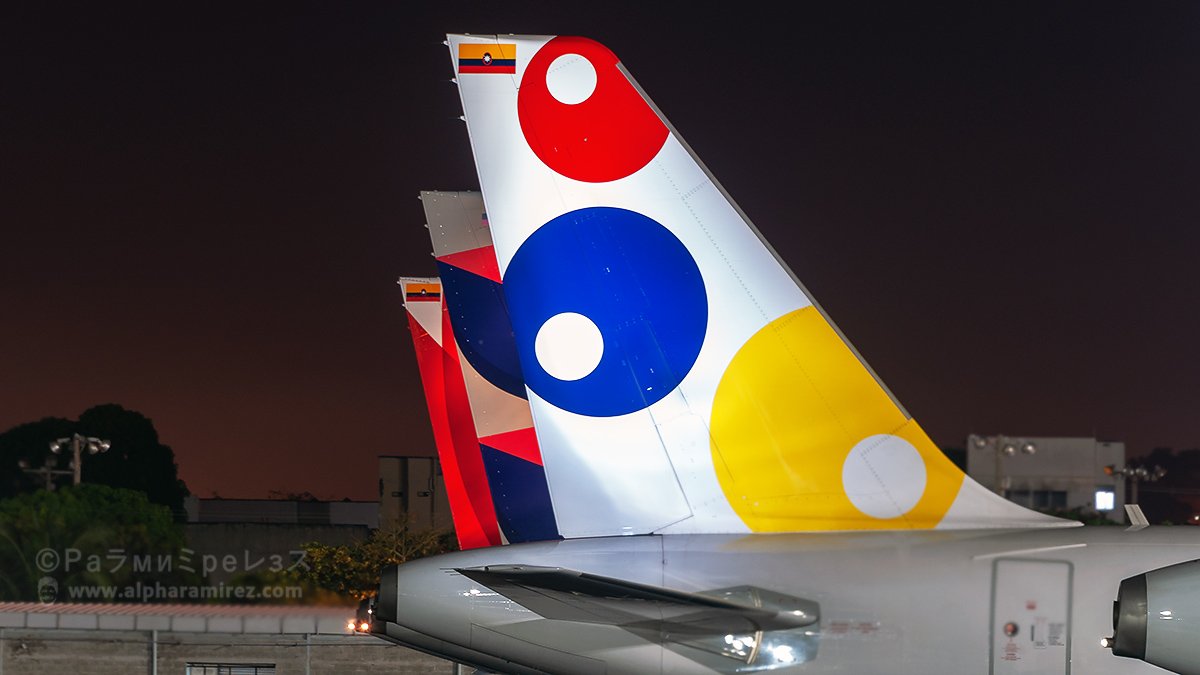 You can see other photos I took those days in the gallery below. As I mentioned before, search for the KLM Boeing 787-9 and the Avianca Airbus A320 retro to see their respective 100 years old signs:
When the Qantas Boeing 747-400 was due to depart to Lima I returned to the Airport. In the road between the historic centre and the Airport there was a badly crashed BMW that had been crossed by a pole.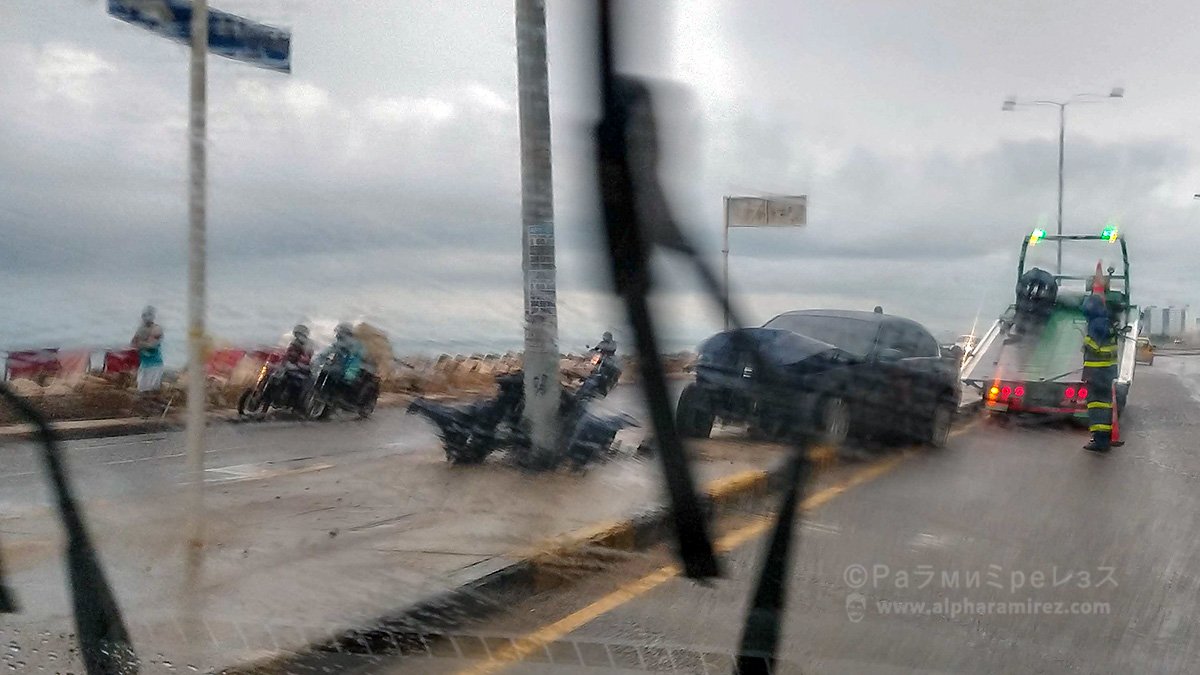 It was supposed to depart at 0800 local, but it was delayed for almost one hour.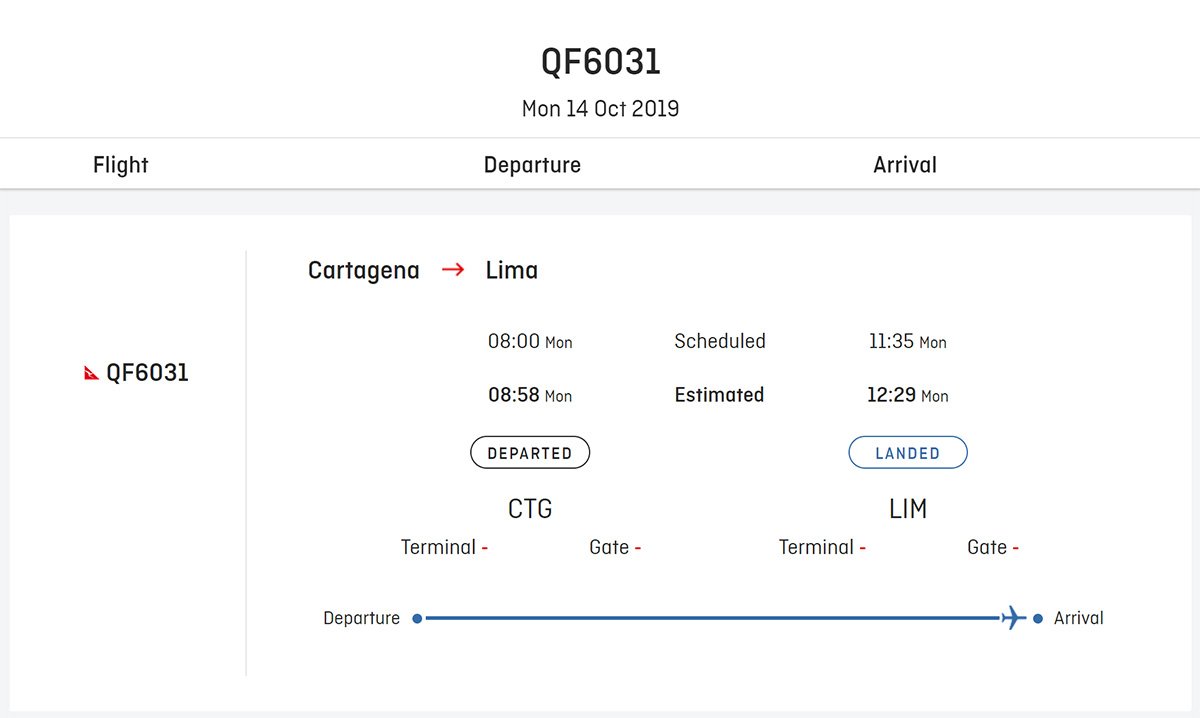 I had thought on looking for a different place for the photo, so it wouldn't be all backlit.
But the morning was all gray and rainy again (a soft rain, nonetheless), and in the end I didn't think it was justifiable to do all that search, given the conditions.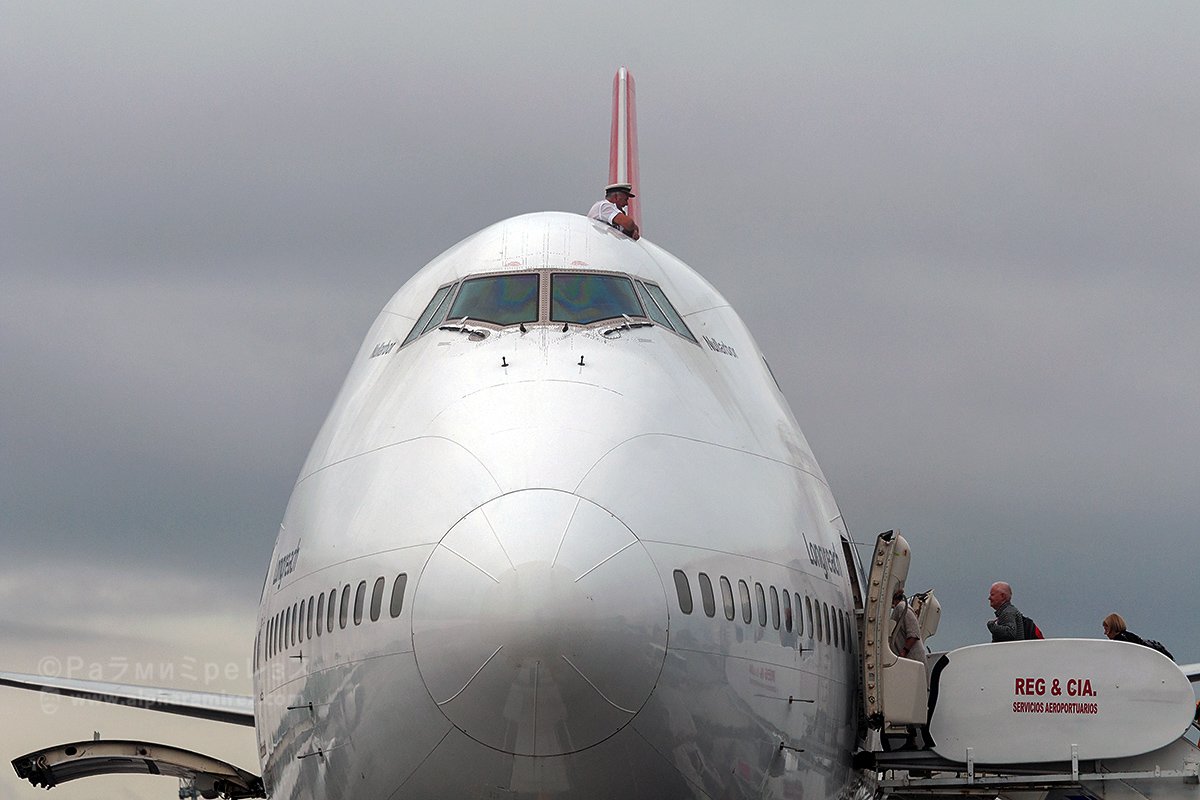 Just like on the arrival, the Pilots greeted the nosey lot that were present there (including myself).
This time around it wasn't only them, also the occasional passenger!
The Airplane was finally pushed-back, and started taxiing after the landings of the Viva Air Airbus A320 "Claudia Obando", that was again doing the Lima – Cartagena – Lima rotation…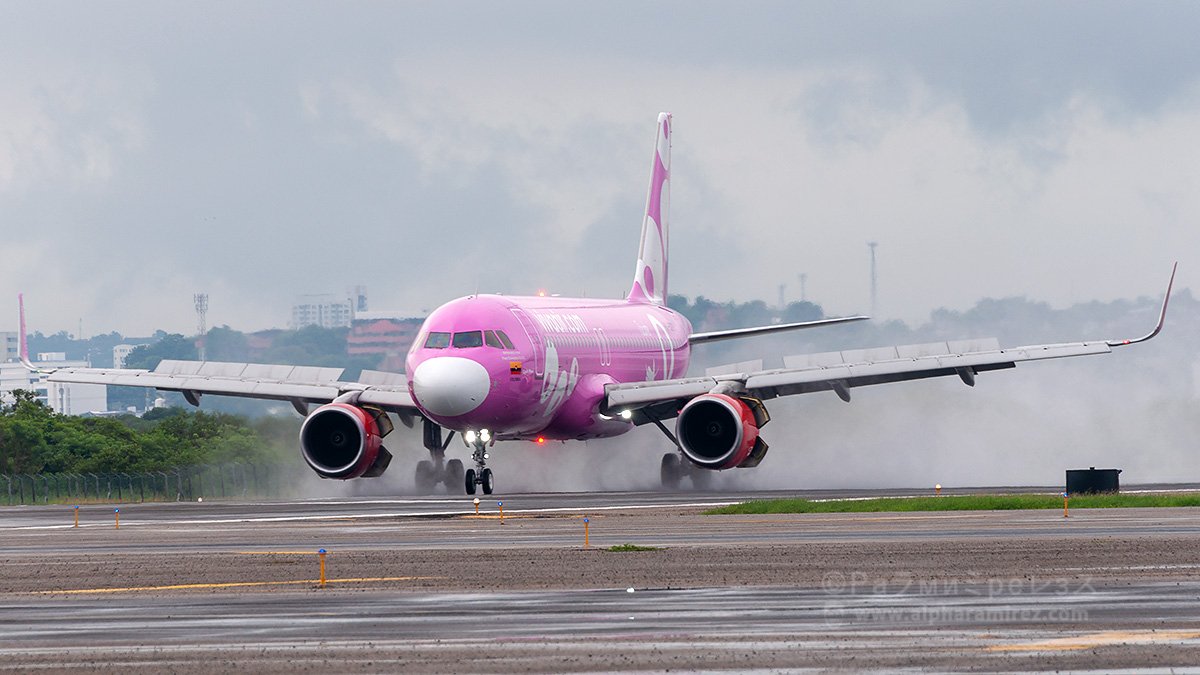 Of an Avianca Airbus A318…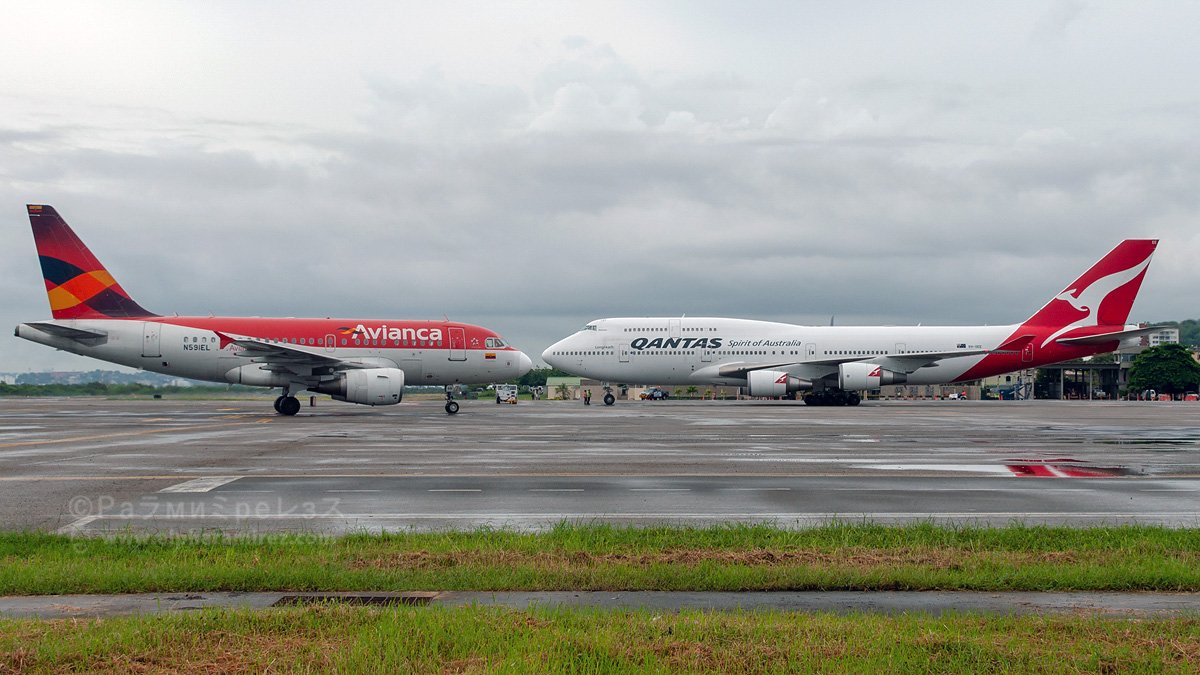 And of a Wingo Boeing 737-700 (HP-1377CMP, the same one in which I went to Panama and returned this last April) that appeared to be drying the wet runway.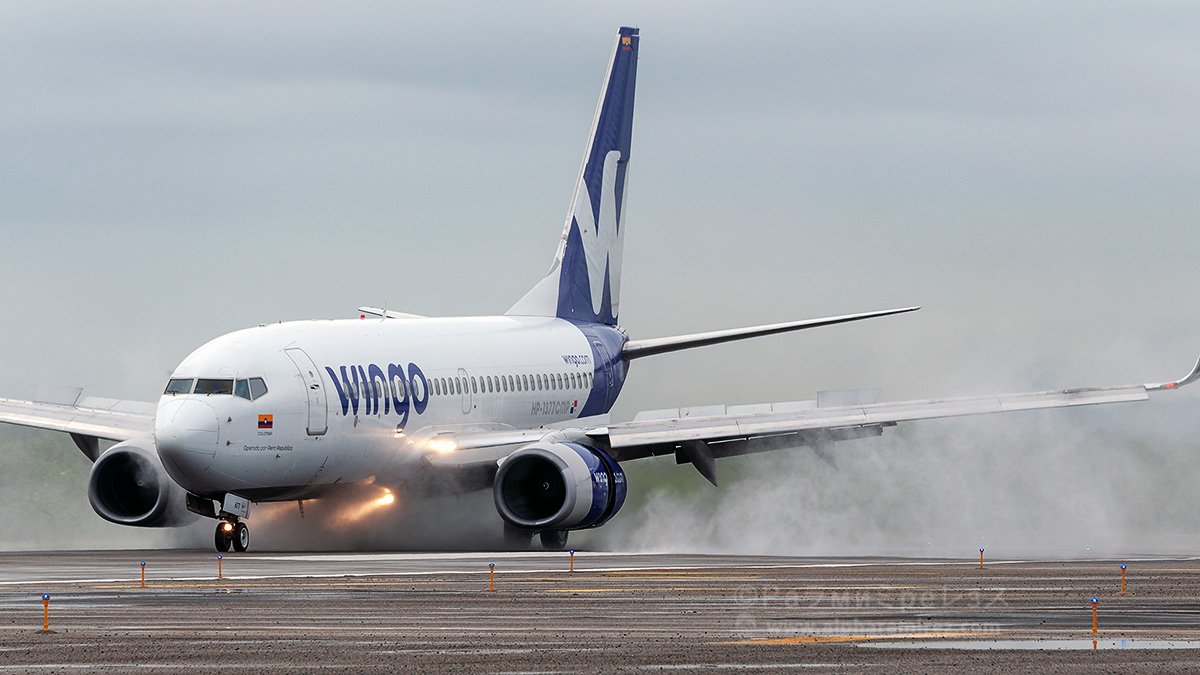 It finally started its taxi to the threshold of runway 01 for takeoff, with one last gesture on the Pilots end, all ready in the cockpit.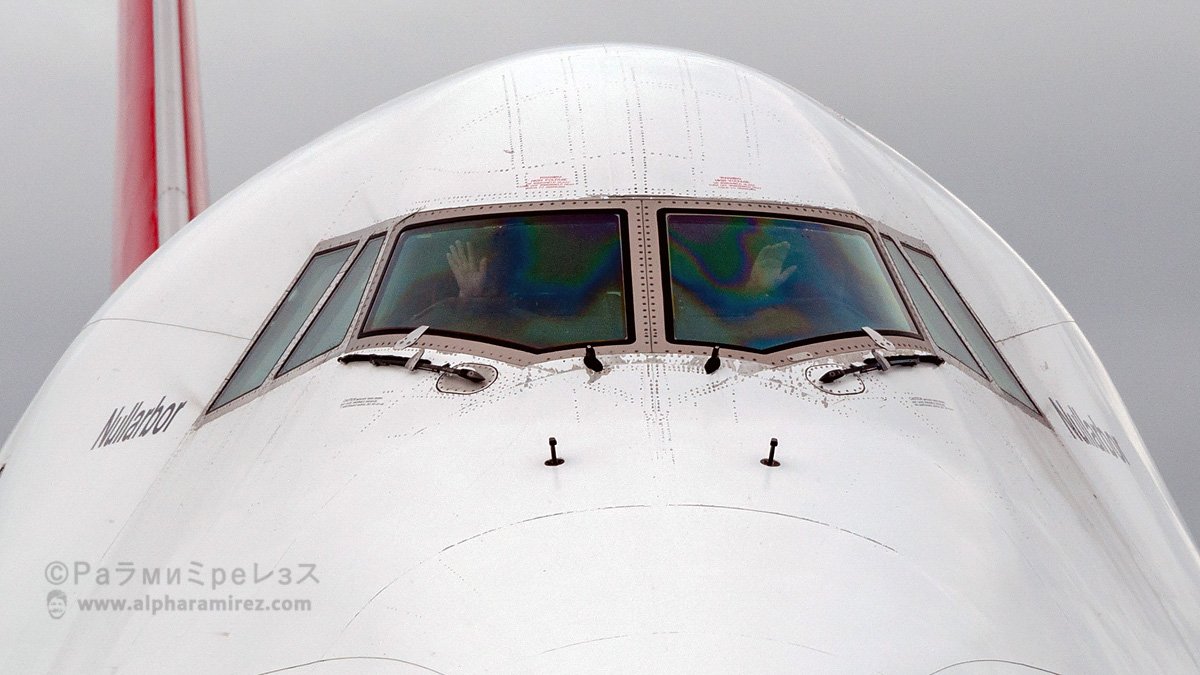 The Boeing 747-400 was light, since it was only flying to Lima, Peru. That is a three hours flight approximately from Cartagena, and the Airplane can fly for 14 or more.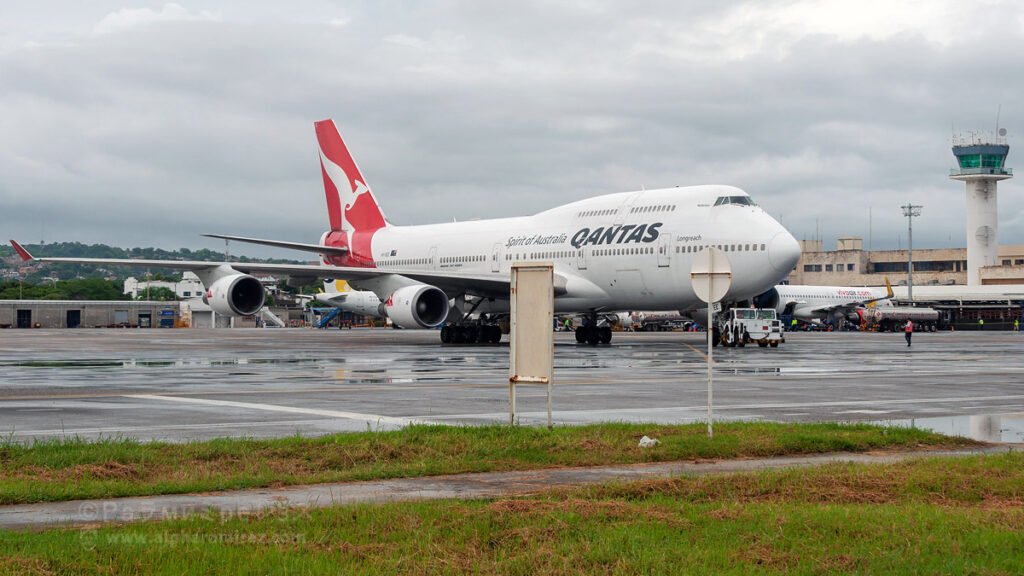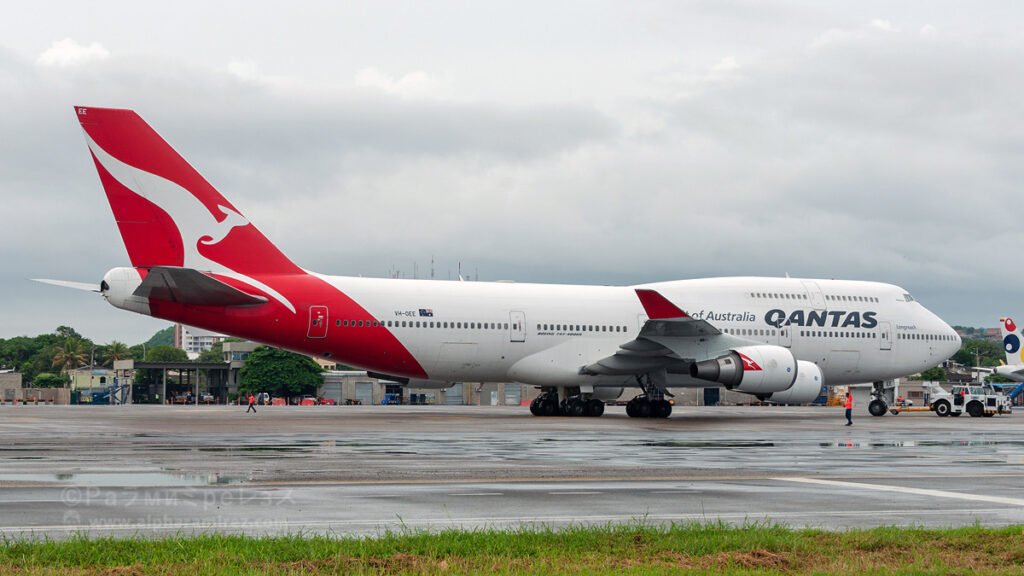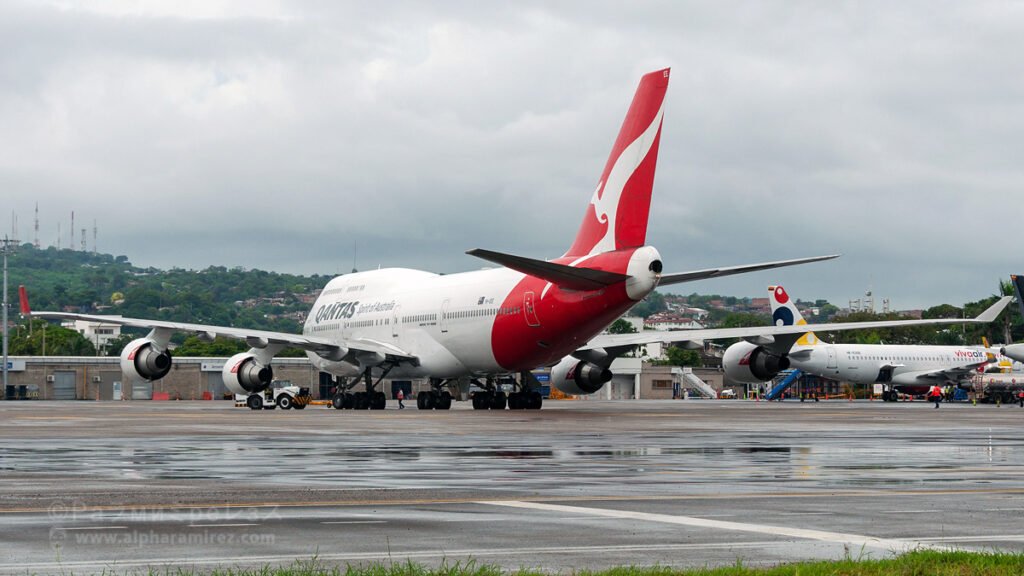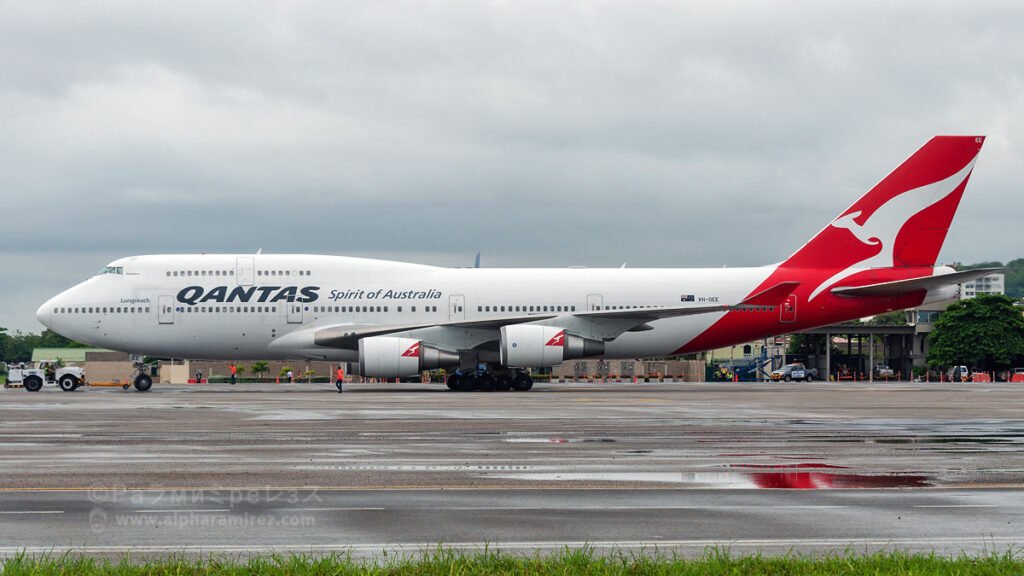 On top of that it wasn't as loaded with passengers as it could, since it was on a private chartered operation for the aforementioned tour.
Also, Cartagena Airport is almost at sea level, and the temperature wasn't hot.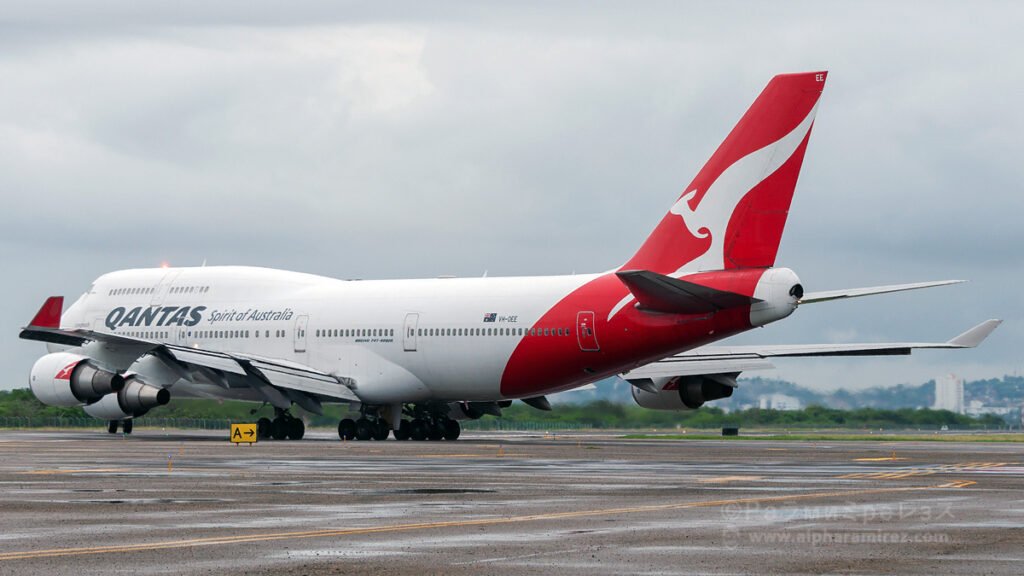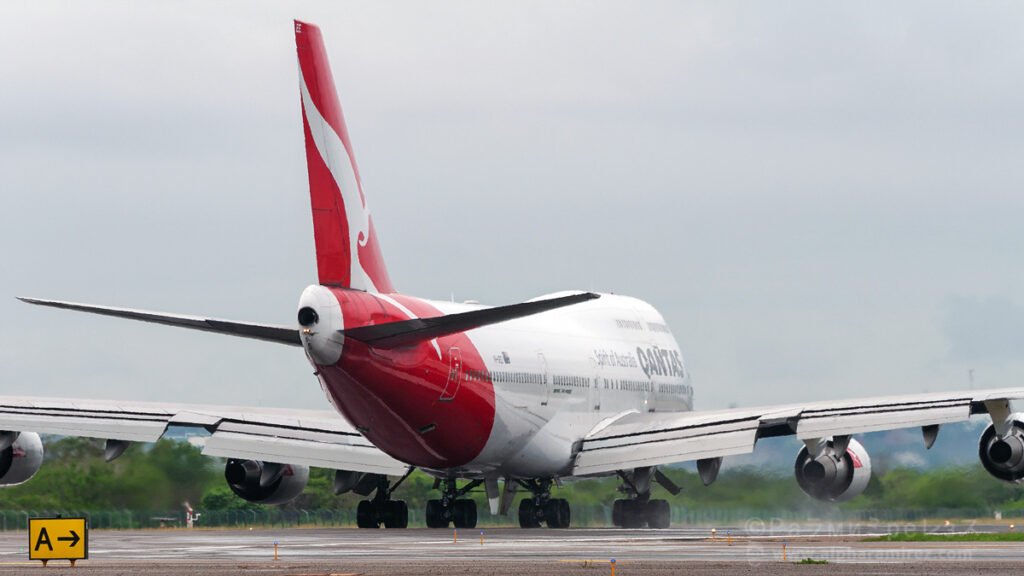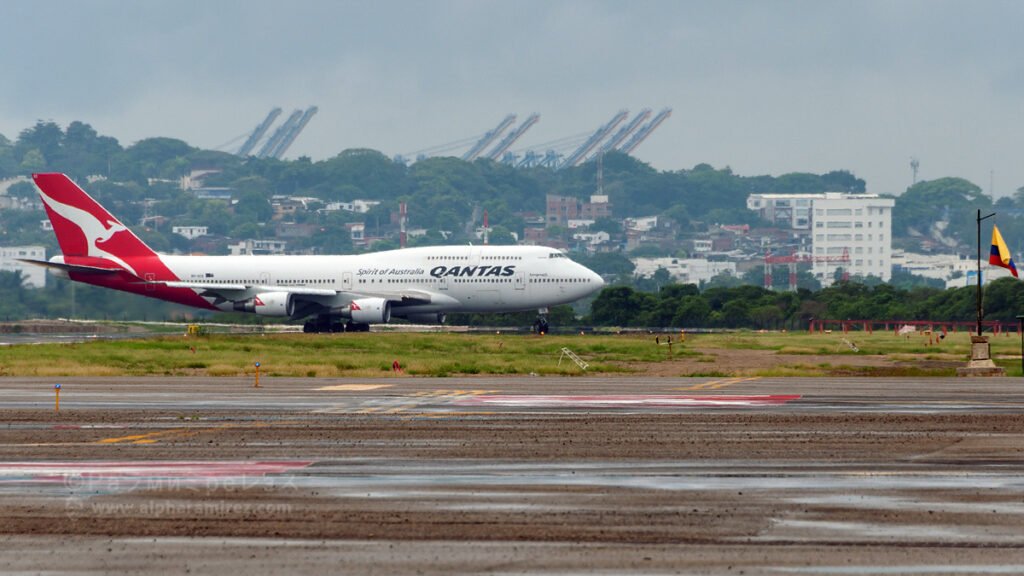 Perfect conditions to get the best performance of the Airplane. Of course, the Airplane rotated super fast, and began its rocket-like ascent.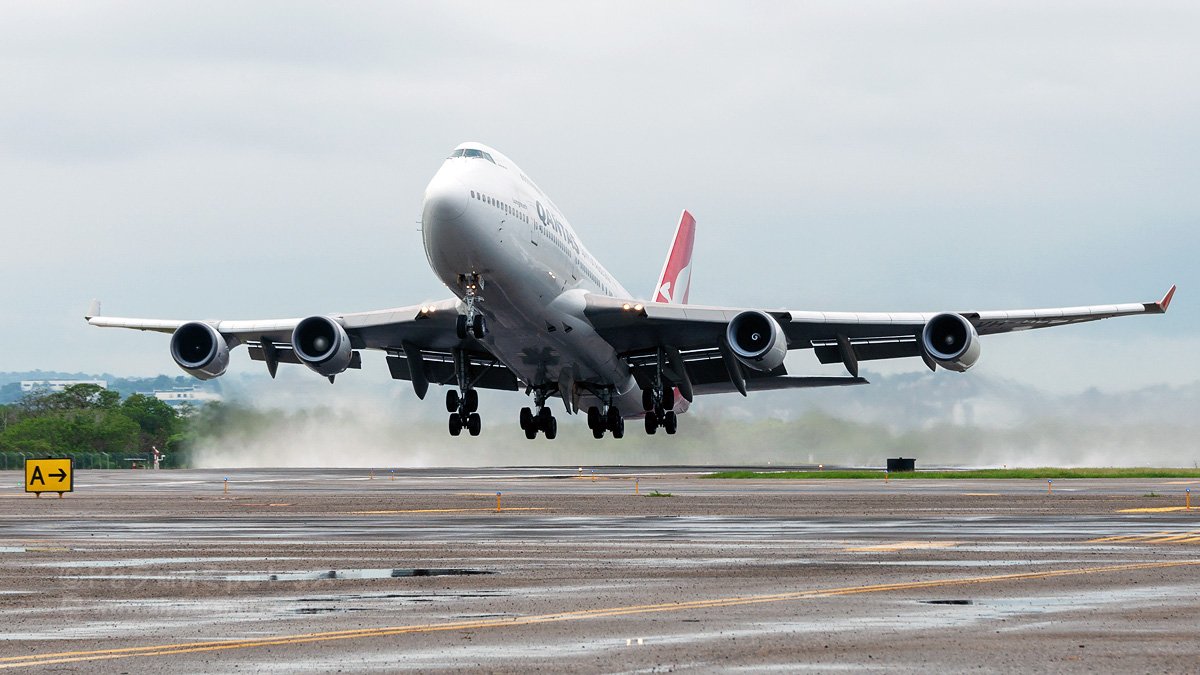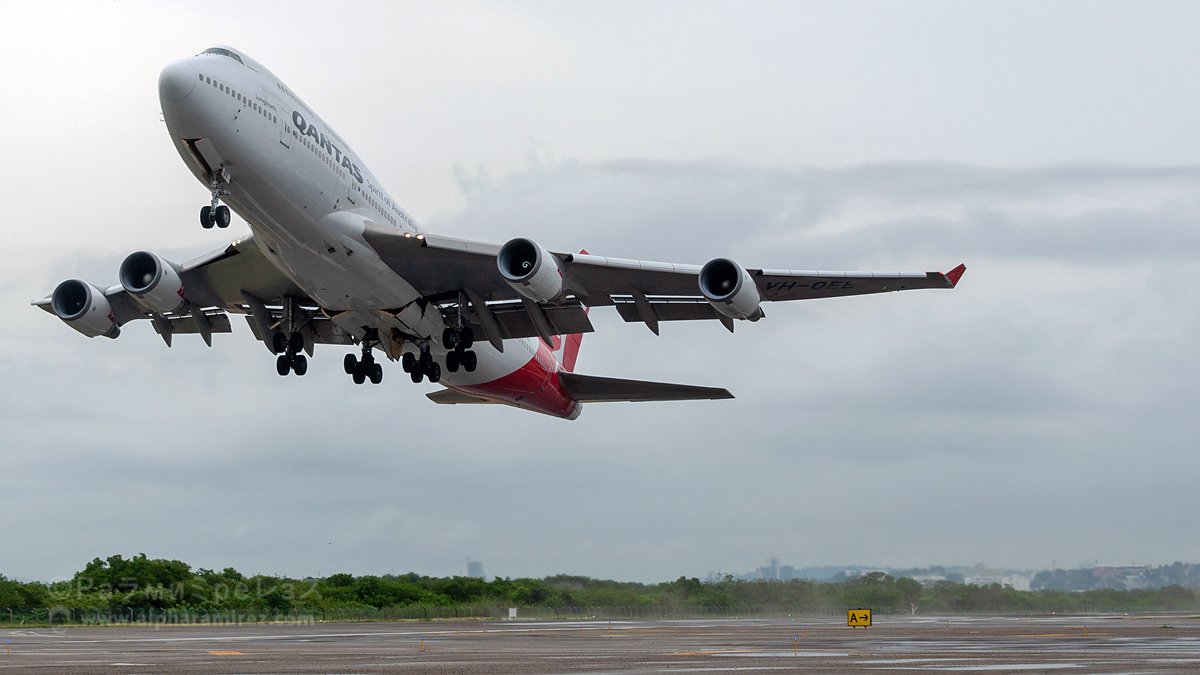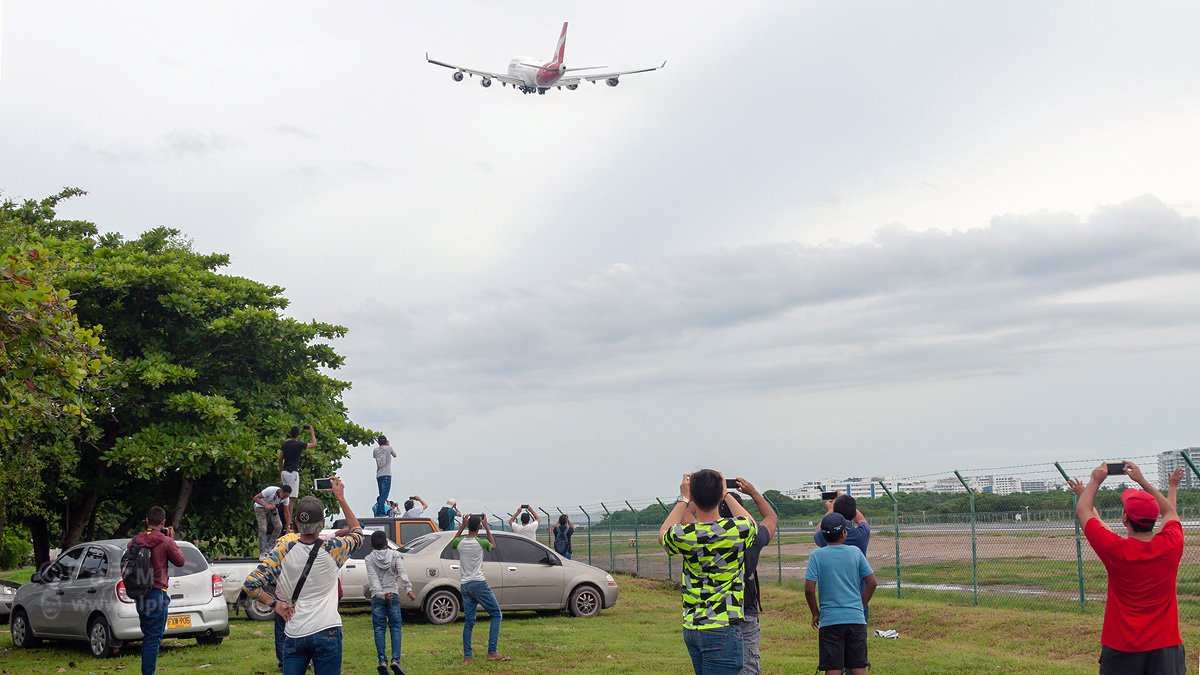 It quickly turned south, and overflew the place where we were, very high already.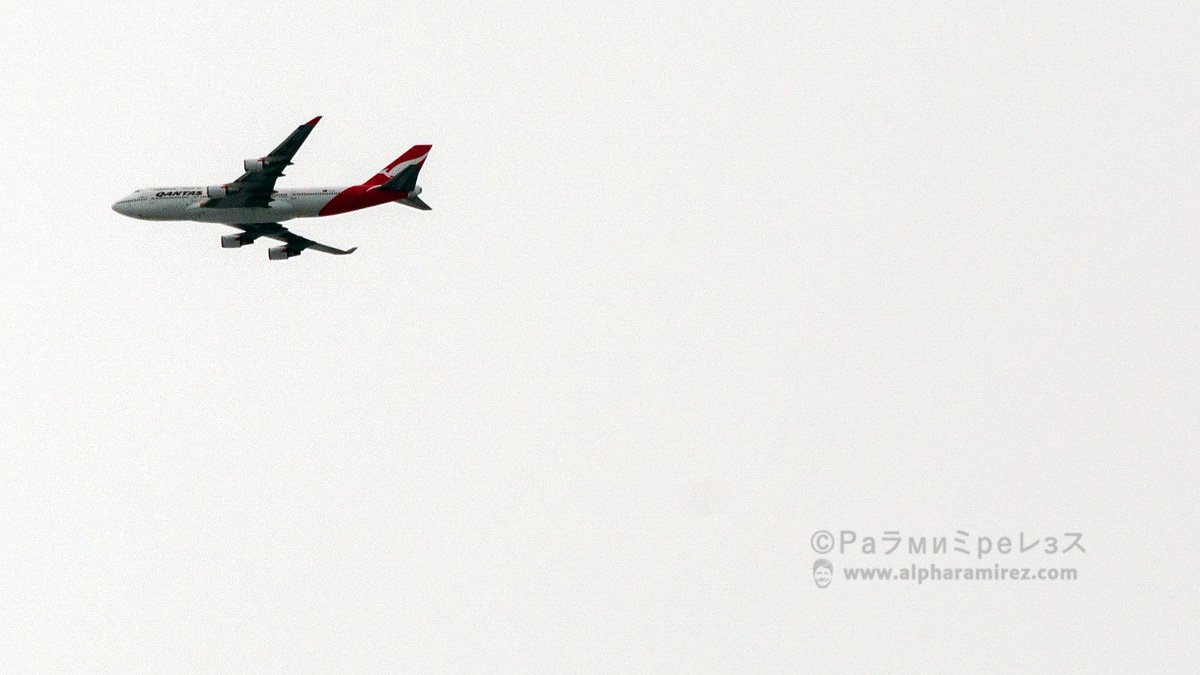 The Airplane continued toward Panama, I don't know why. From there it flew to Lima, landing there at about noon.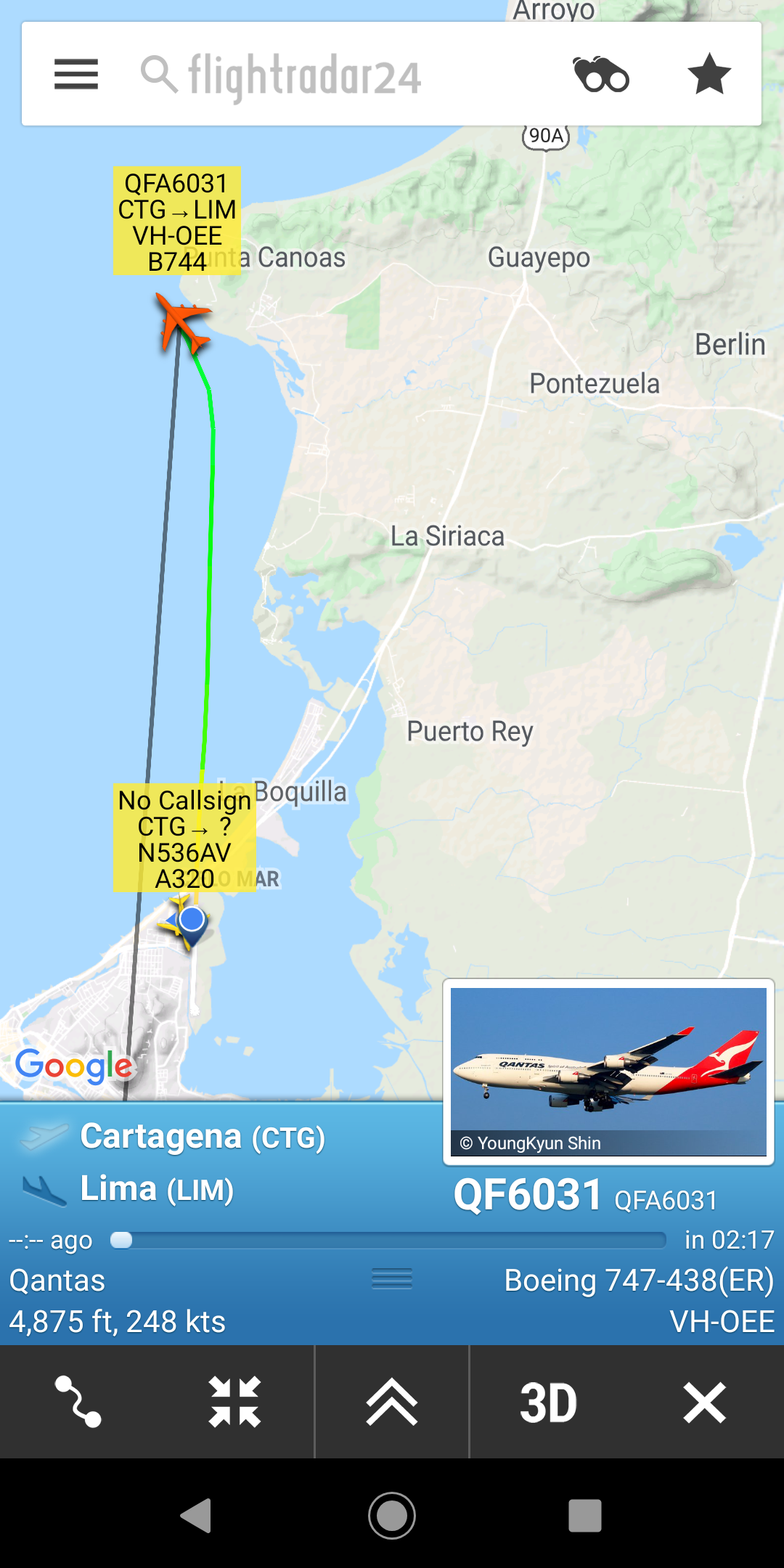 That had been it. I had made a rendezvous with a special Airplane for me, and with people I cherish in Cartagena.
Meanwhile, the Australians tour continued on track, and for me the time to return was coming.
With the possible exception of things like the arrival time, and the light because of the weather (something no one controls anyway), all had been perfect.
I will leave you below with a gallery with more photos of the arrival, stay, and departure of the Qantas Boeing 747-400 in Cartagena.
Mission accomplished!
The time to return to Medellin came, the very same afternoon of the day in which the Qantas Airplane left.
I checked-in without problems, and I saw many known faces from high school in the Airport, go figure.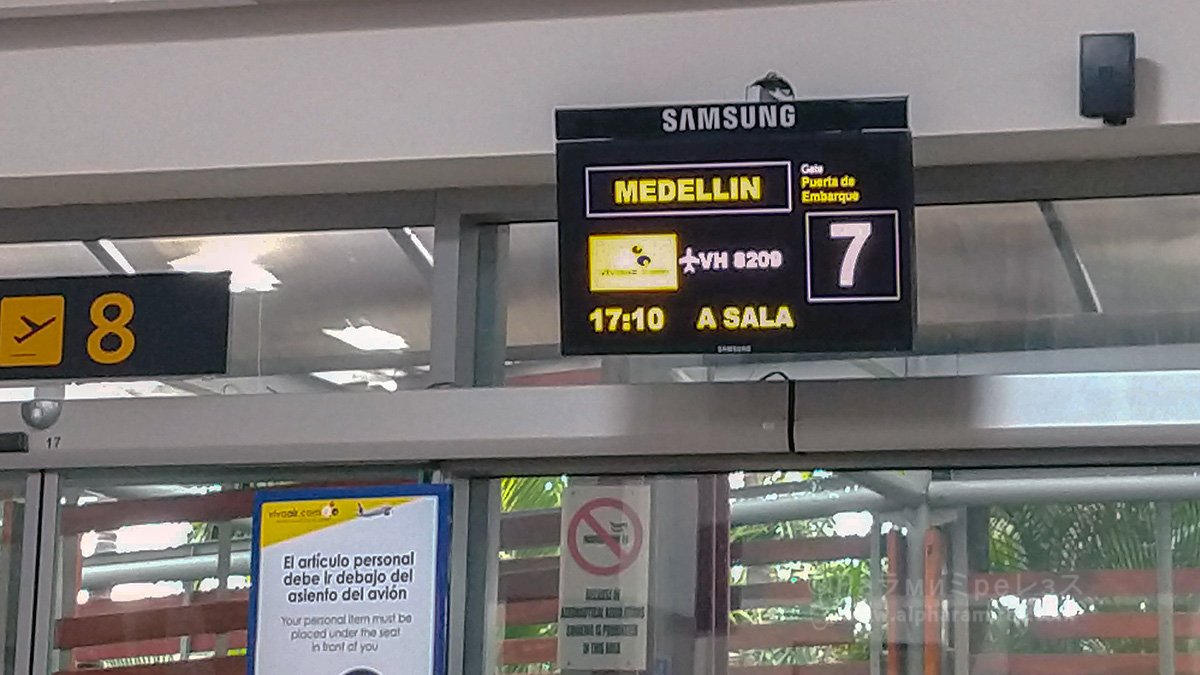 The Viva Airbus A320 chosen for the flight that day was HK-5276.
When boarding we had an Easyfly ATR 42 to our side leaving to Bucaramanga, I think.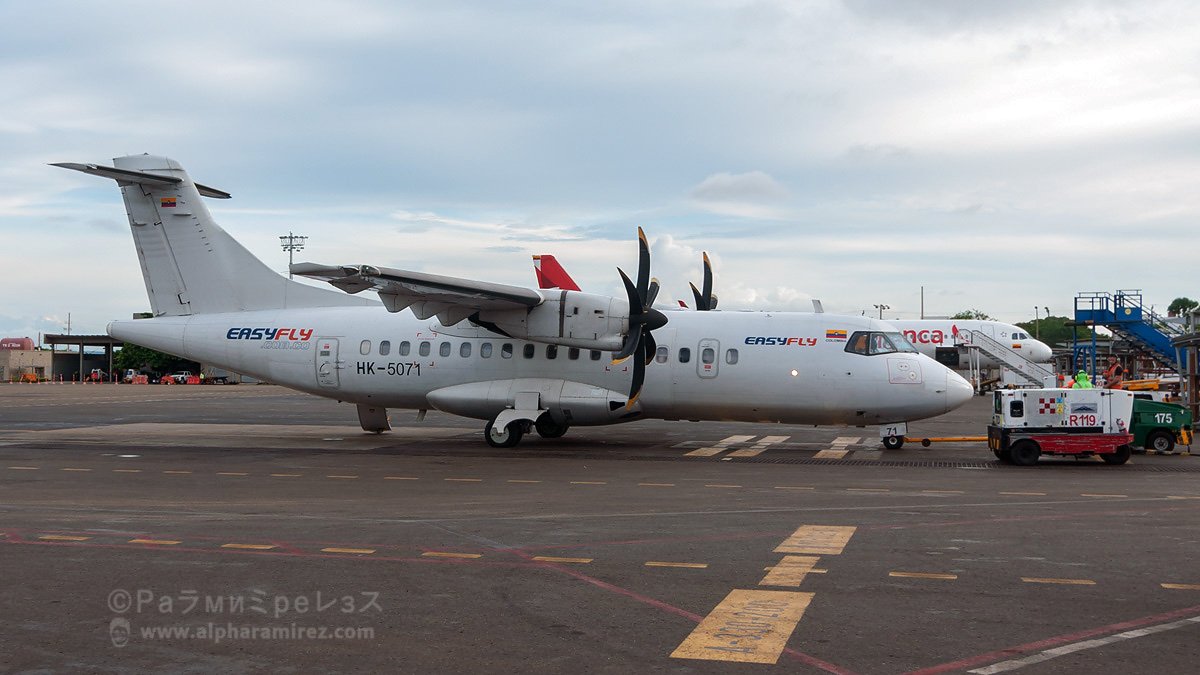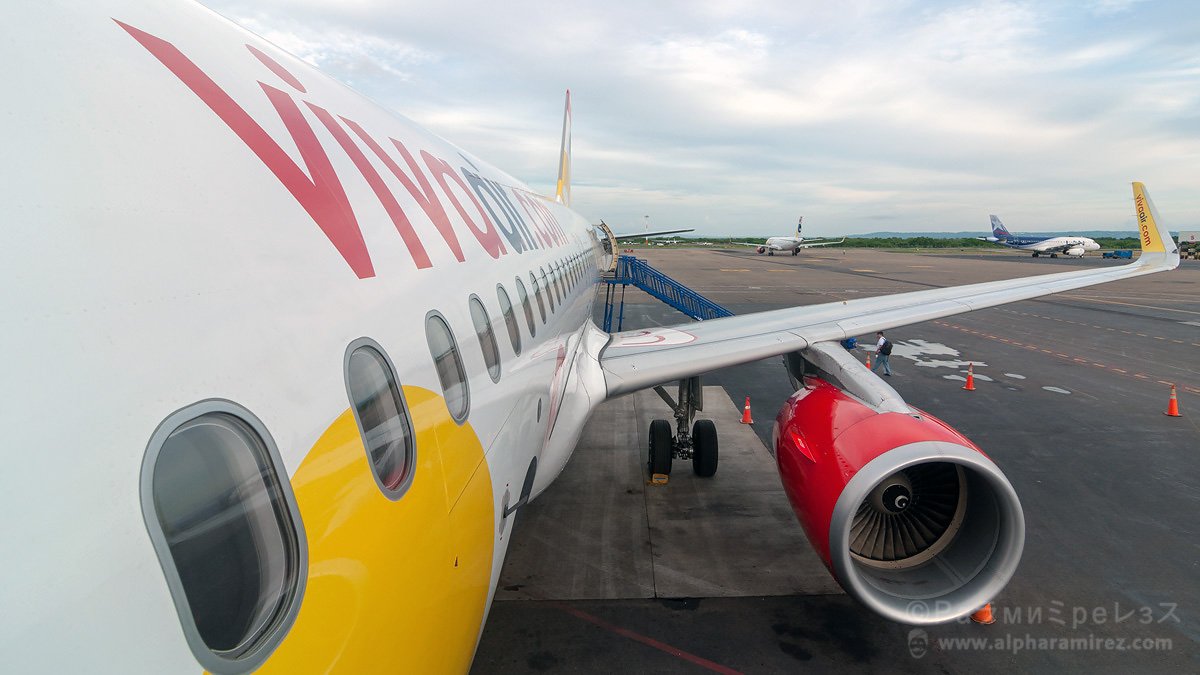 Again I had a seat in the first row of the Airplane, but on the opposite side, seat 1F. It had a little less space than 1A, but it was comfortable enough.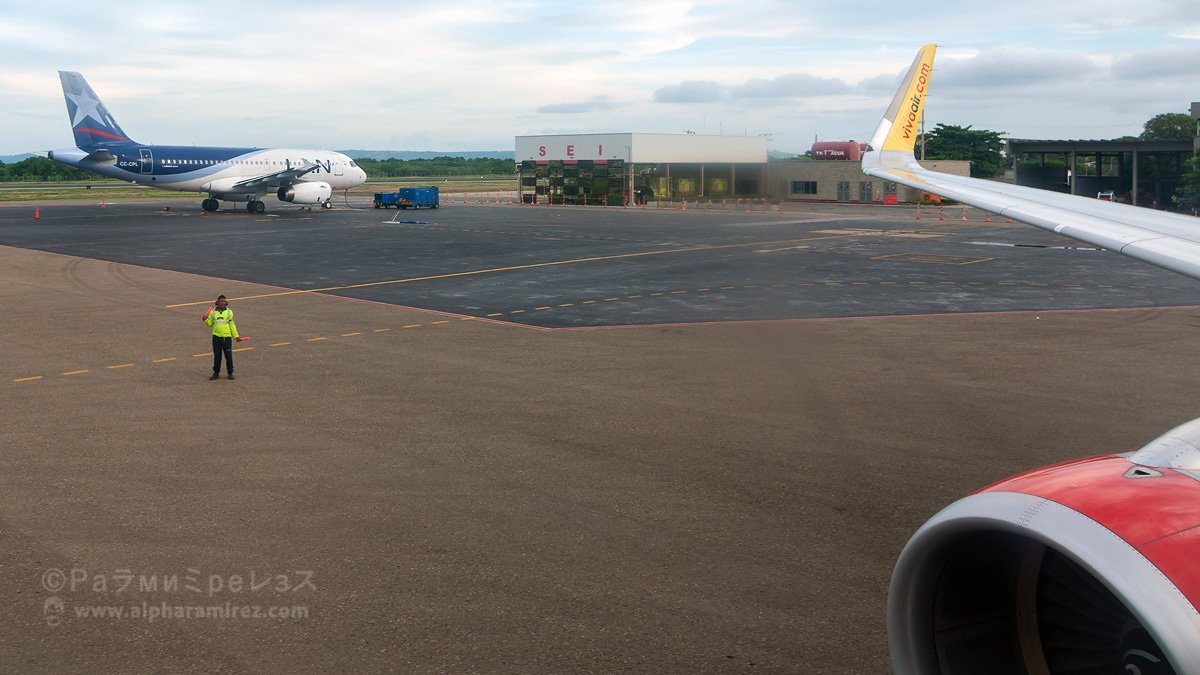 We were pushed-back on time again, and taxied onto the runway to make our way to threshold 01, do the 180 degrees turn, and takeoff.
In that turn I also had a nice panoramic view of the runway.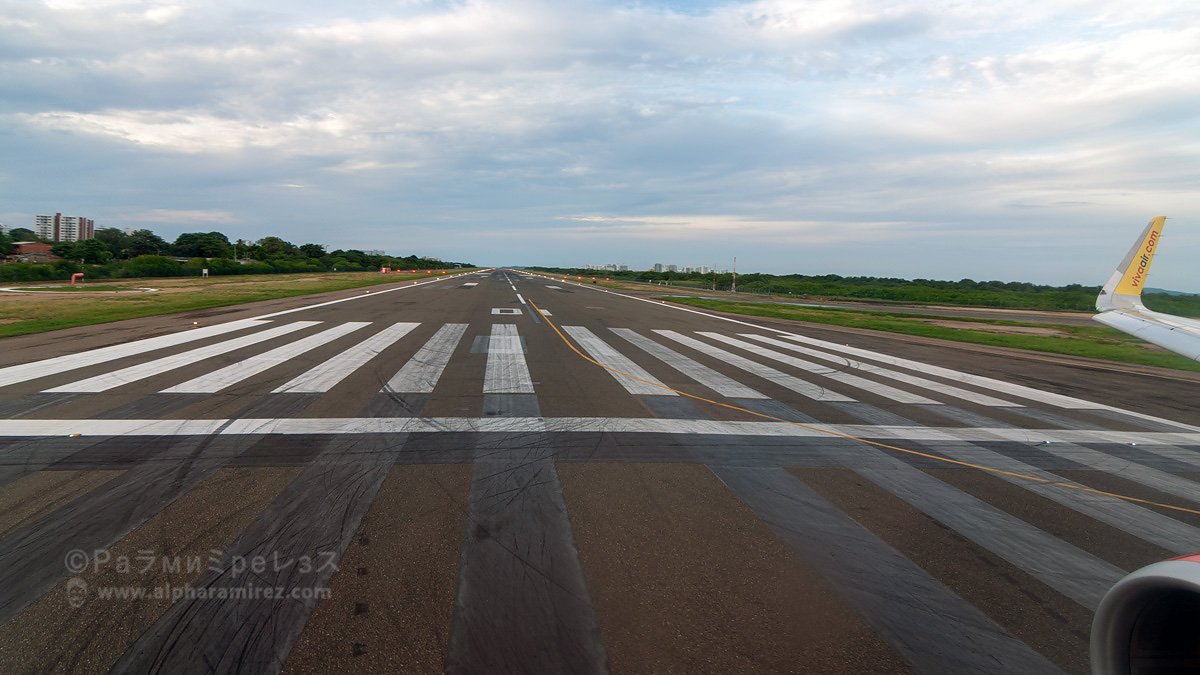 We had a normal takeoff, and in that hotel zone that I'm showing you below was my friend Diego E. who took a photo of the Airplane in-flight with me inside.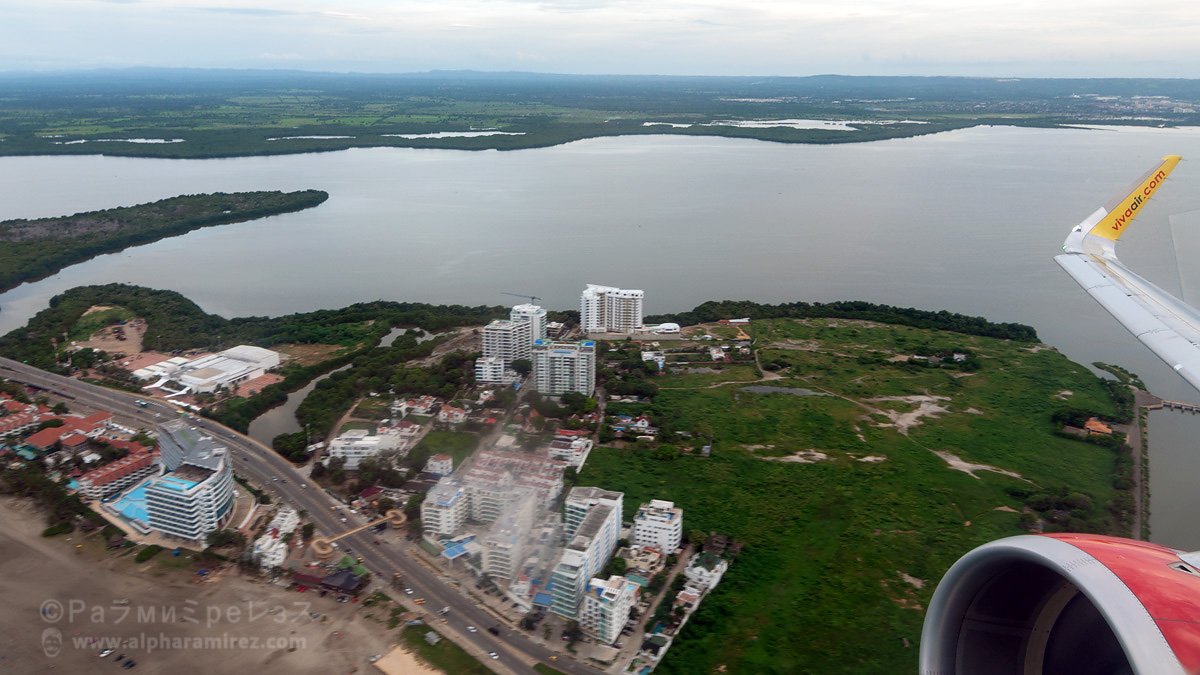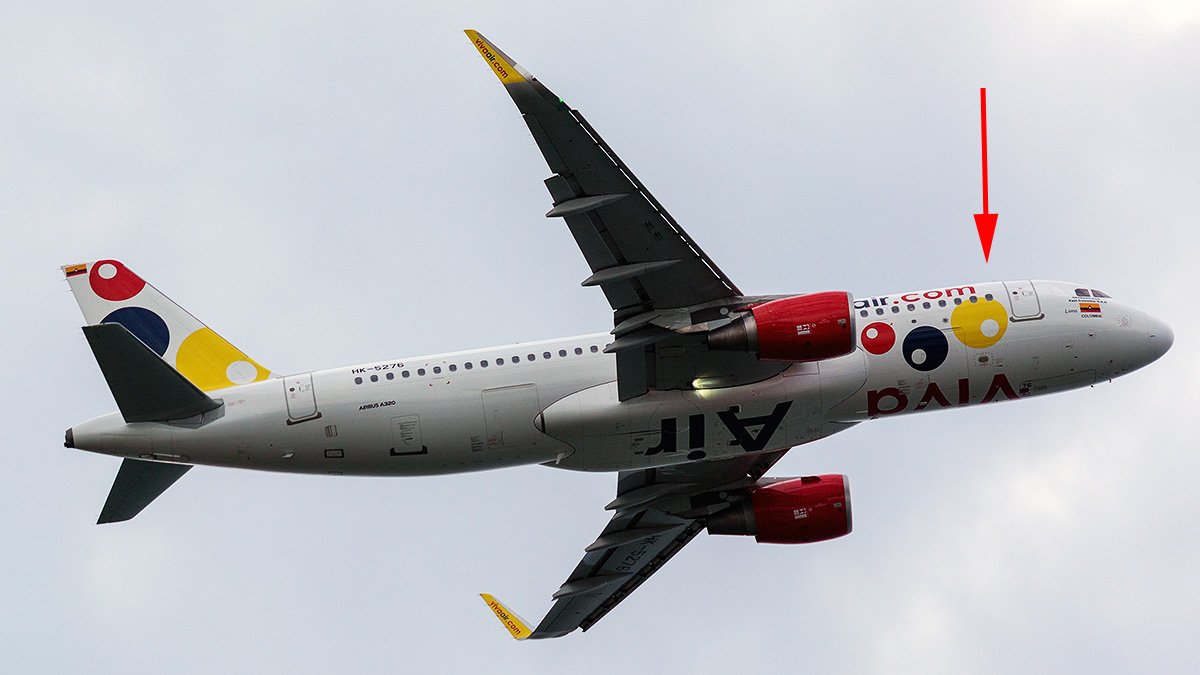 We turned south, and continued our way toward Medellin with the sunset in sight.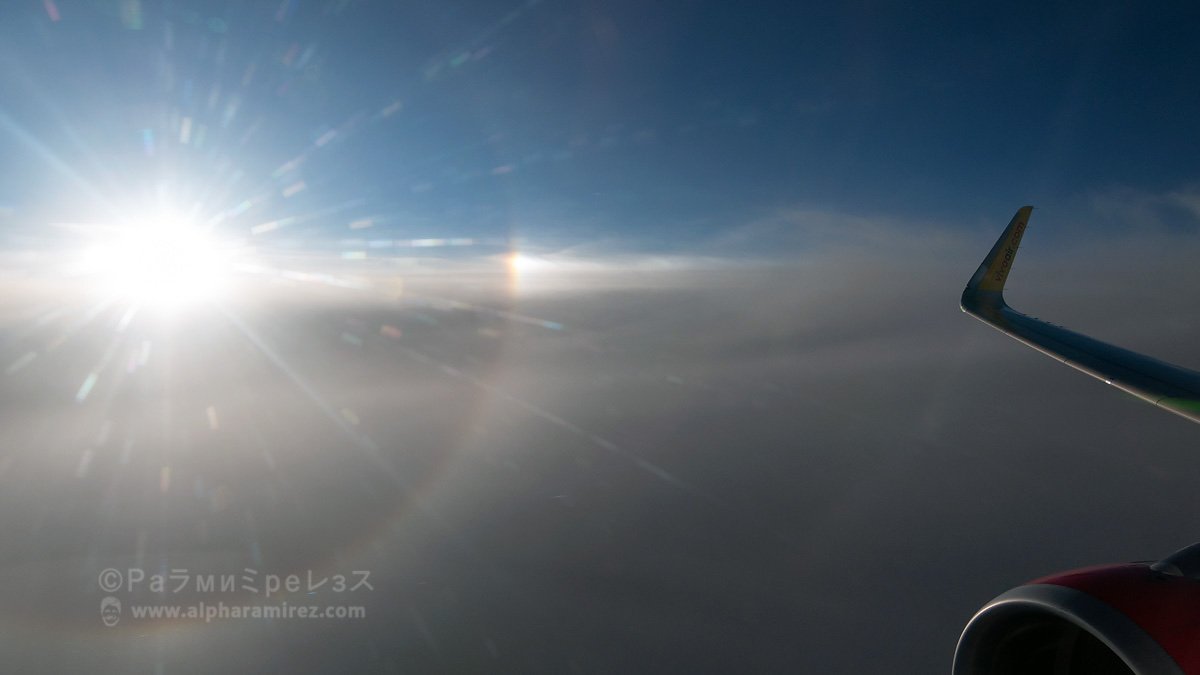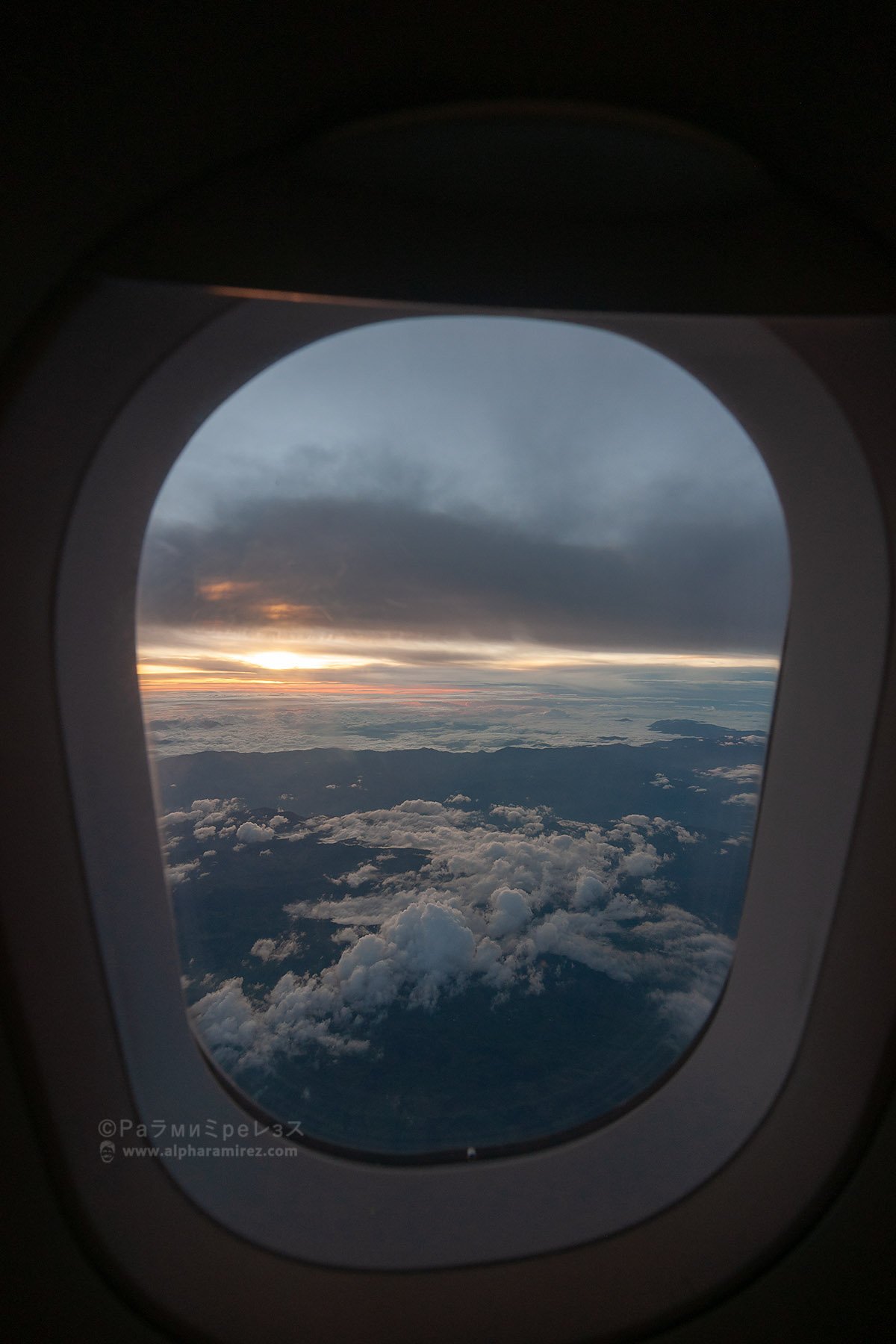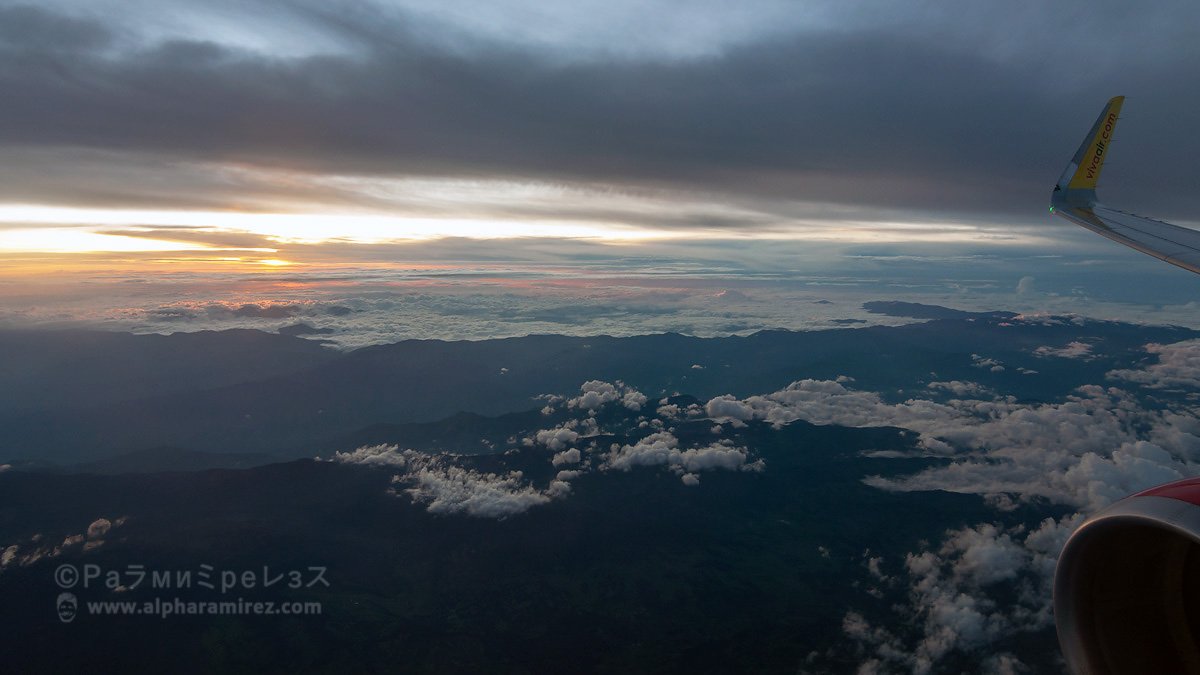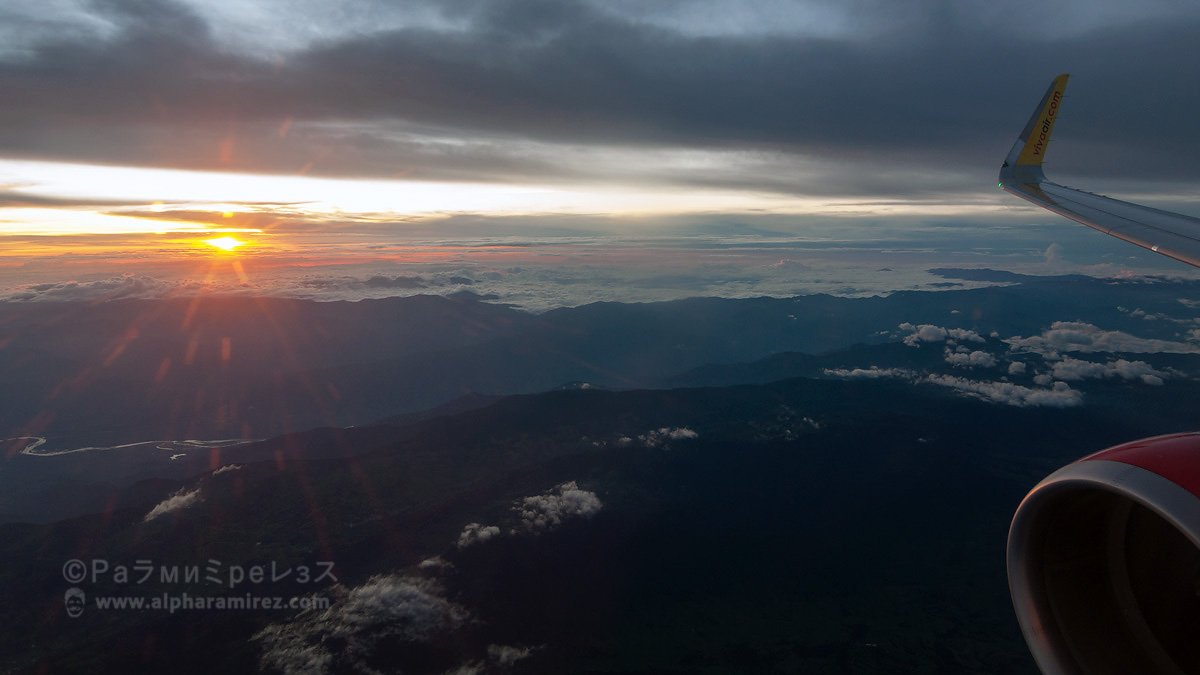 We managed to overfly Medellin city and Olaya Herrera Airport still with the last rays of light, and to see other atmospheric phenomena.
After overflying the city we turned north again to align with runway 01 of Rionegro Airport, and approached over all San Nicolas valley, with La Union town and El Capiro mountain in sight while it was getting dark.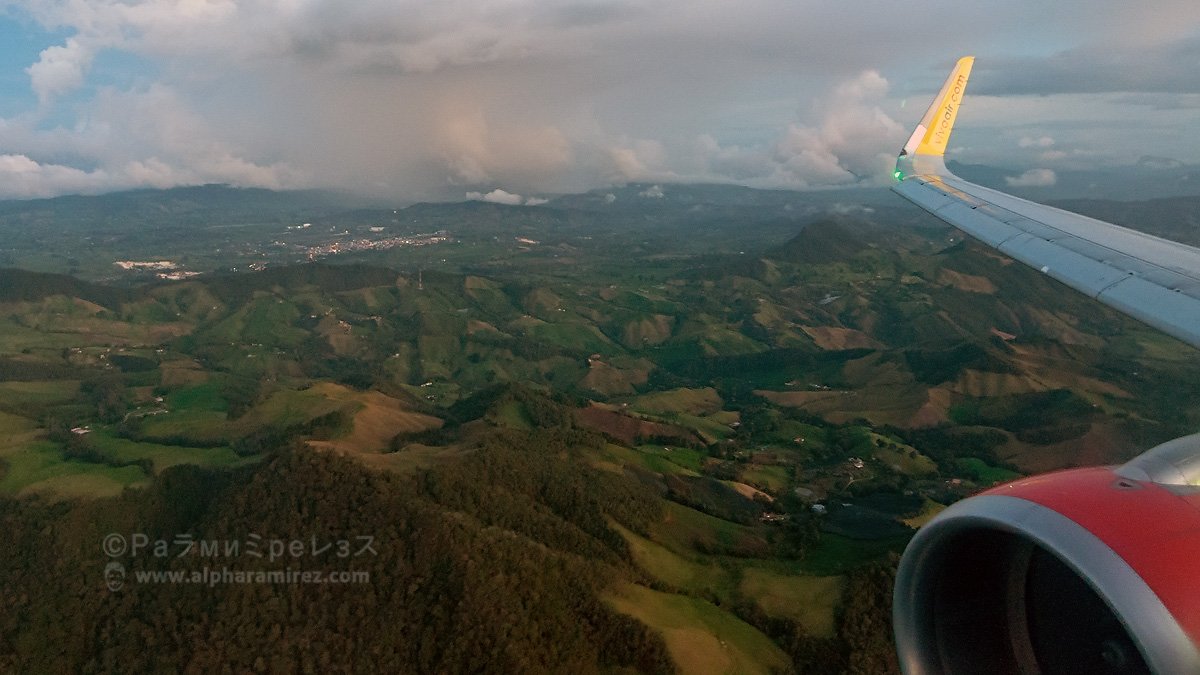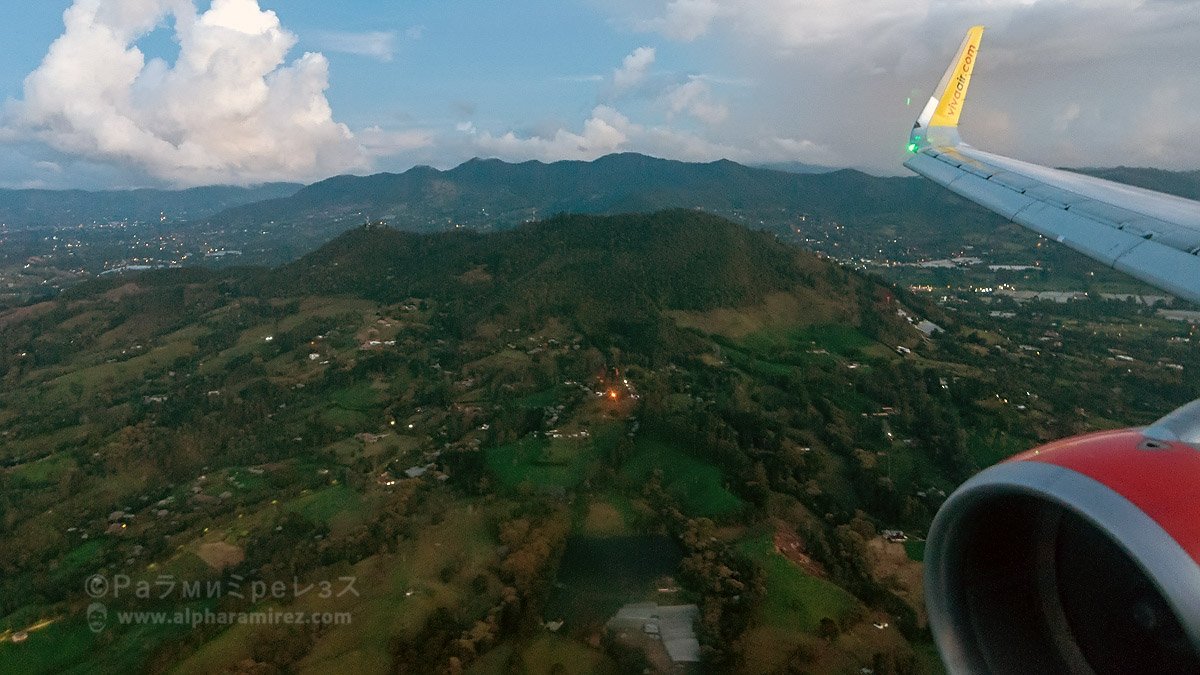 We landed softly and taxied to gate 1B, this time we wouldn't have to disembark via stairs.
The Avianca Boeing 787-8 about to leave to Madrid was in the Airport, and when we reached our gate it was already totally dark.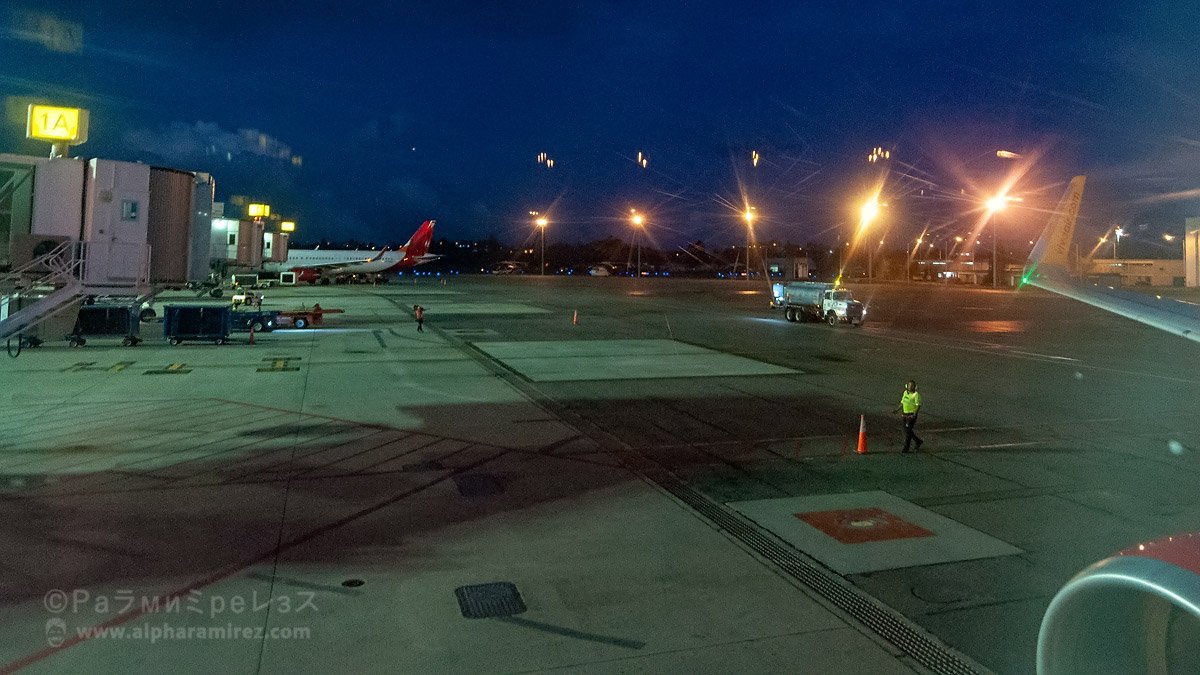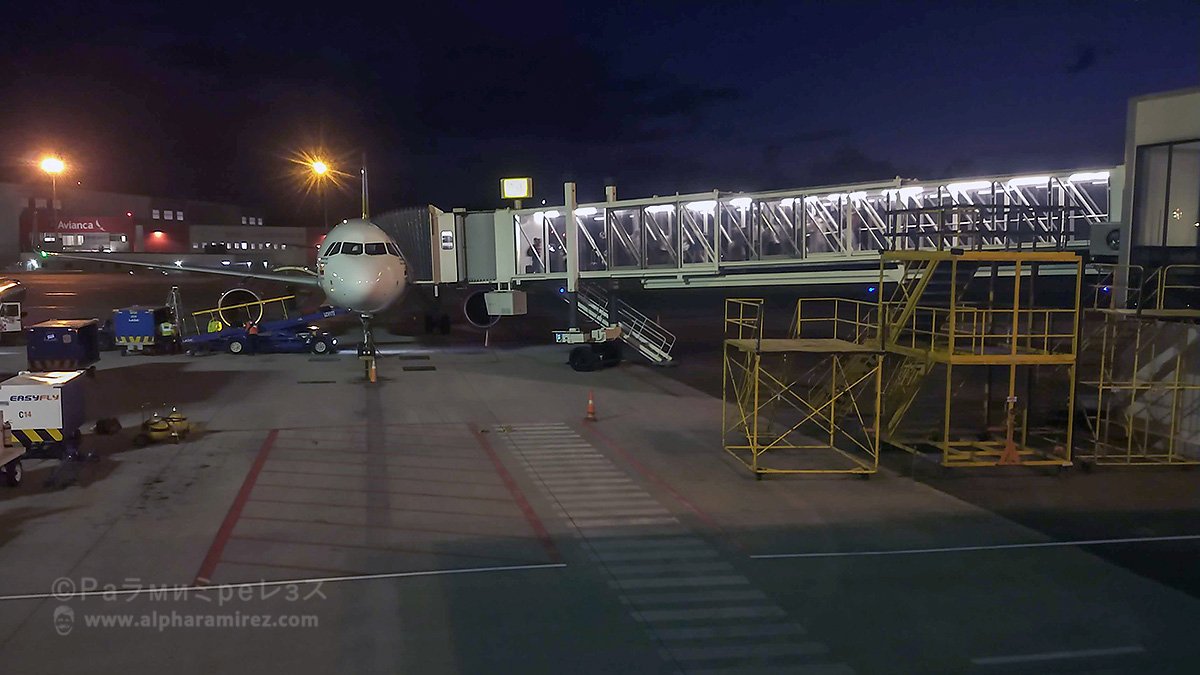 I picked up my luggage and left the Airport. Viva was totally punctual and rose to the occasion. If one cares to read the small print it can be a great option for travelling.
Even more so, I do remember that when they were starting, and had punctuality issues, I managed to fly with them several times. The only thing that ever happened was a delay because of an aborted takeoff that almost ends in a riot.
But that was a technical matter, because the flight had initially left on-time. And these things happen in Aviation, nothing to do about it.
Now that they have more and newer Airplanes, they're much better.
If one reads the small print and it's not fit for purpose, then one chooses another airline, as I've done it many times when Avianca has been cheaper. But please, read!
I came to my dogs that night then, and life moved on. Had been great days in Cartagena.
Xoxoxo.
---

Este artículo también está disponible en
Español
.